*this was updated ahead of the 2023-24 season
Having the "C" stitched onto a jersey has been a tradition in hockey for over a century. Arguably the biggest honor a team can bestow upon a player, the NHL has had many iconic captains over the years from Wayne Gretzky and Mario Lemieux to Scott Niedermayer and Mark Messier. The modern era has also seen its share of legendary leaders like Sidney Crosby, who has won three Stanley Cups and Steven Stamkos, who has two.
Since I last updated this article, three long-time captains have left their respective teams in Bo Horvat and Ryan O'Reilly, who were traded to the New York Islanders and Toronto Maple Leafs respectively, and Patrice Bergeron, who retired in the offseason after a tremendous 19-season career with the Boston Bruins. Six other teams are also without a defacto leader going into the 2023-24 season. As such, here are some predictions on who will be honored with the "C" next.
Anaheim Ducks – Troy Terry
At the end of the 2021-22 season, Getzlaf retired from the NHL after 17 seasons that included 282 goals and 1,019 points in 1,157 games – all with the Ducks. Initially drafted 19th overall all the way back in 2003, he currently leads the franchise in points, assists, and games played. Named captain at the beginning of the 2010-11 season, he held the role for 11 seasons – the longest since Paul Kariya, who had it for only five.
Related: Anaheim Ducks' Ryan Getzlaf: Hall of Fame Worthy?
Clearly, whoever takes over the captaincy will have massive shoes to fill. When Getzlaf was named captain in 2010, he was 25 years old and had basically established himself as the leader of the next core after the one led by Teemu Selanne and Scott Niedermayer. Although Selanne was still on the team and would be until he retired in 2014, Getzlaf was handed the "C", not the franchise's most exciting player and all-time goalscorer. After going without a captain last season, could the Ducks go a similar way in 2023-24 and give it to a youngster rather than a veteran? THW's own Charlie Hiller seems to think so.

"[Troy] Terry has already shown success at every level he's played, and this season is a big step towards proving it at the highest levels of the sport. Assuming his trajectory continues upward, Terry will prove himself to be a worthy successor to Getzlaf as captain."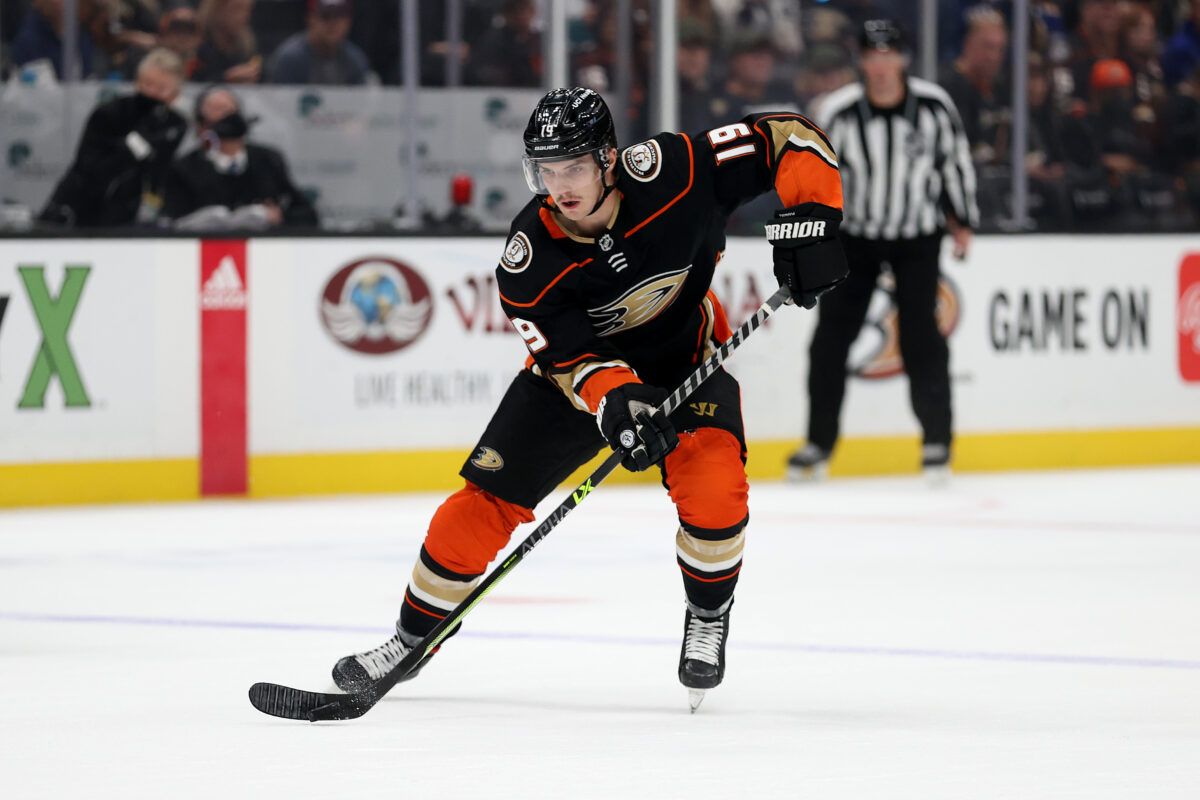 While Terry has yet to establish himself as a consistent contributor in the NHL (like Getzlaf did), he has the star power and ability to change the tides with a goal or spectacular play. He also has experience coming through in the clutch as he scored the shootout winner for Team USA at the 2017 World Junior Championship and led the University of Denver to a National Championship only a few months later. In 2021-22, he broke out to the tune of 37 goals and 67 points, all while playing on a line with the aforementioned Getzlaf, someone he has looked up to since starting his journey in the NHL.
Without Getzlaf last season, Terry came back down to earth with only 23 goals, but still played a prominent role in the offence, finishing second only to Trevor Zegras with 61 points. The Ducks also recently committed long-term to the former Pioneers star signing him to a seven-year extension worth $49 million. It's clear they are hoping he can lead the franchise through their current rebuild and back to contender status in short order. Wearing the "C" would be the logical next step for this budding star.
Arizona Coyotes – Clayton Keller
After Shane Doan retired in 2017 following a long tenure in the desert with the "C", Oliver Ekman-Larsson was given the mantel for the 2018-19 season. Then, after three seasons with it stitched to his chest, the Arizona Coyotes decided to trade him to the Vancouver Canucks in 2021 for a package that included a handful of veterans and a first-round pick that became the dynamic Dylan Guenther.
Related: Coyotes Clayton Keller: First-Round Pick to NHL Star
---
Latest News & Highlight
---
While the Coyotes decided against naming a captain for the 2021-22 and 2022-23 seasons, they might be inclined to do so before the start of 2023-24. Due to the team's current rebuild, veterans are few and far between, so the next player to don the "C" will most likely be someone they want to build the new core around. Enter Clayton Keller.
Selected seventh-overall by the Coyotes in 2016, Keller hit the ground running in his 2017-18 rookie season – at the youthful age of 19, no less – scoring 23 goals and 65 points in 82 games. Naturally, fans thought that was just the beginning of his greatness as he finished third in Calder voting and was named to the Rookie All-Star Team. Unfortunately, the dreaded sophomore slump hit him hard in 2018-19. He ended up with only 14 goals and 47 points and took two more seasons to hit 20 goals again.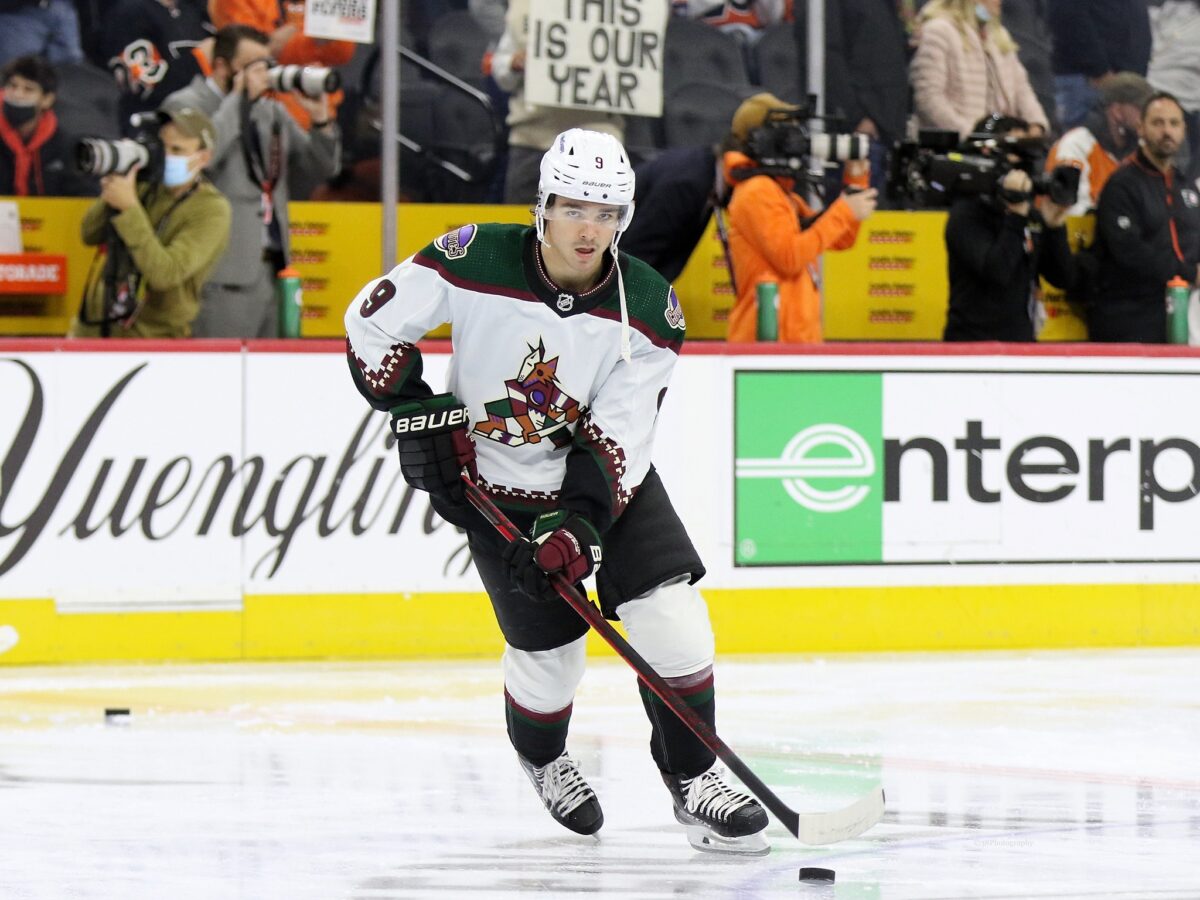 Still only 25 years old, Keller had a coming-out party in 2021-22 when he hit a career-high 28 goals and led the Coyotes in scoring and ice time amongst forwards. He probably would have eclipsed 30 too, if he hadn't fractured his leg in March and missed the rest of the season. THW's Haynes Evans believes his game and personality are perfect for what the team needs in their next leader of the pack.
"Keller best embodies what it means to be a captain. The energy he brings to the locker room is unparalleled. He shows up and plays his game, giving his all, while motivating and making the team around him better. He wants to be here. He wants to lead this team through their lengthy rebuild. In Keller, the Coyotes have themselves a bonafide leader"
If Keller's 28 goals in 2021-22 were a coming-out party, then his 37 in 2022-23 was a party for the ages. He also hit a career-high 86 points and arguably joined the ranks of NHL stardom. He is now the hands-down favorite to take over the captaincy in the desert, something that could be announced as soon as training camp in September.
Boston Bruins – Brad Marchand
With the news of Bergeron's retirement this offseason, the Bruins will be looking for a new player to don the "C" going into 2023-24. Whoever that is will have some huge shoes to fill as Bergeron will go down as one of the best two-way players – and leaders – in NHL history. The most logical choice to succeed him would be "The Rat" or "Little Ball of Hate" known as Brad Marchand.
Related: Boston Bruins 2022-23 Player Grades: Brad Marchand
Drafted all the way down in the third round of the 2006 NHL Draft, the 5-foot-9 Marchand emerged almost immediately as a player to watch in the NHL. With a package of speed, tenacity, and skill, he has become one of the most frustrating wingers to play against. While his antics have caught the eye of the NHL's Department of Player Safety on multiple occasions, there's no denying his skill to get under the skin of his opponents. Not to mention his other qualities like goalscoring, playmaking, and physicality (despite being undersized).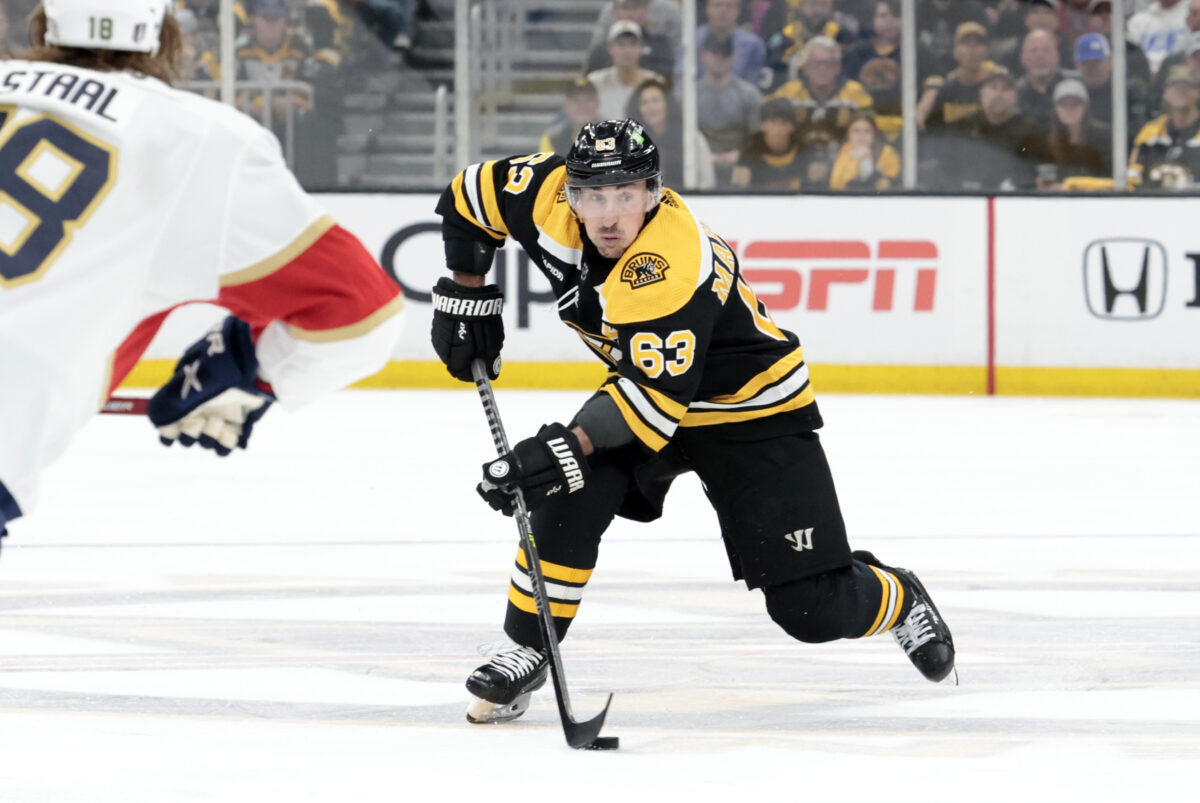 Marchand is also the pinnacle of reliability when it comes to production – and the way he plays night in and night out. Eliminating his debut season when he only played 20 games, he has only had one season where he has failed to score 20 goals (the lockout in 2012-13). He also has five 30-goal seasons and has hit or eclipsed the 80-point mark five times, including a career-high 100 points in 2018-19.
Marchand has spent all 14 years of his career with the club, is still one of their best players, and has been an alternate captain since 2018-19. With that, he's one of two players (Milan Lucic) still left from the 2011 Stanley Cup team. I think Charlie McAvoy would be a great choice, too, but I would be surprised if he gets the 'C' before Marchand.

– Michael DeRosa, The Hockey Writers
Marchand has all the qualities of a leader and encompasses the Bruins' style – tough and hard to play against. Without Bergeron at the helm, he will be the guy everyone thinks of when the Bruins logo is displayed. So why not make him the next captain?
Calgary Flames – Mikael Backlund
The Calgary Flames have not had a captain since Mark Giordano was selected by the Seattle Kraken in the 2021 Expansion Draft. Matthew Tkachuk was believed to be the frontrunner for the job, but that never came to fruition as he was eventually dealt to the Florida Panthers for Jonathan Huberdeau. Another candidate would have likely been Johnny Gaudreau if he had signed a long-term extension, but as Flames fans know, he went a different direction and eventually joined the Columbus Blue Jackets on a seven-year deal.
So, who is left? Well, if the Flames want to go the veteran, been-through-it-all route, the answer has to be Mikael Backlund. Selected 24th overall all the way back in 2007, the now 34-year-old has played his entire 16-season career in Calgary where he has 185 goals and 492 points in 908 games. He currently ranks third on the all-time games played list, and while he can't touch the goalscorers, he is 14th in points and should eclipse the 500-point mark sometime in October or November. He's also experienced all the highs and lows of the franchise alongside former captain Giordano and even played four seasons with the legendary Jerome Iginla, who famously wore the "C" for almost a decade.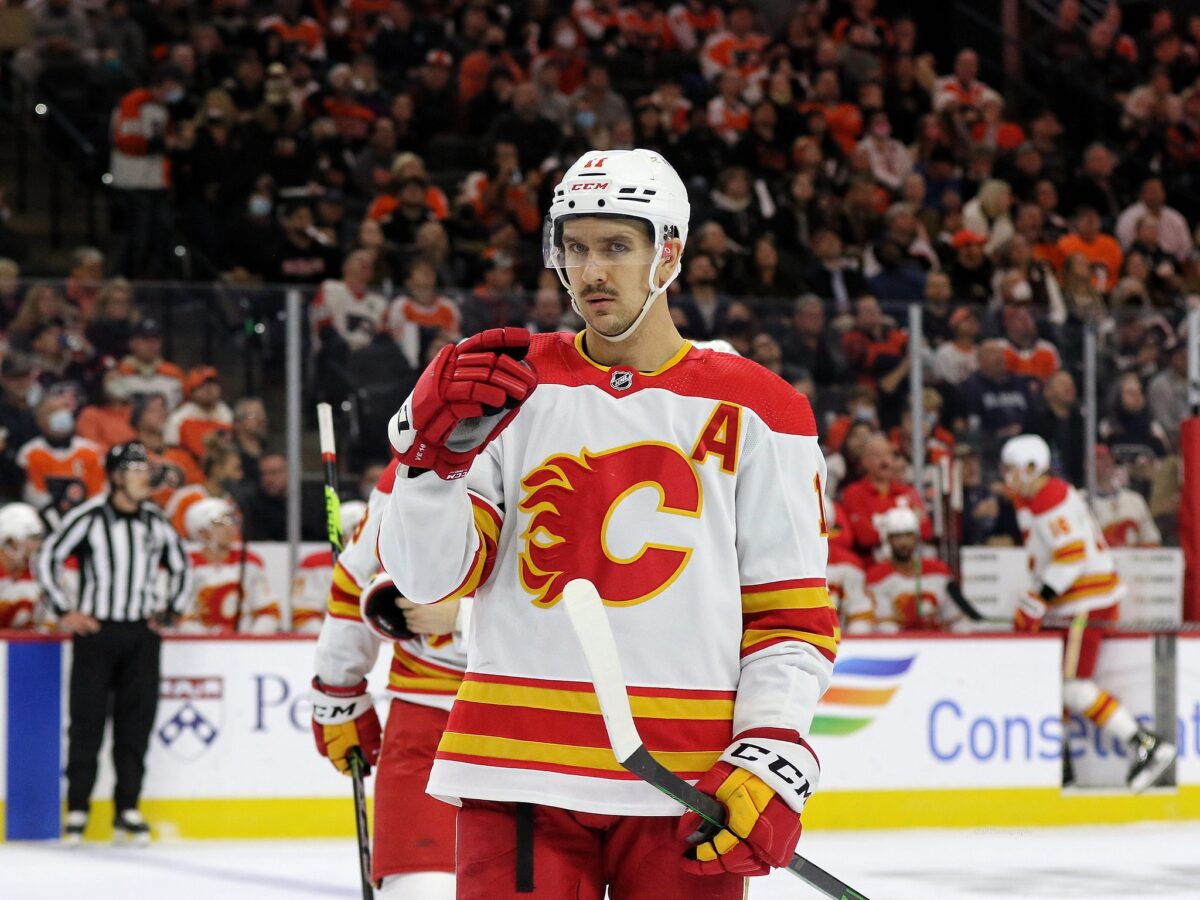 Basically what I am saying is, that Backlund is ready to go from understudy to the lead role. While Huberdeau has done and said all the right things coming into Calgary, he doesn't have the experience and finger on the pulse of the franchise that Backlund does. Thus, he's really the only choice when it comes to who should take up the mantle next. Ryan Gagne, who covers the Flames for The Hockey Writers wholeheartedly agrees.
"Should the Flames management and coaching staff decide to add an extra C to any player's jersey, it has to be Backlund. Not only does he have the experience, but he has the pedigree to handle the duties of playing in one of the country's largest hockey markets. Although he is not the same kind of superstar his departed teammates were, he is the type of player others would follow into the trenches. The Battle of Alberta isn't for the faintest of hearts, and Backlund has seen his fair share of blood, sweat, and tears entrenched in one of the game's greatest rivalries for over a decade."
It was reported by Elliotte Friedman earlier in the offseason that he believes the Flames have already offered Backlund the captaincy in an effort to get him to re-sign long-term with the franchise. So, if that's true, I guess the ball is in his court. In my mind, I don't think there's anyone else on the roster more deserving of the honor. The question is, does he want it?
Alternate Prediction – Rasmus Andersson
"Rasmus Andersson for me. With many others expressing doubt about remaining with the Flames, Andersson has continued to state how much he loves the city and the organization. Gives it his all each and every shift and has become one of their most reliable players." – Rupert McDonald, The Hockey Writers
Philadelphia Flyers – Sean Couturier
A common theme in this article is long-time captains retiring or getting traded. That's exactly what happened in Philadelphia when Giroux was dealt to the Panthers for a package full of draft picks and 23-year-old Owen Tippett. While he does not sit at the top of his team's leaderboard in goals, he does have the distinction of being only the second Flyer to play at least 1,000 games and record 900 points in the orange and black – behind only Bobby Clarke (1,144 games and 1,210 points).
As it was with Getzlaf, the next captain in Philadelphia will have his work cut out for him, as Giroux hit the 20-goal plateau nine times in his tenure along with a career-high 34 goals and 102 points in 2017-18 becoming only the ninth player to do so in the Flyers' 55-year existence. So, who is best equipped to attempt the feat? At this point, I would say it is 29-year-old Sean Couturier.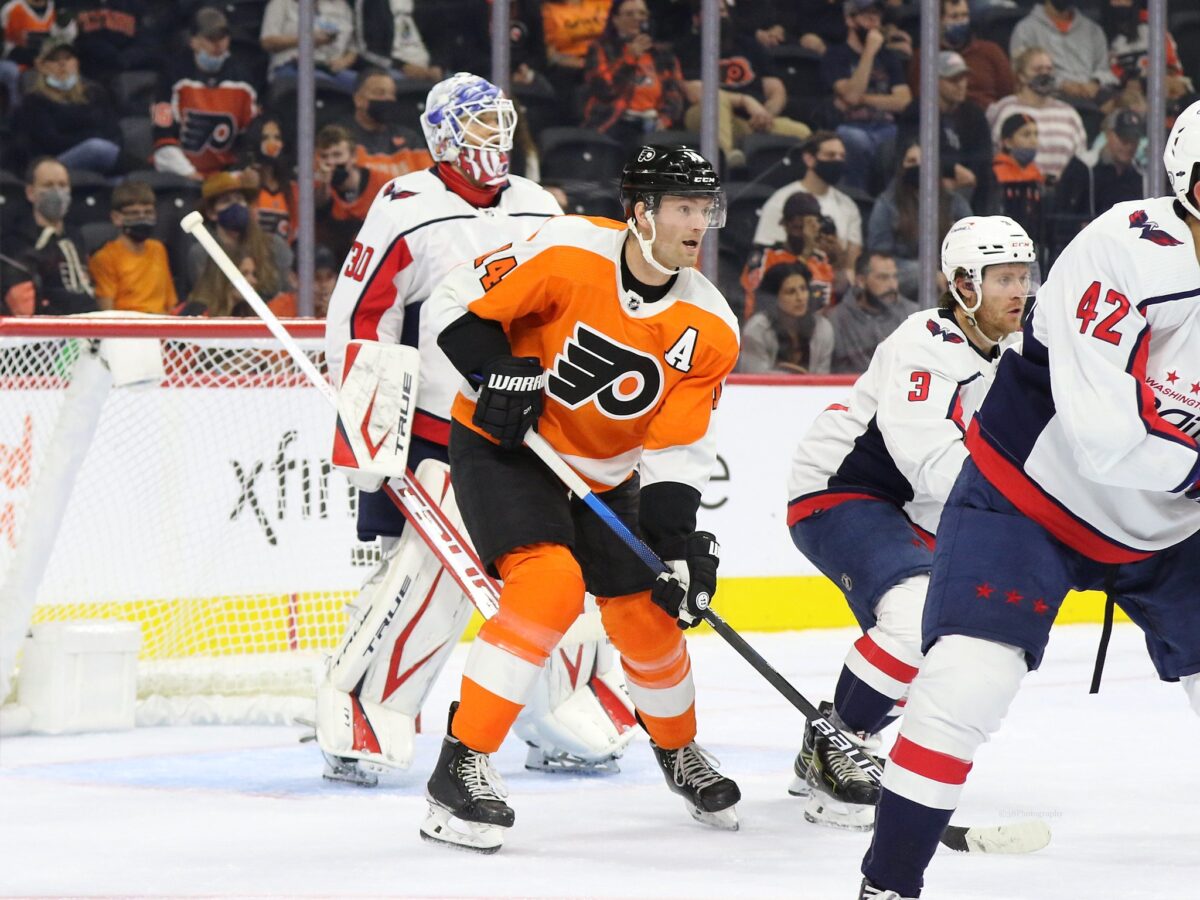 Drafted eighth overall by the Flyers in 2011, Couturier has carved out a role in the NHL as a matchup two-way center in the mold of Bergeron. Granted, he has a long way to go to match Bergeron's NHL-record six Selke Trophies, five more to be exact, Couturier has all the tools to thrive as a leader in the City of Brotherly Love.
Couturier is the de facto choice as the next captain of the Flyers. He is the longest-tenured player on the roster in addition to the most talented. His experience as an alternate captain and a respected veteran in the dressing room makes him the obvious favorite to take over the vacant captaincy.

Colin Newby, The Hockey Writers
As Colin said, Couturier is now the uber-veteran of the Flyers following the departure of Giroux and is arguably the most talented two-way player they have on the roster right now. He also embodies the characteristics that head coach John Tortorella loves to see in his players – tough and hard to play against – attributes many of the past captains in Philadelphia have possessed over the years, Clarke and Giroux chief among them.
Seattle Kraken – Jordan Eberle
Only one season into its existence, the Kraken already have a history of captains. With Marc Giordano now in Toronto, who served as the captain for only 55 games, Seattle is in the market for another player to take the helm. On a team with only a 164-game log book, the criteria will come down to either a veteran of the NHL or a rookie that they are looking to lead the still-developing core into the future. As of right now, it will probably be the former – at least until 20-year-old Matty Beniers is ready for the weight of it.
If that's the case, which veteran will they choose? I think it will come down to three players, Jordan Eberle, Adam Larsson or Brandon Tanev. If they want to go with an intense, emotional leader, Tanev is without a doubt the guy. A player that will come through in the clutch and possibly be the difference maker in a playoff series? Well, that's clearly Eberle. Finally, a veteran who has been through the pressure of succeeding as a top-five draft pick? That's Larsson. All in all, each of them has the attributes of a future captain. But if it came down to it, I would probably have to choose Eberle at this point.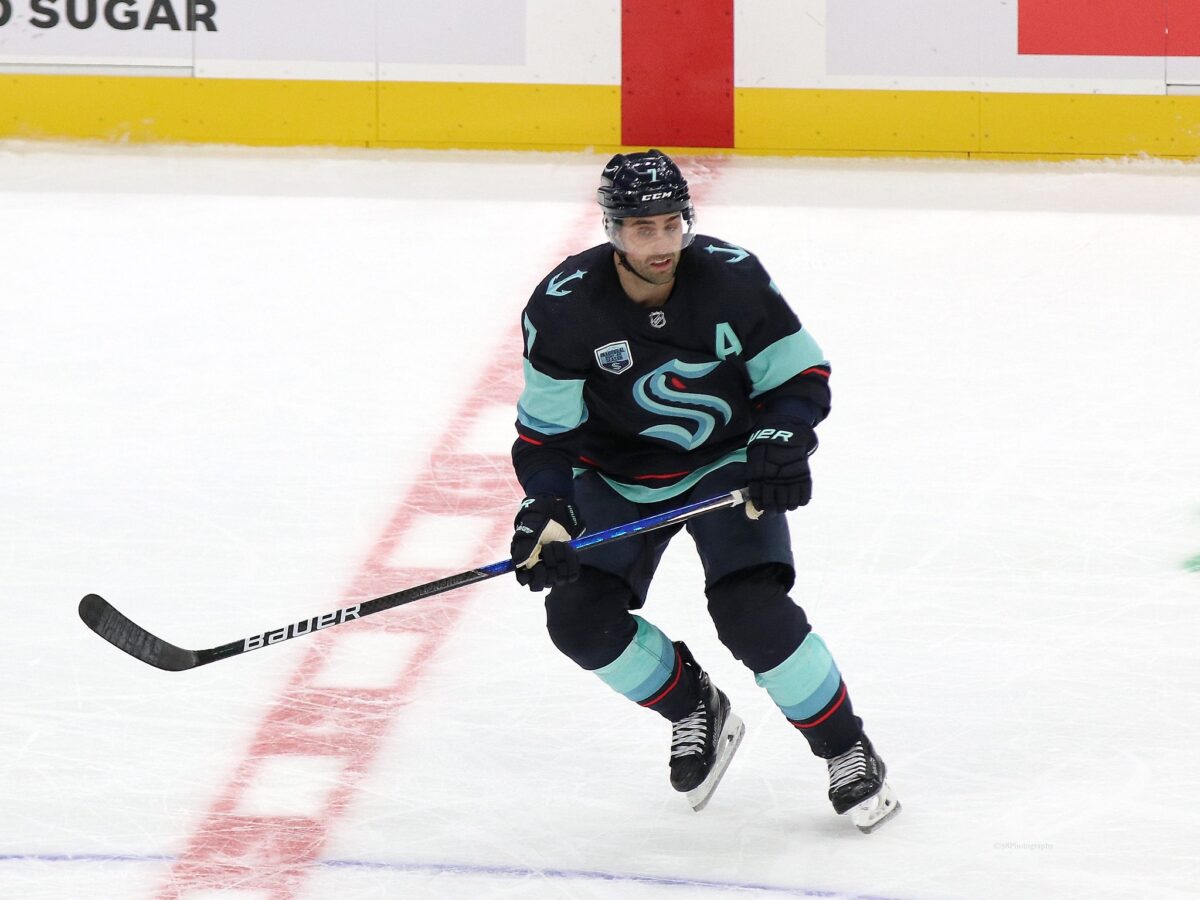 Now a proud member of the 500-point club, Eberle has been in the NHL for 13 seasons and has been a consistent scorer since he entered the league in 2010-11 with the Edmonton Oilers. In fact, he has never seen a campaign without double-digits in the goal column, recording eight 20-goal seasons in that time. He is also no stranger to clutch goals and producing in the playoffs, something that great captains are always proficient at.
It started early for Eberle when he scored the game-tying goal in the waning seconds of the 2009 World Junior Semifinals to keep his country's hopes alive in a tournament that they eventually won gold. If that wasn't enough, he also scored the game-deciding goal in the shootout. If that isn't clutch, I don't know what is.
While Eberle has yet to play in a Stanley Cup Final, it hasn't been for lack of trying as he was a key player for the New York Islanders in their two runs to the Eastern Conference Final in 2020 and 2021. In total, he has 19 goals and 47 points in 76 playoff games spread over five years between the Islanders, Oilers, and now the Kraken after he scored six goals and 11 points in 14 games in their first appearance in franchise history. His ability to come through in the clutch alone makes him the right choice to succeed Giordano.
St. Louis Blues – Brayden Schenn
The St. Louis Blues will be entering a new era of leadership this season as they traded O'Reilly to the Maple Leafs just before the deadline last year. It will be interesting to see what direction they go in as they are currently in a period of transition after missing the playoffs and moving Vladimir Tarasenko, Noel Acciari, and the aforementioned O'Reilly. Will they go with a veteran like Brayden Schenn or one of their young core pieces like Robert Thomas or Jordan Kyrou? THW's own Ethan Carter believes it should be the former.
"The Blues' next captain should be Brayden Schenn. He's everything a team needs in terms of leadership, durability, and toughness. There's a good argument to make for Robert Thomas, but he'll be the next man up once Schenn's time in St. Louis comes to an end. This team needs a veteran leader and Schenn fits the bill."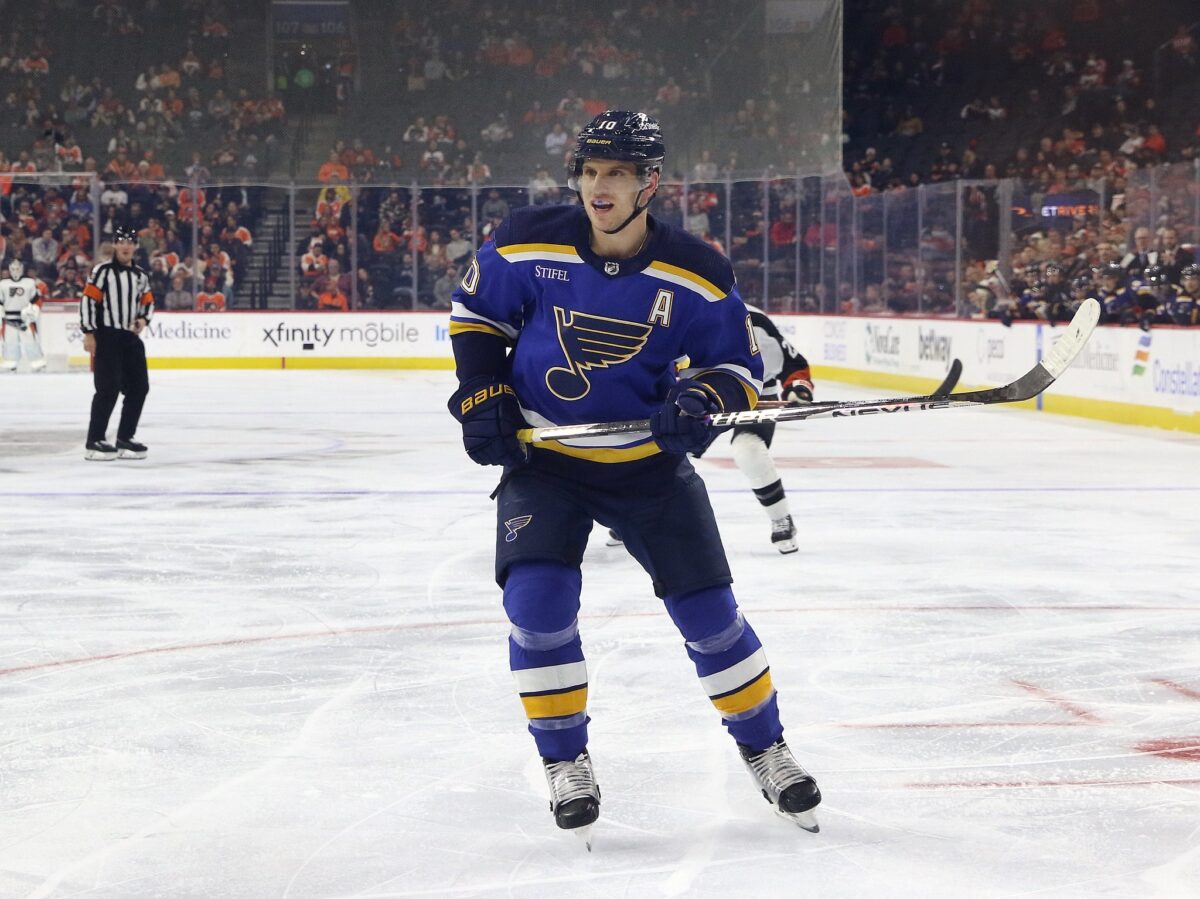 I would have to agree. Schenn is by far the most veteran piece on the Blues' roster right now and oozes leadership. He has held an alternate captaincy role for the past three seasons and is as consistent as they come. The last time he dropped below 50 points (not including the shortened 56-game campaign in 2020-21) in a season was back in 2014-15 when he was with the Flyers. He has hit 20 goals four times with the Blues and his lowest point total was 54 (again not including 2020-21). Basically, his teammates know what they are going to get from the Saskatoon native night in and night out.
Schenn also has experience being a captain from his days with the Brandon Wheat Kings. He only held the "C" for one season, but that season he put up a career-high 34 goals and 99 points. Could he do something similar in his first year as the Blues' captain? Maybe they should stitch the "C" on his jersey and find out.
Vancouver Canucks – Quinn Hughes
I think the battle for the Canucks' next captain will come down to Pettersson and Hughes. Both have leadership qualities and are the faces of the forwards and defence respectively. I probably wouldn't have considered Hughes a year ago, but after his comments about Pride Night last season, I have become more convinced of his potential captaincy. He has become more vocal in the media, dressing room, and practice as well. In fact, it seems that Tocchet already has him as the front-runner for the "C".
"Huggy has really made that [upward] trajectory to be a captain. He's done some things that are uncomfortable. He's said some things that are uncomfortable that you have to do to say to teammates, or to a coach, or to put your balls on the line. That's what captains do.
"It's not just about organizing a team party. It's about putting your teammates first and also being able to go into a coach's office and say, 'Hey man, Tocc, you gotta back off in practice, I've got this. I guarantee the next game, we'll be ready to play.' I love that about him."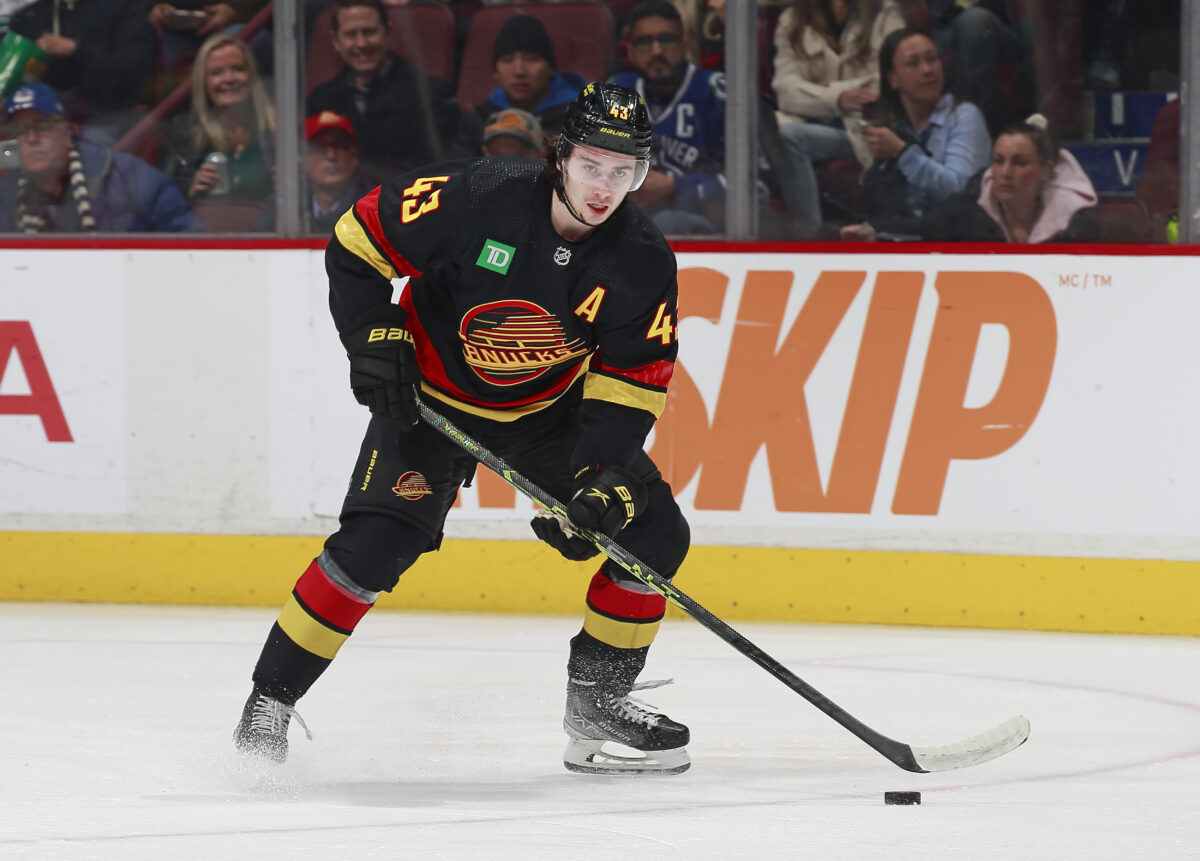 Hughes appears to be blossoming into a leader right before our eyes. While Pettersson would probably be a good captain too, he likely would be similar to the Sedins and Markus Naslund – quiet but effective. However, I think the Canucks need a leader like Trevor Linden at this point in their retool/rebuild, someone who will be vocal in the media and not afraid to speak up when things are going south. That appears to be Hughes right now.
Alternate Prediction – Elias Pettersson
"If Pettersson wants to be the Canucks captain, he will be the next captain. J.T. Miller is the only other real candidate, but the team's success and direction heavily rests on Pettersson's shoulders. He already has an 'A,' showing he is comfortable in a leadership position.
"The captaincy hinges on Pettersson signing an extension. The Canucks going without a captain for the 2023-24 season is smart if they can't re-sign him beforehand. Assuming he signs an extension before training camp, a captain's "C" will likely accompany the Canucks logo on his jersey. Filling the captaincy void Bo Horvat's departure left will be challenging, but if anyone can do it, Pettersson can." – Alex Wauthy, The Hockey Writers
Winnipeg Jets – Josh Morrissey
The Winnipeg Jets stripped the captaincy from Blake Wheeler at the beginning of the 2022-23 season and decided not to name his replacement right away. It remains up in the air whether or not they will do so this season. The longest-tenured Jet right now is Mark Scheifele, but with his future in Winnipeg uncertain, it's unlikely he will be the next captain. Could they go the route of a young star like Kyle Connor or Nikolaj Ehlers? Maybe. But THW's Declan Schroeder is thinking defense and throwing emerging superstar Josh Morrissey's name into the ballot box.
"Morrissey displayed emerging leadership qualities last season, with his "let's f-ing go" goal celebration that sparked a comeback against the St. Louis Blues during a difficult January stretch became a rallying cry and was a good example of charismatic leadership. His term is also a plus — he is locked up for five more seasons on a team-friendly deal."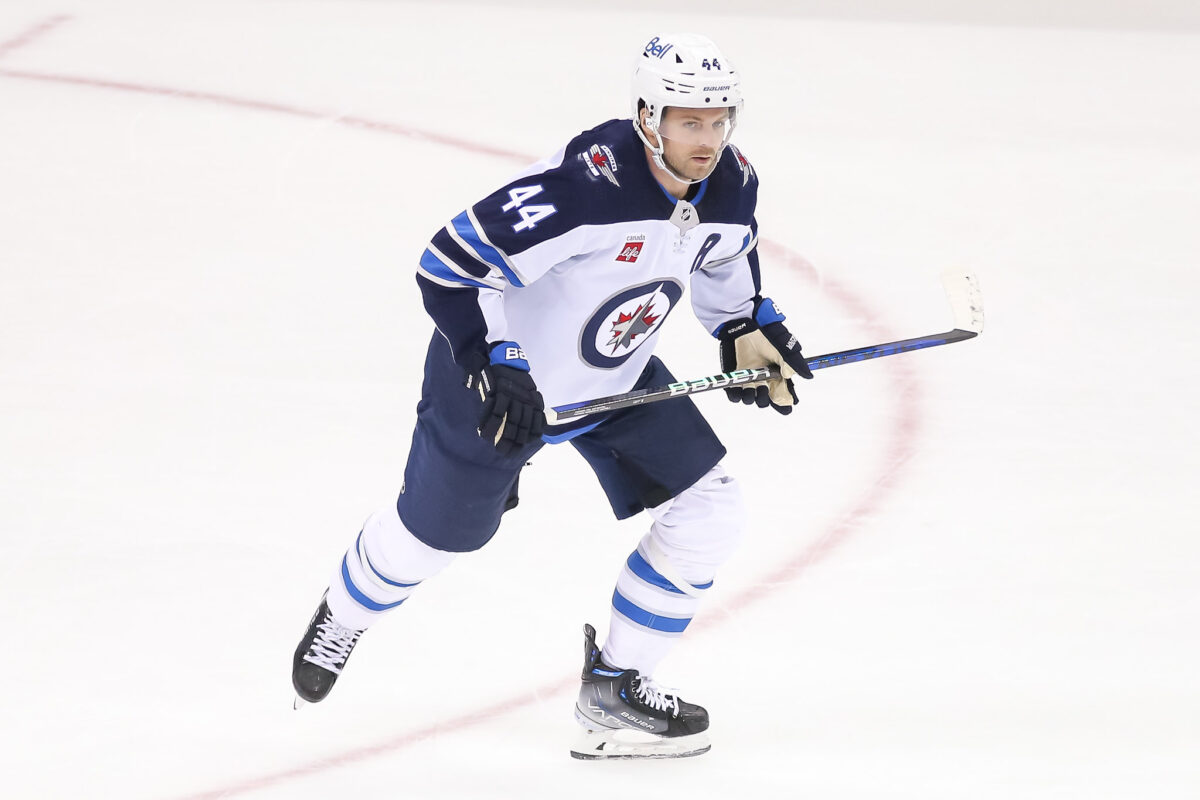 Morrissey burst onto the scene in 2022-23 with a dominant 16 goals and 76 points and finished tied with Hughes for second in defense scoring. He even got 337 Norris Trophy votes, including three for first place. He also led the charge on the back end with a team-high 24:14 of average ice time, six game-winning goals, and 119 shot blocks (10 behind the team leader Neal Pionk). Add that to the charismatic leadership that Declan highlighted, and I think you have the next captain of the Jets.
Alternate Prediction – Adam Lowry
"While he only got a letter when Wheeler was stripped of the captaincy last season, he had been considered a leader and a strong voice in the room long before officially joining the leadership core. He is the Jets' second-ever draft pick and through his 10-season career, has become known as gritty and hardworking power forward who does whatever it takes to win.
"He lived up to his reputation last season, his first with the A, leading by example in every way while setting a career-high in points. It was a good start to his pitch to be the next captain, and he should treat 2023-24 as part two of that pitch." – Declan Schroeder, The Hockey Writers
Several NHL Teams Might Not Have a Captain in 2023-24
As you can see there are several worthy candidates to take over the "C" for the nine aforementioned teams. While some will get filled in the coming weeks, others might stay vacant for the 2023-24 season. We will just have to wait and see which players will end up receiving the distinction as the clock ticks down to opening night on Oct. 10.