Last summer, the Detroit Red Wings traded their third-round pick to the St. Louis Blues for goaltender Ville Husso. This year, they could once again deal one of their many draft picks for a roster player.
In particular, Detroit's three second-round picks could be nice trade chips.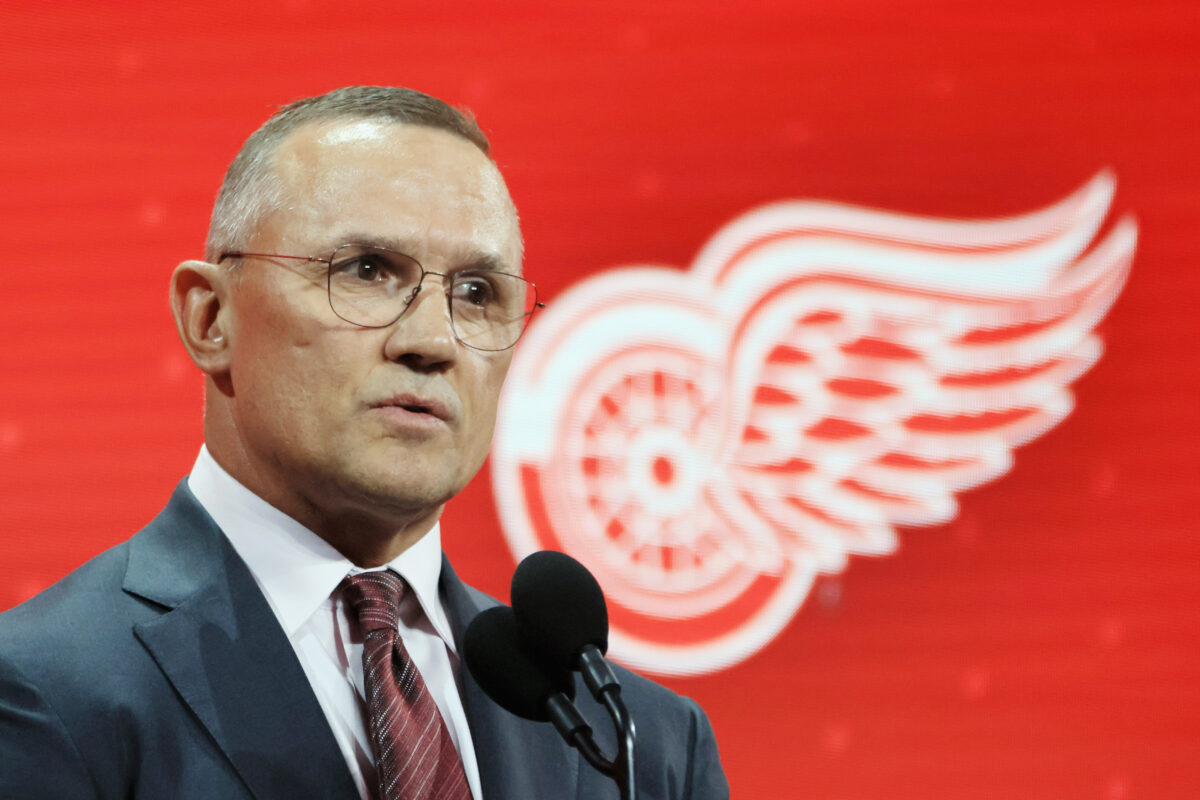 "I've never had three picks in a row, particularly three in the second round," noted Red Wings general manager Steve Yzerman during his pre-draft media availability. 
"Those picks tend to be valuable. … They're all some form of currency. Whether you're using them to move up in the draft, move back in the draft, acquire more picks or acquire players."
Related: Red Wings Mock Draft 3.0: All 7 Rounds & Trades
Looking at Detroit's offseason priorities, a goal-scoring forward and a top-four right defensemen are the biggest needs. Below are players who fit those descriptions and might be available for a second-round (or later) pick.
Red Wings Targets: Goal-Scoring Forwards
Prominent forwards on the trade block like Alex DeBrincat, Elias Lindholm, Travis Konecny, and Pierre-Luc Dubois would require the Red Wings to part ways with a first-round pick (and more). Today, we're going to focus on the next tier of players who will likely cost less, but still address Detroit's need to score more goals.
Viktor Arvidsson – The Los Angeles Kings just acquired Pierre-Luc Dubois and signed him to an eight-year, $8.5 million AAV deal, leaving them with roughly $4 million in cap space to sign a starting goalie and bring in a handful of skaters. Moving Arvidsson's contract would free up $4.25 million before he hits unrestricted free agency next summer. The diminutive winger scored 26 goals and recorded 59 points in 77 games last year.
Anthony Mantha – I know, I know. I'm sure a lot of you don't want to see Mantha back in Detroit. But the Washington Capitals need cap space, and the 28-year-old forward could be on the chopping block. Perhaps Derek Lalonde is the right coach to help Mantha establish himself as a more consistent player. I'd welcome him back if the cost was only a later-round pick.
Brock Boeser – The Vancouver Canucks don't necessarily need to trade Boeser. That said, he's young, would fit in with Detroit's core, and has the offensive skill set to be a valuable middle-six winger as the Red Wings emerge from their rebuild. Detroit's selling point could be to take on all of Boeser's $6.65 million cap hit, clearing much-needed cap space for Vancouver and addressing one of their own needs in the process.
Related: Red Wings 2023 Draft Coverage
---
Latest News & Highlights
---
Red Wings Targets: Right Defensemen
I have a set of assumptions here. First, Jake Walman and Moritz Seider will be Detroit's top pair in 2023-24. Second, Simon Edvinsson is qualified to play on the left side of the second pair. Third, Ben Chiarot can play both sides, and Olli Maatta should play the left side. And finally, Chiarot should not be paired with Edvinsson.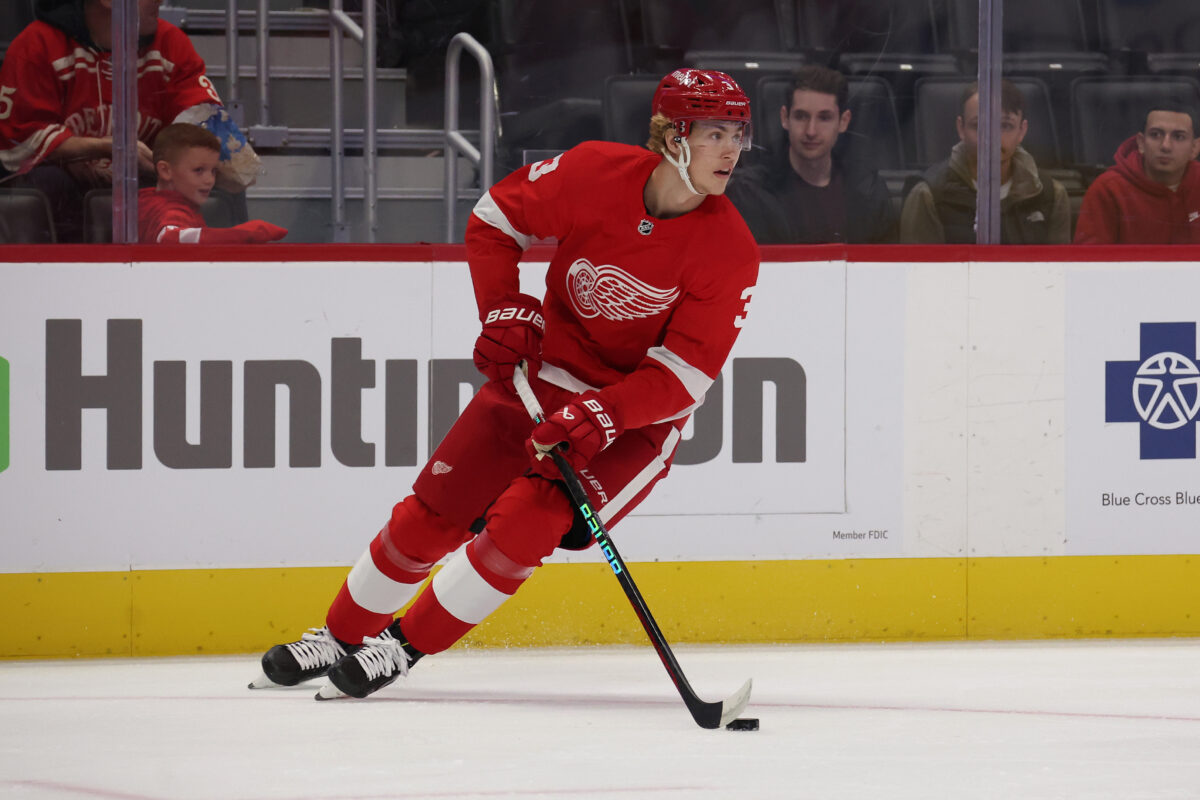 That leaves the Red Wings needing a right defenseman to play on the second pair with Edvinsson. Agreed? Good. Here are some options.

Matt Roy – Instead of Arvidsson, the Kings could opt to move Roy and clear room for Brandt Clarke and Jordan Spence to join Drew Doughty on the right side of the blue line. Roy would be a perfect fit in Detroit – you can read my full analysis here.
Chris Tanev – More of a temporary solution, Tanev can provide stability on the backend having spent the majority of his career matching up against opponents' top lines. He'll be an unrestricted free agent in 2024, but is exactly who you want in the lineup during the postseason.
Tyler Myers – Similar to Tanev, Myers is more of a defensive defenseman at this point in his career. He's also a former first-round pick who could help ease Edvinsson into NHL duties.
Andrew Peeke – THW's Mark Scheig reported that Peeke has been generating interest as a trade chip ever since the Columbus Blue Jackets acquired Damon Severson. Like Tanev and Myers, he is a defense-first blueliner who would complement an offensive-minded defenseman well. Peeke had gaudy possession numbers last year— he was tasked with first-pairing minutes for a chunk of the season—and has three years left on his deal with a $2.75 million AAV.
Adam Boqvist – Like Peeke, Boqvist could be the odd-man out of Columbus after the acquisition of Severson and the ascension of top prospect David Jiricek. Boqvist is more of an offensive defenseman, though, and more of a third-pairing blueliner at this point in the early stages of his career. An acquisition of Boqvist would require additional moves by the Red Wings.
Related: 3 Red Wings Predictions for the 2023 NHL Draft
Final Word
Given Detroit's glut of draft picks, their various needs, and a weak free agent class, the Red Wings should pursue trades as a way to add to their NHL roster. Their prospect pipeline is flush with depth, so trading a pick or two wouldn't be much of an issue.