What will the Detroit Red Wings do at the 2023 NHL Draft?
No one knows for sure – the draft can play out in an infinite amount of ways. That said, I do have a few predictions.
I don't have the Time Stone to view all possible outcomes à la Doctor Strange in Avengers: Infinity War, but I do have a good understanding of Detroit's draft history and current prospect pipeline. 
Related: Red Wings 2023 NHL Draft Preview: 10 Picks to Build a Bright Future
Here is what I think will take place during the 2023 draft in Nashville.
Red Wings Leave First Round With 2 Forwards
I left this one intentionally vague. I can see the Red Wings drafting two forwards. And I can also see Steve Yzerman trading No. 17 for an NHL forward. Either way, they're walking out of Day 1 with two new forwards in the organization.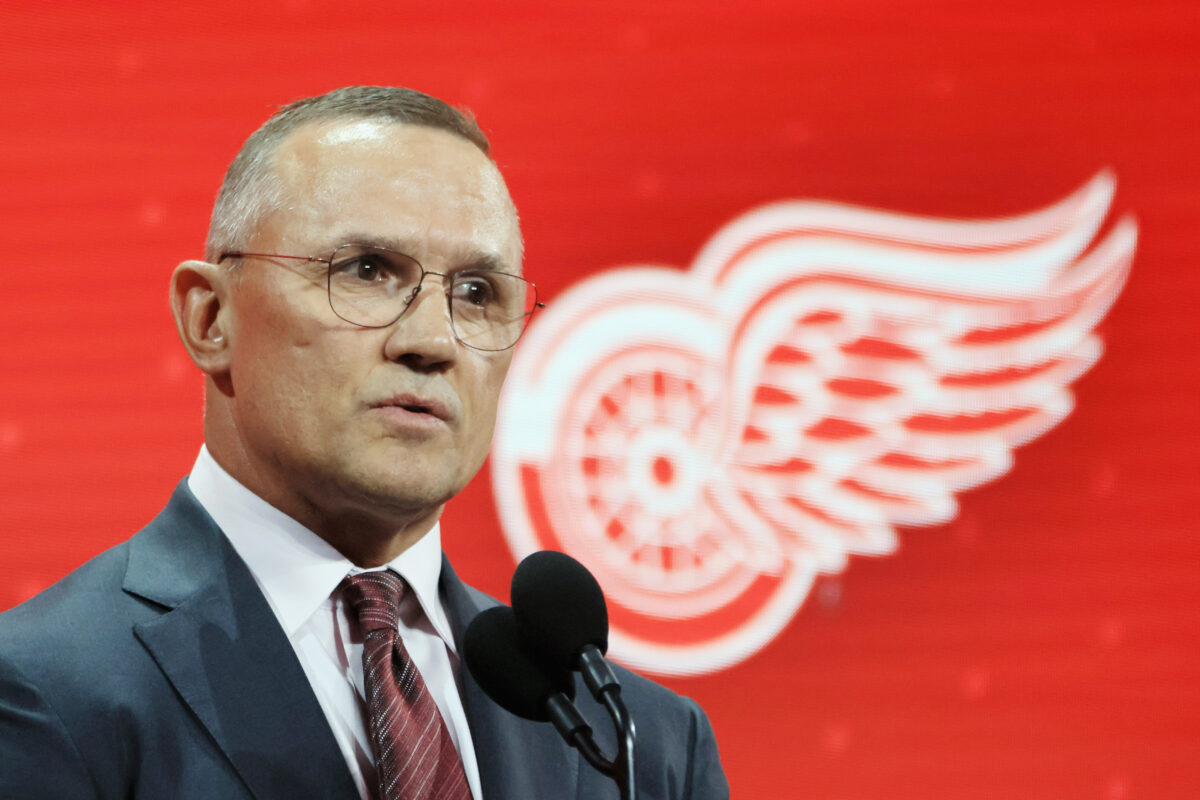 Both the NHL roster and the prospect pipeline are in dire need of goal-scoring forwards. Looking at just the prospect pipeline, they have decent depth up front, but no game-changers that can drive the team forward.
Prospects like Dalibor Dvorsky, Colby Barlow, and Zach Benson would address this organizational need. Similarly, trading for Alex DeBrincat might resolve the issue at the NHL level.
Related: Potential Trade & Contract Projection for Alex DeBrincat
---
Latest News & Highlights
---
If the Red Wings end up keeping the No. 17 pick, there should be plenty of quality forwards available. Barlow, Brayden Yager, Otto Stenberg, Nate Danielson, Samuel Honzek, and Calum Ritchie are names to watch.
Red Wings Trade a Second-Round Pick
It's no secret that the Red Wings have three second-round picks in a row. What they do with No. 41, No. 42, and No. 43 is a secret, though.
I think at least one of these picks is dealt. Yzerman alluded to the possibility of this in his pre-draft media availability:
"I've never had three picks in a row, particularly three in the second round. That's interesting. Those picks tend to be valuable. … They're all some form of currency. Whether you're using them to move up in the draft, move back in the draft, acquire more picks or acquire players."

–Steve Yzerman
In addition to needing a goal-scoring forward, the Red Wings have several other offseason priorities. They could move a second rounder for a right defenseman or a strong 1B goalie to pair with Ville Husso.

This summer's free agent class is relatively weak compared to previous years. The Red Wings are fully aware of who will be available on July 1. They also know that 31 other teams will be shopping for free agents as well. So if there's a low supply of quality players hitting the market and lots of buyers, then it makes sense to look for alternative options. Trading a second-round pick for a non-free agent is exactly that.
Red Wings Draft 2+ USHL Players
Since Yzerman and Kris Draper took over Detroit's drafting responsibilities, they've relied heavily on the USHL for potential hidden gems. In fact, 10 players have been selected out of the USHL during their tenure:
2019: Robert Mastrosimone & Ethan Phillips
2020: Sam Stange, Kyle Aucoin & Chase Bradley
2021: Shai Buium, Carter Mazur & Red Savage
2022: Dylan James & Owen Mehlenbacher
This year will be no different. The Red Wings will take at least two players from the USHL during the 2023 draft.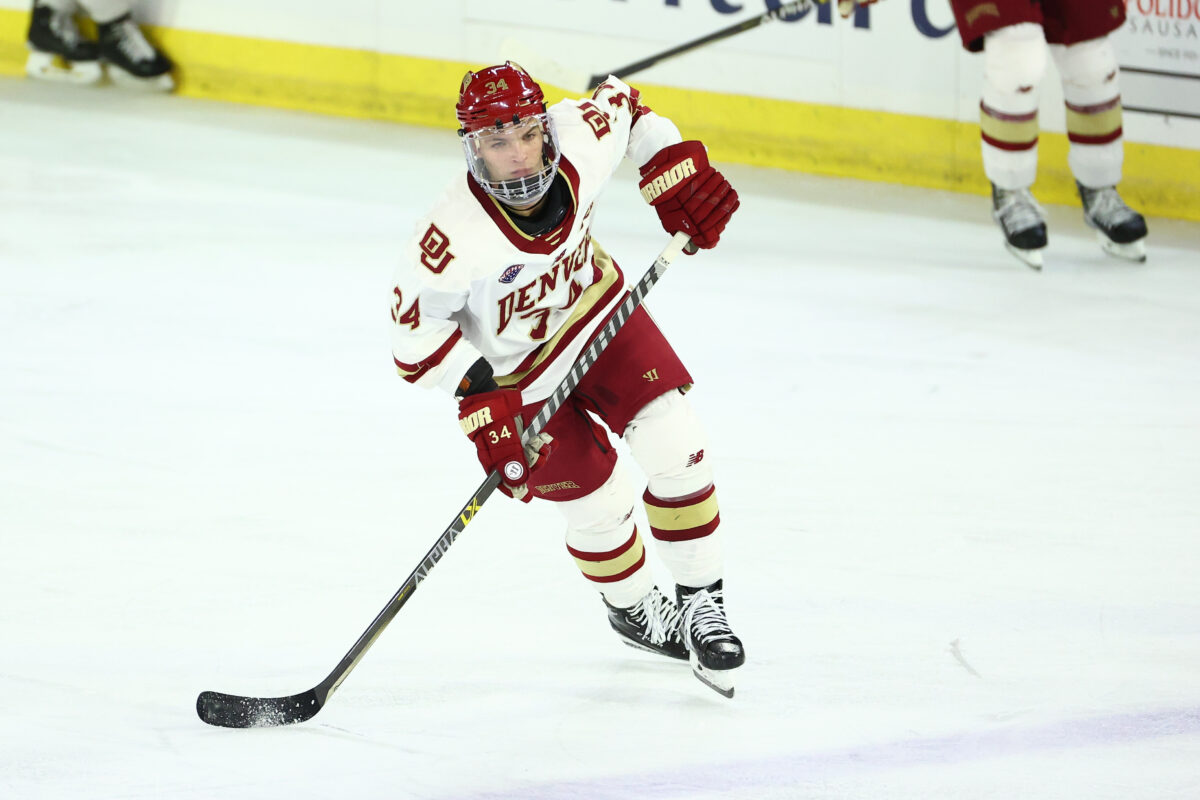 So, who's next? If we're focusing just on the early rounds, then players like Michael Hrabel, Jayden Perron, Maxim Strbak, and William Whitelaw would be excellent second-round picks.
Moving into the later rounds, the draft starts to open up with teams taking players they believe in. This year, that could include Michael Emerson, Griffin Erdman, Jacob Fowler, Ty Henricks, Cole Knuble, or Max Lundgren.
Related: Red Wings 2023 Draft Coverage
In my final, seven-round mock draft, I was able to pick up Strbak and Knuble. These two—along with prospects in European leagues—will have a longer development runway and don't require a signing decision from the Red Wings anytime soon (usually three-to-five years after they are drafted).
Bonus: Red Wings Draft Coulson Pitre
One more just because. Between his speed, dogged work ethic, and above-average hockey sense, Coulson Pitre is exactly the type of player the Red Wings tend to draft. Plus, he spent a good amount of time on Amadeus Lombardi's wing with the Flint Firebirds, so surely Detroit's scouting staff has seen him many times and knows the kind of player he can develop into.
What do you think the Red Wings will do at the 2023 NHL Draft? Comment below!