Although most major offseason moves have already been made, the NHL regular season is still more than a month away, leaving plenty of time to try and predict what might happen in the upcoming campaign. However, one thing that pundits and fans generally seem to agree on is that the San Jose Sharks have a difficult season ahead of them. Most of their recent decisions as a franchise validate this belief, but now we have new evidence. Recently released fantasy hockey projections from ESPN and the NHL's website provide a more mathematically inclined forecast for 2023-24, and most of their Sharks-related predictions point to a negative outlook. By looking at specific parts of the projections, we see some harsh realities for San Jose — as well as a few positives — put on full display.
Sharks Are Largely an Unknown Quantity
One of the difficulties in projecting the Sharks this season is that they just don't have many established names. They will be relying on a number of players who aren't fully proven at the NHL level yet, and the fantasy predictions back this up.
ESPN's predictions offer a projected stat line for just seven Sharks skaters. In contrast, the defending champion Vegas Golden Knights have 10 players with projections, and the similarly elite Carolina Hurricanes have 12 players who get a prediction. Even the Anaheim Ducks, who are generally expected to finish seventh in the Pacific Division to San Jose's eighth, see nine players on their roster receive a statistical prognosis.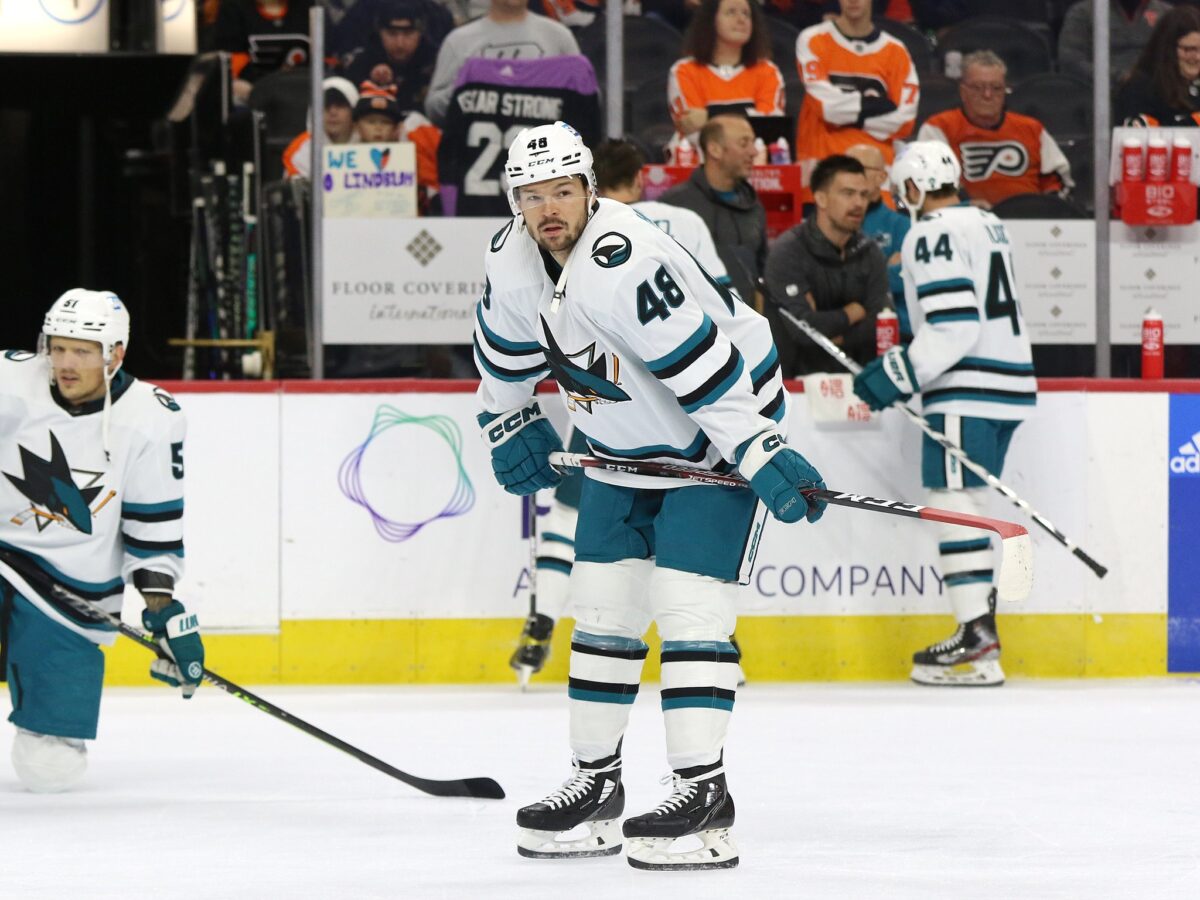 And it's not like the few Sharks who do get projections are considered by the experts to be dominant forces. Their highest-ranked player on ESPN's list is Tomas Hertl at 120th, and only five players in total make the top 300. The NHL website's list is even harsher, with Hertl leading the way for San Jose at 195th and only three players in the top 250. To put that in context, the Ducks have seven and four players on the lists respectively.
---
Latest News & Highlights
---
Throughout the season, the Sharks will dress players who are largely unproven in both their value to the team and an NHL roster in general. This uncertainty makes them difficult to predict, and that doesn't usually lead to massive amounts of winning hockey.
Hertl and Couture May Take a Step Back
Many of San Jose's recent moves suggest that the team's offense, which was already below average, will take an even further step back. We can look at the ESPN projections for two Sharks — Hertl and Logan Couture — to understand why.
Hertl, who had 63 points last season, is expected to drop to 55 this season. Couture's decline is forecasted to be even more dramatic — ESPN thinks he'll go from 67 points to 41.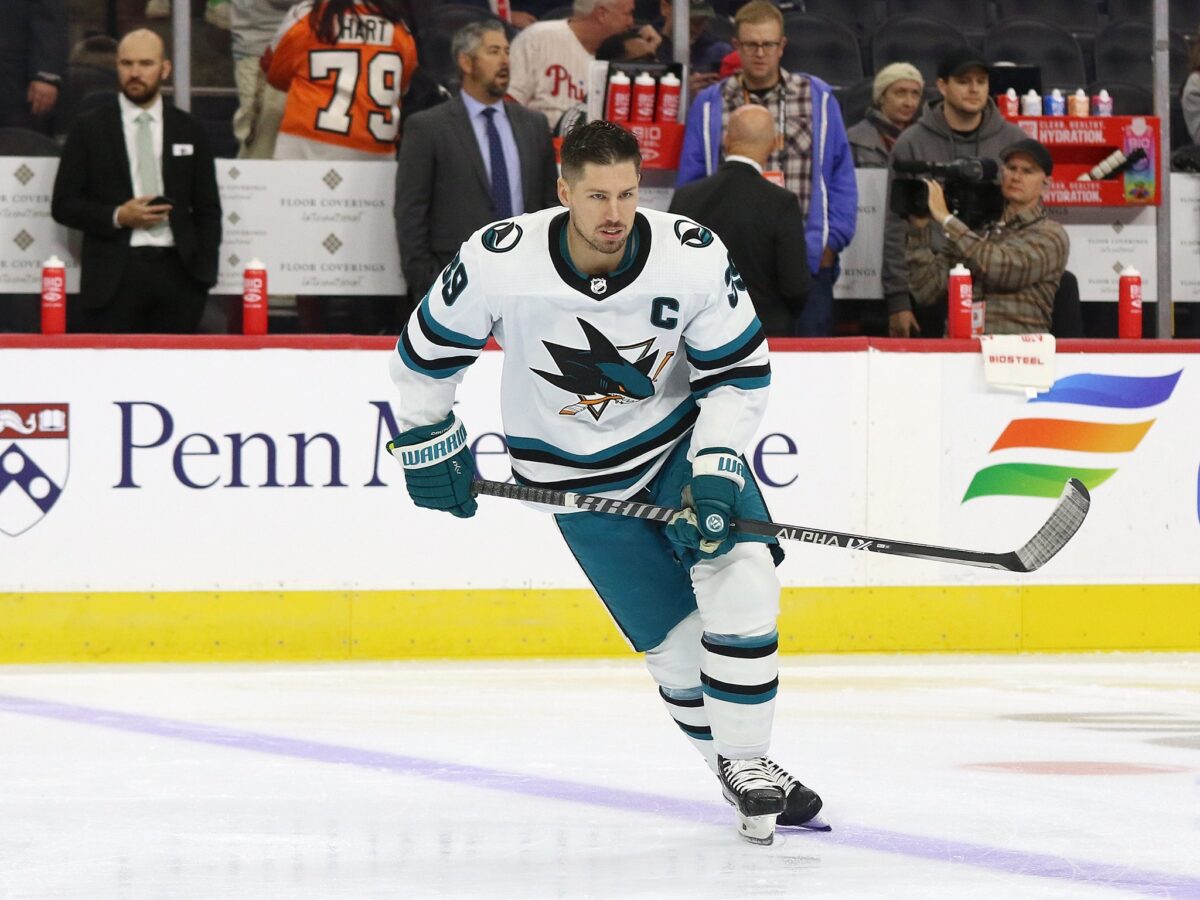 Unfortunately, these predictions make sense in a lot of ways. Two of the most important offensive pieces from last season, Timo Meier and Erik Karlsson, are no longer in San Jose. Their replacements, whoever they ultimately are, will likely not provide the same level of firepower. Hertl and Couture will be relying on a number of new players to pass to and receive passes from. They may have to create more of their own scoring opportunities as well. Together, these factors could easily create an environment in which their numbers decline.
Sharks Counting on Young Players
If there's a positive takeaway from the projections, it's that San Jose's younger players will have a chance this season to get more NHL ice time than they've ever had before.
Related: Sharks Don't Need the Playoffs to Have Positive 2023-24 Season
Jacob Peterson has only registered 25 points in 77 NHL games in his entire career. ESPN expects him to put up 36 points in 77 NHL games in 2023-24. William Eklund has just seven career points in 17 NHL games thus far, but he is pegged for 36 points in 60 games this upcoming season. They're the only two non-veterans to receive a stat projection, but they serve as a microcosm of the Sharks' larger picture. Because of the state of the team, young players will get chances they've never had before and can develop through actual in-game NHL experience. It's up to them to take advantage of it.
And even though the projections provide more reasons for pessimism than optimism, the Sharks can still use the challenges presented to them as an opportunity. The many unknown players can use their status as motivation and catch the rest of the league by surprise, and Hertl and Couture can step up their play and become veteran leaders.
Those who cover the NHL, and perhaps even the NHL itself, think that the Sharks are in for a rough ride. It's up to the players themselves to make the most out of their situation.