Getting their name engraved on the Stanley Cup is the ultimate goal of every player on all NHL teams. Each year, the league also recognizes its outstanding players and coaches for individual accomplishments through a collection of annual awards. Some of these almost date back to the NHL's inception.
Related: Longest Stanley Cup Droughts
Only one team wins the Stanley Cup each year. Nevertheless, fans can still take some pride and satisfaction in seeing a player from their favorite team win an award for being the best at what they do. However, for some fan bases, these individual trophies have been few and far between.
Here's a list of the top ten longest droughts of NHL individual award winners by team.
10. Toronto Maple Leafs, Vezina Trophy
Length of Drought: 54 years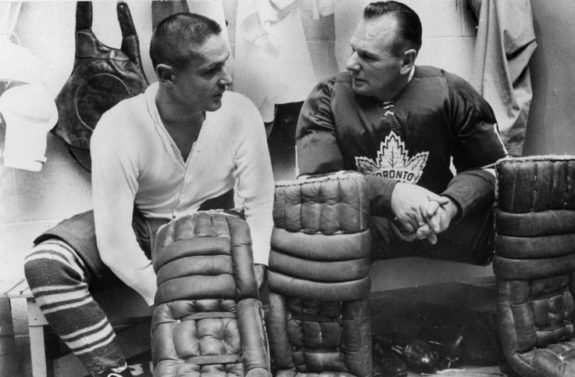 Even though the Maple Leafs finished fourth in a six-team league in 1964-65, Terry Sawchuk and Johnny Bower combined to allow the league's fewest goals against. This gave them the Vezina Trophy, which was automatically won by the goaltender(s) of the team allowing the fewest goals prior to 1982. The closest a Leaf goaltender has come to winning one since was in 1999 when Curtis Joseph finished second to Buffalo's Dominik Hasek by nine votes.
9. Detroit Red Wings, Calder Trophy
Length of Drought: 54 years
The Wings have been blessed with a number of fine rookies since the mid-1960s, including six that have finished runners-up as rookie-of-the-year. None have captured the prize since diminutive goaltender Roger Crozier in 1965. In his rookie season, he played in all 70 games and posted a 2.42 GAA and led the league in wins, shutouts and minutes played. The closest a Wing has come to winning the Calder Trophy since Crozier occurred just one year later, in 1966, when defenseman Bert Marshall lost to Toronto's Brit Selby by eight votes.
8. Detroit Red Wings, Art Ross Trophy
Length of Drought: 57 years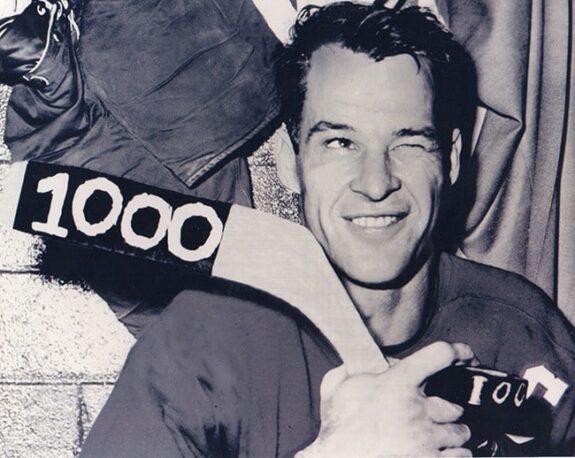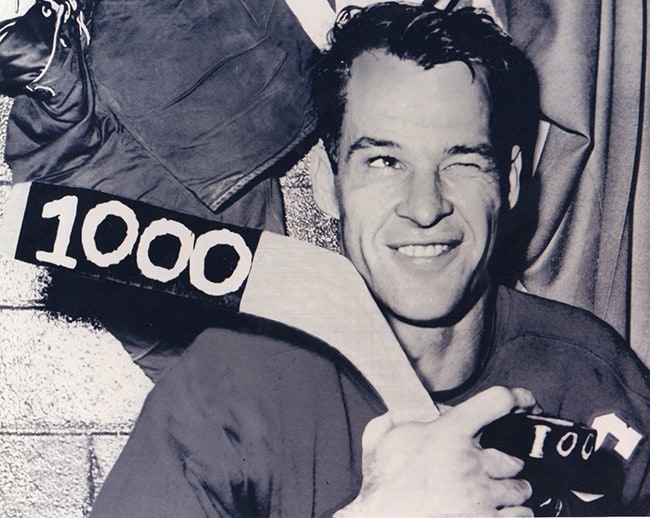 Given the success of the franchise in the past 25 years, it's hard to believe that no Red Wing has won a scoring title in five decades when Gordie Howe did so during the 1962-63 season. He had 86 points in 70 games win the scoring title by five points. Between the 1987-88 and 1992-93 seasons, Steve Yzerman never failed to eclipse 100 points in a season, including an incredible 155 points 1988-89. Unfortunately that was the season Mario Lemieux had 199 points, so Yzerman wasn't all that close to winning the scoring title. In the past decade, Pavel Datsyuk was the only Red Wing to finish in the top-five in scoring, in 2008 and 2009, when he finished fourth both years.
7. Toronto Maple Leafs, Hart Trophy
Length of Drought: 64 years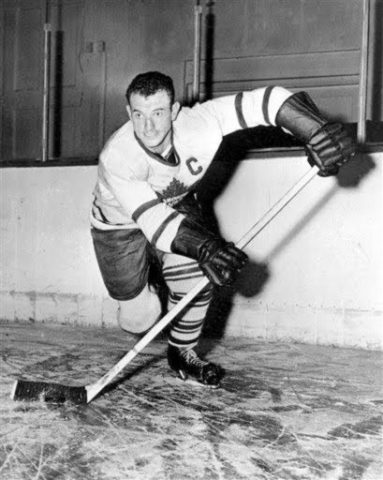 In 1955, Leafs captain Ted Kennedy was voted the player most valuable to his team despite finishing 11th in league scoring and on a team that finished third out of six teams. Kennedy wasn't even the team's leader in scoring, finishing two points behind Sid Smith. As it appears now, the award was more of a retirement gift to Kennedy, who had never won an individual award up to that point. Since Kennedy was named MVP, the Leafs have have yet to have another MVP. However, they have had three players finish second, most recently Doug Gilmour in 1993 when he lost to Mario Lemieux.
6. Detroit Red Wings, Vezina Trophy
Length of Drought: 64 years
The Detroit Red Wings managed to make the playoffs in 25 consecutive seasons, reached six Stanley Cup Finals and won four Cups, all without having a Vezina Trophy winner. In fact, it has now been 64 years since Detroit has had a Vezina winner. The legendary Terry Sawchuk won the trophy in 1955 and was subsequently traded to Boston that summer. In the 64 years since Sawchuk won, Detroit has had just one runner-up when Chris Osgood lost to Washington Capital Jim Carey by six votes in 1996.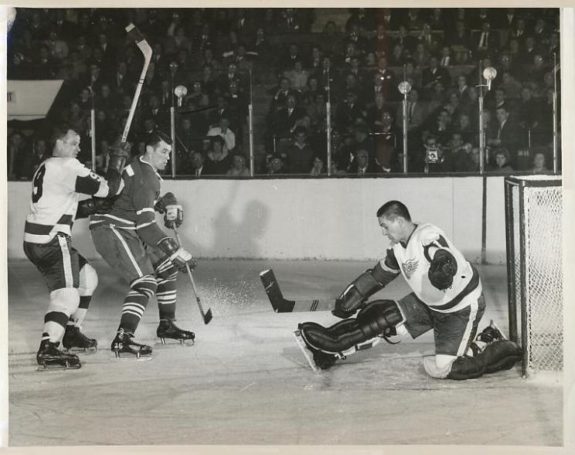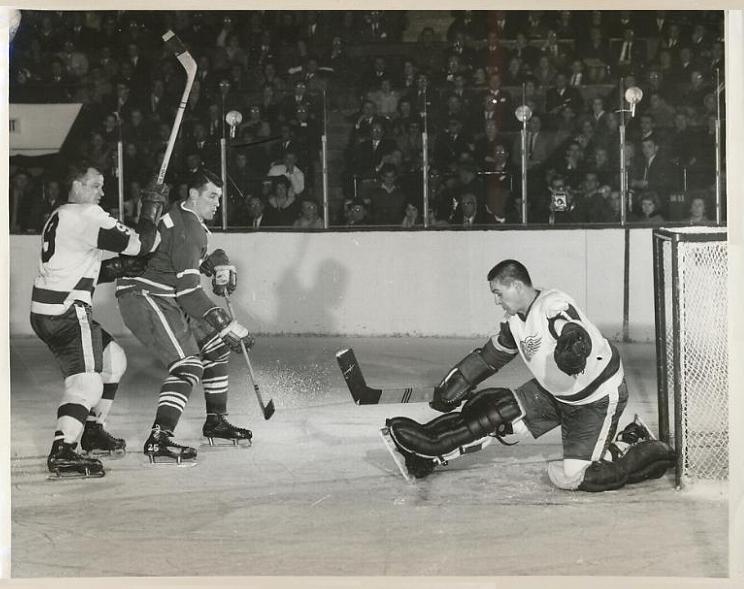 5. Toronto Maple Leafs, Norris Trophy
Length of Drought: 65 years
The award for the league's best defenseman was first presented in 1954. Most often, it has been awarded to the player with the most overall ability and contribution from that position. Some defensemen like Doug Harvey, Bobby Orr, Ray Bourque, and Nicklas Lidstrom have enjoyed a monopoly on the trophy through the primes of their respective careers.
Related: 4 Best Defensemen in Maple Leafs History
Nevertheless, no Maple Leaf defenseman has ever won the Norris. The lack of a winner is not for the absence of quality candidates over the years though. Carl Brewer, Tim Horton, Borje Salming, and Allen Stanley all finished runner-up in voting, Horton and Salming twice.
4. Toronto Maple Leafs, Rocket Richard Trophy
Length of Drought: 74 years
The Rocket Richard Trophy has been awarded since the 1998-99 season and is annually presented to the league leader in goals. Since the trophy has been given out, no Maple Leaf has led the league in goals. On two occasions their players finished runner-up: Mats Sundin in 2002 with 41 goals and Auston Matthews in 2017 with 40. To find the last Toronto player who led the league in goals, one has to go back to the 1945-46 season when Gaye Stewart scored 37 goals in 51 games.
3. New York Rangers, Rocket Richard Trophy
Length of Drought: 78 years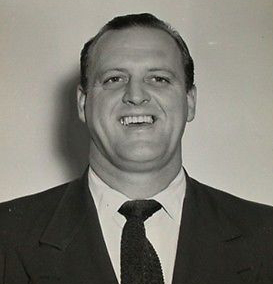 Although the Richard trophy itself only made its debut in 1999, we can still track down the top goal scorers. To find the last time a New York Ranger led the league in goals you have to go back three-quarters of a century to the 1941-42 season when Lynn Patrick scored 32 of them. The Rangers have had the league leader in goals six times, but all came between 1927 and 1942. In the era of the Rocket Richard Trophy, Jaromir Jagr is the only Ranger to finish runner-up, which he did in 2006 when he netted 54 of them.
2. New York Rangers, Art Ross Trophy
Length of Drought: 78 years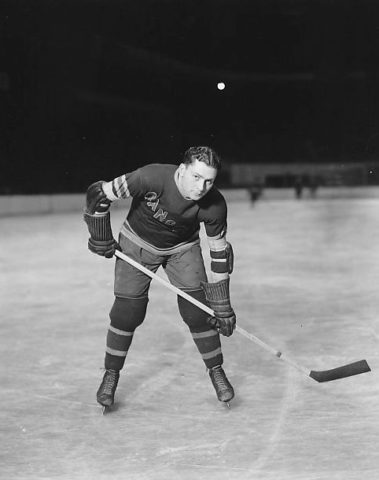 It's been a long time since the Rangers had a scoring champion. Hall-of-Fame winger Bryan Hextall was the last in 1941-42 when he led the league with 56 points in 48 games. A Ranger has come close a couple of times since, including Andy Bathgate in 1962 when he tied Bobby Hull with 84 points but lost the title by virtue of fewer goals. More recently, Jaromir Jagr finished second to Joe Thornton by two points in 2005-06.
1. Toronto Maple Leafs, Art Ross Trophy
Length of Drought: 82 years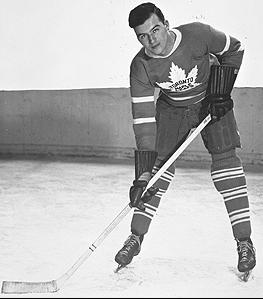 Gordie Drillon was the last Toronto Maple Leaf player to win an NHL scoring title. It was before World War II. In fact, it was before the NHL's "Original Six" era. No Maple Leaf player has even come close to winning a scoring title since Drillon won it in 1938. Only one other Leaf has even finished second in a scoring race since then. That was in 1946 when Gaye Stewart finished nine points off the lead. Since the start of the 21st century, only one Maple Leaf has finished top five in scoring. That was Mats Sundin in 2002 when he finished fourth with 80 points but still 16 points off the lead.
*All voting results and statistics came from Hockey-Reference
originally published by Mike Moore.