Despite (reportedly) coming close to signing Vadim Shipachyov, the Montreal Canadiens are now forced to deal with news that the star center is staying in the Kontinental Hockey League next season.
#BREAKING Vadim Shipachov will not play the #NHL this season. Has agreed to stay with SKA due to a a pay raise from 1.73 to 2.53mil

— Aivis Kalniņš (@aiviskalnins) June 1, 2016
So, even though in reality general manager Marc Bergevin was perhaps never all that close to after all, he must now turn his attention to potential fill-ins to replace the services of Shipachyov in his lineup for next season.
Here are the top five, in no specific order other than what's best for comedic effect:
5) Steven Stamkos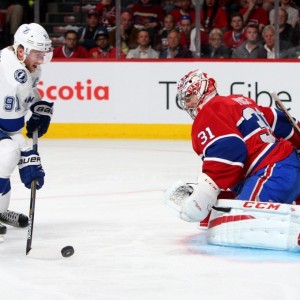 If you're going to travel all the way across the world to court a player, driving down the Trans-Canada Highway should be a veritable stroll in the park.
Granted, that would be to Toronto, where few others relative to actual Torontonians care to go and where Tampa Bay Lightning forward Steven Stamkos will most likely sign at Montreal's expense, making the trip pointless.
However, Bergevin should at least give it the old college try, even if only to keep up appearances. After all, Stamkos is slated to become the top candidate in this summer's free-agent class. What does it say to your fanbase if you've already accepted defeat?
I mean, I personally don't know. What did Michel Therrien tell you after Carey Price went down in late November?
Likelihood: 1/100
4) Eric Staal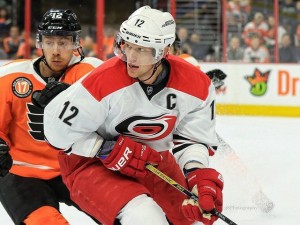 At the start of the season, it seemed as if Habs fans couldn't go a single day without hearing how they and Eric Staal were destined to end up together like peanut butter and jelly.
Unfortunately, that simile falls apart pretty quick. Montreal can't possibly be jelly because, as Therrien has proven, nothing ever sticks to him personally. And, on the off chance Staal isn't allergic to Montreal, he certainly seems to be to decent play into his 30s.
After scoring 33 points in 63 games with the Carolina Hurricanes, his mediocrity slipped even lower when he added 6 in 20 games with the New York Rangers following his trade there at the deadline.
He also didn't get a single point during the playoffs, which, actually, might make him a perfect fit with the entire Habs roster. He's also clearly over the hill, which might make the pending unrestricted free agent an attractive bargain-bin addition in Bergevin's eyes.
We all know how hard he went after Daniel Briere once upon a time, with Staal actually boasting some size where Briere obviously does not.
Likelihood: 20/100
3) Nikita Scherbak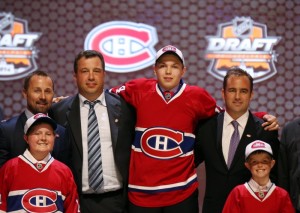 The Canadiens have many internal options to replace the hypothetical scoring Shipachyov would have provided. For just two examples, Michael McCarron and Charles Hudon are both able to line up down the middle.
However, if they're dead set on a Russian, Montreal's arguably top prospect right now, Nikita Scherbak, fits the bill somewhat. Drafted as a winger, Scherbak did spend some time at center in the American Hockey League this season, enjoying some success at the new position.
Of course, not yet 21, he hasn't yet reached the team's suggested drinking age for Therrien's Kool-Aid. He may need a few more years of development in the minors before he's desperate enough ready to eliminate all offensive creativity to his game and embrace Therrien's dump-and-chase tactics.
Likelihood: 10/100
2) Alex Galchenyuk
Here's a thought: Why would the Canadiens go after a skilled center when they already have Alex Galchenyuk, Tomas Plekanec, Lars Eller, David Desharnais and Torrey Mitchell (and Brian Flynn and Phillip Danault)? Unless they have long since planned to move someone over to compensate for their lack of depth on the wings.
Well, even if Shipachyov isn't coming, someone has to be the odd man out, and history for the most part dictates Galchenyuk just doesn't have chemistry with Max Pacioretty… you know, aside from that time in 2014-15.
In 12 games they played together as a line in 2014-15, Galchenyuk (9), Pacioretty (13) and Gallagher (7) combined for 29 points.

— Eric Engels (@EricEngels) March 6, 2016
And that time this past season, when he scored 11 goals and six assists over his final 17 games on that first line. But believe you me it's that rest of the time—the close to four years Galchenyuk spent on the wing—when they had absolutely no success playing together that constitutes that "most part" you should worry about.
Therrien likes to say Pacioretty and Galchenyuk had no chemistry for 3 games before.

Firstly it was 2. Not 3. He faced Bergeron & Datsyuk.

— Brian Wilde (@BWildeMTL) March 9, 2016
Chemistry, man. It's a fickle mistress. Some people have it. Some people can spend their entire lives trying to understand what the word really means.
Likelihood: 5/100
1) Dale Weise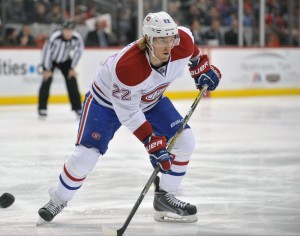 It's wasn't as much a matter of chemistry as it was of gravity, but the Dale Weise experiment finally came to an end when Montreal traded him and Tomas Fleischmann to the Chicago Blackhawks for Danault and a future second-round pick.
However, with Weise having expressed a desire to return, the Canadiens may have already found the top-six forward they need… standing right behind him in Kyle Okposo. But, you know, as the Shipachyov incident should have taught Montreal, beggars can't afford to be choosers.
Forget the fact Weise is bottom-six winger and Shipachyov is a top-six center. And ignore how what Montreal really needs is a top-six winger, which doesn't accurately describe any single player on this list.
The reality of the situation is Weise is the likeliest solution to Bergevin's search for the ideal free agent: big, hard-working, familiar with Montreal's system, willing to come here. Most significantly, in spite of the important signing of Kirk Muller as an associate coach, it's perfectly symbolic of the step back into transitional status the Habs would be taking by re-signing him.
Likelihood: 64/100
It should probably go without saying, considering he was a big part of last year's disaster of a team, but re-signing Weise would not constitute an improvement for Montreal. It all really depends on Bergevin's vision for the team, or, you know, his vision in general.
#Habs Bergevin says he needs to add 3rd and 4th line scoring to compensate for lack of available premium scorers.

— Chantal 🐾 (@pucksnlife) April 11, 2016
Judging by the beard he was sporting at the end of the year, he either needs a new prescription, doesn't believe in mirrors or believes instead Montreal was a playoff team. They're not far off, as long as they put 2015-16 as far behind them as possible. How likely is that?