Coming into the season many thought that the Toronto Maple Leafs would be able to make the playoffs after a long absence. With the season winding down and not many games left to play, they are still in contention, but the odds are not in their favor, as they will have to jump a sizable group of teams in order to crack the top eight. So let's assume they do not make it when the clock strikes midnight on the seaso.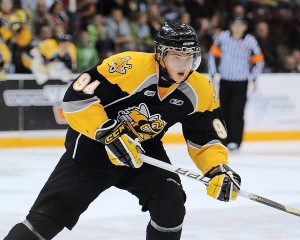 The Entry Draft should be their main focus and they will likely pick in the 5th to 10th slot range. The team has many needs, but some must be addressed sooner than others. If you look at need number one for Brian Burke and company, it has to be getting a top line centre.The second need would be that of a goalie, but going that route through the draft is a timely process and not always effective.
If you look at this draft it is  heavy on talent among blue liners, especially in the top half of the first round. This is not great news for the Leafs, but if they do their homework they can still make the draft work and address the needs that they have.
The Leafs would love to get Nail Yakupov, but chances are he will be selected by either the Edmonton Oliers or the Columbus Blue Jackets early on. They do however have a slim chance at big Russian centre Mikhail Grigorenko. They will have to move a couple of spots down in the standings and hope that the Oliers take a defenseman for this to happen. Grigorenko is a big power forward, which also is a plus for Brian Burke as he likes to draft big forwards like he did last year with Tyler Biggs.
Chances are they are not going to be able to get Grigorenko so I will not focus too heavily on him. The next available centre in most scout's rankings is Alex Galchenyuk who plays for the Sarnia Sting of the Ontario Hockey League. Coming into the season Alex was rated as high as 2nd for the draft behind teammate and friend Yakupov. Luck has not been on Alex's side this year as he has not played a single game because of a leg injury. Even with this injury a lot of rankings have him still in the top ten for the draft, which is a testament to the skill that scouts have seen in him. There is a chance he could slip out of the top ten because of this injury, but because he was so prolific in the year before I am sure some teams will not care that he has been injured and still pick him early. I feel if he can come back from this injury he has a chance at being the best player in his class.
The Leafs have to do whatever it takes to select Alex because he is exactly what the team needs in the future and now. He would be a great fit with Phil Kessel and could be the perfect set-up guy for him. Some say he had great numbers last year because he was playing with Yakupov, but I think he would have been just as good even without a guy who's potentially number one on the board. He will have to do without him next year if he doesn't make a pro roster coming out of training camp.
If for some reason the Leafs are unable to get Alex the next available centres would be Radek Faksa and Brendan Gaunce. I feel they will both be good players, but are not high end talents like Galchenyuk. In the event that Galchenyuk is taken, it would probably be smart to pass on Gaunce and Faksa and make a trade down to draft a goalie. They should be able to grab a goalie later in the first round.
The Leafs do not want to make another mistake with a top ten pick. These decisions could mean the difference between being a Cup contender or being the team they are now.  Drafting guys like Nazem Kadri and Luke Schenn have cost the Leafs greatly. The fans need a young high end prospect for something to look forward to. This summer should be a busy one for the Leafs as they will be probably making deals to improve their team leading up the Draft. As a Leaf fan myself I hope they finally make the right decision and take the player who makes the most sense for the team in the future.