by Eldon MacDonald (edited by @ChrisRalphTHW)
The War Room May Rankings
The 2015 NHL Draft Rankings War Room: May Edition brings you the Top 180 ranked prospects as compiled by THW's Eastern Canada based hockey bird dog, Eldon MacDonald. The Next Ones Midterm Rankings (a.k.a. Chris's List) can be found here, with final rankings under construction.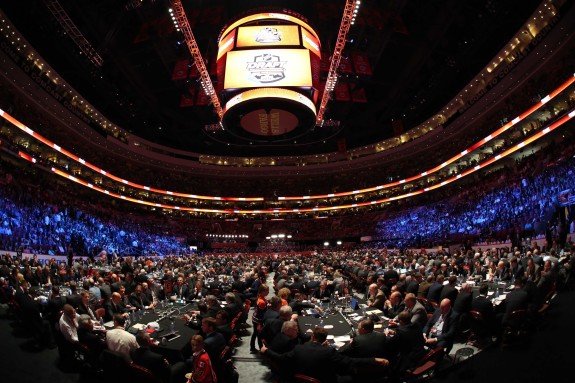 With winter and hockey almost over, the final ranking season is upon us. The NHL put out their final rankings in April and the Hockey News just put out their draft preview issue (a good value at $5.99 CDN with short but excellent write-ups on the top 60 prospects plus top 100 rankings). The rankings attached to this article are not the final ones from THW's War Room but are close. One of the things I like to see in rankings is the reasoning, however brief, behind outlier picks. Here is the rationale behind some of mine: Top 13 War Room Outliers.
War Room In Depth Player Profiles for the 2015 Draft*
*alphabetical by surname
Six rounds of sleepers this year, twelve in all. Some will be easy; you could almost guess them by their catch phrases. Others may require a little more research or thinking. Good luck to all! And yes, answers are provided. Here are the teasers – complete descriptions and answers can be found here:
Round 1 – The Potential Steal of the Draft
Round 1 – Mr. I Don't Get No Respect
Round 2 – The Russian Lawson Crouse
Round 2 – Mr. They Almost Forgot About Me
Round 3 – Mr. I Almost Had Them
Round 3 – Mr. Free Agent Rookie
Round 4 – The Big Giraffe
Round 4 – The Better Late Than Never Man
Round 5 – The Bro
Round 5 – The Whiz
Round 6 – The Captain Who Didn't Finish The Tournament
Round 6 – The League Scoring Champion
The 2015 NHL Draft Ultimate Prospect Tracker
This update expands the previous list of draft eligible prospects covered to well over 700 players making this your quintessential draft resource.
The War Top 180 May Rankings
The Ultimate Rankings Spreadsheet Legend
THW's War Room rankings are presented in the following formats in the accompanying spreadsheet:
Tab 1 – Sorted byE-Mac's NHL Draft War Room May ranking
Tab 2 – Sorted by NHL Central Scouting Combined Mid-Term Ranking
Tab 3 – Sorted by League
Tab 4 – Sorted by Nationality
Column 1 "Mar" = E-Mac's War Room May ranking
Column 2 "NHL" =NHL Central Scouting's Midterm rankings combined
Only a portion of the table displays by default; you can scroll over to see the rest of the player demographics and statistics or select View full-size workbook option, which is the icon in the bottom right hand corner, to view the full table.
The beauty of the above option is that you can then download the file to your computer and play with it or adjust it anyway you like.
Be sure to scroll over to see E-Mac's War Room 
The spreadsheet is searchable; simply click on the spreadsheet and utilize CTRL/Command "F"
Most prospects are also linked to their elite prospects