For the first time both in his career and in a Seattle Kraken uniform, we've seen a full 82-game season from Brandon Tanev. If his performance this season is any indication, the Kraken have a steal for the next two seasons. One of the main storylines for the Kraken both during the regular season and in their first playoff run was team depth. Tanev was a major part of that depth and provided a consistent and positive presence in the team's bottom six.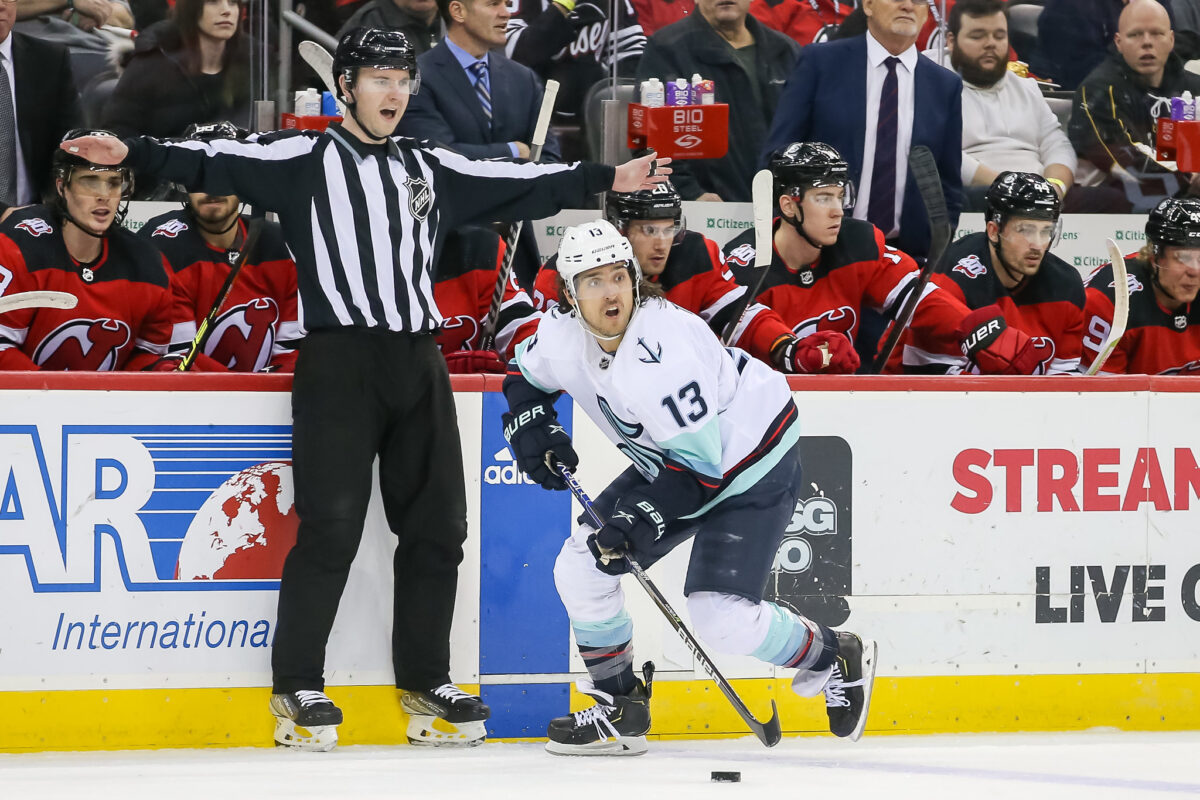 He made his return to the lineup following a season-ending injury, having played just 30 games in the team's inaugural season. In those 30 games, he scored nine goals and 15 points, which averaged out to .5 points per game. It showed that he had the ability to elevate his scoring despite playing a role that traditionally doesn't put up significant numbers. Subsequently, he did just that this season.

The Kraken are (presumably) golfing since being eliminated from their first Stanley Cup Playoffs, which means that school is out. Let's get out the red pen and start grading Tanev's performance during the 2022-23 season.
Tanev Went "Turbo Mode," Set Career Highs in Regular Season
Those who've been following my coverage of the Kraken know how highly I view Tanev and what he means to this team. The Kraken were 10-19-4 when he fell to his season-ending injury in their inaugural year, and with 82 games under his belt this season, they made the playoffs. Coincidence? I'll leave that up to you to decide. Ahead of this season, I set my expectations for his offensive production to be at least 15 goals and 30 points, and he eclipsed both of those numbers. It was likely a major factor in his nomination for the Bill Masterton Trophy.
Related: Kraken Receive Emotional Boost With Tanev's Return
---
Latest News & Highlights
---
Offensively, his 16 goals, 19 assists and 35 points were all career highs, as was his plus-21 rating. In addition, 12 of his 19 assists were primary. It was his first time scoring more than 15 goals and over 30 points. He wasn't really utilized on the power play, only playing 6:21 and not registering a point, but saw significant usage on the penalty kill. He spent more time killing penalties this past season than at any other point in his career, spending 210:07 killing penalties and tallying one shorthanded goal on seven shots, according to Natural Hat Trick. 
He was third on the team in hits, and unsurprisingly led forwards as well with 190. The next closest forward to him was Yanni Gourde whose hit total sat at 118. Here's another stat I love: he led Kraken forwards with 68 blocked shots, just five above second-placed Alex Wennberg's 63 blocks. Overall, his 68 blocks has him seventh on the team, behind literally the team's entire starting defensive corps. Speaking of defense, he had 33 takeaways and 24 giveaways on the year, giving him a plus-9 differential. 
All these numbers go towards highlighting that Tanev had the exact type of season you'd want to see from him. He was able to be moved up and down the lineup and perform consistently. He averaged 14:13 strong minutes a night, and his 1,166 minutes was the most of his career. He played under 10 minutes just once, seeing 9:47 on Dec. 13 against the Tampa Bay Lightning. 
Tanev Played Well in Playoffs, Helped Penalty Kill Improve
When it came to the postseason, Tanev's offensive numbers took a bit of a hit. However, his goal and four points in 14 games were the most he's tallied in the playoffs since his first appearance during the 2017-18 season, scoring four goals and six points in 17 games for the Winnipeg Jets. He blocked 17 shots and laid out 51 hits in those 14 games for the Kraken over two rounds, and even drew five penalties.
He averaged 13:24 minutes a night in the playoffs, never dipping below 10 in a game, and played over 38 minutes on the penalty kill, scoring a goal and a primary assist. The Kraken penalty kill struggled mightily during the regular season, and they finished 21st in the NHL with a 76.7 penalty kill percentage (PK%). They turned it around during the postseason, and Tanev had a strong hand in that. They had an 82.9 PK% in the playoffs, which currently sits fourth in the playoffs, and it's a better percentage than either team playing in the Stanley Cup Final.
Brandon Tanev's Very Early 2023-24 Season Expectations
As I mentioned earlier, Tanev's contract looks like a steal for the next two years, especially if he can maintain this level of scoring and defensive play. The 31-year-old will be making $3.5 million over the next two seasons with a modified no-trade clause for both, courtesy of the Pittsburgh Penguins and former general manager Jim Rutherford ahead of the 2019-20 season. 
Related: 2022-23 Seattle Kraken Top Moments: Fan Edition
Since the quest for Lord Stanley's Cup has yet to be completed, it's too early to really dive into expectations for Tanev ahead of next season. My initial thoughts are that I want to see him match this season's level of production. I've mentioned this in regards to Jared McCann and Vince Dunn — consistency is key. Despite having set career highs, he's still relatively in the offensive productivity range of his previous top-scoring seasons, which I think is a sign of consistency. It wasn't a massive breakout season, it was signs of steady improvement within the range of what could be expected paying off. For a bottom-six player, that's a really good sign. My first very early expectation will be for him to help carry their postseason penalty killing success into the 2023-24 season.
Brandon Tanev's 2022-23 Season Grade: A
Tanev is a leader on this team, whether or not he wears a letter, and was a major factor in the Kraken's bottom six. Given what he came back from, how he performed, his usage and what he brings to the chemistry of this team, his performance gets graded an A for the 2022-23 season.
Be sure to check out THW's Draft Guide for everything you need to know ahead of the 2023 NHL Entry Draft
---
---