The Detroit Red Wings hold picks 41, 42, and 43 in the 2023 NHL Draft, and while it seems rather unlikely they end up using each of those picks, there's a chance they do. In that case I wanted to give you an idea of the kinds of players that will likely still be available when it comes Detroit's turn to make three consecutive picks.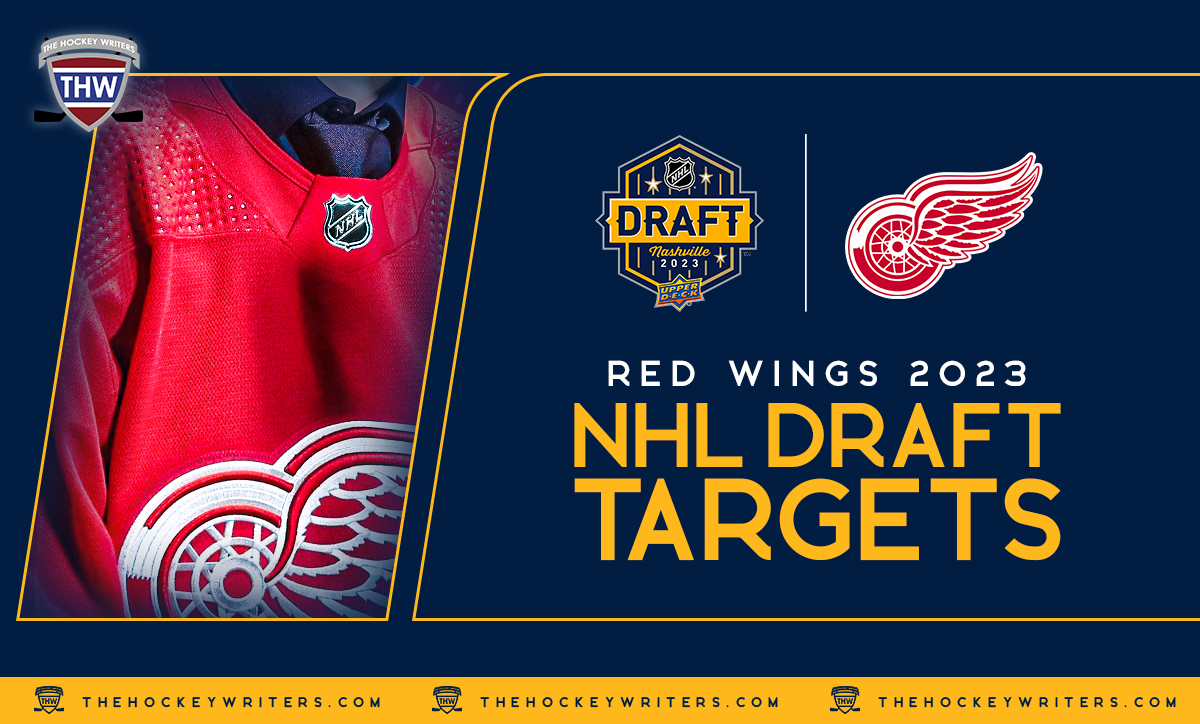 Sometimes, great players fall to the second round and the early 40s is a great range to have multiple picks on day 2 of the draft. I will be highlighting 10 players who I think Detroit could target in this year's draft, split into four tiers, from "No Brainer if Available" to "Off the Board". Picking early in the second round, there's a really good chance that Detroit will get to choose two or three players that they have ranked in the first round on their own board so these are still incredibly valuable picks to them.

Let's start with the "No Brainers", the prospects who will make Steve Yzerman and co's decision really easy should they be available at the 41-43 range.
No Brainer if Available
Gracyn Sawchyn
Gracyn Sawchyn is a first rounder in my mind, but the lack of attention and his role as a third-line center for the last half of the WHL season means that there's a chance he's available to Detroit in the second round. Sawchyn has some of the fastest hands in the class and is a quick skater as well so he can be a handful for opposing defenses on the rush. 
He's got a bit of Brandon Hagel in him, fighting through checks and making plays from his knees if need be. Sawchyn competes really hard on offense which will endear him to fans and I think he has great middle-six potential in the NHL, probably on the wing. I expect Sawchyn will score a ton of points in a much larger role next season, maybe even spending time on Seattle's first line. If he's available for Detroit in the second round, they'd likely be thrilled.
Lukas Dragicevic
Lukas Dragicevic has been a polarizing prospect this year. He's one of the most purely skilled offensive defenders in the 2023 Draft, has a right-handed shot and is 6-foot-1. Dragicevic is excellent in the offensive zone, positioning himself well to provide teammates with passing options and creating chances of his own with his shot and his hands.
Related: 2023 NHL Draft
However, Dragicevic's skating is not at the level it needs to be for him to be a top-four defender in the NHL. He defended pretty well in the WHL this year, but if he can't add a step or two to his skating stride, then I'll be a bit worried about how he'll defend against pros. Regardless, Dragicevic is a really exciting defenseman prospect and will likely be drafted in the 30-40 range, but if he slips a bit, he could be a really interesting piece to add to an already large defensive group.
Bonus: Andrew Cristall/Gavin Brindley – It feels inevitable that at least one of Cristall or Brindley will fall into the second round at this point, and if either are on the board by the time Detroit picks at 41, they would be an absolute steal in my mind.
Great Value Pick
Anton Wahlberg
Anton Wahlberg fits the bill as a Red Wings-style draft pick. Swedish? Check. Competes hard? Check. Tall? Check. Skates well? Check. Wahlberg stands at 6-foot-3 and uses his frame well in puck battles. He's a bit raw as a prospect, with his decision making being especially questionable at times, but Detroit has shown a willingness to take risks on players with a few great attributes as early as the second round (see: William Wallinder).
I think Wahlberg is limited a bit offensively by his decision making and lack of high-end hockey sense, but he competes and skates well enough for his size that I think he has a real chance to be a solid middle six forward, either as a 3C or a middle six winger in the NHL someday. He plays a lot of his game down the middle of the ice, and is fast enough to take the puck through or around defenders on the rush. I think he'd be a great pick in the second round for Detroit.
Hunter Brzustewicz
Hunter Brzustewicz is an offensive defenseman who is incredibly reliable with the puck, making smart plays in favor of unnecessary risks. He reads plays very well and skates well enough to take advantage of any openings he sees, on both defense and offense. Brzustewicz's skating allows him to get back quickly on defense and to often maintain good enough gap control to defend the rush.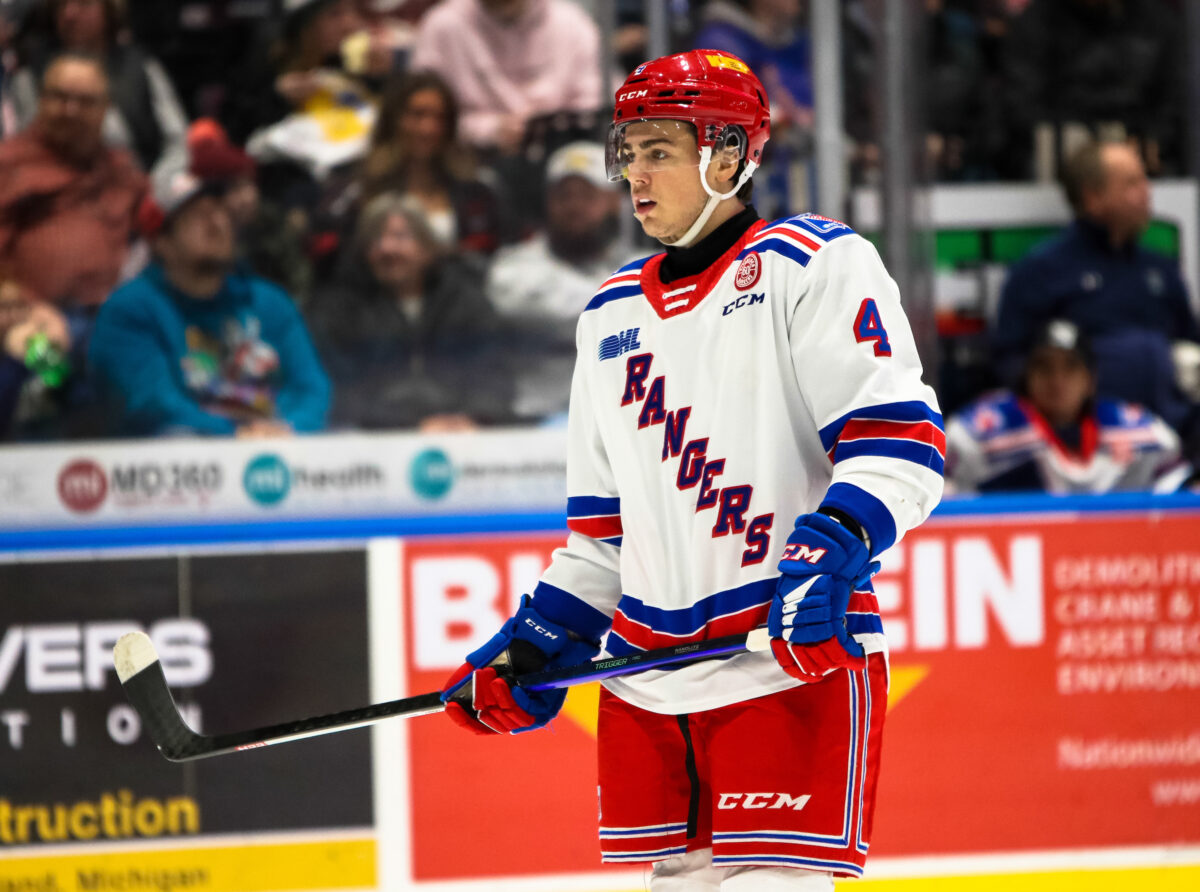 The majority of his value will come on offense where he always looks calm and prepared to face whatever his opponents throw at him. He scored 57 points in 68 OHL games this season which was a bit unexpected after he put up only 20 points last year in the NTDP. He's not the flashiest player around, but Brzustewicz looks like a legit NHLer, probably a solid second-pairing righty.
Nick Lardis
Nick Lardis' year was a tale of two seasons. He began the year with the Peterborough Petes, scoring only 19 points in 36 games. Lardis' draft fortunes changed suddenly in January when he was traded to the Hamilton Bulldogs. Some combination of new linemates, new role, and more powerplay time was a huge success for Lardis, who put up 25 goals and 46 points in 33 games with Hamilton. 
Related: Detroit Red Wings Draft Coverage
His points-per-game rate in Peterborough was 0.53, jumping up to 1.39 in Hamilton, not to mention his 10 points in six OHL playoff games. Lardis has been one of the biggest draft risers since the start of the new year, and that could take him all the way to the first round. He's a bit undersized at 5-foot-11, but he has an excellent shot and impressed at the NHL Draft Combine where he showed out in the fitness testing, leading all prospects with 15 pull-ups and ranking near the top for many other tests.
Lardis also has a late birthday, not turning 18 until July, which gives him extra time to continue developing, especially physically. He's not the most physical player, but he competes well and is quite quick, especially in straight lines. There's no doubt that his shot is his calling card, with the increasingly popular curl-and-drag wrister being his preferred shot type in most viewings I've had. 
Good Pick
Kasper Halttunen
Early this year it seemed like Kasper Halttunen would be a first rounder, and while that is still a possibility, he is by no means a lock at this point. Halttunen is a big, power forward winger with an excellent shot who has a very heavy skating stride and an underwhelming off-puck game. He's got tons of potential as a 6-foot-3 winger who only just turned 18, and it doesn't hurt that he scored 18 goals and 24 points in 18 games in Finland's top junior league.
Some of Halttunen's tools scream top-six potential, with the size, power, and shot to be an effective NHL power forward, but his skating and decision making are weaknesses that will need considerable progress for him to reach that ceiling. I think his size and potential will be too much for NHL GMs to overlook as the second round gets underway and he would be an interesting upside bet for a Detroit team that could use his size up front someday.
Andrew Strathmann
Andrew Strathmann is a two-way defenseman who isn't particularly flashy on offense but has enough offensive sense and good enough skating mechanics to be very effective in the USHL this year. He walks the blue-line well and can get passes through tough lanes from the top of the zone, which makes him especially valuable on the powerplay where he excelled for the Youngstown Phantoms throughout the regular season and playoffs.
The biggest area for improvement for Strathmann is his decision making in the offensive zone, as he does turn the puck over regularly while trying difficult, and sometimes inadvisable, passes. He typically doesn't overcommit himself before these occur, staying close to the blue line most of the time, which allows him to defend the play following a turnover, but reducing these unnecessary plays by choosing smarter, easier plays would be a positive change. Some decision making improvements would make him a very safe bet as a bottom-four defender in the NHL on the right side, a spot where the Red Wings could really use some depth.
Trey Augustine
Trey Augustine can be a tricky player to scout since he played in front of the USA U18 squad in the NTDP that is always incredibly gifted. However, Augustine did more than his fair share this year and ended the season with an absurd 29-1-2 record and a .926 SV%. He's got a phenomenal mind for the game, tracking pucks and plays incredibly well.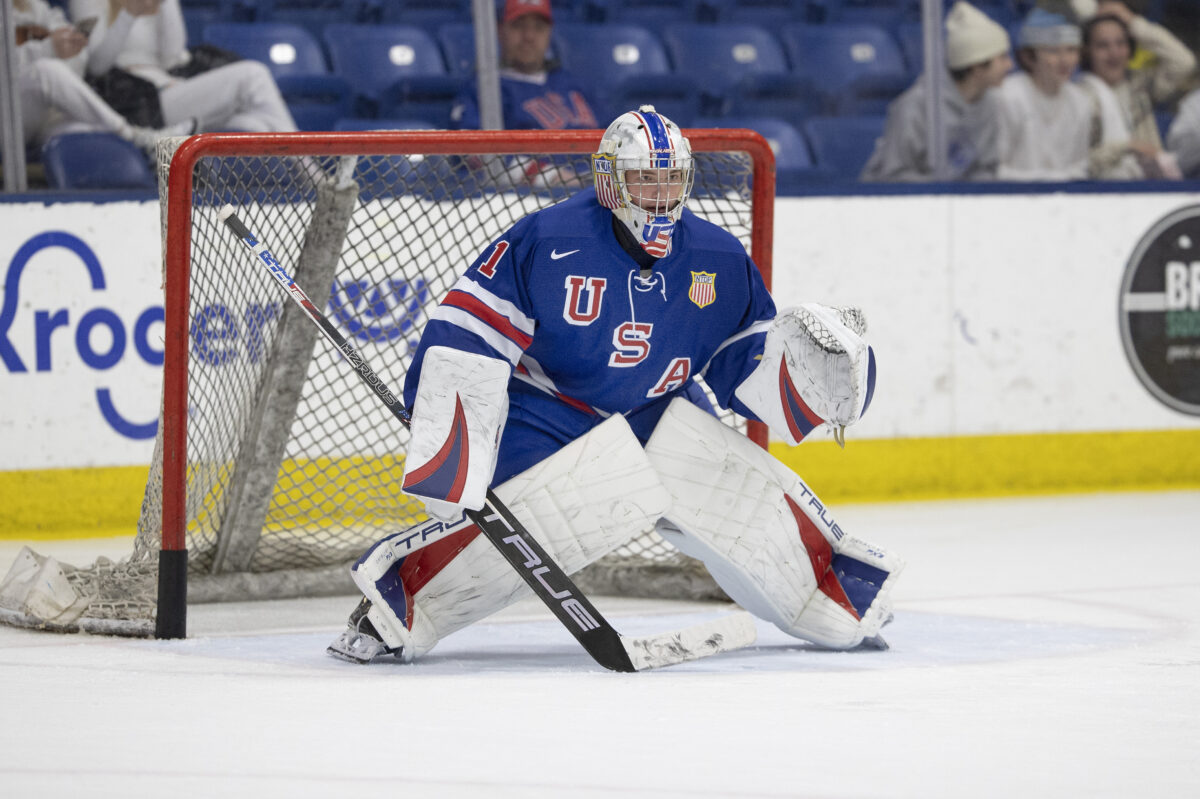 While Augustine doesn't have the typical size for an NHL goalie (6-foot-1), he makes up for it in stellar positioning. Also, I think he'd be a great complement to Sebastian Cossa, who is significantly larger and plays the game with a bit more chaos. The goaltending pipeline is pretty bare in Detroit behind Cossa and I think Augustine would be a good bet for them. I only put him in the "Good Pick" tier because there's a chance he's available even later than this.
Off The Board (but still great)
Felix Unger Sörum
Felix Unger Sörum is a playmaking winger with an excellent defensive game. Unger Sörum has risen a ton recently in draft circles following a good second-half of his regular season and his great showing at the U18 World Junior Championship where he tied for 11th in tournament scoring. Against his peers, Unger Sörum is a dominant playmaker who makes a remarkable amount of passes into the slot/homeplate area of the offensive zone, setting his teammates up for great scoring chances regularly. He's an intelligent offensive player, capable of extending plays with great off-puck movement and constantly scanning the play around him for advantages. 
Unger Sörum is just barely eligible for the 2023 Draft, and would have been eligible for the 2024 Draft if he were born only two days later. If his offensive game doesn't translate to the pro level over the next couple of years, Unger Sörum will still provide a ton of value as a defense-first player, especially considering that his defensive game will only get better as he continues to grow into his 5-foot-11 frame. Detroit could use his playmaking on the powerplay as well as his two-way tenacity on the penalty kill. Not the most popular name, but someone that I think will be in consideration here for the Red Wings.
Timur Mukhanov
Timur Mukhanov is a great skating, two-way forward with a mature playmaking game that allowed him to play professionally as a 17-year-old this year. He is just 5-foot-8 so it's unlikely he sticks as a center in North America, but he has a solid frame already and is deceptively difficult to knock off the puck. 
Mukhanov is also an excellent skater, with high-end speed and tons of control over his crossovers, which combine to make him quite elusive off the rush. Mukhanov will be limited by his lack of height, with his shorter reach showing up in his struggles while trying to stickhandle through traffic and defend with his stick in-zone. However, he is a smart defender, and is always looking to back-check and involve himself in the play. Mukhanov is one of the higher upside swings to be had in the second or third rounds of this year's draft, and Detroit taking Dmitri Buchelnikov in last year's second round leads me to believe Mukhanov will at least be in the conversation with one of the Red Wings' picks here.
Bonus: Jayden Perron (Perron has a similar physical profile to Mukhanov and is an incredibly intelligent off-puck offensive player. Probably on the board here and would be a great upside bet)