The 2023 NHL Entry Draft is one of the deepest in recent memory, in large part to the quality of left wingers available. Whether it is a dynamic scorer, physical threat, or two-way contributor, the variety of prospects organizations can pull from this left wing class should make general managers and scouting staffs extremely excited. While there won't be a left wing first-overall pick like last season, they should be able to surpass the five total that was picked in the first round of the 2022 Draft.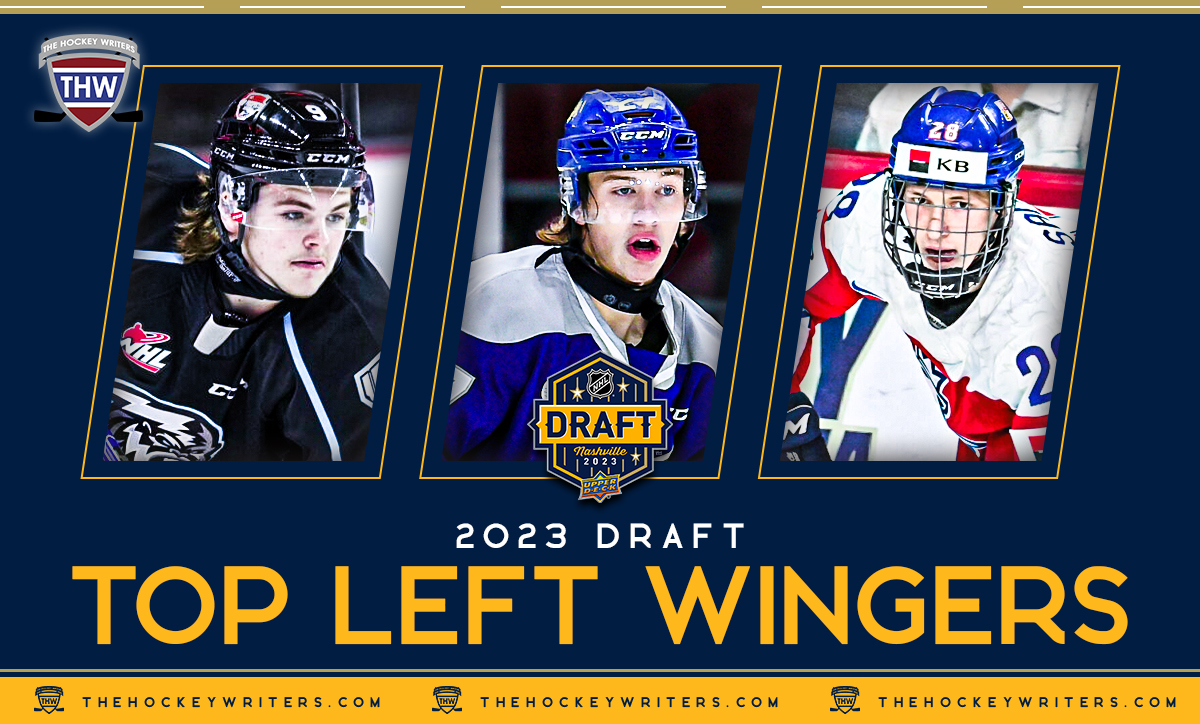 Heading into the draft, there are often debates on what positions players will play in the NHL. To qualify for this list, players must be designated as a left winger, according to NHL Central Scouting. Without further ado, here are the top 10 left wingers heading into the 2023 NHL Draft.
10. Noah Dower Nilsson, Frölunda HC J20, J20 Nationell
NHL Central Scouting (EU Skaters): 17th
THW Prospect Profile
A dynamic winger who knows how to generate offence, Noah Dower Nilsson will be a name to watch during the second round of the draft. In 37 games this season, he finished seventh in the J20 Nationell with 54 points and was the only U18 player to surpass the 50-point mark. Whether it was scoring goals or setting up teammates, he showed just how dangerous he can be with the puck when in the offensive zone.
Related: THW's 2023 NHL Draft Guide
---
Latest News & Highlights
---
There is no question that where Dower Nilsson is most valuable is in the offensive zone. He is a deceptive player that can use his shot or playmaking ability to generate high-danger scoring chances. Once the rest of his game catches up with his offensive ability, he is going to be hard to stop at the NHL level.
9. Nick Lardis, Hamilton Bulldogs, OHL
NHL Central Scouting (NA Skaters): 27th
THW Prospect Profile
A player that continued to rise up the ranks all season, Nick Lardis jumped 69 spots from the midterm rankings to the final list, and for good reason. After a mid-season trade from the Peterborough Petes to the Hamilton Bulldogs, he took off, scoring 25 goals and recording 46 points in 33 games. He also added an additional ten in six playoff games showing that all he needed was a better opportunity to showcase his offensive prowess.

One of the reasons Lardis is so effective is his skating ability. He can press defenders into making decisions and uses his speed to get around the ice and into high-danger areas. A prospect with a great shot that can beat goaltenders from all over the ice, he should be near the top of the Ontario Hockey League's (OHL) goal-scoring list at the end of the 2023-24 season.
8. Bradly Nadeau, Penticton Vees, BCHL
NHL Central Scouting (NA Skaters): 17th
THW Prospect Profile
A two-time champion in the British Columbia Hockey League (BCHL), Bradley Nadeau enters the draft after putting up one of the best BCHL seasons in recent memory. Not only did he lead the league in goals, assists and points, but was also named league MVP for the regular season and postseason. Committed to the University of Maine next season, there is a chance he hears his name called during the first round of the draft.
What makes Nadeau so dangerous is his quick reflexes. This allows him to fire home one-timers with ease while also delivering crisp one-touch passes to teammates. He has a lot of potential, so it will be exciting to see what he can do in the National Collegiate Athletics Association (NCAA) over the next few seasons.
7. Quentin Musty, Sudbury Wolves, OHL
NHL Central Scouting (NA Skaters): 14th
THW Prospect Profile
A potential power forward at the NHL level, Quentin Musty can do a little bit of everything. Whether it is playing a physical game or becoming a playmaker in the offensive zone, he can be virtually unstoppable at times with the puck on his stick. A first-round talent, he is the type of prospect teams love to add to their organization.
This season, it was clear Musty became a lot more confident with the puck. He was the only 2005-born OHL player to surpass the 50-assist mark and finished second behind Colby Barlow with 78 points. There is no doubt that he is a special player and one that could have a massive impact at the NHL level.
6. Andrew Cristall, Kelowna Rockets, WHL
NHL Central Scouting (NA Skaters): 15th
THW Prospect Profile
Heading into the draft, there are few players that have been debated about as much as Andrew Cristall. The Kelowna Rockets winger is one of the best playmakers and smartest prospects available but could drop out of the first round because of his skating and size. A high-risk, high-reward player, he has the potential to become a first-line winger at the NHL level for the majority of his career.
Related: 2023 NHL Draft: Top 10 Defencemen
This season, Cristall was the Rockets' offence. He posted 39 goals and 95 points in just 54 games finishing behind Connor Bedard and Logan Stankoven for the league lead in points per game. If not for an injury that kept him out for 14 games plus the Top Prospects Game, there is little doubt he would have eclipsed the 110-point mark and been ranked higher on NHL Central Scouting's final rankings.
5. Daniil But, Loko Yaroslavl, MHL
NHL Central Scouting (EU Skaters): 9th
THW Prospect Profile
Daniil But is one of the drafts' most intriguing prospects. Listed at 6-foot-5, 203 pounds, he focuses more on skill rather than physical play, developing into a talented playmaker. He also has a great shot that helped him score 15 goals in 26 games at the MHL level this season.
The issue with projecting where But may land in the draft is the Russian factor. He is under contract until the end of the 2024-25 season, and like most Russian prospects, there are concerns that organizations won't be able to help him develop while he is playing in the Kontinental Hockey League (KHL). A prospect with a lot of raw talent and intangibles; it will be very interesting to see which team takes a chance on him.
4. Colby Barlow, Owen Sound Attack, OHL
NHL Central Scouting (NA Skaters): 12th
THW Prospect Profile
Barlow is the type of player every coach would love on their team. He never gives up on a play, can bring a physical presence and is a leader, as he wore the "C" for the Owen Sound Attack this season. A goaltender's nightmare as he scored 46 goals in 79 games this season, he should hear his name called during the first round of this year's draft.
While there are a lot of elements to Barlow's game, his best is arguably his shot. He has one of the best wrist shots in the draft and wasn't shy about showing it off this year. With the right development, this is a player that should be a top-six winger at the NHL level.
3. Eduard Šalé, HC Kometa Brno, Czechia
NHL Central Scouting (EU Skaters): 4th
THW Prospect Profile
One of the most skilled players in this year's draft, Eduard Šalé showed this season why he is a top prospect. At 17, he performed well at the pro level in Czechia, recording 14 points in 43 games while playing over ten minutes in the majority of games for HC Kometa Brno. Where he really shined, though, is for Czechia on the international stage, where he posted six points in five games at the U18 level and helped his country win a silver medal at the U20s after a six-point in seven-game performance.
What makes Šalé so special is that he can virtually do it all in the offensive zone. He can shoot the puck in stride or hit teammates with accurate passes to create scoring chances. If he can continue to round out his game, there is little doubt that he can be a force in the NHL.
2. Samuel Honzek, Vancouver Giants, WHL
NHL Central Scouting: 9th
THW Prospect Profile
One of the best two-way forwards available this year, Samuel Honzek should hear his name called early during the NHL Draft. Listed at 6-foot-4, 185 pounds, he is as concerned about playing defence as he is about his offensive game. Whether it was on the penalty kill, power play or at even strength, he was able to show off his speed and skill during his rookie year in the Western Hockey League (WHL).
Related: 2023 NHL Draft: Top 10 Right Wingers
At this point, there are not too many holes in Honzek's game. He skates extremely well, understands where he needs to be positionally in the defensive zone to break up plays, and has a dangerous shot that can find the back of the net from all over the offensive zone. One of the most versatile prospects in this class; if he is returned to the WHL next season, expect him to get close to the 100-point mark if he can stay healthy.
1. Zach Benson, Winnipeg ICE, WHL
NHL Central Scouting: 6th
THW Prospect Profile
The number one left winger on this year's list was an easy selection. Zach Benson isn't just the best left winger available but is considered to be a top-five talent in the 2023 Draft. A play driver who is strong in all three zones on the ice, he also led a stacked Winnipeg ICE team with 98 points in 60 games, finishing third in points behind Bedard and Stankoven for the WHL lead.
Whether it is in the offensive, defensive or neutral zone, Benson is consistently the best player on the ice. He can steal the puck at one end, drive it all the way through the neutral zone and finish off the play with either a perfect pass to a teammate or with his shot. An elite prospect that arguably would have gone first overall in the 2022 Draft, whichever organization selects him is getting a player that could be a star in the NHL.
An Exciting Class Of Left Wingers
This class of left wingers does not disappoint, as it features some of the most exciting players available in this draft. Whether it is in the first round or deep in the draft, organizations will be able to find a prospect that should excite the fan base, thanks to their potential. Make sure to stay tuned to The Hockey Writers for all your pre-and post-draft day coverage as the next group of future stars gets drafted into the NHL.