In the aftermath of the Vegas Golden Knights winning the Stanley Cup earlier this month, the 2023 Draft order is finalized, with the Colorado Avalanche slated to select 27th overall in the first round. Given their competitive timeline and significant needs on the roster, the team may decide to parlay that first pick into established NHL talent capable of providing an immediate impact rather than betting on a prospect with uncertain long-term potential.
The Avalanche have a rocky history of first-round picks outside of the top 10, so perhaps trading down for multiple second-rounders or moving the pick for an NHL player would be the more prudent decision.
Related: 2023 NHL Draft Guide
In Nathan MacKinnon, Mikko Rantanen, and Cale Makar, the Avalanche have truly elite talent at almost every position. There is no clear positional need that could immediately be addressed by any prospect, but grabbing one with top-six (forward) or top-four (defense) upside should be the goal to bolster an otherwise shallow prospect pool.

However, assuming that they decide to actually use their first-round selection, there are a number of intriguing options for the Avalanche to target towards the end of the opening round.
Let's dive into five of those prospects, and highlight what they could eventually bring to the table at the NHL level, based on The Hockey Writers' consolidated draft rankings. For a more in-depth assessment of each prospect, click on their personal draft profile.
Jayden Perron, Right Wing, Chicago Steel (USHL)
Jayden Perron is an undersized winger (5-foot-9, 165 pounds) hailing from Winnipeg, Manitoba, and whose playmaking stood out on a strong Chicago Steel squad last season. With 72 points in 61 games in the United States Hockey League (USHL), he finished fourth on the team in scoring but paced all Steel skaters with 48 assists which was good enough for second in the entire league.
---
Latest News & Highlights
---
THW's Devin Little states that Perron is "agile, makes quick reads, and [is] always looking to make something happen on the ice". He's the type of player for whom the offensive side of the game comes easy, but could endure some rough patches as he moves to a higher, more physical level.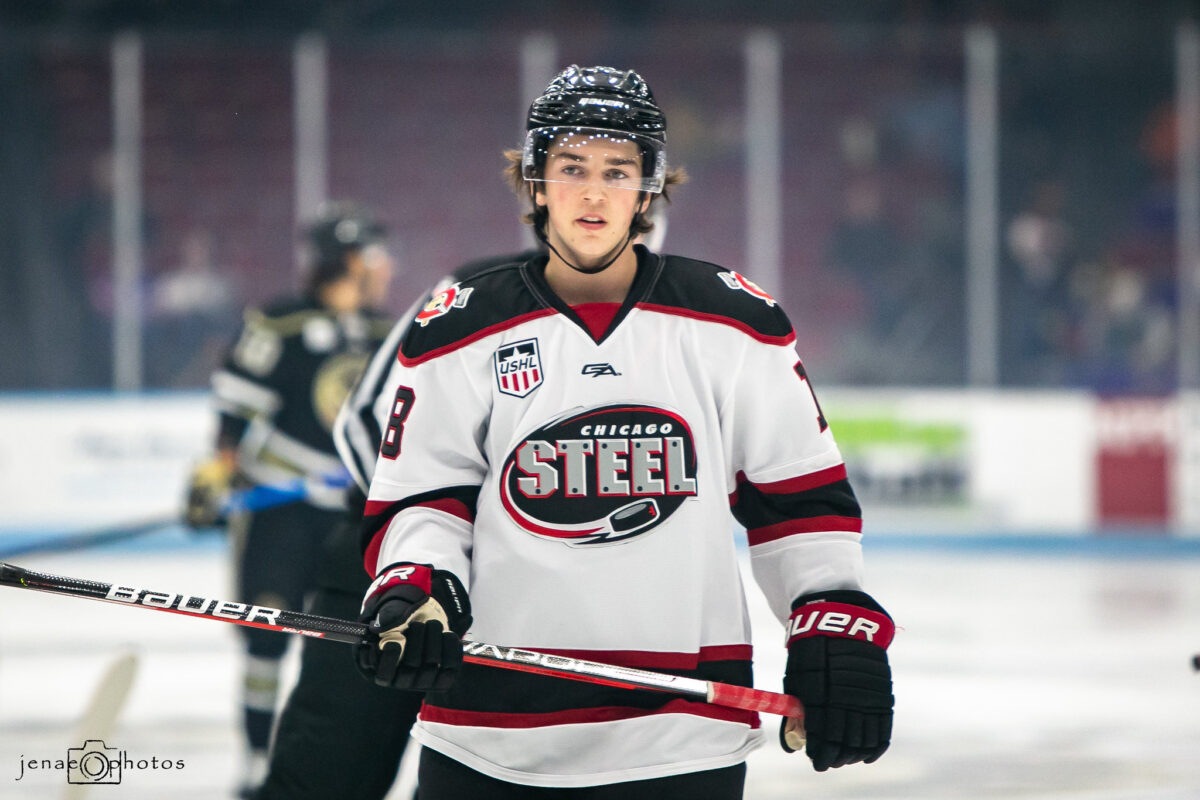 Many industry insiders have Perron ranked as a second-round pick, so it would not be surprising to see him remain on the board into the second day of the draft. He has committed to the University of North Dakota for the 2023-24 season and looks set to add to the legacy of the Steel pipeline with one of the top college programs in the country.
The Avalanche have never been known to turn down an injection of skill, and it's easy to see how Perron's deft puck-carrying, elusiveness, and acceleration meshes with the organization's ethos.
Dmitri Simashev, Defense, Loko Yaroslavl (MHL)
Standing at 6-foot-4 and over 200 pounds, left-handed blueliner Dmitri Simashev already possseses an NHL-ready frame while accumulating professional minutes this season.
THW's own Logan Horn believes that Simashev "has every physical tool you could hope for, and uses each of them well, with the speed, strength, and reach to be a really great top-four defender in the NHL". While his overall offensive contributions appear to be capped at the NHL level, he's no slouch in terms of transitioning the puck and possesses the defensive upside to make up for any limitations.
You may also like:
Despite not registering a single point with Lokomotiv Yaroslavl of the Kontinental Hockey League (KHL) this season, Simashev tallied 10 points (one goal, nine assists) in 29 games with their junior squad. He also added six points in 10 Junior Hockey League (MHL) playoff games.
Simashev is one of the most polarizing prospects eligible for this year's draft, with THW's own prospect writers placing him anywhere from 16th to 40th in their final pre-draft rankings. His KHL contract runs through the 2024-25 season, so don't expect to see him in North America before the end of that campaign.
If the Avalanche have the patience, he could be a strong selection in this range and could offer a different look to the team's blue line depth contingent.
Oliver Bonk, Defense, London Knights (OHL)
The first defenseman on this list, Oliver Bonk featured heavily on a London Knights squad that made it to the 2023 OHL Championship before losing to the Peterborough Petes in six games. Among a host of enticing prospects from the OHL, Bonk made a name for himself.
By traditional numbers, Bonk didn't exactly light up the OHL, only scoring 51 points (10 goals and 41 assists) over 78 regular-season and playoff games for the Knights. As THW's prospect writers argue though, he's not being drafted with his offensive capabilities top of mind.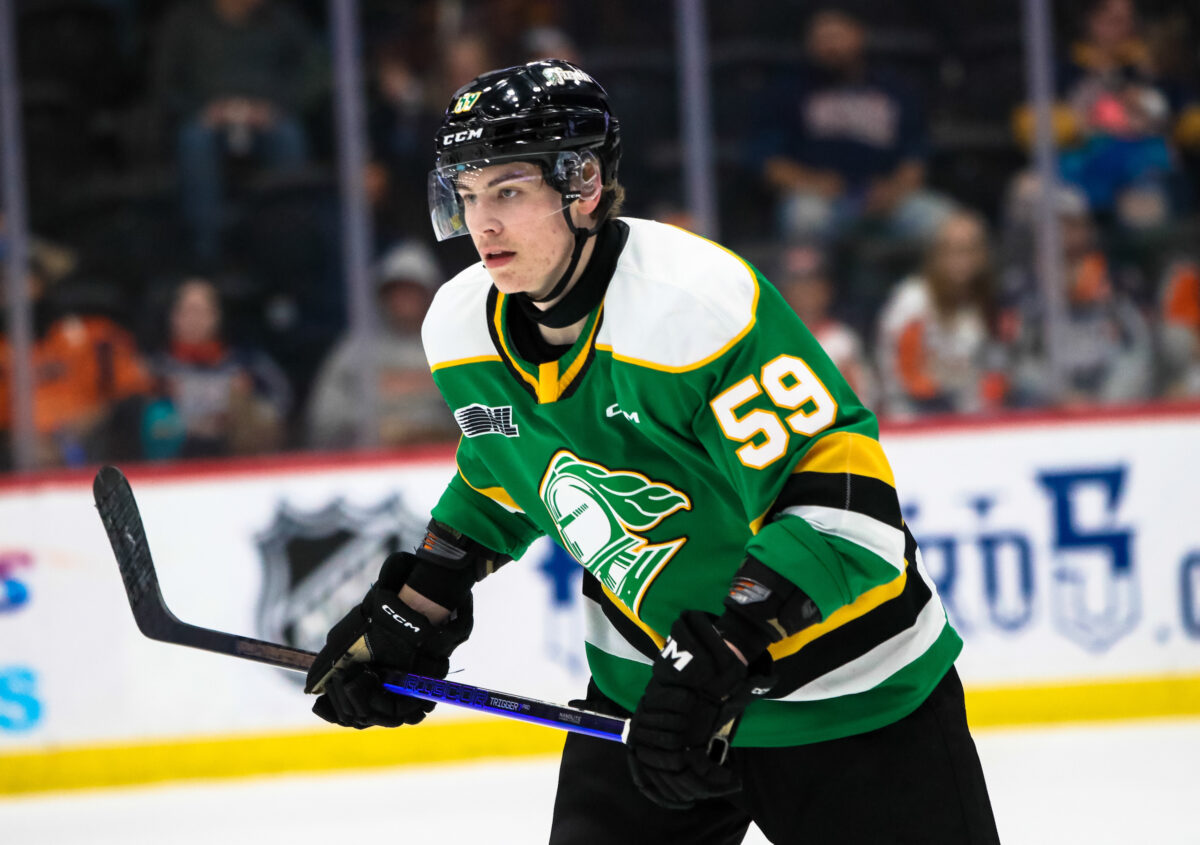 In his most recent mock draft, THW's Peter Baracchini has Bonk falling to the Avalanche. He cites Bonk's ability to "[simplify] things and [execute] plays effectively" while "displaying a great work ethic and making a positive impact every shift." Adding to that evaluation is Logan Horn's assessment, praising Bonk for his ability to control play defensively and make up for his offensive limitations with two-way excellence and steadiness in the face of pressure.
Bonk ranks 31st in THW's consolidated rankings so he is very likely to be available to the Avalanche at 27. He represents the safe pick to be sure, but the Avalanche can't afford to be picky given the state of the prospect pool.
Daniil But, Left Wing, Loko Yaroslavl (MHL)
At a towering 6-foot-5 and 203 pounds, Russian winger Daniil But offers a tantalizing physical package folded in with a dangerous release and the ability to create a shot at any angle. His defensive impact leaves a lot to be desired, but that might be the sacrifice a team has to make to bring in a player of his stature.
But scored two goals in 15 games with Lokomotiv Yaroslavl in the KHL, and produced at a point-per-game rate (15 goals and 26 points in 26 games) in the MHL. Along with But's puck-carrying, his "skating grew on [Horn] throughout the year, with enough speed and agility to really use his size to his advantage, powering through defenders", even if his acceleration could use some work.
Like Simashev, But is viewed as somewhat of a risk given his play style and everything that comes with being a player in the Russian system. Still, those are the realities of picking near the end of the first round, rather than in the top half. The uncertainty grows, but so does the payoff, and But has the raw tools that make general managers salivate when it comes to potential home-run swings.
Depending on where he is selected, But's rise (or fall) could be one of the more significant underlying storylines of the 2023 NHL Draft. For an Avalanche club with a shoddy history of picks outside of the top 10, But could be their turning point.
Calum Ritchie, Center, Oshawa Generals (OHL)
Of the names on this list, 6-foot-2 center Calum Ritchie is the least likely to drop to the Avalanche given that nearly all of the reputable scouting services have him going before 27th. He finished with 59 points in 59 regular-season OHL games with the Oshawa Generals and tallied nine points in seven games with Team Canada at the Under-18 World Championship, placing third.
In his most recent rankings, Little frames Ritchie as "a capable puck transporter, and his shot is a bit underrated…[with] legitimate potential as an all-usage centerman that can play up and down the lineup". Ritchie saw regular usage in all situations (including the penalty kill) and offers the on-ice versatility that is so highly coveted at the NHL level.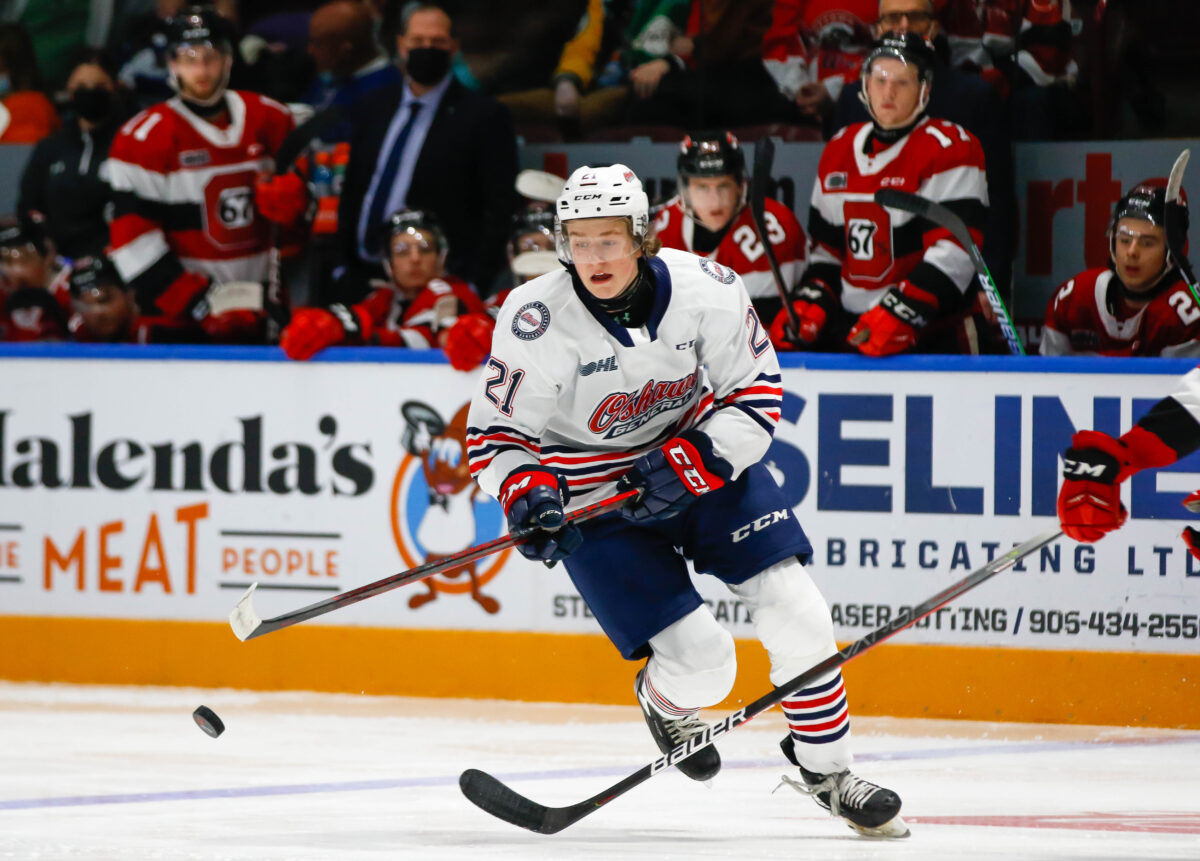 There's always a risk with drafting players who don't exactly blow the competition out of the water in terms of production in their draft year, but Ritchie offers enough beyond that that getting him at 27th would represent good value. It also bears keeping in mind that he nursed a shoulder injury for most of the season, but still managed to put forth a commendable showing in his draft year.
If he manages to develop his offensive game, this could be an enormous steal and someone who could eventually slot in behind MacKinnon in a top-six role. The only other question is if he falls that far in the first place.
Avalanche 2023 NHL Draft Targets: Honourable Mentions
Apart from the five players mentioned above, here are five other prospects who could find themselves within the Avalanche's range come draft day:
Bradly Nadeau, Center, Penticton Vees (British Columbia Hockey League – BCHL)
Gracyn Sawchyn, Center, Seattle Thunderbirds (Western Hockey League – WHL)
Ethan Gauthier, Right Wing, Sherbrooke Phoenix (Quebec Major Junior Hockey League – QMJHL)
Mikhail Gulyayev, Defense, Omsky Yastreby (MHL)
Gavin Brindley, Right Wing/Center, University of Michigan (National Collegiate Athletics Association – NCAA)
Given that the Avalanche are unlikely to find a player who would be able to immediately step into the lineup this late in the first round, they should draft the best player available, regardless of position.
Avalanche Have Options with First-Round Draft Pick
The Avalanche find themselves in an enviable position with their first-round pick. In holding the 27th overall selection, the team has the flexibility to explore various avenues. They could choose to leverage their pick to acquire veteran NHL talent who could immediately address current needs on the roster.
Alternatively, they may choose to hold onto the pick and invest in a promising prospect who could contribute to their long-term success, though such a decision comes with its own consequences for the Avalanche's immediate Stanley Cup odds.
This decision will undoubtedly be influenced by the Avalanche's assessment of their current roster and the players available on the trade market or in free agency. The front office has proven it has the mettle to make the right decisions when it comes to roster building, although balancing the franchise's short- and long-term needs could be their toughest test to date.