The 2023 NHL Entry Draft is rich with impactful defencemen from across the globe. There are puck movers, power-play specialists and, of course, shutdown defenders that should make an impact in the NHL for years to come. With a stacked draft like this one, it also means teams will be walking away with steals in the later rounds as they look to add some valuable defencemen to their prospect system.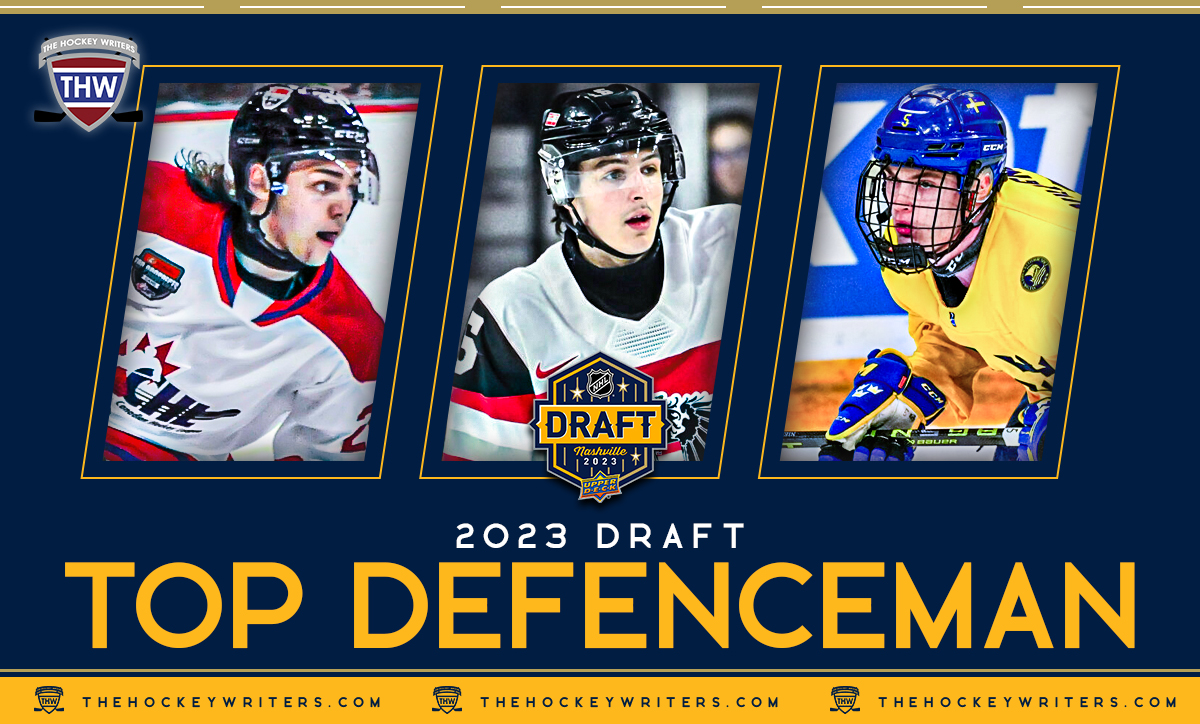 While it will be hard to beat the benchmark of nine defenders selected in the first round last year, it is possible this year's group comes close based on the talent available. Even if they do not hit the mark, there is a case to be made that the overall quality of prospects available is higher than it was during the 2021 Draft. Without further ado, here are the top ten defencemen available in the 2023 NHL Entry Draft.
10. Lukas Dragacevic, RD, Tri-City American, WHL
NHL Central Scouting (NA Skaters): 18th
THW Draft Profile
Arguably the best offensive defenceman in the draft, Lukas Dragacevic is a high-risk, high-reward defender that should hear his name called during the second round. He finished the season third in scoring among Western Hockey League (WHL) defencemen with 75 points in 68 games while also setting a career-high with 15 goals. A projected top unit power play quarterback at the NHL level, whichever team does decide to draft him could be looking at a 50-plus point contributor from the blue line.
Related: THW's 2023 NHL Draft Guide
While Dragacevic's offence is a great asset, the reason why he continues to slide down draft boards is his overall defensive play and skating. The good news, though, is that he is only 18, which means there is still plenty of time for him to develop these parts of his game and get them to the level needed to play in the NHL. There is always a risk, but drafting a 6-foot-1, 194-pound right-shot defender that can put up points better than anyone in this draft class is never a bad idea.
9. Beau Akey, RD, Barrie Colts, OHL
NHL Central Scouting (NA Skaters): 33rd
THW Draft Profile
Beau Akey is a defenceman that can do a little bit of everything. He is an excellent shutdown defenceman, can transition the puck well and continues to impress with his skating. Posting a career-high 47 points in 66 games, he projects to be an all-around solid defenceman at the NHL level.
The next step of Akey's development will be engaging with the opposition while defending against the transition game. Currently, he leaves too big of a gap which allows whoever he is defending to gain entry into the zone with ease. If he can become more aggressive and close off those zone entries, he projects to become a valuable second-pair defenceman in the NHL.
8. Etienne Morin, LD, Moncton Wildcats, QMJHL
NHL Central Scouting (NA Skaters): 19th
THW Draft Profile
Etienne Morin has developed into a strong, all-around defenceman. He has good speed, can make crisp passes through the neutral zone and showed he knows how to put the puck in the net, scoring 21 times in 67 regular season games. The number two ranked prospect from the Quebec Major Junior Hockey League (QMJHL), according to NHL Central Scouting, there is a chance he will hear his name called during the first round of the draft.
Breaking down Morin's game, the biggest concern is his overall defensive play. While he can break up plays with his stick, he hasn't developed that physical side to his game and needs to be more aggressive when defending against the rush. He is a very intriguing prospect and one that there is plenty of interest surrounding heading into the draft.
7. Luca Cagnoni, LD, Portland Winterhawks, WHL
NHL Central Scouting (NA Skaters): 35th
THW Draft Profile
After being passed over in the WHL Draft back in 2020, there is a chance that Luca Cagnoni is the first defender from the WHL selected in the 2023 NHL Draft. A dynamic, offensive defenceman who transitions the puck as well as any other defensive prospect in this draft, he is a player that has continued to evolve his game all season. After a season that saw him post 64 points in 67 games, he should once again be near the top of the WHL defenceman scoring list for the 2023-24 season.
The biggest knock against Cagnoni heading into the draft is his size. At 5-foot-9, 182 pounds, there are going to be teams that pass on him as they believe he is too small to play defence. If Quinn Hughes or Samuel Girad have taught the hockey world anything, it is that talented players always find a way to shine, regardless of their size.
6. Tanner Molendyk, LD, Saskatoon Blades, WHL
NHL Central Scouting (NA Skaters): 28th
THW Draft Profile
Few players in this draft class are better skaters than Tanner Molendyk. Whether it is his speed, ability to change direction or defending against the rush, his skating has helped him become one of the top defencemen available in this year's draft. With added minutes and responsibilities expected next season, his development in the WHL will be something to keep an eye on next year.
---
Latest News & Highlights
---
The 2023-24 season will be massive for Molendyk as he will be able to show what he can do as a number one defenceman at the WHL level. He will need to provide a bit more offence than the 37 points in 67 games he produced this past season while still maintaining strong play in the defensive zone. If he can continue to develop the way he has over the season, there is little doubt that he can become a puck-carrying defenceman at the NHL level.
5. Mikhail Gulyayev, LD, Omsky Yastreby, MHL
NHL Central Scouting (EU Skaters): 10th
THW Draft Profile
One of the best-kept secrets of this year's draft, Mikhail Gulyayev has the potential to be a star at the NHL level. His elite skating has helped him become one of the top offensive defencemen in this draft class, as he led all 2005-born defenders in the MHL in points with 25 in 22 games. He also played a crucial role in Omskie Yastreby's run to the Championship, where he posted ten points in 17 games before falling in the Final.
Related: 2023 NHL Draft: Horn's Two Round Mock Draft
The big question that surrounds Gulyayev is the same that follows most Russians, when will they come over to North America? At the moment, he is currently under contract with Avangard Omsk until the 2024-25 season, meaning teams may have to wait two years before even having a say in how he develops. A special talent; he could make a big splash right away once he comes over to the NHL.
4. Axel Sandin Pellikka, RD, Skellefteå AIK J20, J20 Nationell
NHL Central Scouting (EU Skaters): 7th
THW Draft Profile
One of the best defencemen in the transition game available, Axel Sandin Pellikka is a prospect that has continually gotten better throughout the season. He was not only a star at the J20 Nationell level, posting 36 points in 31 games, but performed well when given an opportunity in the Swedish Hockey League (SHL), playing 22 games. Add in standout performances at the World Juniors and U18s; it is no wonder he is one of the top defenders available in this year's draft.
Named the J20 Nationell's Best Defenseman for the 2022-23 season, Sandin Pellikka is one of the few prospects available that looks ready to quarterback an NHL power play right away. He also isn't a liability in his own zone which is a common trait seen with offensive defencemen at the junior level. Set to play in the SHL this season; he could be ready to jump into the NHL in the next three seasons.
3. Tom Willander, RD, Rögle BK J20, J20 Nationell
NHL Central Scouting (EU Skaters): 12th
THW Draft Profile
Tom Willander has continued to rise up draft boards all season. A prospect that plays a simple yet effective game, he enters the draft on a high after not just helping Rögle BK win the J20 Nationell Championship but performing well for Team Sweden at the U18s. A prospect that is always looking to engage the opposition, he has emerged as one of the top shutdown defencemen available in the draft.

For Willander, it is now about whether or not he can add an offensive element to his game. He showed he can provide offence from the blue line at the U18s with eight points in seven games but will need to demonstrate he can do it on a more consistent basis. A projected top-15 pick in this year's draft, he projects to become a top-four defenceman at the NHL level.
2. Dmitri Simashev, LD, Loko Yaroslavl, MHL
NHL Central Scouting (EU Skaters): 19th
THW Draft Profile
Few defencemen in this draft can play like Dmitri Simashev. Listed at 6-foot-4, he can virtually do it all, whether that is leading the transition game, playing a shutdown role or throwing massive, bone-rattling hits all over the ice. Whether it was at the MHL or KHL level, he continually showed that he is a force to be reckoned with and one that could be a top-pair defenceman at the NHL level.
Related: 2023 NHL Draft Rankings: Baracchini's Top 128 Final Rankings
Just like Gulyayev, the problems surrounding Simashev is the Russian factor. If he was playing in North America, he could potentially be a top-ten pick, but because he is under contract until the end of the 2024-25 season, there is an unknown on what his development will look like over that time. Once he does decide to come over to the NHL, be ready because, at his peak, he could be one of the best two-way defencemen across the league.
1. David Reinbacher, RD, EHC Kloten, NL
NHL Central Scouting (EU Skaters): 5th
THW Draft Profile
The projected first defenceman taken in this year's draft, David Reinbacher, is a well-deserved recipient of the top spot on this list. He spent the entire season impressing in the Swiss National League (NL) while also representing his home country of Austria with pride at the World Juniors and World Championship. A prospect that looks ready to make the jump to the American Hockey League next season, he shouldn't have to wait long to hear his name called at the draft.
Reinbacher is the type of player teams are always desperate to add to their organization. He plays a solid, two-way game and can be deployed in virtually every situation. Based on his development to this point, he projects as a top pair defenceman at the NHL level.
A Solid Class Overall
Heading into the draft, it will be interesting to see where all these defencemen go. With a stacked forward group, it is very possible some of them slip, making them potential steals of the draft. Make sure to stay tuned to The Hockey Writers for all your pre and post-draft day coverage as the next group of future stars get drafted into the NHL.