Now that the draft lottery has come and gone and we know the draft order for the top-16 picks in the first round, as well as the winner of the first overall pick, I wanted to do a quick top-16 mock draft. Since the picks in the back-half of the first round are still up in the air, especially with the increasing likelihood that the Florida Panthers' pick jumps from 17th overall to the late 20's, I'll hold off on doing a full first round mock until the playoffs are over.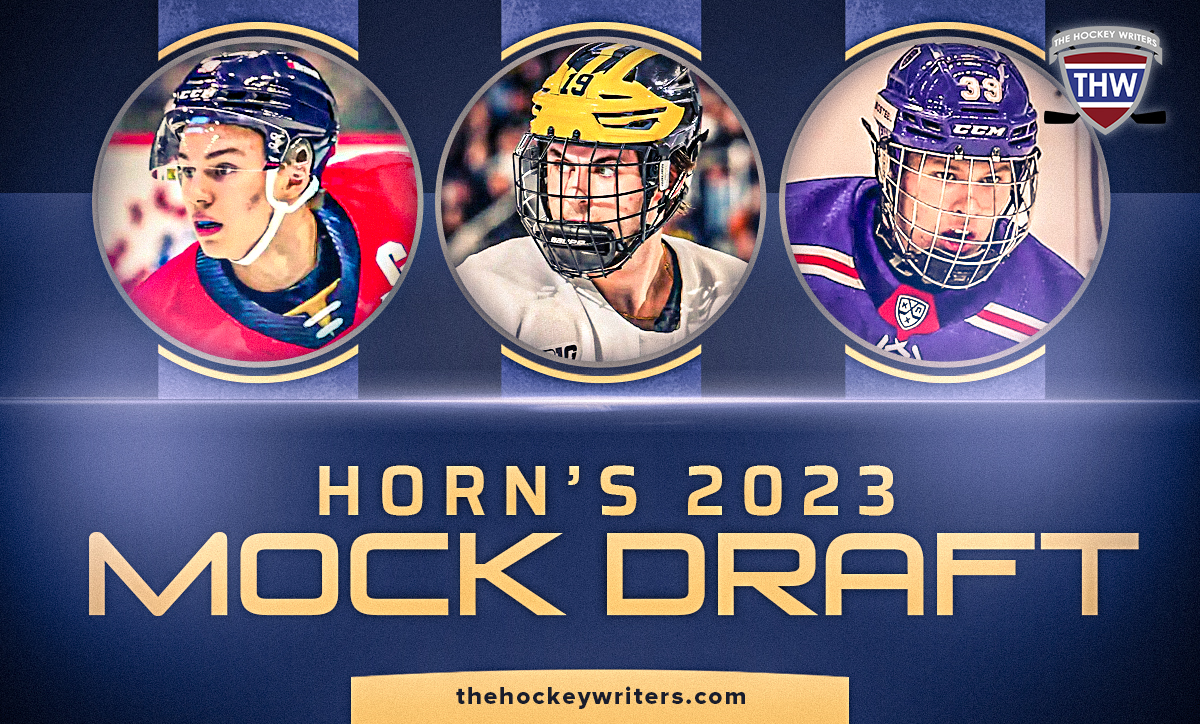 There have been quite a few changes in the scouting world since my last mock, with the U18 World Junior Championship being the biggest event on the draft year calendar. Some of the biggest name prospects in this year's draft weren't in attendance (Leo Carlsson, Connor Bedard, etc.), but there were still plenty of exciting names competing in this year's tournament, and several prospects did themselves some big favors. Gabe Perreault stands out as someone who was on the fringes of the top-20 conversation for much of the year before rocketing himself up into a likely top-10 pick.
Sweden was one of the most impressive teams at this year's tourney, with several of their top players earning a lot more respect and draft hype. David Edstrom and Tom Willander are likely the biggest risers following Sweden's silver medal performance, going from mid-round picks to likely first-rounders. Otto Stenberg and Axel Sandin Pellikka solidified their first round cases, with Sandin Pellikka doing his best to stake his claim as the top defender in the draft class.
Related: 2023 NHL Draft Guide
---
Latest News & Highlights
---
Without further ado, let's dive into a post-draft lottery mock draft!
1. Chicago Blackhawks, Connor Bedard, C, Regina Pats (WHL) (+2)
The Chicago Blackhawks have officially run one of the most successful tanks in NHL history, landing the first overall pick less than a year after pulling the plug and trading Kirby Dach and Alex DeBrincat. Connor Bedard will be a difference maker for this team next season, on a roster that is mostly devoid of them (by design). Chicago is a bit of a blank canvas at the moment, but Bedard is as good a starting point as one could hope for. 
There likely won't be a ton of high-end talent in Chicago next season for Bedard to play with, but the management group has done a commendable job of accruing great prospects and draft capital, so they should be able to build a great team around him.
2. Anaheim Ducks, Adam Fantilli, C, University of Michigan (NCAA) (-1)
Although landing the first overall pick would've been ideal, this is still a great scenario for the Anaheim Ducks, who land an excellent NHL centerman with the potential to become a legit two-way star in Adam Fantilli. With an incredibly talented young core and one of the best prospect pools in the league, the Ducks have sneakily built one of the most intriguing young teams in years. Fantilli will almost certainly excel as a center in the NHL, allowing the Ducks to shift one of Mason McTavish or Trevor Zegras to the wing, helping them stack their top-six with firepower.
3. Columbus Blue Jackets, Leo Carlsson, C/LW, Örebro (SHL) (-1)
The Columbus Blue Jackets are another team that would have benefited greatly from landing Bedard (who wouldn't have, though?), but landing the third overall pick, and making their pick of the remaining top prospects, is still a win to some extent. I have them taking Swedish forward Leo Carlsson, who excelled in the SHL this year against men, putting up offensive numbers we haven't seen for a draft year prospect in that league for decades. His combination of size and elite skill is incredibly rare, and should give the Blue Jackets the star centerman that they've coveted for so long.
4. San Jose Sharks, Matvei Michkov, RW, HK Sochi (KHL)
Matvei Michkov could very well be the biggest wild-card in the first round of the 2023 Draft. I wouldn't be shocked to see him go anywhere in the 2-5 range, but I also wouldn't be shocked if he fell to the 8-10 range either. I think the Sharks are in the perfect place to take a little bit of a gamble on Michkov while they take another step back next year in hopes of building a new core of young players.After trading away Timo Meier at the trade deadline, the Sharks fell apart in a big way, so if they can find a taker for Erik Karlsson, the Sharks could be real contenders in the 2024 draft lottery, all while having an elite offensive prospect waiting in the wings.
5. Montreal Canadiens, Will Smith, C, USA U18 (NTDP)
Will Smith solidified himself as a top-five player in this draft at the U18 World Junior Championship, leading the top line for Team USA on a nightly basis. His combination of elusive skating and high-end playmaking make him a multi-faceted threat, and a great fit as a top-six center for the Montreal Canadiens.
The Habs have built a very fun, young forward group in the last few years, and adding Smith to that group would likely solidify their top-six as one of the league's best for the next decade, with wingers like Juraj Slafkovsky and Cole Caufield supporting Smith and Nick Suzuki. 
6. Arizona Coyotes, David Reinbacher, RD, EHC Kloten (NL)
The Arizona Coyotes' forward group took a massive step forward last season at the NHL level, with Dylan Guenther proving he deserves a spot and Clayton Keller staking his claim as their next all-star forward. However, as soon as the team traded Jakob Chychrun, their need on defense went from "significant" to "absolute emergency".
Related: 2023 NHL Draft Rankings – Horn's Top 96 for March
David Reinbacher is a remarkably steady two-way defender who could likely step into the NHL next season and acquit himself admirably. He is smart and capable defensively while showing glimpses of exciting offensive potential. Reinbacher may not have elite upside, but he is a very safe bet to be a great top-four defender, and that is very valuable.
7. Philadelphia Flyers, Ryan Leonard, C/LW, USA U18 (NTDP)
Ryan Leonard is one of the most fun players to watch from this draft class. He's an absolute snow plow out there, working his tail off to retrieve the puck and clear the way for his linemates, who constantly benefit from his high-effort, high-speed style. The Philadelphia Flyers are in a transition period, and are looking to establish a new identity as a hard-working group. I can't think of a player who better fits that description than Leonard.
8. Washington Capitals, Dalibor Dvorsky, C/RW, AIK (Allsvenskan)
The Washington Capitals have been in the market for a great NHL centerman ever since they landed Alexander Ovechkin in the 2004 Draft. They've had two for many years now in Nicklas Backstrom and Evgeny Kuznetsov, though it looks like each of those players aren't long for the Capitals roster. Dalibor Dvorsky is a great powerplay playmaker, excelling on the right flank, the perfect complement to Ovechkin's standing one-timer from the left faceoff circle. Dvorsky would likely be a great transition piece from the old-guard to the new in Washington.
9. Detroit Red Wings, Gabe Perreault, RW, USA U18 (NTDP)
Gabe Perreault is one of the most exciting players in this draft class from a pure skill standpoint. He makes plays in traffic that opposing players can't even dream up, making elite passing plays look routine. The Detroit Red Wings are in need of high-end offensive firepower above all else, and Perreault fits that bill wonderfully. He's got the sort of vision and skill that makes average teammates look great, and great teammates look amazing.
It's fair to wonder if this is a bit too high for Perreault after just one great tournament, but when a player breaks all sorts of single-season scoring records set by Jack Hughes and Auston Matthews, I tend to think they're worth a top-10 pick.
10. St. Louis Blues, Oliver Moore, C, USA U18 (NTDP)
The St. Louis Blues have an embarrassment of riches when it comes to young wingers so I've got them taking Oliver Moore at 10th overall, improving their center depth. Moore is the best skater in the draft this year, with eye-watering speed and some of the best edgework I've ever seen from a draft-eligible player in recent years. He's a hard worker and creates tons of zone entries and scoring chances for his team with his skating. Being surrounded by great playmakers and finishers like he would be in St. Louis would be an ideal NHL scenario for Moore.
11. Vancouver Canucks, Axel Sandin Pellikka, RD, Skellefteå AIK (SHL)
With most of the top center prospects all off the board already, I've got the Vancouver Canucks building out their right side with Axel Sandin Pellikka (ASP), a Swedish defender with tons of offensive skill. Although Reinbacher would likely fit their needs a bit better, ASP would give them a remarkable one-two punch of slightly undersized, incredibly skilled, offensive defensemen with Quinn Hughes. Adding ASP and Filip Hronek in a matter of months would go a long way in shoring up their right-side depth for the foreseeable future. 
12. Arizona Coyotes, Zach Benson, LW/RW, Winnipeg ICE (WHL)
Zach Benson is likely to slide a little bit on draft day due to his lack of size, but don't let his stature fool you, Benson is the most tenacious and hard-working player in this draft. Benson is a remarkably well-rounded defensive forward as well, constantly fighting for the puck on backchecks and making life miserable for opposing forwards.
Related: Early Look at the 2024 NHL Draft
After taking a safe pick with Reinbacher at sixth overall, the Coyotes should be willing to take a bit more of a swing here, since Benson's size gives him a bit of boom-or-bust potential, though I think his tenacity and skill will make him a great top-six winger in the NHL.
13. Buffalo Sabres, Matthew Wood, LW, University of Connecticut (NCAA)
Matthew Wood has had an unbelievably good draft year, scoring points at a ridiculous rate as the youngest player in college hockey. His shot is nearly NHL-ready, he has excellent hands for his size, and he's got a pro frame. The only knock against Wood is his skating, and even that has improved steadily all season. The Buffalo Sabres are set down the middle with Dylan Cozens and Tage Thompson, so Wood projects to be a complementary offensive piece, most likely on the wing in the top-six. 
14. Pittsburgh Penguins, Samuel Honzek, C/W, Vancouver Giants (WHL)
Samuel Honzek has been one of the steadiest risers in the draft world this year, going from virtually unknown Slovakian kid playing in the WHL to one of the more intriguing power-forward types in the draft. The Penguins still have Sidney Crosby and Evgeni Malkin signed for the foreseeable future, and are starved for talented wingers who can support them.
Honzek has an NHL-ready frame and could make an impact in the Penguins' lineup in just a few short years. He's incredibly competitive and he skates better than most players his size, with a two-way game that should lead to him seeing significant special teams ice-time in the NHL.
15. Nashville Predators, Nate Danielson, C, Brandon Wheat Kings (WHL)
Nate Danielson is one of the most well-rounded players in the draft class, already possessing all the attributes of a great two-way NHL center. He does everything well, leading a disappointing Wheat Kings team in points this year as their captain in his draft year. Danielson competes well and has a solid defensive game, making him a really safe bet to be a middle six center in the NHL. If he can polish up his offensive game a bit more (having better linemates should help), then there's legit top-six upside here for the Nashville Predators who are always in need of high-end center men.
16. Calgary Flames, Colby Barlow, LW, Owen Sound Attack (OHL)
With the final lottery pick I've got the Calgary Flames selecting OHL sniper Colby Barlow. With Elias Lindholm likely to be extended soon by the team and Nazem Kadri under contract for six more seasons, Barlow gives the Flames a great finisher on the wing, who is more than capable of crashing the net and picking his spots when paired with some of Calgary's great playmakers. Barlow is also an accomplished two-way player, with a real chance at killing penalties in the NHL. 
Honourable Mentions: Tom Willander, Eduard Sale, Calum Ritchie, Andrew Cristall, Brayden Yager