The 2023-24 season isn't far away, so it's a good time to get into stats predictions for some of the St. Louis Blues' best players. For this edition, I will be predicting the 2023-24 stats for the Blues forward group. I have selected 11 forwards who could be mainstays in the lineup for the Blues all season.
I expect several players within the Blues forward group to bounce back from a tough 2022-23 season that most of them had. Without further ado, let's get into some stats predictions for the 2023-24 Blues forward group.
Pavel Buchnevich
First up is the team's best forward, Pavel Buchnevich. He played 63 games last season, tallying 26 goals and 41 assists for 67 points.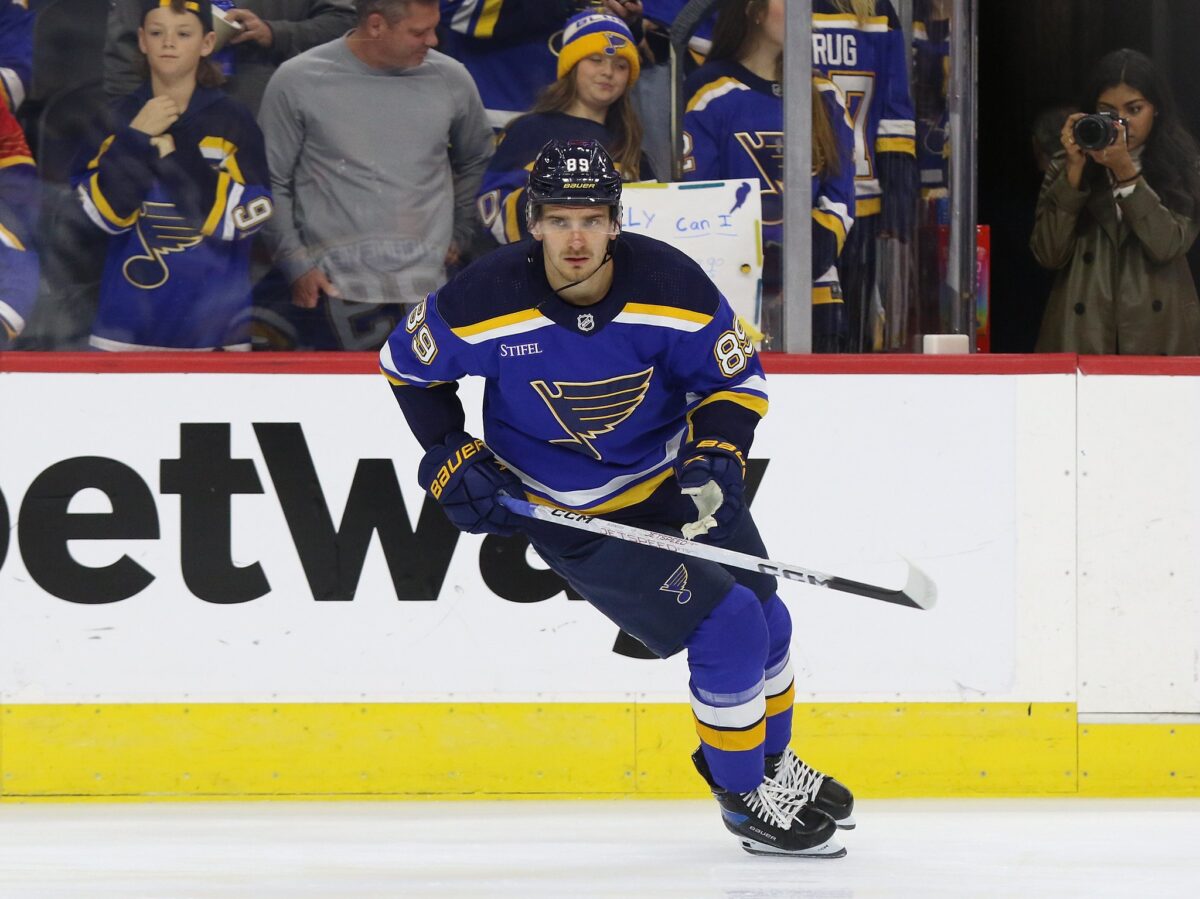 The key for Buchnevich this season will be staying healthy. He's missed 28 games in his two seasons with the Blues, including a two-game suspension in 2021. There's no reason to believe that he won't be wildly productive this season as the Blues offense looks to improve this season. In a huge season, I predict Buchenvich will score 40 goals and 38 assists for 78 points this season.
Robert Thomas
Robert Thomas is one of the best passers that the Blues have had in the past couple of decades. He had a major breakout season in 2021-22 and his numbers dipped a bit last season. He had 12 fewer points last season even with one more game played from last season to 2021-22.
Related: Thomas Is Blues' New Superstar
---
Latest News & Highlight
---
One of the most important keys to a bounce-back season for the Blues is the production between players like Thomas and Buchnevich. With that said, I do expect Thomas to bounce back with 19 goals and 59 assists for 78 points this season.
Jordan Kyrou
Jordan Kyrou is heavily criticized for his lack of a two-way game, but regardless of that, he's one of the most important offensive players on the roster. At 25 years old, he still has a lot of potential to expand his offensive game and become a better two-way player, but offensive production is the most important part of his role.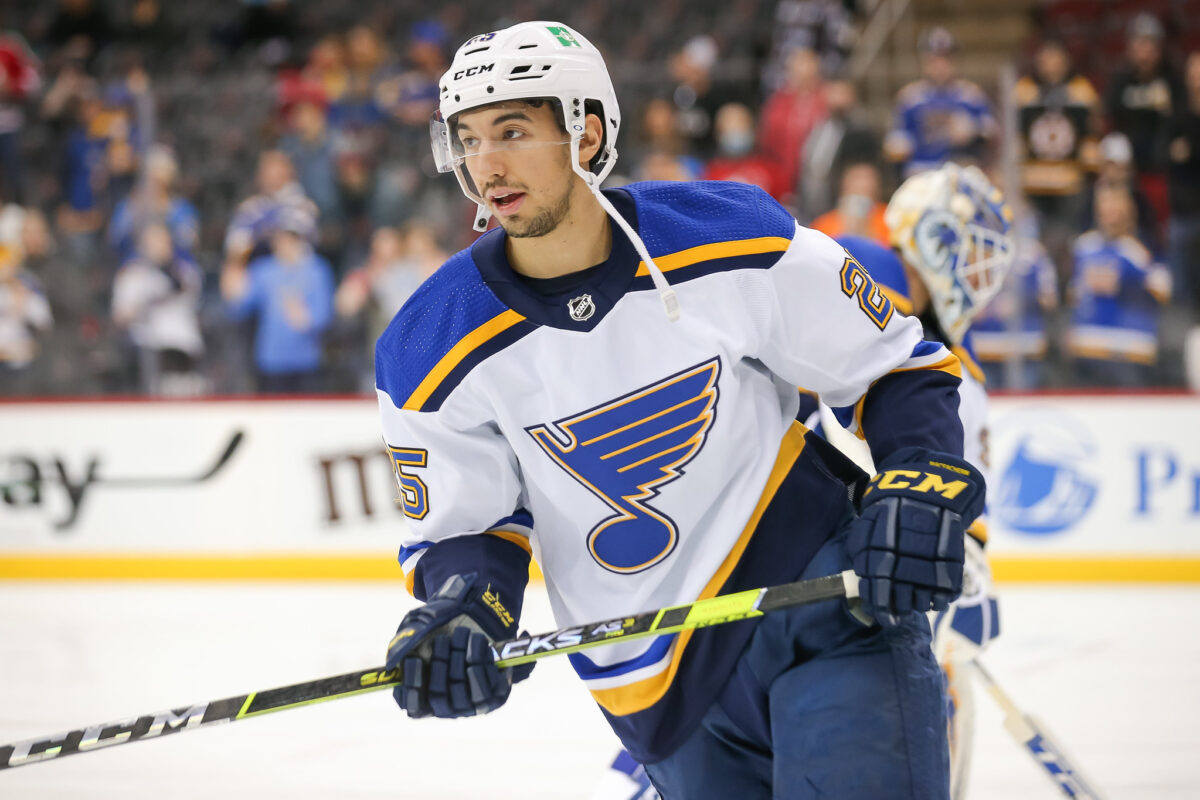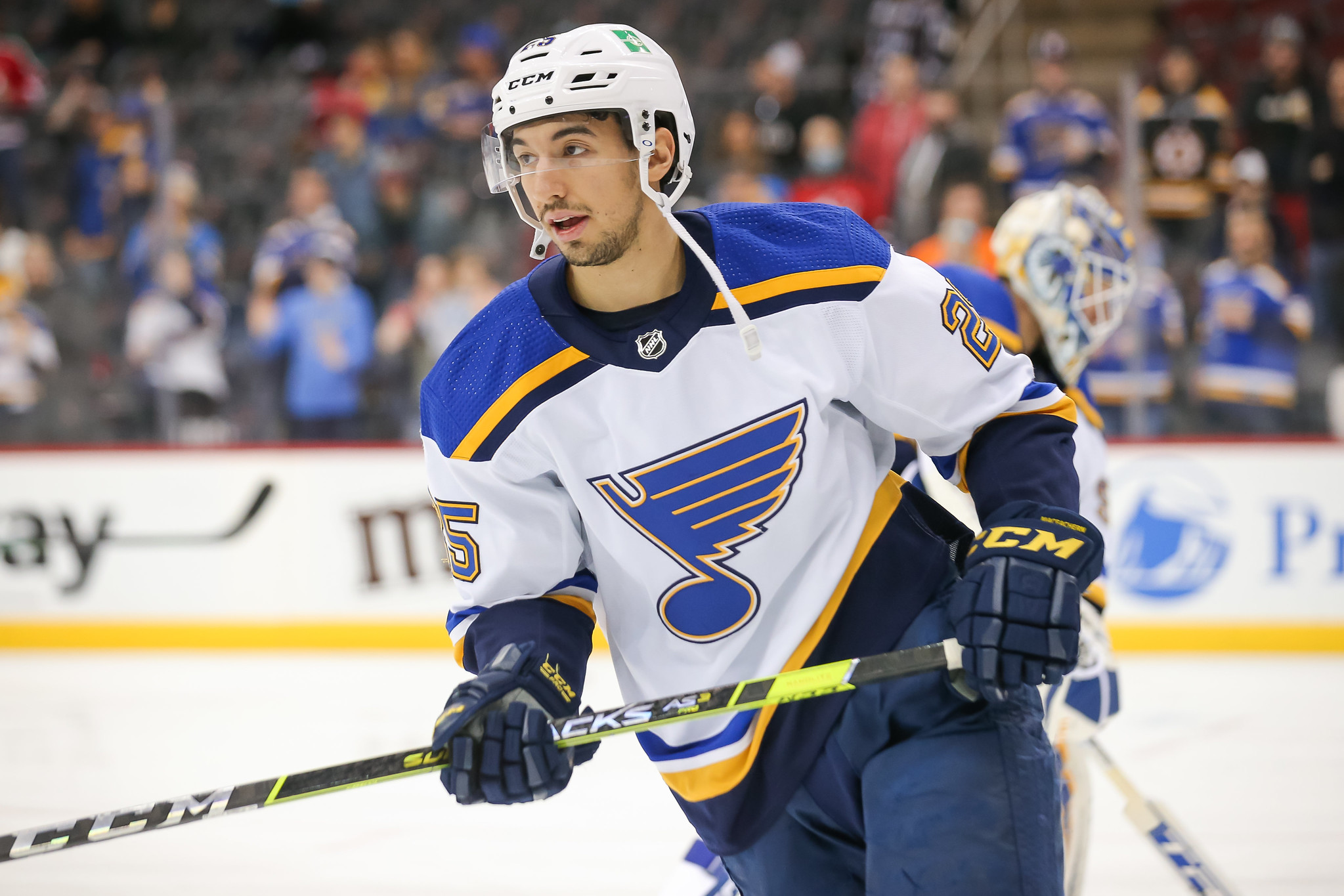 He had 37 goals and 73 points in 79 games last season, including a career-high 11 power-play goals. I think Kyrou will take his game to another level this season with 42 goals and 32 assists for 75 points.
Brayden Schenn
I've already claimed Brayden Schenn as a regression candidate this season, but I don't think it will be that big of a fall. He's been mostly productive in his six seasons with the Blues with an outlier down season in 2020-21. He'll likely slot in as the second or third-line center depending on how head coach Craig Berube fits him in against other viable middle-six centers. After having 65 points last season, I predict Schenn to score 21 goals and 33 assists for 54 points this season.
Jakub Vrana
I view Jakub Vrána as somewhat of a wild card this season for the Blues. He has 30-goal potential, but he hasn't been close to that level since having 25 goals for the Washington Capitals in 2019-20. He has one season left on his contract with the Detroit Red Wings paying half of his salary and the Blues covering the other half after the two clubs struck a deal before the 2023 trade deadline.
I expect Vrána's role to expand even further for the Blues with opportunities in the top six and on the top power-play unit. With all of this said, I predict Vrána to score 29 goals and 26 assists for 55 points this season.
Brandon Saad
Brandon Saad is entering his third season with the Blues after signing a five-year deal prior to the 2021-22 season. His first season with the Blues was good as he scored 24 goals and 49 points overall. Last season was not great, but he was only one goal away from reaching 20 for the second straight season.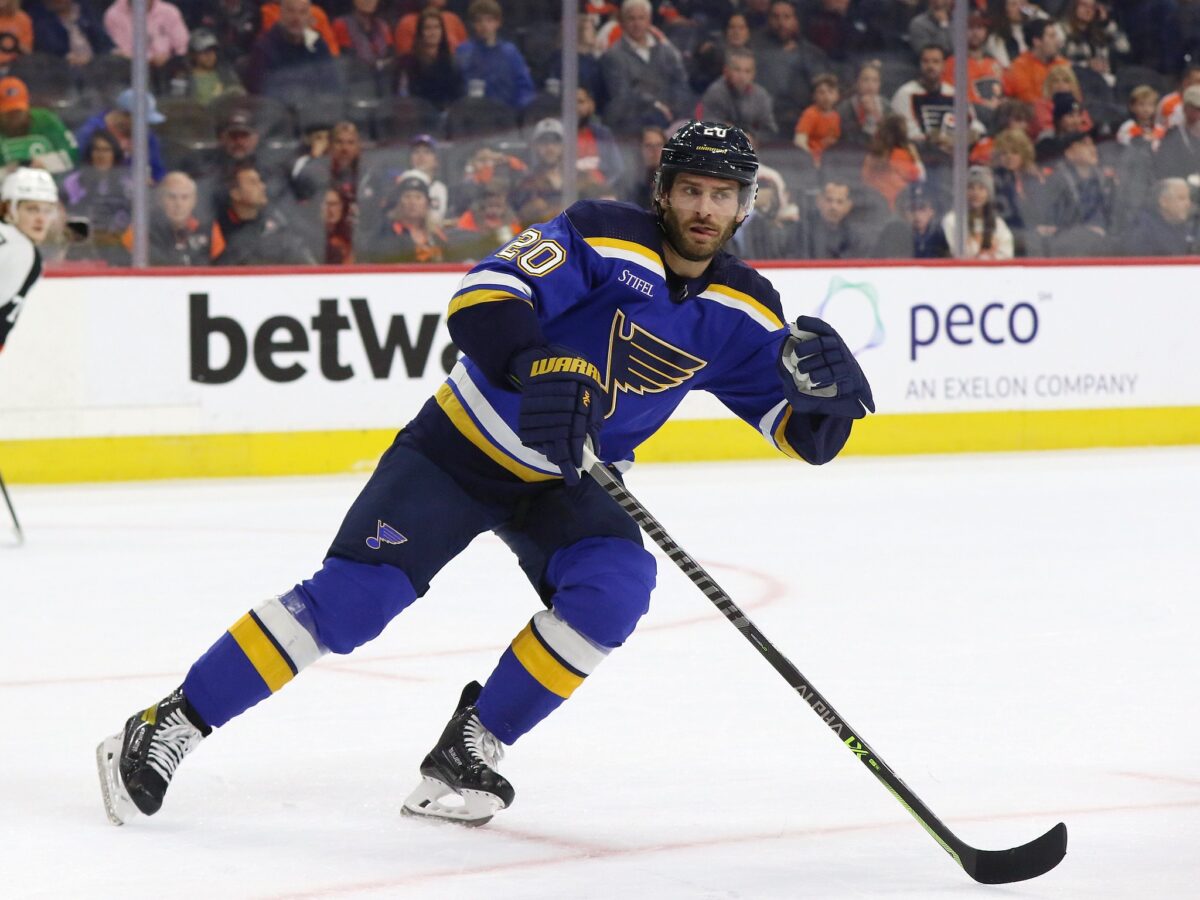 The Blues would benefit from a return to solid two-way play for Saad, but I don't know if that will happen. I'll be curious to see how much ice time he'll get this season with the possible emergence of young studs in the middle and bottom six. I predict Saad to score 16 goals and 13 assists for 29 points.
Kevin Hayes
The Blues' top acquisition of the summer was Kevin Hayes, who they acquired from the Philadelphia Flyers in exchange for a 2024 sixth-round pick. The Flyers also retained half of his $7.1 million salary, which was a huge part of the deal for the Blues. Hayes should benefit from a change of scenery after he had disagreements with Flyers head coach John Tortorella.
My assumption is that the Blues' middle six lines will be centered by Hayes and Schenn, but it's up to Berube and his staff to figure out who plays where. I predict Hayes to score 23 goals and 32 assists for 55 points.
Kasperi Kapanen
Another player that the Blues acquired during last season is Kasperi Kapanen, who they claimed off waivers from the Pittsburgh Penguins. He played well with 14 points in 23 games down the stretch, including three game-winning goals. His contract could be a steal this season at $3.2 million. He'll be one of the Blues' versatile forwards that could be used on any of the top three lines depending on how Berube approaches the lines throughout the season.
He is only a few seasons removed from a 20-goal campaign with the Toronto Maple Leafs. I predict Kapanen to score 21 goals and 22 assists for 43 points.
Sammy Blais
The Blues traded Sammy Blais to the New York Rangers for Buchnevich in 2021, but they re-acquired him last season in the Vladimir Tarasenko trade. In his return to St. Louis, Blais looked like a wildly different player and carried that into the summer at the World Championships with Canada.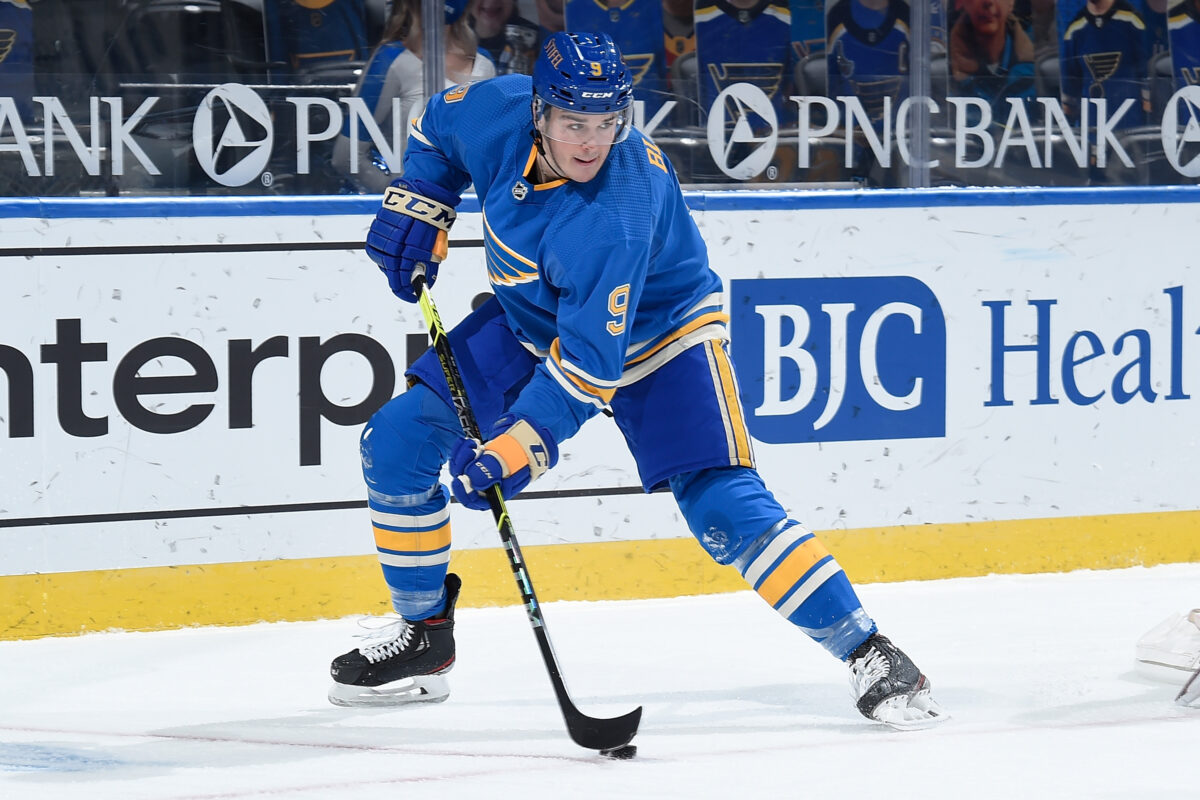 Since returning to the Blues, he scored 20 points in 31 games and signed a one-year, $1 million extension to stick around this season. His growth and comfortability in the Berube system have been incredible to watch, and I wouldn't be surprised to see that carry over into this season. I predict Blais to score 19 goals and 24 assists for 43 points.
Jake Neighbours
After missing time and playing 43 games last season for the Blues, Jake Neighbours needs to develop and grow this season. Although he's only 21 years old, it would be great for the Blues to see growth from him in his third season of getting time at the NHL level. While I believe that he needs to play third-line minutes, he also has to earn that time with plenty of depth forwards within the organization. I predict Neighbours to score 15 goals and 13 assists for 28 points this season.
Alexey Toropchenko
Alexey Toropchenko is the Blues' most reliable fourth-line forward and it's been that way for the past two seasons. He fits the Berube system well and has been rewarded with ample playing time. it wouldn't surprise me to see his offensive production increase this season. I predict Toropchenko to score 17 goals and 15 assists for 32 points.
Blues' Offensive Production Will Improve
The Blues offensive production should be somewhere between when they scored 311 goals in 2021-22 and 263 goals last season. They have the offensive firepower to return to the playoffs and staying healthy will be key. I expect their power play to improve and the overall production will improve as well.