As 2017 draws to a close, many fans of the Montreal Canadiens are feeling despondent. As a team hovering around .500, the Habs have struggled in goal and on defense. Like the ghost of Christmas past, they have consistently failed to put the puck in the net this season. So what are we to make of the Canadiens, and what can we expect in 2018? We brainstormed, circulated, and compiled some reflections on the season so far. Ryan Szporer, Jeff Tibbins, and Johannes Wheeldon each share their thoughts on five essential questions Habs fans want to be answered.
What Player Has Been the Biggest Disappointment So Far This Season?
Ryan Szporer:
Aside from the Canadiens overall, probably Carey Price. This is tragic, because, if Price were his usual self, the Habs as a whole probably wouldn't be so disappointing. That isn't to lay the blame for the season at his feet. Since 2014, he has been covering up this team's flaws. His stats have become indicative of an American Hockey League goalie. Consider his goals-against average of ~3.00 and a save percentage of ~.900. It is clear that, with the way this team is built, the only way the Habs are a playoff team is with the old Price in net.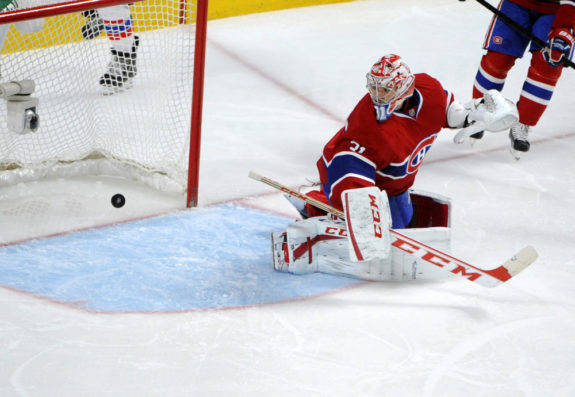 Jeff Tibbins:
I've written in the past that Max Pacioretty is underappreciated in Montreal. However, he is the most disappointing player for me thus far. While averaging four shots per game this season, his point totals have not been indicative of that kind of shot production. With a shooting percentage of 6.1 percent—the lowest of his career—Pacioretty has managed only to score eight goals and 18 points in 33 games. He is on pace to miss the 30-goal and 60-point marks for the first time since the lockout-shortened season back in 2012-13. Pacioretty is the player the team depends on to score. He has been unable to do so this season. Until he finds his way, the Canadiens will continue to struggle.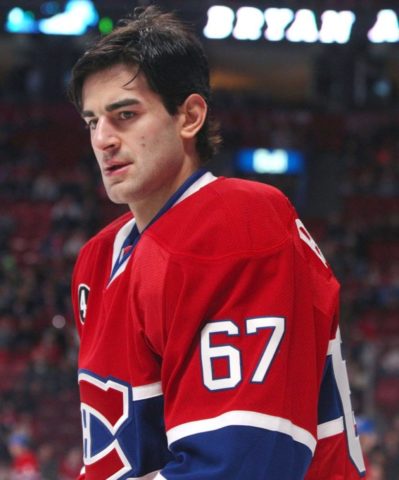 Johannes Wheeldon:
It is hard to disagree that both Price and Pacioretty have been disappointments. However, I have been most disappointed by Jonathan Drouin. With a mere 17 points, and sitting on a plus-minus of  minus-12, it is hard not to be depressed at how well Mikhail Sergachev is performing. The rookie defenseman has more points and appears to be fitting in on the Tampa Bay blue line.
Of course, Sergachev would likely not have 23 points or a positive plus-minus on this Habs team. In addition, any disappointment with Drouin must be tempered by the fact that he is being asked to play center for the first time since the junior level. Still, I had high hopes he would be an offensive spark on a team desperate for goals. I especially hoped he would help the team on the power play. He hasn't. I hope he and Galchenyuk can find a consistent groove sooner rather than later. However, so far for Drouin, the rhetoric has not matched the reality.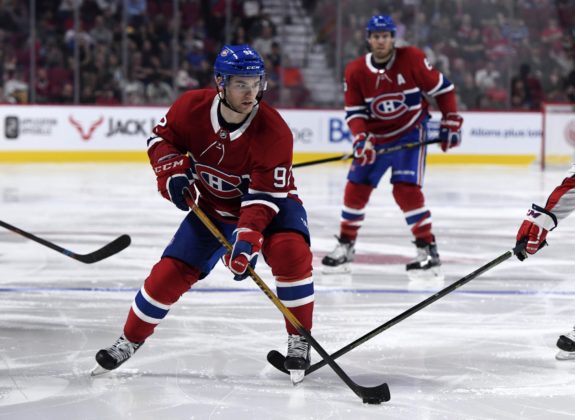 Will the Habs Make the Playoffs?
Ryan Szporer:
No. There's just too much ground to make up for that horrible 1-6-1 start. At 13-8-3 since that point (.604 hockey), they've probably been playing well enough lately to make the playoffs. However, they're not good enough to play over their heads until the end of the season. Likewise, they can't catch the Boston Bruins for the last spot in the division, even if there are no other Atlantic teams between them.
I look at it this way: The Detroit Red Wings aren't good enough and they're just one back of the Habs. The Canadiens are technically close to the second wild-card spot but are still five points back in that race. There are also three other teams between them and the New York Islanders. I don't think they're leapfrogging three teams, including the Stanley Cup champion Pittsburgh Penguins.
Jeff Tibbins: 
At this point, it seems highly unlikely the Canadiens turn around their season and make the playoffs. Montreal is destined for a top-15 selection in June at the 2018 Entry Draft, barring a sudden resurgence. Any revival would have to be combined with consistent Hart-trophy performances by Carey Price. With only 49 games remaining, the Canadiens find themselves three points back of the Boston Bruins. They are seven points out of the second wild-card spot held by the New York Islanders. Time is running out quickly for the Canadiens, and unless major changes occur, it's hard to imagine them playing past April this season.
Johannes Wheeldon: 
I don't see how. Sure, the Atlantic is the weakest division in the NHL. With Ottawa and Detroit seemingly out of it, it is technically possible that the Canadiens win the next seven out of every 10 games. The team has too many holes, though, and is playing wildly inconsistent hockey. While it gives me no pleasure to say this, they have not shown so far this season that they are the kind of team that can do it.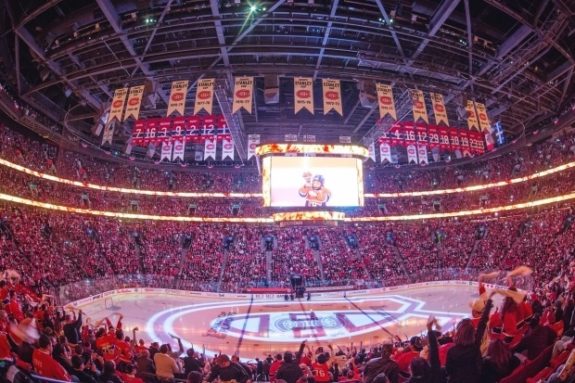 Will Marc Bergevin Survive the Year?
Ryan Szporer:
I think if Marc Bergevin is going to get fired, he will survive this season. However, the ax would likely drop soon thereafter. I feel like his job performance has been bad enough over the last few years, dating back to how he handled the lost 2015-16 season due to Price's injury, that he deserves to be fired as soon as possible. Nevertheless, even though there's a historical precedent (Serge Savard being fired early in the 1995-96 season), I don't believe owner Geoff Molson has the gumption to make such a move. This is especially true given that it would be Bergevin, a guy he seems to like on a personal level, taking the fall.
That being said, as much as it pains me to say it, I see the general manager getting a short leash to start next season for that same reason because Molson seems to like him. In spite of how Bergevin has run this team into the ground, in my opinion, I believe he'll be back for at least one more year.
Jeff Tibbins: 
Based on comments made by team owner Geoff Molson, it would be a surprise to see anyone other than Marc Bergevin in charge of the Canadiens next season. Molson clearly supports his general manager to the fullest and will give him the opportunity to try and improve the team not only this season but in future seasons as well. With three more years remaining on his contract, Bergevin also has security on his side, making it that much more unlikely he is fired at the end of the year.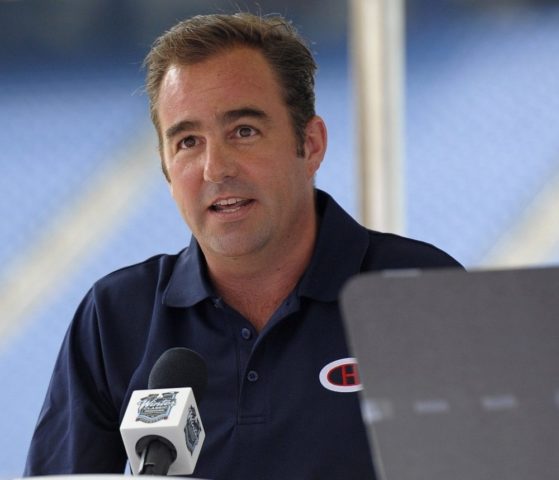 Johannes Wheeldon: 
I am going to be contrary here, and say Bergevin loses his job this year. While I concede the very sensible points made by Ryan and Jeff above, I cannot believe Bergevin will be retained given that he alone bears responsibility for the state of the team. If Molson were to allow Bergevin to continue, it would be like asking the guy who drove recklessly and put your antique roadster in the ditch to try and get it out again. If Bergevin doesn't lose his job during the offseason, I think he will be back again next year. For most Habs fans, that is a possibility too depressing to fathom.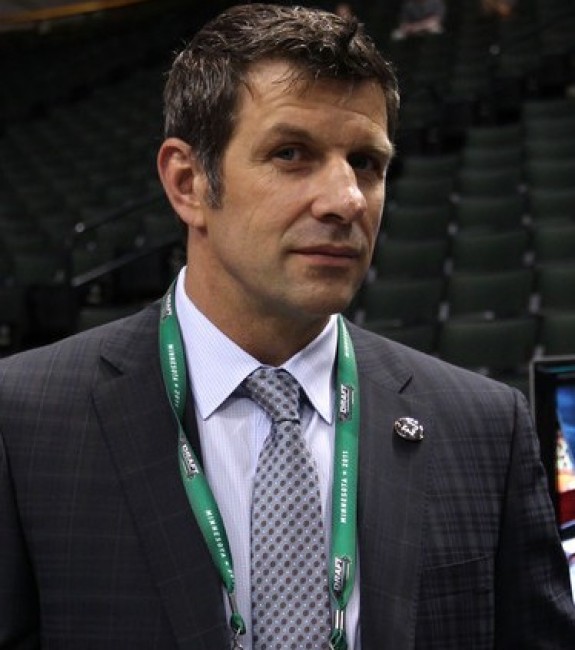 Are the Habs More Likely to Retool or Rebuild in 2018?
Ryan Szporer: 
Rebuilding is the smarter option and has the better chance of long-term success, but you can't rebuild with guys like Carey Price and Shea Weber under arguably untradeable contracts, especially the former. Weber's contract isn't so bad that no one will take him, but, because of his age and his contract expiring in 2026, any idea that the Habs could flip him for a player of P.K. Subban's quality is crazy at this stage (it was crazy two summers ago too).
Bottom line is the Habs aren't getting rid of either of them, especially with Bergevin in charge. They'll try and make tweaks here and there, slap some bandages on an inherently flawed on-ice product, and hope for the best. They may even find some success. They won't win a Stanley Cup that way, though.
Jeff Tibbins: 
This is entirely dependent on if Bergevin is the general manager of the team. If he continues to be the man in charge, a retooling is more likely than a full-scale rebuild. On top of the fact that Bergevin will work to do whatever it takes to make his team better, having Carey Price as your starting goaltender makes rebuilding almost impossible. With his ability to steal games and carry teams far past their expectations, Price makes losing on a consistent basis very difficult to achieve. The next few months will be very telling of what the future might hold for the Canadiens. If players like Price and Weber are traded, a rebuild is inevitable.
Johannes Wheeldon:
If Bergevin is fired this year, it will be in part because a retool is no longer seen as feasible. It will mean the moves, particularly over the last two seasons, are recognized for the errors many believe them to be. While this makes a rebuild more likely, I do think the scale of the rebuild is still in question.
The challenge at this point is the size of the egos involved. I don't think the organization is ready yet to come to grips with the scale of the mistakes made. I don't get the sense they recognize the long-term consequences that will result if they fail to change course. If Bergevin stays, fans should expect some sort of retool. Can Bergevin avoid his penchant for strange signings, inexplicable contracts, and faith in fourth-liners? I doubt it. One possibility that I'm not sure anyone has yet contemplated is that Price and/or Weber demand a trade, having come to recognize that the Canadiens are unlikely to be Stanley Cup contenders in the near future.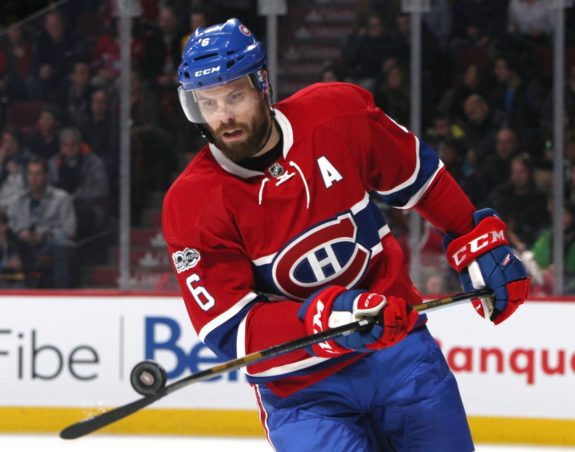 What Teams Should the Habs Look to as Models?
Ryan Szporer: 
Any teams that don't let language dictate hires and player personnel decisions…so each of the 30 other ones in the league. Beyond that, I'd say the Tampa Bay Lightning are the class of the NHL in terms of management all the way down to player development. If you look at the way they mishandled the Jonathan Drouin situation, but then recovered to get Mikhail Sergachev in exchange…it's hard to find fault with that trade on their end. Sure, it was a gamble, but look at it from the Habs' perspective if Drouin's and Sergachev's nationalities were reversed.
Would the Habs have given up a blue-chip, Francophone prospect projected to be the No. 2 defenseman the franchise so badly needs in exchange for an ultra-talented Russian winger who failed to report to the AHL a few seasons ago? All for the purposes of trying to make him a center? That trade encapsulates what's wrong with the Canadiens and why the Lightning, who failed to make the playoffs last season, are an ideal NHL franchise. General manager Steve Yzerman has a reputation for not panicking and the way they've rebounded this season is proof of that. The Canadiens are probably on the verge of waiting too long to panic and see the error in how they've built their team. They'll be paying for it for years to come.
Jeff Tibbins: 
There are plenty of models the Canadiens could use if a rebuild were necessary. However, there is still plenty of luck that comes into play when trying to start over. Any team can trade away its best players to lose games and end up with top picks. What is key in a successful rebuild is drafting the right player with the top picks and acquiring the right players to play around the top picks. Unfortunately, stars like Connor McDavid and Auston Matthews are not available in every draft, and if a team is unable to find a cornerstone piece for their franchise early in the rebuild, success is not guaranteed.
Johannes Wheeldon: 
Once again, I agree with my colleagues. As Jeff points out, there are as many rebuilds that fail as those who have seen even moderate success. This is why defining our terms (retool, rebuild, re-imagine, rethink, etc.) and managing expectations is so important. This is a communication issue as much as it is a management issue. Ironically, despite communicating in two languages, the Habs aren't always effective in their efforts at public relations.
Like Ryan, I respect Tampa Bay's management style. In addition, I think Nashville has been very shrewd in acquiring P.K. Subban and Kyle Turris. I also like how Toronto approached its re-rebuild with Lou Lamoriello, Brendan Shanahan, and Mike Babcock. Likewise, the New Jersey Devils seemed to have turned things around fairly quickly. What matters is finding people with a vision, specifying the metrics required for success, and holding people accountable. It means recognizing the first law of holes. When you find yourself in one: stop digging.
Did we get it right? What players have disappointed you this season? Will Bergevin be around next year? Should the Habs retool or rebuild? Let us know in the comments below.