In this last installment of a four-part series comparing Montreal Canadiens general manager Marc Bergevin to his four immediate predecessors, we take a look at Rejean Houle.
Marc Bergevin is not the most popular person in Montreal right now. The Canadiens' general manager has been under fire for a number of questionable moves and public statements including a one-time feud with ex-captain Max Pacioretty. Opinions among fans vary, but many see him as consumed by power or at the very least, incompetent.
Hired by the Habs in 2012, Bergevin's first four seasons were characterized by relatively minor moves aimed at strengthening the team's depth and shedding contracts of underperforming players. The media generally reported positively about his performance, beginning with his selection of Alex Galchenyuk in the 2012 draft.
On June 29, 2016, everything changed. The team failed to make the playoffs that year and rumors surfaced about a problem in the locker room between Pacioretty and P.K. Subban, who had become a fan favorite. Bergevin assured the media that February he would not trade the star defender, but four months later Subban was shipped to the Nashville Predators in the now-infamous trade for Shea Weber.
Since then, Bergevin has struggled to regain the confidence of many whose discontent increases each time he addresses the media. Anger towards Canadiens management is nothing new as anyone over 35 remembers another general manager, Rejean Houle, who drove the team into oblivion only a few short years after their last Stanley Cup victory as many looked on with disbelief.
Tale of the Tape: Bergevin vs. Houle
Time Served: October 21, 1995 – November 20, 2000 (Houle); May 2, 2012 – now (Bergevin)
No. of Playoff Appearances/ Seasons: 3/5 (Houle); 4/7 (Bergevin)
No. of Division Titles/ Seasons: 0/5 (Houle); 3/7 (Bergevin)
No. of Playoff Rounds Won/ Seasons: 1/5 (Houle); 3/7 (Bergevin)
No. of Draft Home Runs/ Picks (a home run being a projected good, long-term fit):
3/53  (Houle; Mike Ribiero at No. 45, Andrei Markov at No. 162, Michael Ryder at No. 216 all in 2012)
3/50 (Bergevin, excluding the last draft; Artturi Lehkonen at No. 55 in 2013, Victor Mete at No. 100 in 2016, Jesperi Kotkaniemi at No. 3 in 2018)
Best/ Worst Free Agents Signed (based on contract and expected/ actual contributions):
Sergei Zholtok/ Andy Moog (Houle)
Alexander Radulov/ Karl Alzner (Bergevin)
Best/ Worst Free-Agent Re-Signings:
Saku Koivu ($6.3 million over two years)/ Vladimir Malakhov ($5.2 million over two years) (Houle)
Max Pacioretty ($27 million over six years)/ Carey Price ($84 million over eight years) (Bergevin)
Signature Trade:
Patrick Roy, Mike Keane for Jocelyn Thibault, Martin Rucinsky, Andrei Kovalenko (Houle)
P.K. Subban for Shea Weber (Bergevin)
1995: Rejean Houle Becomes the Canadiens' GM
Houle was well-known to Montreal fans when he replaced Serge Savard as Canadiens GM in October 1995. Like Savard, he was part of a glorious era in Habs history, playing on five Stanley Cup-winning teams in the 1970s.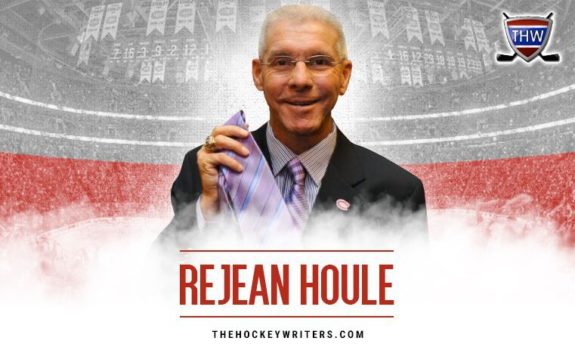 A talented winger with a scoring touch, the former first-round draft pick retired from hockey in 1983 and became an executive with Molson Breweries, who owned the Canadiens at the time. In hiring him, the team assumed his business acumen and hockey background would be perfect for the new position even though he had not previously combined the two professionally.
In the period between Houle's retirement and his appointment as GM, the Canadiens won two more Stanley Cups and transitioned from a team of older stars (Guy Lafleur, Larry Robinson, Steve Shutt) to a new generation of local heroes, including Vincent Damphousse and goaltender Patrick Roy, who was instrumental in both Cup wins and was regarded by many as the premier goalie in the NHL at the time.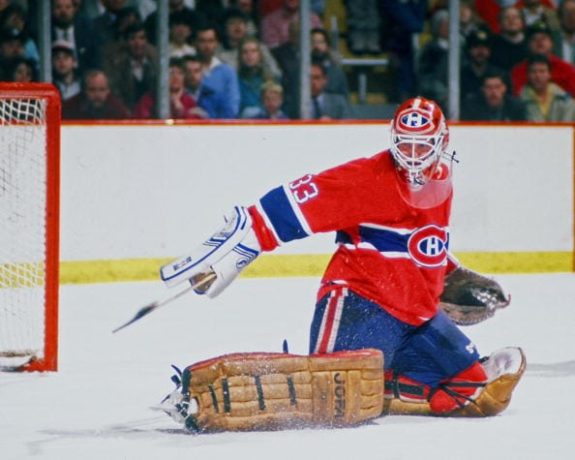 The Controversial Patrick Roy Trade
Just six weeks into his new job, Houle faced a challenge that would define his reputation as a hockey executive. In a game in early December, Roy surrendered nine goals to the Detroit Red Wings in front of jeering fans before being pulled. He then confronted head coach Mario Tremblay and Canadiens president Ronald Corey in a public display of anger captured on live television.
Four days later he was traded to the Colorado Avalanche along with captain Mike Keane for goaltender Jocelyn Thibault and forwards Martin Rucinsky and Andrei Kovalenko. The trade pitted old Habs heroes Houle and Tremblay against a defiant contemporary star, but Roy emerged as the winner, becoming the franchise goaltender for the Avalanche and leading them to two Stanley Cups.
Kovalenko was soon traded and Rucinsky and Thibault became competent but unremarkable regulars for the next few seasons. One by one, stars like Damphousse, Pierre Turgeon and Mark Recchi left, traded for players who would have little or no impact on the team. Houle also brought back former Habs Stephane Richer and Shayne Corson and traded for Trevor Linden, all of whom were past their prime.
Houle fared little better in drafting talent, wasting first-round picks on Eric Chouinard, Jason Ward, Matt Higgins and Marcel Hossa who combined for 79 NHL goals, less than half of what Houle scored in his 10-year NHL career.
The Canadiens' Historic Decline
After several lackluster playoff exits, the Canadiens failed to reach the playoffs in the 1998-99, 1999-2000 and 2000-01 seasons, becoming the first Habs team since 1921 not to qualify for the postseason in three consecutive years. By the time Houle was fired in November 2000, the team was without a bonafide offensive threat, a star defenseman or a consistent goaltender.
While Houle's successors, Andre Savard and Bob Gainey, were unable to win a Stanley Cup, they would eventually return the team to playoff contention and acquire enough talent to make the team exciting to watch again.
Putting Bergevin in Perspective
Despite his perceived shortcomings, the current GM is not Rejean Houle. When he traded Subban he received one of the top NHL defensemen in return, not a series of marginal players. In attempting to address the Habs' lack of talent at center, he traded promising defenseman Mikail Segachev for forward Jonathan Drouin, who is still young enough to develop into a quality player up front.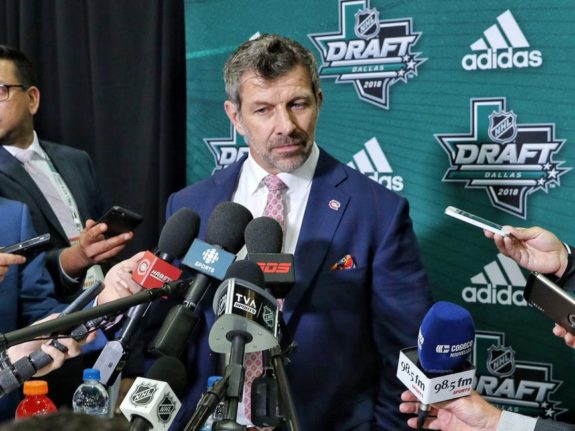 In trading Alex Galchenyuk, he parted ways with a once-promising draft pick who failed to mature enough to become a consistent two-way player and replaced him with Max Domi, a player with an unquestionable commitment to the game and with the type of positive attitude Bergevin wants in his players.
Even in his efforts to deal Pacioretty, Bergevin admirably showed patience, not accepting the first deal thrown at him. While it was a bad strategy to publicly tell the hockey world he was trading the captain, he ultimately got an impressive haul including Tomas Tatar and Nick Suzuki.
Finally, there is a lot to be said for Bergevin's skills at drafting talent. Players like Victor Mete, Noah Juulsen and Artturi Lehkonen are already making an impact on the team and Bergevin's recent hiring of new coaches who understand and can manage younger players will ensure their continued development.
The Canadiens have missed the playoffs three times in the last four years, but even the most cynical fan sees the potential for their success down the road. Players like Jesperi Kotkaniemi and Ryan Poehling have them saying "when?" compared to those who lived through the Houle era who could only sit back and say "why?"
Make Sure to Check out the Other Three GM Showdowns: