Having a lot of options can be a good thing. Sometimes there can be too much of a good thing, though. At least consider the case of the Montreal Canadiens with their many second-line center options heading into 2023-24.
Obviously, the Canadiens went through well-documented injury problems over the last few seasons. So, Habs management can be forgiven for going a little overboard building in a few redundancies. It's at least understandable the team has as many options as they do to fill the hole on Line 2. Here are the top five:
5. Lias Andersson
Logically, the Canadiens only signed Lias Andersson to play in minors, on the Laval Rocket. Case in point, his two-way deal and the fact the Canadiens theoretically have four more options to play down the middle on the second line, excluding No. 1 center Nick Suzuki and projected No. 4 center Jake Evans.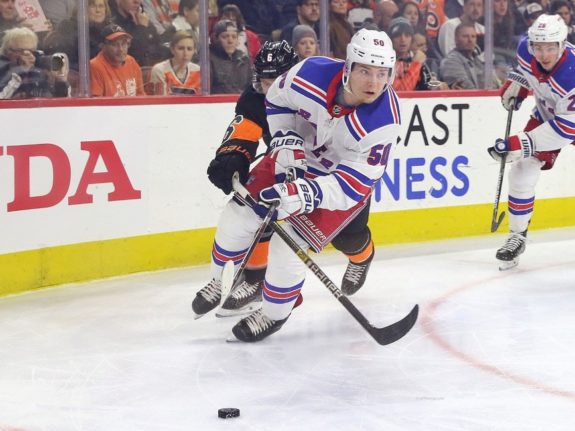 Nevertheless, it's hard to dismiss the facts. Canadiens executive vice president of hockey operations Jeff Gorton took a flyer on the free agent after having selected him in the first round in 2017 while still the general manager of the New York Rangers. So, it at least appears Gorton is looking out in some fashion for his former draft pick.

To be clear, there's nothing wrong with that per se. If Gorton still sees something in Andersson, why not? It's just important that nothing, besides the contract, is handed to the forward and that, if he does end up playing in the NHL, it's because he's earned it (or the Habs run into injury problems anew, in which case a little nepotism will be the least of their problems).
4. Christian Dvorak
Now, Christian Dvorak is admittedly injured to start the season. So, he'll miss the chance to pleasantly surprise in training camp and to a degree play catch-up all season long in the eyes of Canadiens management. That is, if he isn't eventually traded to make roster space.
Ultimately, it's hard to deny Dvorak hasn't panned out as hoped. Ex-general manager Marc Bergevin first acquired him to play second-line center a few offseasons ago, following the departures of Jesperi Kotkaniemi and Phillip Danault. However, after having replaced Bergevin, general manager Kent Hughes eventually acquired Kirby Dach to fill that role instead. Granted, that isn't exactly how it's worked out since, but that was the initial plan.
Related: Host Canadiens Steal Show by Getting Slafkovsky, Dach at 2022 Draft
Keep in mind, Hughes came aboard in late January 2022. Under the new head coach Hughes then hired, Martin St. Louis, Dvorak took off offensively, scoring 17 points in his last 19 games of 2021-22. That should tell you two things:
Hughes really doesn't want Dvorak to play second-line center (for whatever reason).
Dvorak can certainly fill in as second-line center in a pinch if necessary.
---
Latest News & Highlight
---
Even so, Dvorak clearly doesn't figure into the Canadiens' long-term plans. So, how he gets deployed once healthy is a mystery. The Habs could showcase him for the purposes of a trade, bury him on the depth chart down the lineup or anything in between. Nevertheless, objectively speaking, they undeniably have players with longer projected futures with the team they would love to play down the middle on the second line over Dvorak instead.
3. Alex Newhook
For just one example, enter Alex Newhook, the center/winger the Canadiens just acquired at the 2023 NHL Entry Draft. While Newhook certainly has a lot to prove, so did Dach, the center/winger the Canadiens acquired at the 2022 NHL Entry Draft… and that worked out pretty well.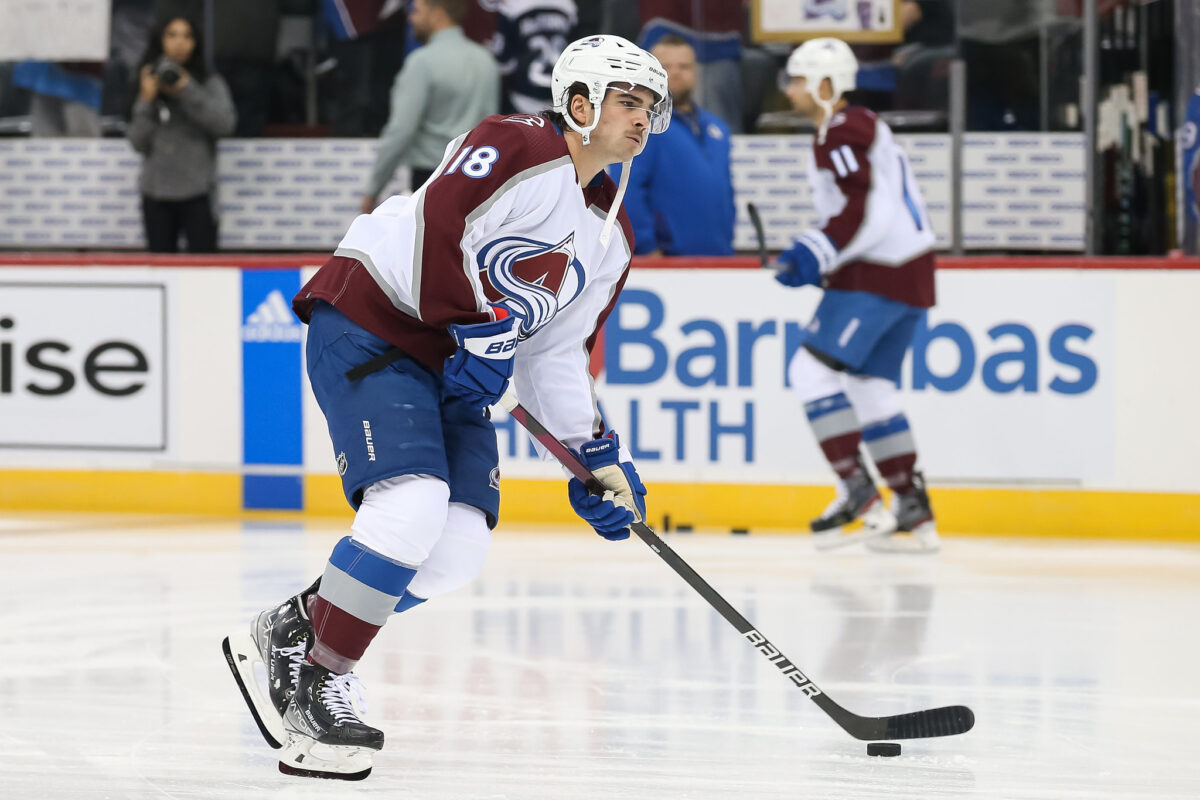 Bottom line, no team gives up what the Canadiens did to acquire Newhook, i.e., two relatively high picks (plus a prospect), unless they are enamored with him. So, they have big plans of some sort for Newhook. It could quasi-realistically be as the team's second-line center. It could also simply be as a winger, a role into which Dach has also settled.
2. Kirby Dach
In some ways, 2022-23 turned out better than anyone could have hoped for Dach. Nevertheless, it didn't turn out as Hughes or the Habs envisioned when they first made the move to acquire the forward. The official party line is the Habs traded for him to play center below Nick Suzuki in the lineup. Then, later that summer, the opportunity arose to acquire Sean Monahan (and a first-round pick) for nothing, which Hughes wisely seized.
Based on Monahan's expiring contract, his injury history and recent (underwhelming) production, the centerpiece of the deal had been the first-round pick. Nobody really thought Monahan would end up finding the success he did with the Canadiens (albeit until his season-ending injury last December), especially not at center on the second line over Dach.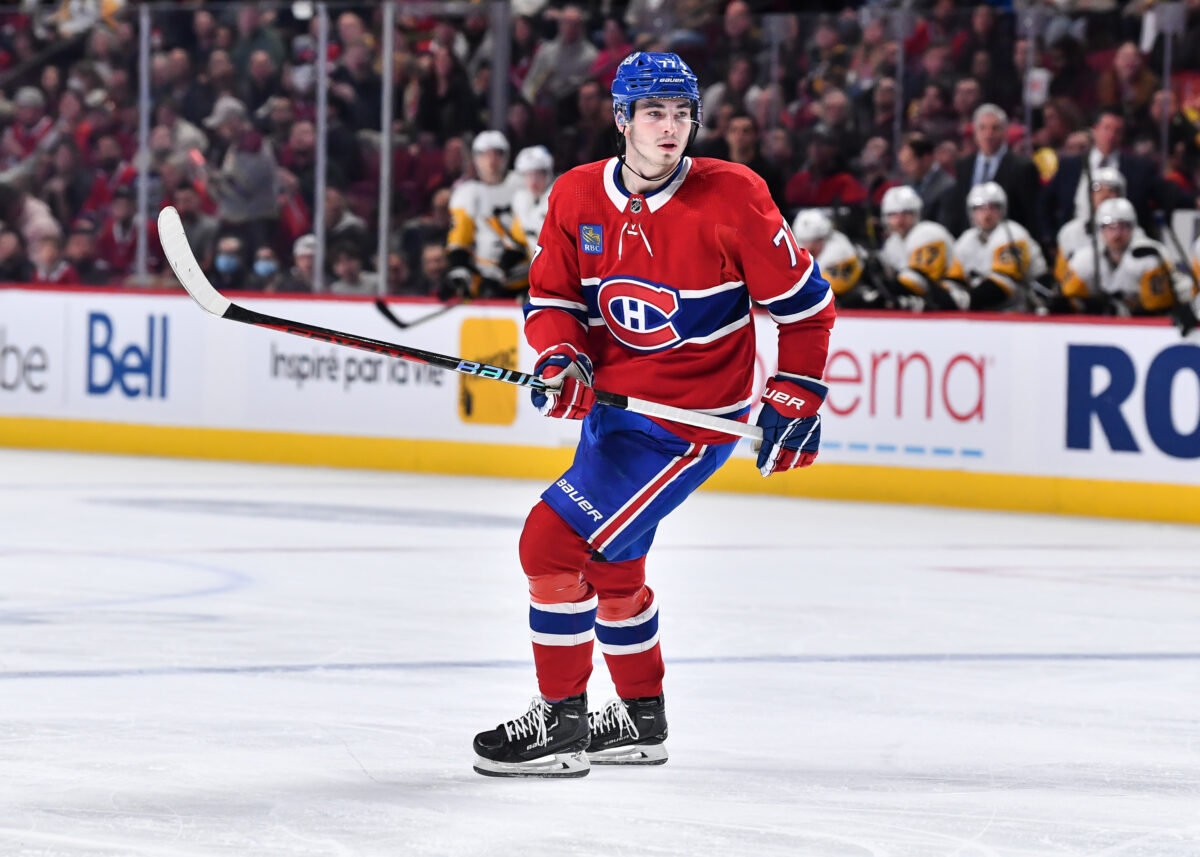 However, that's how things played out, with Monahan getting being tried at center at Dach's expense, for lack of a better word, soon after the season started. It's hard to make the case Dach's development totally suffered, though. He did see top-line ice time, complementing Nick Suzuki and Cole Caufield nicely, to the point the three set a franchise scoring record. Furthermore, once Monahan got injured, Dach did play center to replace him, flourishing for all intents and purposes, his lack of faceoff-taking ability notwithstanding.
That having been said, Dach is the best option the Canadiens have to play on that top line, maybe the only real one who showed consistent chemistry with the team's resident dynamic duo. So, it stands to reason the Canadiens would go back to that well, especially with Monahan back in the fold to presumably play second-line center once again.
1. Sean Monahan
Big picture, it makes sense for the Canadiens to play Dach at center as much as possible to develop him there. However, big picture, it arguably didn't make sense to re-sign Monahan, even if just for a single season. It exacerbated the log jam at forward, especially at center, to the point that Monahan, who has found his greatest success with the Canadiens so far playing that very position, theoretically represents a roadblock for Dach down the middle.
That's why, logically, the Canadiens re-signed Monahan to improve significantly in the standings once again to theoretically compete for a playoff spot. The Canadiens are simply put stronger with Dach on that top line with Suzuki and Caufield… and Monahan centering Line 2, at least in the short term.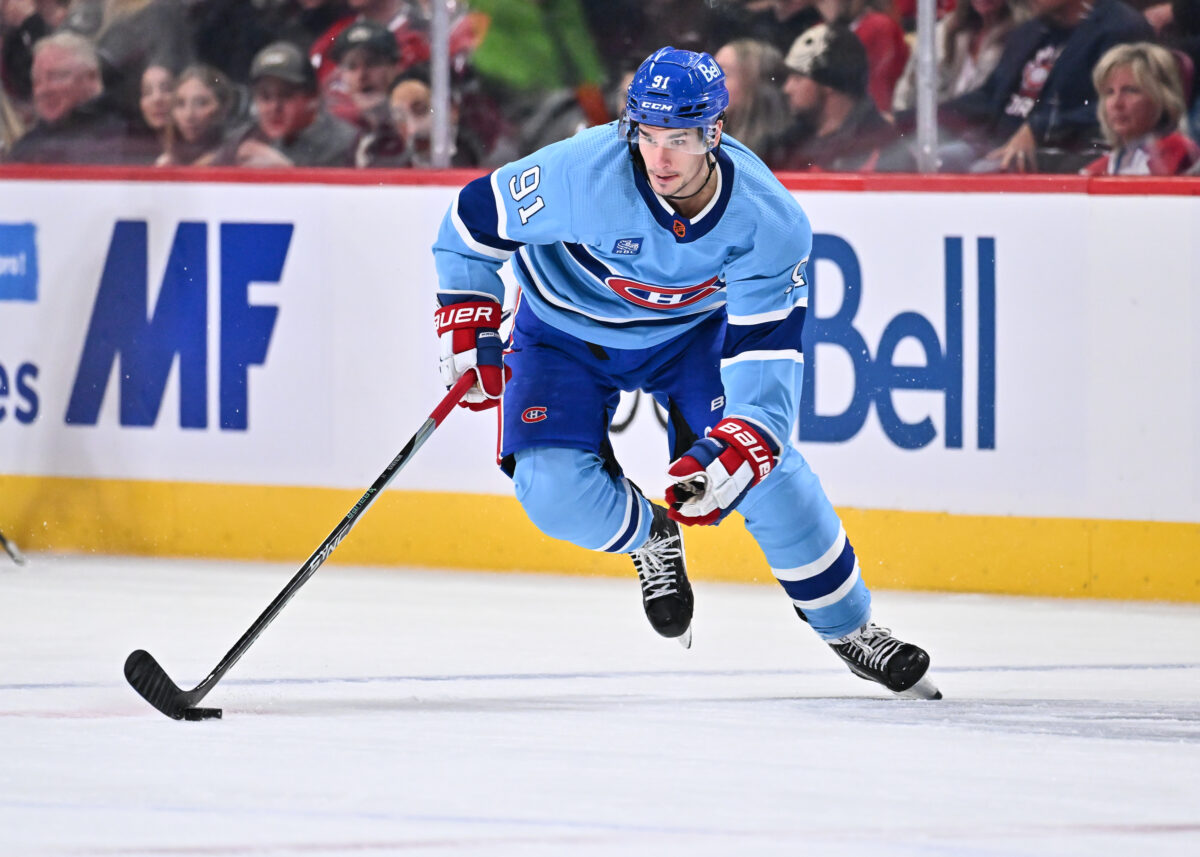 Granted, no one should expect the Canadiens to make the playoffs in 2023-24. Stranger things have been known to happen obviously, but realistically they're simply in line for a significant boost in the standings, based on how the Habs performed the first month of 2022-23 before injuries derailed their season (among other factors).
To a degree, the injury situation has been addressed. So, you'd think the Canadiens having as many players capable of lining up at center on the second line to simply be a precaution. Re-signing Monahan seems like anything but by most appearances. It's likelier than not Monahan re-signed for a single season as a pending unrestricted free agent to build up his value with the understanding he'd be put in a position to succeed. He irrefutably found the most success at center with the Canadiens.
Of course, things change over a long season, even without injuries. Admittedly, no one player will play the entire season as the team's second-line center. However, Monahan seems like the team's first choice, even if he's probably not the best one.