This week, the Detroit Red Wings finally get to make the fourth-overall selection in the 2020 NHL Draft and add to their prospect pipeline. 
While the team hasn't seen the ice since March, Steve Yzerman and Detroit's scouting staff have been preparing for quite some time. In fact, most teams begin tracking prospects more than two years before draft day.
Let's dive into the nuts and bolts of the 2020 draft: Detroit's picks, potential targets, and considerations the Red Wings' will need to keep in mind.
Related: Red Wings: 4 Burning Offseason Questions
Red Wings 2020 Draft Picks
Heading into the draft, Detroit has 10 selections stockpiled – six of their own picks, plus four added through trades.
Red Wings' Approach at No. 4
Strategy: Plain and simple, the Red Wings need to take a forward fourth overall. They drafted Moritz Seider last year and the 2021 draft class is absolutely loaded with elite defensemen. Detroit should not complicate their decision-making any further by considering Jamie Drysdale or Jake Sanderson here.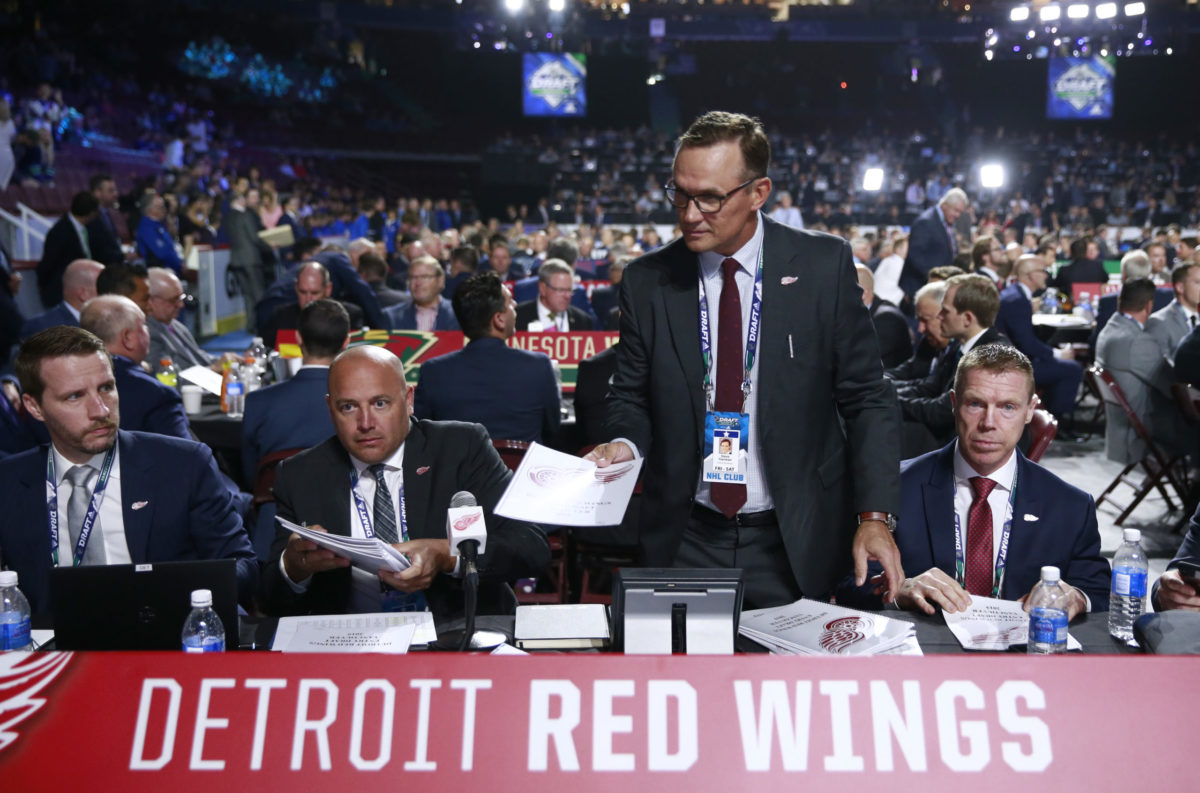 Potential Picks:
Analysis: Of the three, Perfetti and Rossi have garnered the most "selections" in mock drafts. I chose Rossi in The Hockey Writers' latest mock draft due to his elite offensive skill set, drive, and commitment to two-way play. All three are worthy choices for the fourth-overall pick, as are Quinton Byfield and Tim Stutzle in case they somehow fall to the Red Wings.
First Round Talent at No. 32
Strategy: The Red Wings should continue to prioritize forwards in the second round. However, a couple defensemen—if still available—could deviate them from this plan. That said, there will likely be plenty of high-end forwards still on the board.
Potential Picks:
Analysis: Of the five skaters, Brendan Brisson would be my choice if all were available. He's a highly skilled center who played for the Chicago Steel of the USHL last year. Brisson will suit up for the University of Michigan next season, so he'll be in Detroit's backyard for the next couple years.
"Brisson is a very skilled player. He has the slick 1-on-1 skill to beat defenders consistently and make plays in small areas. He's an extremely creative playmaker who can make a lot of plays off the perimeter and make plays with pace. He improvises very well, making high-end plays under pressure. Brisson is a great passer, but also a great goal-scorer, who scored numerous goals off his one-timer."

–The Athletic's Corey Pronman (from 'Pronman's 2020 NHL Draft Board: Top 122 prospects' – The Athletic – 6/16/20)
Lukas Reichel's offensive skill set would also be a nice add for the Red Wings if Brisson isn't available at No. 32. I covered Reichel (and J.J. Peterka) as potential second-round picks on a recent episode of the Locked On Red Wings podcast.
Great Value for Detroit at No. 45
Strategy: Midway through the second round, teams will start to head off in different directions with who they think is the best player available. The top few prospects on Detroit's board could vary significantly from that of the Chicago Blackhawks and Montreal Canadiens, who combine to own the next three picks. Still, the Red Wings should show a slight preference for a forward here.
Potential Picks:
Analysis: The Red Wings will have a lot of great options on the table when they make their second pick of the second round. Defenseman Emil Andrae would compliment Moritz Seider perfectly on the back end. Swedish forward Daniel Torgersson would be a prototypical Red Wings pick if he's chosen 45th overall.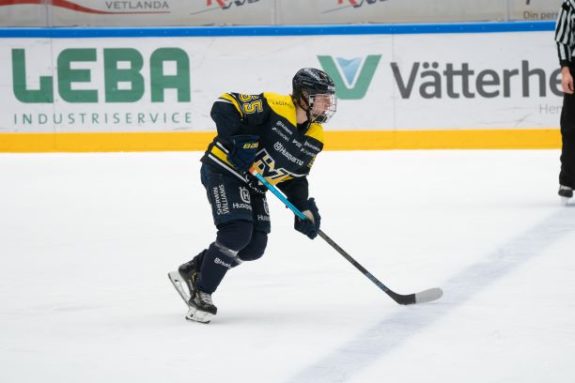 In addition to Andrae and Torgersson, The Hockey Writers' prospect guru Josh Bell thinks forward Daniil Gushchin would provide great value at No. 45 as well.
"The speedy Russian winger would likely be a first-round selection if not for his 5-foot-8 size (he still could very well be a first-round talent, despite that size), but he's got everything else going for him," said Bell. "He has a good shot, but will likely be more of a playmaker at the next level, which is where he excels as it is. He's an excellent puckhandler with great hockey sense, and that's going to go a long way for him."
Whether it's 5-foot-9 Andrae or Gushchin, the Red Wings shouldn't be afraid to pull the trigger on a shorter player. Either would be a home run if selected 45th overall.
Related: The Grind Line: Red Wings Options For the 32nd Pick
Intriguing Players Available at No. 55
Strategy: Keep rolling with the best player available gameplan. There will still be a ton of talent on the board toward the end of the second round. 
Potential Picks:
Analysis: This time, I'll share Josh's take on No. 55 before revealing my preference. 
"In the bottom half of the second, turning attention to the back end could be wise if Finnish defender Joni Jurmo is there," said Bell. "Jurmo is a big, 6-foot-4 defender with high-end skating ability and top-four potential. He's a puck-moving rearguard that is light on his feet, showing off his skating regularly as he goes end-to-end. He's a great passer as well, dishing out a breakout pass or a setup in the offensive zone."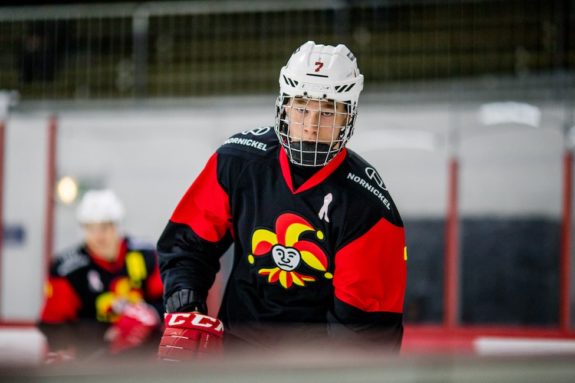 In addition to Jurmo, Theodor Niederbach would provide great value this late into the second round. The center has been tearing up Sweden's SuperElit league this season and could see time with Frolunda's professional team before long. Neiderbach has high hockey IQ and is dangerous in the offensive zone – something the Red Wings could certainly use more of.
Red Wings' Approach to No. 63 & No. 65
Strategy: In the third round, the Red Wings should continue to draft players with elite traits, even if their overall game needs improvement. In addition, choosing a goalie here wouldn't be out of the question.
Potential Picks: 
Analysis: As with the first two rounds, the Red Wings should continue to prioritize forwards with the 63rd and 65th picks in the 2020 draft. Offensive dynamos Carter Savoie and Sean Farrell could still be around for Detroit to select. Savoie, in particular, lit up the AJHL in front of Red Wings goaltending prospect Carter Gylander. Detroit's brass should have a relatively big book on Savoie by this point.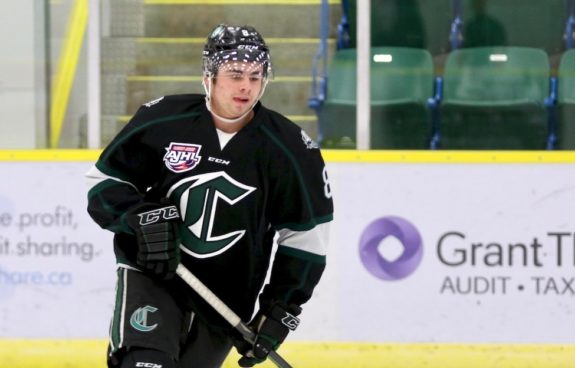 The same could be said for forward Yevgeni Oksentyuk, who spent the 2019-20 season with the Flint Firebirds. The Belorussian overager put up 78 points in 58 games with Flint and is currently playing alongside 2019 seventh-round pick Kirill Tyutyayev with Yunost Minsk. 
"I think he's the top overager in this draft class, thanks to his offensive prowess and his elite puckhandling," said Bell. "There are times it looks like he has the puck on a string as he dances around opponents. He's on the smaller side as well and his skating will need some improvement for him to truly succeed at the next level, but this is a player that I would very much gamble a third-round pick on."
Detroit's Plan for Round 4 & Beyond
Strategy: As the Red Wings move into the later rounds of the draft, they should look to diversify their prospect pipeline. They can do so by identifying which skill sets are missing and/or appear to be subpar from their prior selections.
Potential Picks:
Analysis: In the past, the Red Wings have spent triple-digit picks on prospects who either fell due to various concerns or have one or two intriguing skills, but are otherwise average players. This year is no different.
A year ago, you could have made the case that Daemon Hunt and Antonio Stranges could go in the first two rounds. But given Hunt's injury history and Stranges' defensive zone coverage issues, both could be available in the fourth round. That said, these two prospects could turn out to be steals. Hunt is a smart, two-way defenseman with NHL potential. In addition, Stranges is one of the best skaters in the draft and has outstanding offensive instincts – similar to Andreas Athanasiou's draft profile.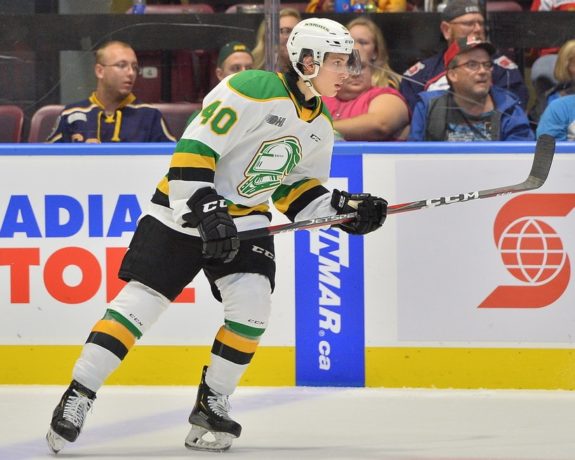 If the Red Wings don't draft a goalie in the first three rounds, taking one with a later pick is a must. Calle Clang and Jan Bednar are two netminders who could be of interest. Bednar, in particular, could have NHL potential. I wrote about him over the summer as part of my seven-round mock draft for the Red Wings:
"When watching Bednar, his strong lateral pushes stand out immediately. He's able to move around the crease well for a big goalie, though he still needs to learn how to be more efficient with his movements. He can over-slide at times due to his strength and size, but the explosiveness is there. He can also be a little slow to recover from an initial shot or sequence if the play continues on. Bednar will need to learn how to read scramble situations better and react accordingly. That said, the raw skills and intangibles are there."
Keep in mind that players drafted in the fourth round and beyond will need time to develop, as evidenced by my assessment of Bednar above. 
Related: Red Wings Prospect Rankings & Outlook
Final Word
With 10 picks in the 2020 draft, the Red Wings are well-positioned to add talent and depth to their prospect pipeline. Selecting some of the players listed above would certainly accomplish that goal. It's up to Yzerman, Kris Draper, and the rest of Detroit's management team to maximize each pick so the organization can rebuild at a faster pace.
---
---