It's officially June, which means that the Detroit Red Wings will soon be back in action at the 2018 NHL Entry Draft. There, Ken Holland and his team will have a slew of picks to build for the future, with the most notable being the sixth overall selection.
When Holland steps to the podium to announce the organization's first pick, it will more than likely be a defenseman, with Evan Bouchard and Quinn Hughes being the leading candidates. There are other intriguing options, but there needs to be a little draft-day chaos to change Detroit's fortunes – and that's entirely possible.
Let's dig into the contingencies that will determine which player the Red Wings choose with their sixth overall selection.
Related: Red Wings Facing Significant Logjam on Defense
Red Wings Countdown to No. 6
Picks No. 1 & No. 2 are pretty much set in stone – Buffalo will take defenseman Rasmus Dahlin first overall and Carolina will select the top forward in their book, likely Andrei Svechnikov. From there, it gets a little hairy.
Picking third, Montreal will likely take a forward as well. Filip Zadina and Brady Tkachuk are the usuals projected there. Some experts have Zadina ranked as high as second-best. Others have him fourth- or fifth-best. The same goes for Tkachuk.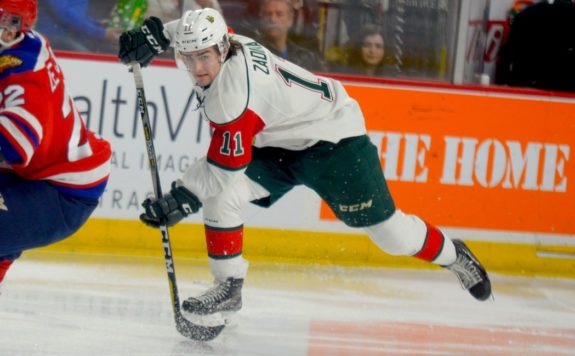 Whichever player Montreal does not select will be available when Ottawa chooses at No. 4. So will defenseman Adam Boqvist, who many consider to be elite, just not on the same level as Dahlin. Again, depending on which draft expert you ask, Boqvist, Tkachuk, Zadina, and others could be ranked in any order toward the top of the draft. Does Ottawa look for a potential Erik Karlsson replacement in Boqvist or pursue another high-end forward?
And finally, just before the Red Wings can make their selection, the Arizona Coyotes can really muck things up. If they keep their pick, Arizona will draft the best player available – forward or defenseman. But general manager John Chayka has been known to maximize the value of players and draft choices, and could opt to trade the No. 5 selection. Perhaps a player like Zadina slides and a team wants him enough to offer Chayka a small fortune for the pick.
Just as likely, if Ottawa takes Boqvist at No. 4, then a team knowing that the Red Wings and Canucks (picking just after Arizona at No. 6 and No. 7, respectively) both want defensemen could trade into the No. 5 slot to snag one before the high-end blueliners are gone. Arizona certainly has options if they choose to pursue them.
That brings us to Detroit's selection. As you can see from the scenarios above, there's a slight chance that a top forward will be available at No. 6. In addition, only one of Bouchard or Hughes may be left for the Red Wings to choose. Or all three of Boqvist, Bouchard, and Hughes could remain as sixth-overall options if a team sees forward Oliver Wahlstrom as a top-five talent.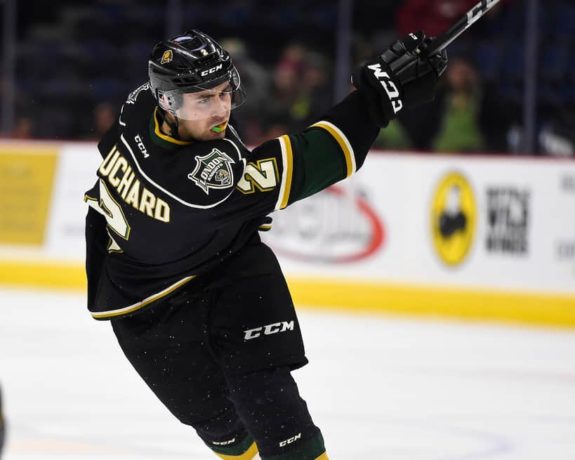 With or without all the chaos, Bouchard and Hughes are the most probable choices for the Red Wings. Bouchard likely has a slight edge over Hughes given Detroit's wealth of skilled but undersized blue-line prospects (Joe Hicketts, Filip Hronek, Vili Saarijarvi), though Hughes would definitely bring his own upside if chosen.
Related: Red Wings 2018 Prospect Update
Which Player for Which Scenario?
To bring some clarity to which player the Red Wings might choose with the No. 6 selection, I conducted a little experiment. In this exercise, I produced all of the different top-five scenarios to show who would be available for Detroit to selection sixth overall. That way, there's already a plan in place no matter who is chosen with the first five picks.
Selection Criteria
For the sake of this exercise, there were a few rules taken into consideration:
Dahlin, Svechnikov, and Zadina are excluded since the three are highly unlikely to reach the Red Wings at No. 6.
For the No. 4 and 5 picks, we're just looking at the two players selected in those two spots, not the specific order.
The majority of draft experts rank Boqvist as the best defenseman not named Dahlin, so he's given priority if available.
Helene St. James of the Detroit Free Press tends to have the inside track on Red Wings dealings and has noted Bouchard as someone Detroit is interested in, so he's given priority after Boqvist.
Here are the results:
| | | | |
| --- | --- | --- | --- |
| Scenario | 4/5 | 4/5 | Detroit's Pick |
| 1 | Boqvist | Bouchard | Hughes |
| 2 | Boqvist | Hughes | Bouchard |
| 3 | Boqvist | Tkachuk | Bouchard |
| 4 | Boqvist | Wahlstrom | Bouchard |
| 5 | Bouchard | Hughes | Boqvist |
| 6 | Bouchard | Tkachuk | Hughes |
| 7 | Bouchard | Wahlstrom | Boqvist |
| 8 | Hughes | Tkachuk | Boqvist |
| 9 | Hughes | Wahlstrom | Boqvist |
| 10 | Tkachuk | Wahlstrom | Boqvist |
Red Wings Draft Results
In the chart above, the Red Wings ended up drafting Boqvist in six of the 10 scenarios, Bouchard in three, and Hughes in one. However, if you remove Wahlstrom—who may be better suited for the No. 7-10 range—then Detroit ends up drafting Boqvist three times, with Bouchard (two) and Hughes (one) rounding out the selection scenarios.
In my opinion, the top-five of the 2018 NHL draft will go: Dahlin, Svechnikov, Zadina, Boqvist, and then Tkachuk, leaving Bouchard and Hughes as Detroit's two options.
There's also the possibility of the Red Wings trading up into the top three if the price is right, but Holland should be wise with his draft picks. It's rare for Detroit to have access to so many quality prospects with picks to spare. Staying put at No. 6 is an acceptable strategy.
Which player do you prefer the Detroit Red Wings to draft? Comment below with your pick.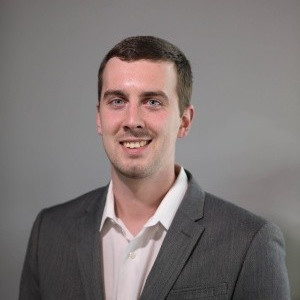 Tony Wolak is based in the Washington D.C. area and covers the Detroit Red Wings for THW. As a former junior and college hockey player, Tony has a unique perspective on Red Wings topics.