| | | | |
| --- | --- | --- | --- |
| Born: | January 3, 1980 | Position: | Defense |
| Hometown: | Panorama City, California | Shoots: | Right |
| Known For: | 4 Olympic Medals | Current Team: | Retired |
| National Team: | United States | | |
Angela Marie Ruggiero (born January 3, 1980) is an American former ice hockey defenseman, gold medalist, and four-time Olympian. She was a member of the International Olympic Committee from 2010 to 2018 and served as a member of the Executive Board of the IOC after being elected the Chairperson of the IOC Athletes' Commission, the body that represents all Olympic athletes worldwide, a post which she held from 2016 to 2018.
In her hockey career, Ruggiero was named as the best player in the NCAA and in the world by The Hockey News and named the US Olympic Committee's Player of the Year. She was a member of the United States Women's National Ice Hockey Team, medaling in four successive Winter Olympic Games, including one gold medal in 1998, two silvers in 2002 and 2010, and one bronze in 2006. She competed in ten Women's World Championships, winning four gold medals and six silver medals. In that time she was named Best Defenseman twice at the Olympics and four times at the World Championships.
On June 29, 2015, Ruggiero was announced as a member of the Hockey Hall of Fame's Class of 2015. She was inducted on November 9, 2015. She was the fourth woman and the second American woman to be inducted. She is also the only California-born person (man or woman) to be inducted. Ruggiero is the all-time leader in games played for Team USA, male or female, with 256 games. Ruggiero is also a Member of the USA Hockey Hall of Fame (2015) and the IIHF's Hall of Fame (2017).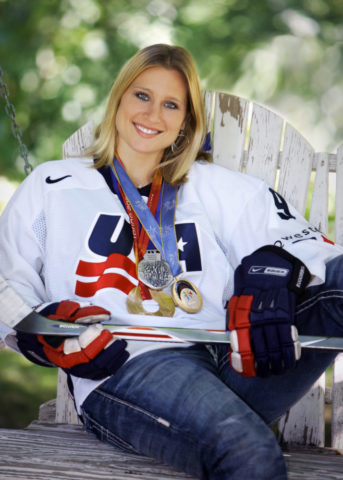 Angela Ruggiero Statistics
Deeper Dive
Achievements
Olympic Gold Medal (1998)
Olympic Silver Medal (2002, 2010)
Olympic Bronze Medal (2006)
IIHF World Women's Championships Gold Medal (2005, 2008, 2009, 2011)
IIHF World Women's Championships Silver Medal (1997, 1999, 2000, 2001, 2004, 2007)
AWCHA First Team All American (1999)
Winter Olympics Top Defenseman (2002, 2006)
The Hockey News Best Female Player (2003)
Beanpot MVP (2004)
ECAC Player of the Year (2004)
ECAC Tournament MVP (2004)
ECAC All-Academic Team (2004)
All-ECAC Team (2001, 2002, 2003, 2004)
NCAA All-American (2001, 2002, 2003, 2004)
Harvard Female Athlete of the Year (2004)
Ivy League Player of the Year (2004)
NCAA First Team Academic All-American (2004)
Patty Kazmaier Trophy Winner (2004)
Hockey Hall of Fame (2015)
USA Hockey Hall of Fame (2015)
IIHF Hall of Fame (2017)
Sources