| | | | |
| --- | --- | --- | --- |
| Born: | Sep 23, 1969 | Draft: | 1989 Sabres, 183rd Overall |
| Hometown: | Laval, Quebec | Position: | Right Wing |
| Known For: | 2001 NHL All-Star Game | Shoots: | Right |
| National Team: | Canada | Current Status: | Retired |
Donald Audette (born September 23, 1969) is a former Canadian ice hockey player, having played his final year in the NHL split between the Montreal Canadiens and the Florida Panthers during the 2003-2004 season. Drafted 183rd overall by the Buffalo Sabres in the 1989 NHL Entry Draft, Audette spent the first two seasons split between the Sabres and their minor-league affiliate, however, he broke out during his rookie year during the 1991-92 season, recording 31 goals, finishing fourth on the team in the regard. He quickly earned a reputation for being a gritty player with bite despite his size, and quickly became a fan favourite in Buffalo. In seven seasons with the Sabres, he recorded four 20-goal seasons and one 30-goal season, but injuries plagued his 1992-93 and 1995-96 seasons. In December of 1998, he was traded to the Los Angeles Kings for a 1992 second-round pick.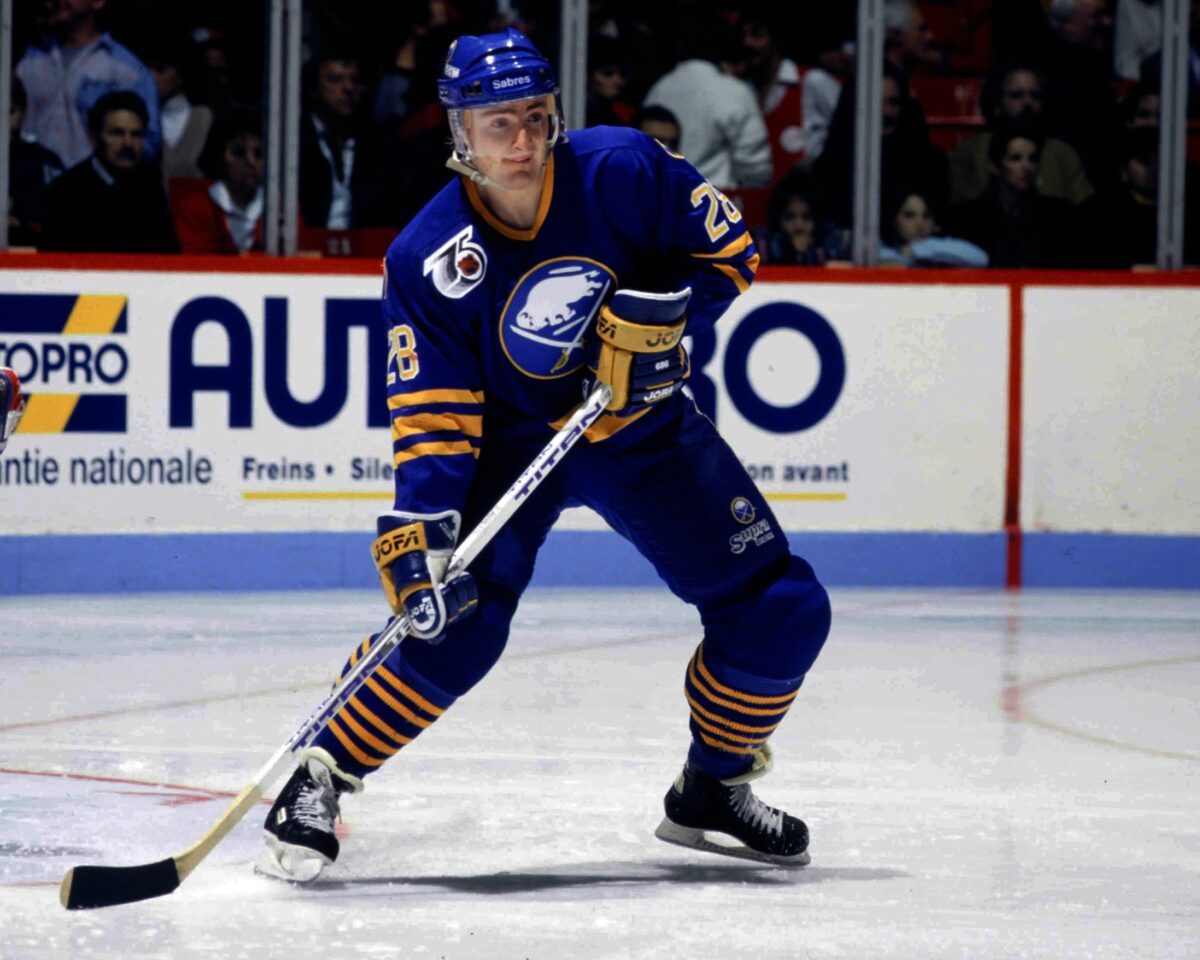 Audette's tenure in Los Angeles lasted just 98 games combined over two seasons, and he was dealt to the Atlanta Thrashers during the 1999-2000 season. The following year, Audette set a career high in goals when he scored 32 in 64 games, but with the Thrashers failing to make the playoffs that year and seeking to obtain assets for pending free agents, Audette was traded to the Sabres for Kamil Piros and a 2001fourth-round pick. That season, Buffalo made the playoffs, and Audette registered respectable numbers, scoring three goals and adding six assists in 13 games. Later that summer, he signed a deal with the Dallas Stars for the 2001-02 season, but played just 20 games before he was traded to the Canadiens, along with Shaun Van Allen, for forwards Benoit Brunet and Martin Rucinsky.
After splitting his final two seasons between the Canadiens and Panthers, Audette couldn't keep up with the speed of the NHL any longer, and chose to retire from the game. This wouldn't be the last the NHL would see Audette, as he became a part of the Canadiens scouting team, assigned to report to the Quebec and Maritimes areas. On the side, he served as the general manager of the Collège Esther-Blondin Phénix of the Quebec Midget AAA league for ten years and spent one more year with the club as their Director of Hockey Operations.
Donald Audette Statistics
Trade Tracker
Date
Traded From
Traded With
Traded To
Traded For
Mar. 13, 2000
Frantisek Kaberle
Kelly Buchberger
Nelson Emerson
Mar. 13, 2001
Fourth-Round Pick 2001
(Igor Valeev)
Kamil Piros
Nov. 21, 2001
Shaun Van Allen
Benoit Brunet
Martin Rucinsky
Deeper Dive
Staff History
Collège Esther-Blondin Phénix, QMAAA (General Manager) 2010-2020
Collège Esther-Blondin Phénix, QMAA (Director of Hockey Operations) 2020-2021
Team Québec, CWG (Head Coach) 2010-2011
Canada Québec U17, WHC-17 (Head Coach) 2012-2014
Montreal Canadiens (Amateur Scout – Quebec/Maritimes) 2012-2022
Achievements
QMJHL First All-Star Team (1989)
QMJHL Playoffs Most Goals (17) (1989)
QMJHL Playoffs MVP (Guy Lafleur Trophy) (1989)
AHL First All-Star Team (1990)
AHL Rookie of the Year (Red Garrett Memorial Award) (1990)
NHL All-Star Game (2001)
Canada Winter Games Silver Medal (2011, Head Coach)
Sources