| | | | |
| --- | --- | --- | --- |
| Born: | Nov 4, 1935 | Hometown: | Port Colborne, Ontario |
| National Team: | Canada | Current Status: | |
| Known For: | Hockey Hall of Fame | Builder | | |
Jim Gregory (November 4, 1935 – October 30, 2019) was a Canadian hockey coach and general manager in the NHL. Born in Ontario, Gregory quickly became infatuated with the sport of hockey, following the Toronto Maple Leafs religiously. In 1952, he relocated to Toronto, joining St. Michael's College and quickly establishing himself as a member of the school's hockey system. He started in a trainer role but quickly rose up the ranks, first as a coach and eventually becoming the team's general manager. In 1961, he joined the Toronto Neil McNeil Maroons, helping them win the Memorial Cup in the same year. Despite the team merging with another, Gregory was kept on board and would win another Memorial Cup the following year.
In his ten years as the general manager of the Maple Leafs, Gregory broke ground in many aspects. While building a highly-competitive team from top to bottom, he also became one of the first general managers to scout Europe, recruiting the services of Borje Salming and bringing him over to North America. He's also responsible for developing Toronto's first scouting system, hiring five scouts on a full-time basis. Gregory was fired from his position as general manager after ten years, following the Maple Leafs quarterfinals elimination in the 1979 Stanley Cup Playoffs.
In 1979, Gregory replaced Jack Button as the director of NHL Central Scouting Service, a position he held until 1986. He transitioned his focus to an executive director role of Hockey Operations for the NHL, and was named as a chairman to the Hockey Hall of Fame in 1998. His biggest contribution towards his service in his later years was the introduction of goal reviews, a system highly counted on in today's NHL.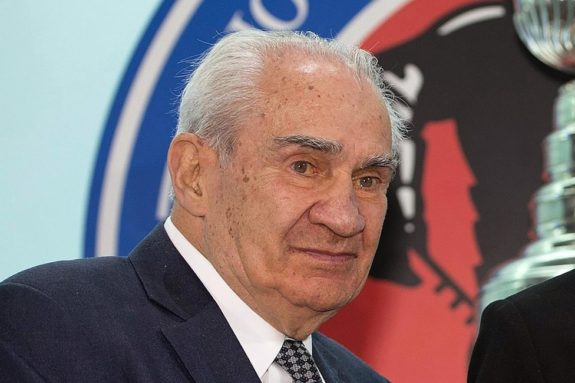 Deeper Dive
Staff History
St. Michael's Majors, OHA-Jr. (General Manager) 1960-1962
Toronto Neil McNeil Maroons, MTJAHL (General Manager) 1962-1963
Toronto Neil McNeil Maroons, MTJAHL (Head Coach) 1962-1963
Toronto Marlboros, OHA-Jr. (General Manager) 1963-1966
Toronto Marlboros, OHA-Jr. (Head Coach) 1964-1965
Vancouver Canucks WHL-Sr. (Head Coach) 1967-1968
Toronto Maple Leafs (Assistant General Manager) 1968-1969
Toronto Maple Leafs (General Manager) 1969-1979
Achievements
Hockey Hall of Fame | Builder (2008)
Sources