What's The Grind Line? Apart from the once-famous line of Kris Draper, Kirk Maltby, and either Joe Kocur or Darren McCarty, The Grind Line is also The Hockey Writers' weekly column about the Detroit Red Wings. This week, Tony Wolak, Devin Little, Ian McNaughton, Patrick Brown, Peter Ploshehanski, and Ryan Guenter are the muckers who make up THW's forechecking unit and sound off on Red Wings topics.
The whole crew is here!
With the holiday season upon us, people all over the world are either putting the finishing touches on, or submitting their wish-lists. Some people are holding out for that elusive PlayStation 5, while others just want their favorite team to win a few games (shout-out to you, Lions fans.) But for hockey fans, one thing is certainly on everybody's wish-list: a plan to start the 2020-21 season.
In the midst of an eventful offseason, the Detroit Red Wings and their fans have already scratched-off a few things on their respective wish-lists. However, in the aftermath of the 2019-20 season, it doesn't hurt to include a few more things on that list than you normally would. What could be on that wish-list? Our muckers weigh in:


Devin Little: Add Another First-Round Pick
Four teams made multiple selections in the first-round of the 2020 draft. Two teams made three selections each: the New Jersey Devils and the Ottawa Senators. The Red Wings picked Lucas Raymond at pick four, and then did not pick again until pick 32 – the first of the second-round. A lot of talent was drafted between those picks.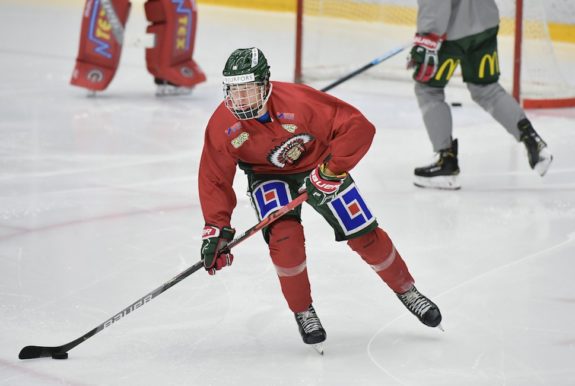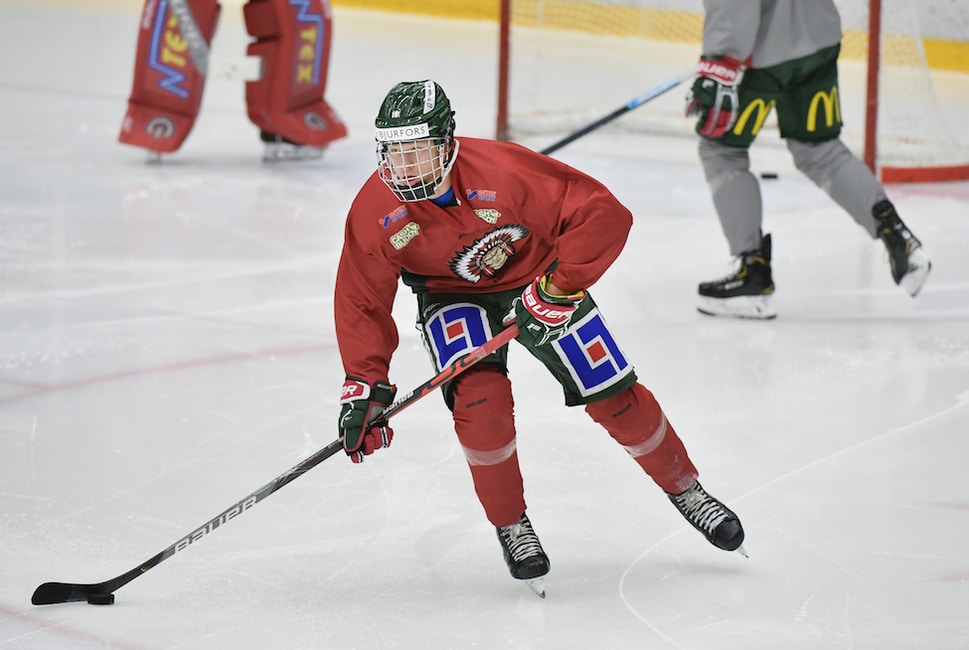 The Senators acquired the 28th pick in this year's draft from the New York Islanders in exchange for Jean-Gabriel Pageau. The Devils acquired the 20th pick from the Tampa Bay Lightning in a deal for Blake Coleman. With their offseason additions, I believe the Red Wings have the right pieces to acquire an additional pick of their own either for the 2021 draft or another draft down the road.
The wheels are turning on this rebuild, and excitement is starting to build. If the Red Wings were to add two top-20 prospects from the 2021 draft, it would kick the rebuild into hyperdrive. Anything that can do that is always going to be high on my wish-list.
Ian McNaughton: Goals, Goals, Goals
Maybe it's because I've been watching a lot of historical hockey games during the lockdowns but I want to see the Red Wings score more goals in the 2020-21 season. In 71 games last season, they scored a pathetic 142 goals, which simply isn't good enough. If the Red Wings want to be a competitive team, while also giving fans something to watch every night, then they need to score more goals. 
Part of that has to come internally, as Detroit had just one 20-goal scorer last season (that would be one, Anthony Mantha.) Sure, Dylan Larkin had 19 goals and, as of more recently, has been a playmaker rather than a goal-scorer, but the Red Wings need more from someone who many consider to be the best player on this team. While we're at it, why not throw in Tyler Bertuzzi and put the whole first line on notice as a group who needs to contribute more offensively.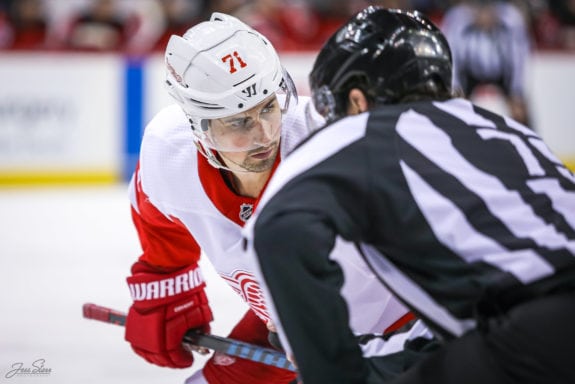 Nobody's asking them to be the 1980's Edmonton Oilers, but I don't think it's egregious to expect more than two goals a game from this team. GM Steve Yzerman even brought in outside reinforcements over the offseason to help this stagnant offense. New to the team this year will be Bobby Ryan and Vladislav Namestnikov, both of whom should be upgrades over what the Red Wings had last season. While this team is nowhere close to scoring at the levels of division rivals Tampa Bay and Toronto, it would be nice to see an all-around improvement in the goals department. 
Patrick Brown: Stop Giving Up Goals, Goals, Goals
Much like Ian's wish for more offense, I'm hoping for just the opposite – more defense! The Red Wings' blue line was abysmal last season, giving up 267 goals in 71 games. The Ottawa Senators gave up 243, which is a pretty distant second all things considered. Of all defensemen that played at least 40 games last season, Alex Biega held the highest plus/minus rating of -9, while Filip Hronek bottomed out with a -38. Corsi For percentages (CF%) were just as bleak, without a single regular defender at or above 50.0.
This season should be a different story. Gone are Mike Green, Trevor Daley, Jonathan Ericsson, and Madison Bowey. In are Marc Staal, Jon Merrill, and Troy Stecher. Merrill posted plus/minus and CF% of 5 and 52.6, and Stecher's line was 10 and 48.7, respectively. Although the Red Wings' blue line won't be a complete shutdown unit, it has unquestionably improved.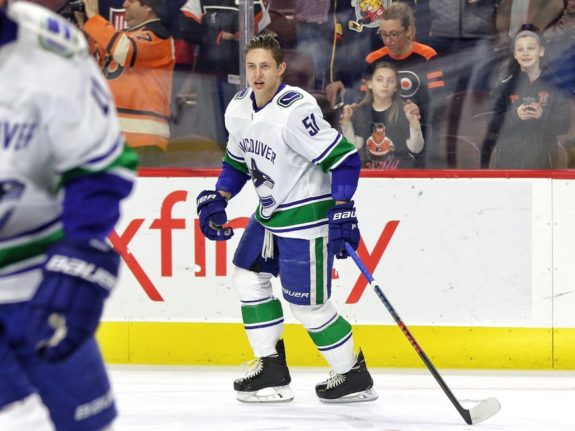 The addition of Thomas Greiss also gives Detroit a much steadier one-two punch in net, all steps that were needed to improve the defensive prowess on this team. With names like Moritz Seider, Albert Johansson, and William Wallinder waiting in the wings, a step forward this season will offer plenty of hope for the future.
Tony Wolak: Another Yzerman Blockbuster
Like Devin, my holiday wish for the Red Wings is for another first-round pick in exchange for taking on salary from a cap-crunched team. I'd settle for a quality prospect and/or a second-round selection as well – no need to be picky this time of year.
Detroit's rebuild is on the upswing and adding more draft capital will help down the road. The Red Wings have an impressive prospect pipeline, but they also need to plan for what happens after they become a decent team. They'll need additional draft picks then – either to draft players to supplement their pipeline or use in trades to bolster their roster.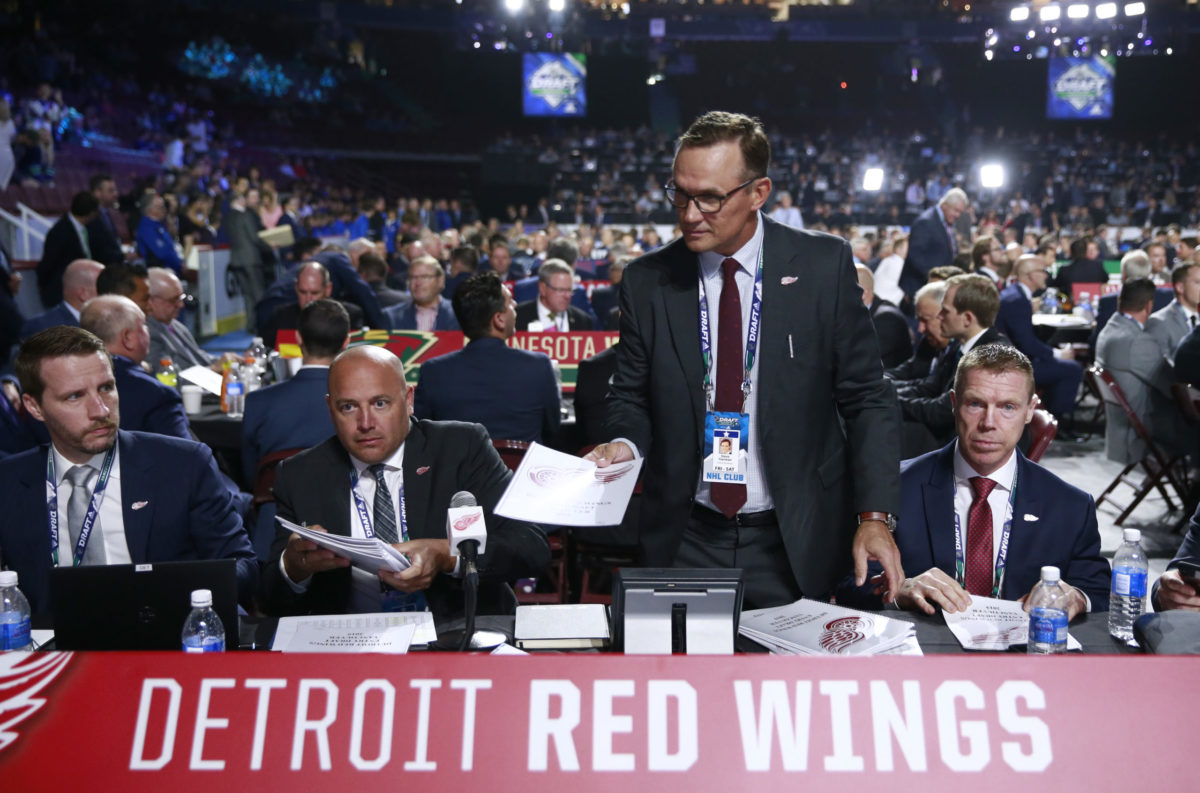 Take, for example, a hypothetical deal with the Tampa Bay Lightning. Detroit could take on an expensive roster player—say, Alex Killorn or Tyler Johnson—and receive a 2022 first-round pick to do so. We know the Lightning will be a great team next season, but what about the year after? Sure, they could still be solid, but the San Jose Sharks were supposed to be the same way after they acquired Erik Karlsson and Gustav Nyquist. The Red Wings could be choosing a lot sooner in the first round with that pick than anticipated.
Peter Ploshehanski: Please Keep Jonatan Berggren Healthy
I for one would love to see what Jonatan Berggren can do with a full season in the SHL. "Berggy" was on a heater to start the season putting up nearly two points per game. He has begun to regress back to his mean and I'm okay with that – he still has 20 points in 18 games played.
After watching so much of him in the SHL with the NHL being on pause my cautious faith has been restored. He has managed to take major steps forward in his development despite having his first two seasons derailed by nasty injuries. He is driving the net after being labeled a perimeter player and you can really see how smart he is out there. I'm very excited to see him in the Winged Wheel in the future.
Ryan Guenter: Michael Rasmussen Takes Another Step In His Development. 
After the Red Wings made Rasmussen the 9th overall selection in the 2017 draft, the expectations were as big as his 6'6, 220-pound frame. Rasmussen's professional career started well as he spent most of the season with the Red Wings in 2018-19. More specifically, Rasmussen played in 68 games with the Red Wings and only factored into three games with Grand Rapids.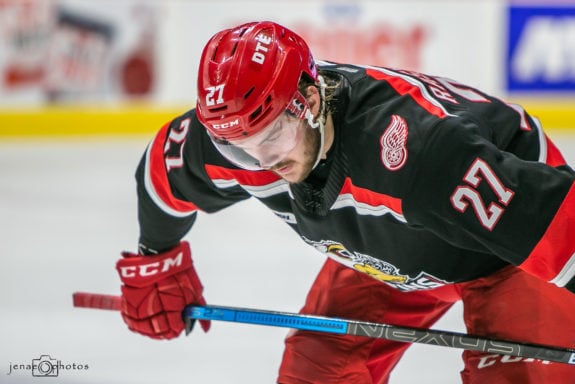 Conversely, the 2019-20 season was the complete opposite as the Surrey-native started the year with a nagging back injury. As a result of the late start and the shortened season, Rasmussen did not play a single game with the Red Wings in 2019-20. Instead, he played a total of 35 games in Grand Rapids collecting a respectable 7 goals and 15 assists.
2020-21 is the last year on Rasmussen's entry level contract. To ensure he is ready, the Red Wings loaned him to the Graz 99ers where he has accumulated two goals and six assists in eight Austrian league games. Certainly, a good start for the former Tri-City American. Here is to wishing that that the 21-year-old can convert his early European success into a solid campaign with the Red Wings – whenever that might be (wish #2!)
More from The Grind Line
Want more Red Wings content? Tune into The Hockey Writers' Grind Line — a new weekly live show on YouTube and Facebook. We stream Friday nights starting at 8:00 pm ET on The Hockey Writers YouTube channel. Check out last week's show below, and make sure you subscribe to the channel so you don't miss any upcoming shows.
What's on your Red Wings Wish-list?
Comment below.
---
---