With just under one week remaining before the 2023 NHL Draft, the Montreal Canadiens are entering the final countdown to what could become a pivotal selection in general manager (GM) Kent Hughes' rebuild plan. There is lots of speculation on who he will finally choose. Perhaps it will be Matvei Michkov? Perhaps Will Smith?
Related: Montreal Canadiens 2023 Draft Coverage  
---
Latest News & Highlights
---
The new development approach installed by Hughes comes at the right time to take advantage of the franchise's massive field of draft picks. Yet the prospect pool needs an influx of elite talent, and the 2023 Draft class may be able to provide that. In this case, we will look at Ryan Leonard. This 18-year-old forward has what it takes to be successful at the NHL level and may provide a skill set the Habs are missing.
Canadiens' Needs 
The 2023 NHL Playoffs highlighted a specific need for any team that dreams of becoming a Stanley Cup-contending squad. They need players who can play a physical, abrasive style, but also provide skill. The Vegas Golden Knights had several players that brought many of those aspects, and the Florida Panthers had one in particular who will serve as an example to emulate, Matthew Tkachuk. 
Mike G. Morreale at NHL.com described Leonard as exhibiting "great compete, grittiness, and has the willingness to stir the pot when his team needs a spark." Those attributes are similar to Tkachuk's style and could make the right winger an attractive option for the Canadiens.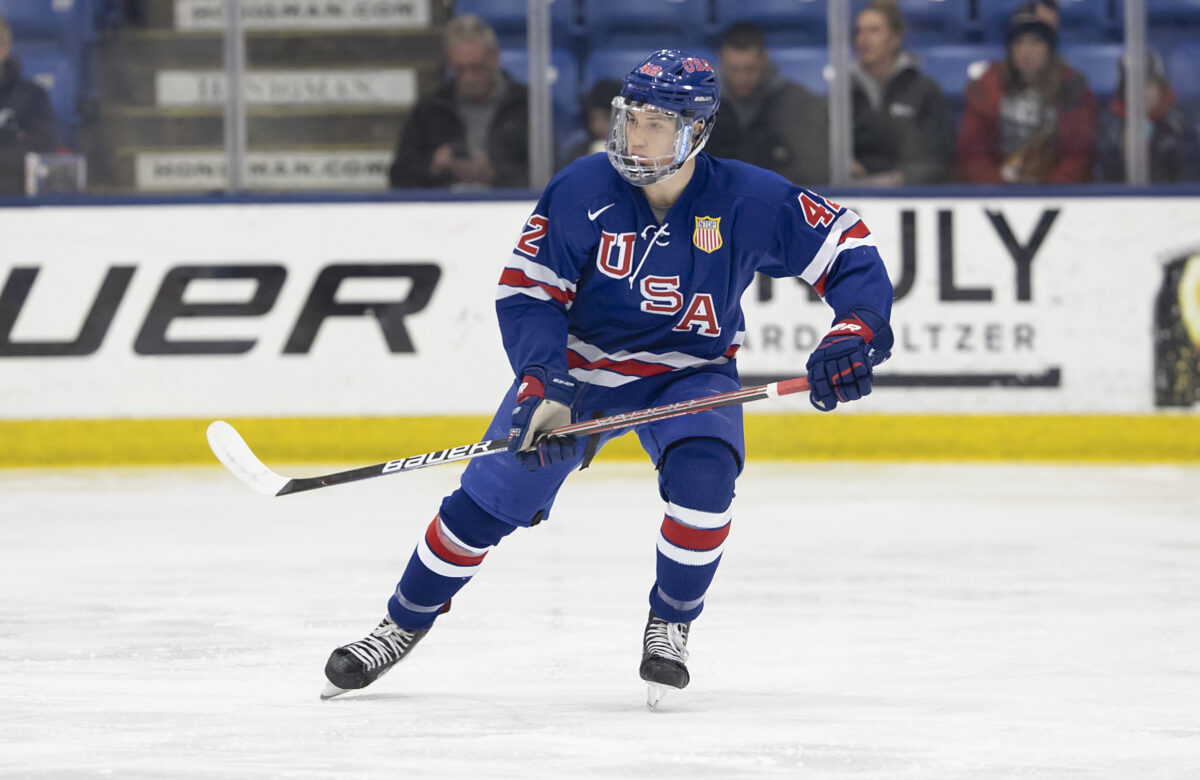 In a recent interview at the NHL Draft Combine, Hughes said Leonard reminds him of the Tkachuk brothers with his physical, intense play style and work ethic. Matthew Tkachuk just finished playing in the Stanley Cup Final with the Florida Panthers, while brother Brady is captain of the Ottawa Senators.
The 18-year-old from Massachusetts lists Matthew Tkachuk as a role model, which makes the comments from the Habs' GM high praise for a prospect who emulates that very player. NHL staffs are always on the lookout for this prototype, a player with the grit to play a playoff style.
Leonard is a Legitimate Draft Target 
There's a good reason the Canadiens would be attracted to a player of Leonard's ilk. He attacks the middle constantly. He is also adept at attacking defenders with speed, playing a puck-control style that NHL teams adore, especially the Canadiens who are adopting this style as the rebuild goes on. He has playmaking skills, an ability to play a heavy game along the boards, and an affinity for playing a mature defensive game. Playing on a line with Gabe Perreault and Will Smith, Leonard was the intangible that made the trio work effectively in all three zones. 
As a member of the USA National Team Development Program (USNTDP)'s top line, Leonard scored 51 goals in 57 games this season, including the overtime winner to clinch the gold medal at the Under-18 World Championship.  
In a recent episode of Habs Unfiltered, Dobber Prospects head of North American Scouting, Hadi Kalakeche described Leonard's game, and noted that he has elite playmaking, however, once at the NHL level, will need to add more of a north-south approach to take advantage of his speed. The style that Leonard plays is exactly what head coach Martin St. Louis is trying to add to Anderson's game. The two players on the same roster could be a hellish pairing to defend against. 
Ryan Leonard is a high energy winger who never takes his foot off the gas in terms of both speed and effort. He uses his speed and skill to blow by defenders in the neutral zone and pressure in-zone defenders who struggle to anticipate his next move. His playmaking and shot aren't exceptional, but they're both good enough to be reasonably sure that his offense would translate to the NHL someday.  

Logan Horn – THW.com
Over the last two seasons with the USNTDP, Leonard has been tasked with playing all three forward positions. He began as a natural center before being shifted to Smith's wing. This has demonstrated his high hockey IQ, proving his adaptability in excelling in the face of any challenge. His high motor and work ethic are reminiscent of Brendan Gallagher's, and like the resident Habs pest, he also is aggressive in his puck pursuit and attacking the net.  

He also boasts one of the best shots in this draft class, if not for Michkov and Connor Bedard, he might be seen as the top shot. But he does have a quick release that he can camouflage with different blade fakes and shot selections. It is also accurate and heavy, which is a major reason for his 51 goals in 57 games. The rebuilding Canadiens could use a feisty forward with scoring and leadership skills. With his graduation from the USNTDP, Leonard will join Smith and Perreault at Boston College for the 2023-24 season.  
Essentially, Leonard is not only a prospect that checks many boxes for any team, but he is also seen as a "safe" pick because you know exactly what kind of player you are getting. He won't be the "sexy" pick for Canadiens fans who are demanding the flashy skills of a Michkov. As mentioned above, Leonard is the kind of player that every team wants on their roster and needs for playoff success. With his aggressive two-way and power-forward style he will need time to develop his skills and add strength to play the way he has become accustomed, especially before he moves on to the NHL level. Given a year or two to develop and add that strength, Leonard could easily be seen as a potential top-line winger who can complement the Habs' core duo of Nick Suzuki and Cole Caufield.  
Video 
---
---