Team Latvia kicked off their rescheduled 2022 World Junior Championship (WJC) tournament with games on back-to-back nights against the powerhouse teams in their pool, Finland and Canada. After a 6-1 loss to Team Finland, the Latvians faced off against gold medal favorites in Canada, ending with a 5-2 loss.
Despite still looking rusty to start the tournament, the Canadians dominated possession early and continued throughout most of the game until they were able to wear down their opponents and take advantage of their power play (PP) opportunities.
Latvia Lacks Depth
Latvia being graduated artificially due to Russia's suspension did them no favors, as they lack any star power to compete and win against the top hockey nations.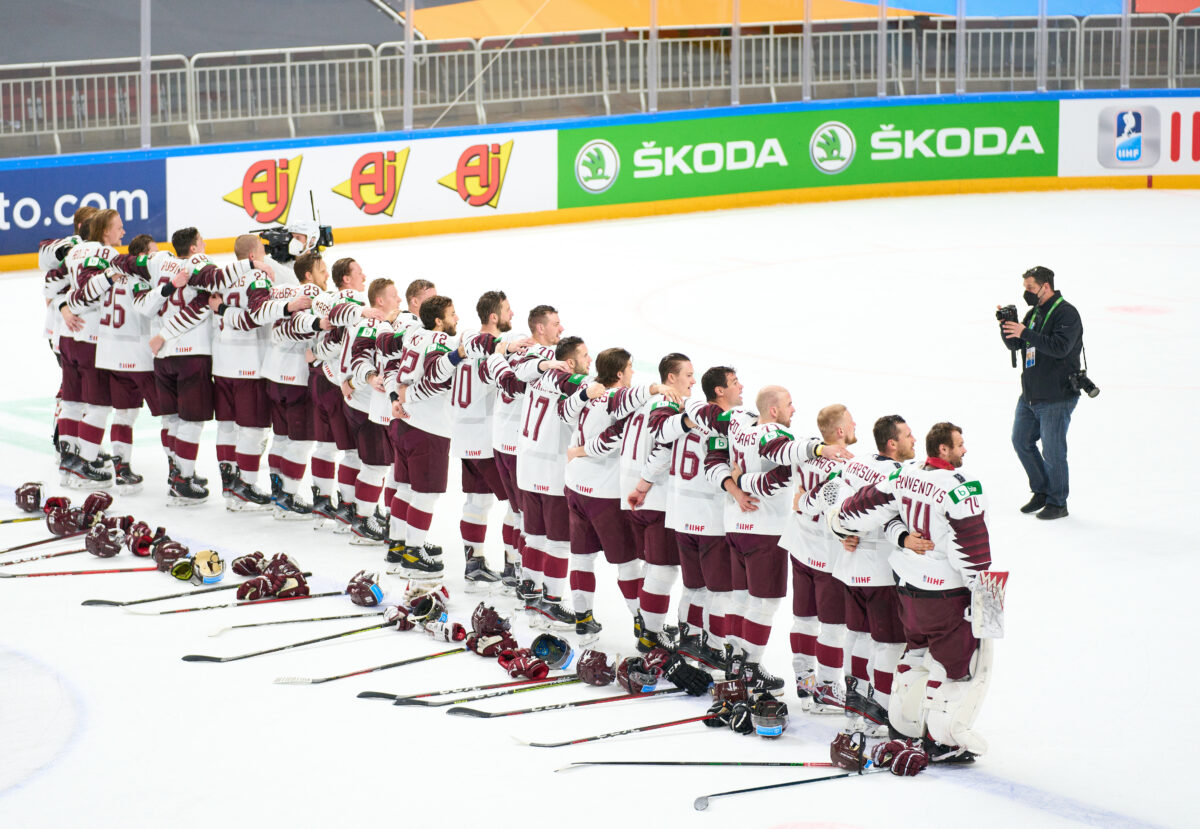 As a small hockey country, Latvia clearly lacked the depth of talent to compete with the Canadians' four waves of high-end skill. They relied heavily on their goaltending and top defensive pair to keep the game close but were clearly overpowered throughout. Their best hope to move ahead in Group A and get into the medal round is to have their goaltending steal wins against the Czechs and Slovaks.
World Junior Quality Goaltending
Bruno Bruveris faced 39 shots in the first game against Finland. His play kept the game from becoming a true blowout as Finnish forwards Joakim Kemell and Aatu Raty provided a dominant performance.
Related: 2022 World Junior Championship Coverage
In the game versus Canada, after the first period, Latvia held a 1-1 tie in large part to Patriks Berzins' performance in goal, shutting the door on all but one elite shot by phenom forward Connor Bedard. In the second, a major reason why Latvia fell behind in this game was due in large part to penalty troubles coming back to haunt them. Berzins did everything he could, but was unable to stop two screened shots on two consecutive Canadian power plays, putting Latvia down 3-1 midway through the game. Then, an error at the blue line and an incredible individual play by Ridly Greig put them down 4-1.
Aggressive Latvian Play
Two aspects of the game that Latvia was clearly having success in were their aggressive puck pursuit in all situations and their ability to generate several breakaways and odd-man rushes, even while short-handed. They also showed that they will compete for a full game, regardless of the score, as they began to control possession and generate more shots on goal as Canada seemed to be sitting back and defending their lead as opposed to pushing the pace.
Rainers Darzins and Bogdans Hodass put away goals for the Latvians, both coming directly from determined, aggressive plays attacking the net. One was a goal in the slot, and the other, a blast from the point through a screen. Latvia had several opportunities throughout the game to get their offense rolling, as Canada's penalty issues left the door open for them to make the game much closer than it was. Unfortunately, despite having a power play that was able to get set up in the Canadian zone, it was unable to generate any quality opportunities.
If Latvia can keep this aspect of their game consistent throughout the tournament, they can set the tone for the 2023 WJC all while providing the rabid Latvian fan base in the building with entertaining plays and games to cheer about.
Next Up for Team Latvia
Latvia gets a night off before they next hit the ice on Aug. 12 versus Slovakia. Slovakia will be playing back-to-back nights, first versus Canada on Aug. 11, before facing Latvia on Aug. 12.  Puck drop for the game is 4 PM MT (7 PM ET), on NHL Network in the United States and TSN in Canada.
---
Guide to the 2022 World Junior Championship
2022 World Juniors Schedule, Groups, Rosters, Predictions & More
One Player to Watch From Each Team
Breakout Candidates & Sleeper Prospects
Predictions for the 2022 World Junior Championship
Award Contenders and Predictions
2022 World Juniors: 2023 Draft-Eligible Players to Watch
6 Predictions for the 2022 World Junior Championship
---
---