by Eldon MacDonald (edited by @ChrisRalphTHW)
The 2014 NHL Draft Rankings War Room: June Edition brings you the Top 180 ranked prospects as compiled by THW's Eastern Canada based hockey bird dog, Eldon MacDonald. The Next Ones Final Rankings (a.k.a. Chris's List will follow shortly). 
Ten Risers of Note
Sometimes the U18 WJC tourney has almost no effect on the players' rankings – not so this year. Eight of the ten risers below are on the riser list due in part to their excellent U18 tournament. Also of note Edgars Kulda, the MVP of the Memorial Cup Tournament, moved up to 82nd from unranked. He is an overager of modest size (6'0, 178) from Latvia whose superb play was one of the major reasons that the Edmonton Oil Kings were the winners of the Memorial Cup this year.
1. 6 from 8  – Virtanen, Jake, RW, 6'1, 210, Calgary, WHL
Mr. Loco-Motion, Jake Virtanen – Jake cemented his position at the top end of the draft rankings with his performance at the U18s. He was Canada's top offensive player and tied with his Calgary Hitman teammate, Travis Sanheim, for Team Canada's lead in points (5). He was the big man out there – skating, shooting, excitement. I have moved him up to sixth but he could go higher. He gave a great interview at the NHL Combine.
2. 11 from 23 – Fiala, Kevin, LW, 5'10, 181, HV 71, SHL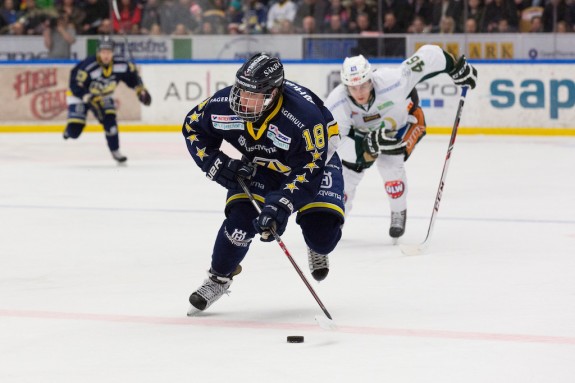 Mr. Determined, Kevin Fiala –Kevin was explosive at the U18s – on the ice, on the stat sheet (6th in scoring), in his determination to be a difference maker. I have moved Kevin to 11th, the second European based player in the draft.
3. 15 from 40 – Sanheim, Travis. D, 6'3, 189, Calgary, WHL
The Late Arrival, Travis Sanheim – Travis had a breakout performance at the U18 WJC, was voted one of Team Canada's top three players, led Team Canada in +/- (+5); tied with Jake Virtanen as Team Canada's top point getter (5). More importantly, Travis demonstrated elite vision and creativity plus the willingness to be the difference maker at crunch time that will be seared in the minds of scouts and General Managers alike as they do their planning for Philadelphia later this month. I have Travis mid-first at 15.
4. 25 from 34 – Vrána, Jakub, RW, 6'0, 176, Linköping, SHL
Mr. Dynamic, Jakub Vrána. Jakub was Mr. Dynamic and more at the U18s. He led the tournament in goal scoring (8 in 7 games) and was electrifying on the ice, blowing past opponents and demonstrating elite level passing and stickhandling as well a deadly shot. There are still concerns with his defensive game and his consistency but I have no doubt that Jakub cemented himself as a first rounder. I have Jakub at 25.
5. 27 from 31 – Demko, Thatcher, G, 6'4, 192, Boston College, Hockey East
The Anchorman – Thatcher Demko – I have moved Thatcher up from 31 to 27 as I feel that there will be at least one goalie selected in round one, maybe two. Thatcher is the goaltender who will most likely have his name called first.
6. 38 from 58 – Quenneville, John, C, 6'1, 186, Brandon, WHL
Mr. Industrial– John Quenneville – John gave an industrial performance at the U18s, hard on the puck, hard on his opponents, hard when it counted. He didn't put up big points (2 in 7 games) but he did demonstrate exactly why he will be drafted earlier rather than later, a third line player who is hard to play against and can be counted upon. I have John at 38.
7. 39 from 71 – McDonald, Mason, G, 6'4, 178, Charlottetown, QMJHL
Mr. McCalm, Mason McDonald –Mason had a great U18 tournament, was voted the tournament's top goaltender and most importantly showed what a big goaltender with calmness and a high compete level can do when the world's spotlight is upon him. Mason has put himself in the running to be selected the top goaltender in the draft.
8. 41 from 102 – Masin, Dominik, D, 6'2, 189, Slavia Praha U20, CZE U20
Mr. Stay at Home, Dominik Masin –Dominik is just a good sized stay at home defenseman who has what it takes to keep the puck out of his team's net. He was the leader and captain on the Czech Republic's U18 team.
9. 44 from 53 – Pollock, Brett, C, 6'2, 183, Edmonton, WHL
Mr. Late Bloomer, Brett Pollock – A converted d-man, Brett had only four points in the Dub last year. While he struggled at the Memorial Cup, Brett was one of the main cogs (playing mainly with Curtis Lazar and Edgars Kulda) in the Edmonton Oil Kings successful WHL playoff run and after Christmas march to the playoffs. He has the NHL size, the NHL hands and the NHL potential to likely be taken by mid-second.
10. 50 from not ranked – Rod, Noah, RW, 6,0, 188, Genève-Servette U20, Swiss U20
The Crazy Guy, Noah Rod –The player that impressed me the most (at the U18s) after William Nylander and fellow countryman, Kevin Fiala, was one Mr. Noah Rod. He was one crazy guy, all over the ice, creating havoc, making a difference, tying for the tournament lead in plus minus (+8).  You will want this guy for your team; I know I want him for mine. Stay tuned for my profile on The Crazy Guy coming soon.
Ten Outliers of Note
There seems to be less of a consensus in the rankings (outside of the first round) this year than most (hence more outliers). I think that is because so many players had crazy rollercoaster up-and-down type seasons that made it harder to rate them. Consider the following players (which include top ten players):
4 – Leon Draisaitl, The Deutschland Dangler, WJC U20 in December – Meh, Top Prospects game in January – Meh, WHL in January, only 9 points in 10 games, WHL in February and March, 45 points in just 21 games, world class.
9 – William Nylander, The Wizard, played for six teams. On some teams he was world class (Team Sweden U18); on some teams he looked very good (Södertälje, MODO J18, MODO J20) and on some teams (Rögle and MODO in the SHL) he looked at times that he didn't deserve to be there.
15 – Travis Sanheim, The Late Arrival, ranked 229th (or not likely to be drafted) on Central Scoutings combined rankings in January, he is now first round on most rankings as each time you see him he seems to have elevated his play up another notch. His ranking trajectory has been so steep he should consider applying to Team NASA.
33 – Alexis Vanier, Le Monstre, first 25 games = 24 points, a great start to the season; last 36 games = 12 points, the bottom fell out.
50 – Noah Rod, The Crazy Guy, lurked in the shadows all season – mainly at the U20 level, then helped Genève-Servette in the NLA playoffs (top Swiss professional league) and exploded at the U18 WJC in Finland for Team Switzerland.
These are just some of the top players; it is just as crazy as you get lower in the rankings. So here is my list of some of my outliers (players I have ranked differently than most but not all other rankings) along with the main reasons why I have ranked them differently.
1. 13  – Ho-Sang, Joshua, RW, 5'11, 175, Windsor, OHL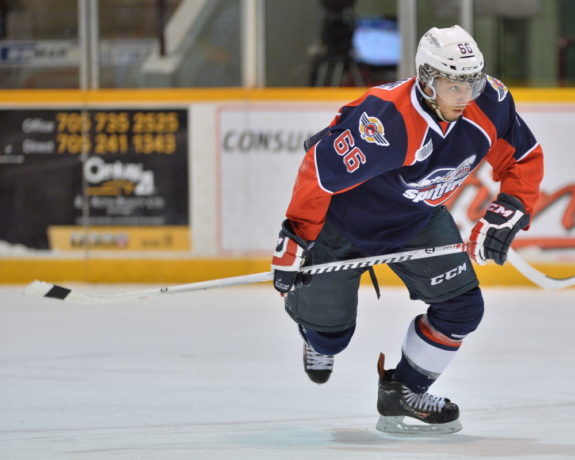 Mr. Incredible, Joshua Ho-Sang, is the winner of this year's version of the PK Subban, Haters Gonna Hate Award (yes, I made the award up). It's seems everyone is in to it (the hate).

Hockey Canada – Snubbed Ho-Sang for the Ivan Hlinka and World U18 tournaments.
OHL – Hit Ho-Sang with a 15 game suspension for a minor push (granted, the other player got injured but there was no intent), which was later, reduced to 6 games after everyone mocked them.
NHL Scouts – Many don't want him near them let alone draft or interview him.

Why the hate? It seems Mr. Ho-Sang is like Mr. Subban, he has his own opinions, and it seems he has been dubbed as a selfish player – what is the world coming to? However, like Mr. Subban, Mr. Ho-Sang is also incredibly talented and like Mr. Subban, he has worked on his short-comings; so much so that he almost single-handedly carried his team, the Windsor Spitfires, into the OHL playoffs. Also, like Mr. Subban, Mr. Ho-Sang is incredibly fit as he led the NHL Combine in pull-ups.
Rankings: Most rankings have Mr. Ho-Sang as a late first or even second or third rounder. I am proud to have him as a no-hate 13th and even that may be too low, based on his talent level.
2. 29 – Fabbri, Robby, C, 5'10, 165, Guelph, OHL
Mr. Forecheck, Robby Fabbri, along with his WHL counterpart, Brayden Point are both dynamic players who have put up big numbers in the CHL. Both closed out the season in fine form. Fabbri lead the Guelph Storm to the Memorial Cup Tournament and Point with 41 points in the last 21 games of the season. Nevertheless, both are short and slender players who are around 5'10 and 160-165 lbs. However, the uncomfortable truths for many short and slender players is that most will not make it in spite of their high-end talent and the line between success and failure is very thin.
Rankings: I have two short and slender players, Nikolaj Ehlers and Joshua Ho-Sang, rated very high (8 and 13, respectively) as, in my opinion, they have slightly more talent and have slightly larger frames. I have ranked Robby at 29 which is close to the NHL (their combined rankings had him 26th) and Bob MacKenzie's January poll of scouts (30th) rankings. Most other rankings have Robby in the teens or even top 10. Similarly, Brayden Point is 35-45 on most rankings and I have him 52nd.
3. 33 – Vanier, Alexis, D, 6'5, 215, Baie-Comeau, QMJHL
Le Monstre, Alexis Vanier, is a 6'5 ogre of a defenseman with a Sheldon Souray type shot who could stand some upgrade to his first two or three gears. He had an excellent start to the season, with 24 points in his first 25 games. Then he injured his shoulder during the Canada-Russia Subway Series and his play dropped off significantly, only 12 points in his last 36 games. In fact, Alexis had to cut his season short and miss the playoffs due to the injury.
Rankings: The rankings are all over the place for Alexis, they start at late 2nd and go to third, fourth and even 6th (NHL Central Scouting). So the big question is: Did the drop-off in the play of Alexis result from the injury or was he just unable to maintain his earlier pace or a combination of the two. If you believe it was because of the injury (which I do) then you are looking at Alexis at an early second or even first rounder which is why I have him at 33. Bob MacKenzie's January poll of scouts had Alexis at 34.
4. 46 – Englund, Andreas, D, 6'3, 189, Djurgården, Allsvenskan
The Gill-Murray Concoction, Andreas Englund– Who is Andreas England? Well, take a Hal Gill; sprinkle him with the ability to skate and make a decent first pass; then add a lit bit of Douglas Murray lack of tenderness and you pretty much got it – a solid NHL size stay at home defenseman with some bite – no dangles, very little puck rushing, just the D.
Rankings: I am a big fan of both Hal Gill and Douglas Murray. Both are players with severe limitations, skating, passing, shooting – just the basic fundamental core hockey skills. However, both have made long-term NHL careers by maximizing their strengths: Gill with his positioning, reach and stick management; Murray with his bone-jarring physicality. So imagine my surprise and my delight when I discover a prospect who not only incorporates a lot of the strengths of two of my favourite players but at least partly addresses their weaknesses – skating and a decent first pass. A few others rankings have Andreas mid-second (me at 46) while NHL Central Scouting has him 7th round. If he turns out as I think he could, he could be something special and worthy of an even higher ranking than I have him now.
5. 47 – Kirkland, Justin, LW, 6'3, 190, Kelowna, WHL
Mr. Project, Justin Kirkland, is a raw, power forward in the making who needs to fill out and get stronger to fulfill his role. He may top out as only a third liner but, even so, he has already shown a penchant for delivering the goods in the trenches.
Rankings: Most rankings have Justin very late second to early third. I have Justin a little bit earlier at 47 because potential true power forwards are so rare that they should command a premium over what their results may suggest to date. Also, power forwards are usually bigger guys who sometimes take longer to develop.
6. 53 – Pettersson, Marcus, D, 6'4, 167, Skellefteå J20, SWE U20
Mr. Up, Marcus Pettersson, is a converted forward, who has a tremendous upside because of his offensive skills and the fact he should only get better as he fills out his slender, 6'4, 167 lb. frame.
Rankings: Most rankings have Marcus as an early second even late first. I have backed off a bit at 53 from the consensus because of two concerns which really became apparent for me watching Marcus at the U18 WJC.
His frame is not just slender; it is almost spindly. So the question from that is: Will he or can he fill out that frame to a NHL ready body?
He has almost no physicality. Will he develop at least a minimum NHL standard of physicality?

In summary, I still believe that Marcus has a tremendous potential upside; however, I believe that the risk that he will not realize that upside is much higher than I previously thought.
7. 56 – Lammikko, Juho, LW, 6'3, 189, Ässät U20, FIN U20
Mr. Almost There, Juho Lammikko. Juhois a player almost there, a player with size, skating ability, defense, playmaking, creativity and the ability to work in front of the net. However, he is not always where you want him to be because of consistency and bouts of lack of intensity issues. He also needs to use his size in a more physical manner particularly since his style of play tends to lend itself to working in the dirty areas.
Rankings: Juho is 3rd or 4th round on most lists. I have Juho as a second rounder at 56 because he has most of the qualities the NHL is looking for in a forward these days. I also think he will get to "there" from "almost there" if he starts to play more physical on a regular basis as he gains more strength and confidence. He is definitely a risky selection but the reward is potentially worth the risk.
8. 59 – Bayreuther, Gavin, D, 6'1, 195, St. Lawrence, ECAC
Mr. Big Shot– OK, did anyone see Shayne Gostisbehere(5'11, 170) lead Union College to the NCAA championship? Did anyone see Shayne Gostisbehere throw terror in the eyes of opposition players on the power play or even on the one on four? Well, most NHL teams did see Shayne Gostisbehere and being the "follow the latest winners' trend" guys that they are; they want a Shayne Gostisbehere too. The two prospects with the most potential to provide Shayne Gostisbehere-like power play quarterback results are Gavin Bayreuther from St. Lawrence, the ECAC Hockey Co-Rookie of the Year, and Brandon Montour (6'0, 172) of the Waterloo Black Hawks (U Mass commit), the USHL player and defenseman of the year. Both prospects are high-risk with the potential of high reward.
Rankings: Most (but not all) have both Gavin and Brandon(both overagers)as later round prospects (mainly 5th). I have Gavin late 2nd and Brandon early 3rd because I believe the reward is worth the high risk. Besides, why would I want to buck the "follow the latest winners' trend"? For your information, the last time I made an outlier call like this on an overage power play quarterback of modest size, I hit it dead on, Josh Godfrey at 34 in 2007. Did he make it (you weren't supposed to ask that question)? No, he didn't.
9. 69 – Wood, Kyle, D, 6'5, 229, North Bay, OHL
Mr. Security Blanket – As his coach at North Bay, Stan Butler said, "By the time he's 18, 19, he'll be one of the top defensemen in our league. I don't think there's any doubt about that, just as long as he stays healthy." While there is some concern that his skating could be improved, it is not terrible and the rest of his game, while developing, is pretty good. He possesses the size that NHL Managers crave at 6'5, 229, utilizes physicality around the net that makes his goalies smile and can show on occasion some elite passing and creativity.
Rankings: Most have Kyle as a late round prospect. I have Kyle ranked much earlier at 69 because I believe that when he gains more ice time next year (this year, third pairing type minutes) and confidence, there could be an explosion, an absolute explosion in this guy's accomplishments, offensively and defensively.
10. 72 – Glover, Jack, D, 6'3, 190, USA U18 NDTP, USHL
The Fourth Man –There were a number of defenseman with high-end physical skills, good size and excellent skating abilities whom at one time I had in the second round. However, all of these defensemen (Jack Glover, Brycen Martin, and Aaron Haydon) seemed to struggle with their defense. Their excellent physical tools did not result in excellent defensive play. My conclusion from that was that their toolbox (mental skills) did live up to their skillset (physical skills). If that is the case, it will be difficult for them to develop into NHL defensemen. Of course, I could be wrong and hopefully I am but I have to rank them as how I best see that they are likely to develop in the future
Rankings: Most have Jack ranked mid to late second, Brycen, early to late second and Aaron (from late 2nd to 6th). I have Jack at 72; Brycen at 63 and Aaron at 97.
The Likelihood of Success
In looking back at the 2003 to 2005 entry drafts, it is interesting to note the success rate for each of the rounds. By my criteria and calculations, here are the percentages:
01-15 – 82% ('03 – 93%; '04 – 73%; '05 – 80%)
16-30 – 76% ('03 – 93%; '04 – 67%; '05 – 67%)
31-45 – 33% ('03 – 33%; '04 – 7%; '05 – 60%)
46-60 – 24% ('03 – 33%; '04 – 33%; '05 – 7%)
61-90 – 24% ('03 – 33%; '04 – 20%; '05 – 20%)
91-120 – 19% ('03 – 10%; '04 – 30%; '05 – 17%)
120-150 – 11% ('03 – 10%; '04 – 13%; '05 – 10%)
151-180 – 9% ('03 – 13%; '04 – 13%; '05 – 0%)
181-210 – 10% ('03 – 17%; '04 – 3%; '05 – 10%)
Over 210 – 12% ('03 – 13%; '04 – 10%; '05 – 15%)
Overall – 23% ('03 – 25%; '04 – 20%; '05- 23%)
Other Rankings
NHL – Final: Combined rankings of the NHL's final 4 lists here at THW.
THW–  The Next Ones Midterm Rankings (Chris's List; final rankings to follow shortly)
Bob MacKenzie – Mid-season Top 50: Poll of NHL scouts at TSN
Craig Button (Craig's List, TSN) – Jun-14 Top 100
Future Considerations – Jun-14 Top 30
HockeyProspect.com – Jun-14 Top 30
ISS – Jun-14 Top 30
McKeen's– Jun-14 Top 30
You can also look at most of the rankings (mine included-top 30 only) in one place at MyNHLDraft.com. They also have a mock draft section with links to the player's profile. They have used excerpts from the 2014 NHL Draft War Room Prospect Profiles in some of their player profiles.