The Jets made yet another early playoff exit in 2022-23, losing in the first round to the Vegas Golden Knights in five games. Overall, despite a strong first half, the campaign was a disappointment and the Jets need to make big changes to get out of the "mushy middle."
Related: 6 Jets Who Could Be Traded This Offseason
General manager Kevin Cheveldayoff has not committed to a rebuild. Nonetheless, there are many moves he could, and arguably should, make during this critical offseason. Here, we'll take a look at just five.
1) Trade Pierre-Luc Dubois If Long-Term Talks Go Nowhere
If this summer's long-term contract talks with Pierre-Luc Dubois don't go anywhere, Cheveldayoff must trade him before the 2023-24 season starts. The risk of the centre getting injured during the season and being untradeable at the 2024 Trade Deadline is too high, and losing him next summer for nothing would be disastrous.
Dubois, the Jets' highest-profile restricted free agent, is coming off a season where he recorded a career-high 63 points and did everything one could ask of a power forward. He is a player Cheveldayoff would love to build around, but he will not commit to a future in Winnipeg.
Related: Jets 2022-23 Report Cards: Pierre-Luc Dubois
Last offseason, after putting up 60 points, Dubois killed any chance of talks before they even began with a barrage of bombshell statements: he would not sign a long-term deal, he preferred to test the open market as an unrestricted free agent (UFA) in 2024, and he really only wanted to play for the Montreal Canadiens.
Despite rumours he would be dealt, Dubois and Cheveldayoff came to an agreement on a one-year, $6-million contract to essentially kick the long-term-contract-talk can down the road.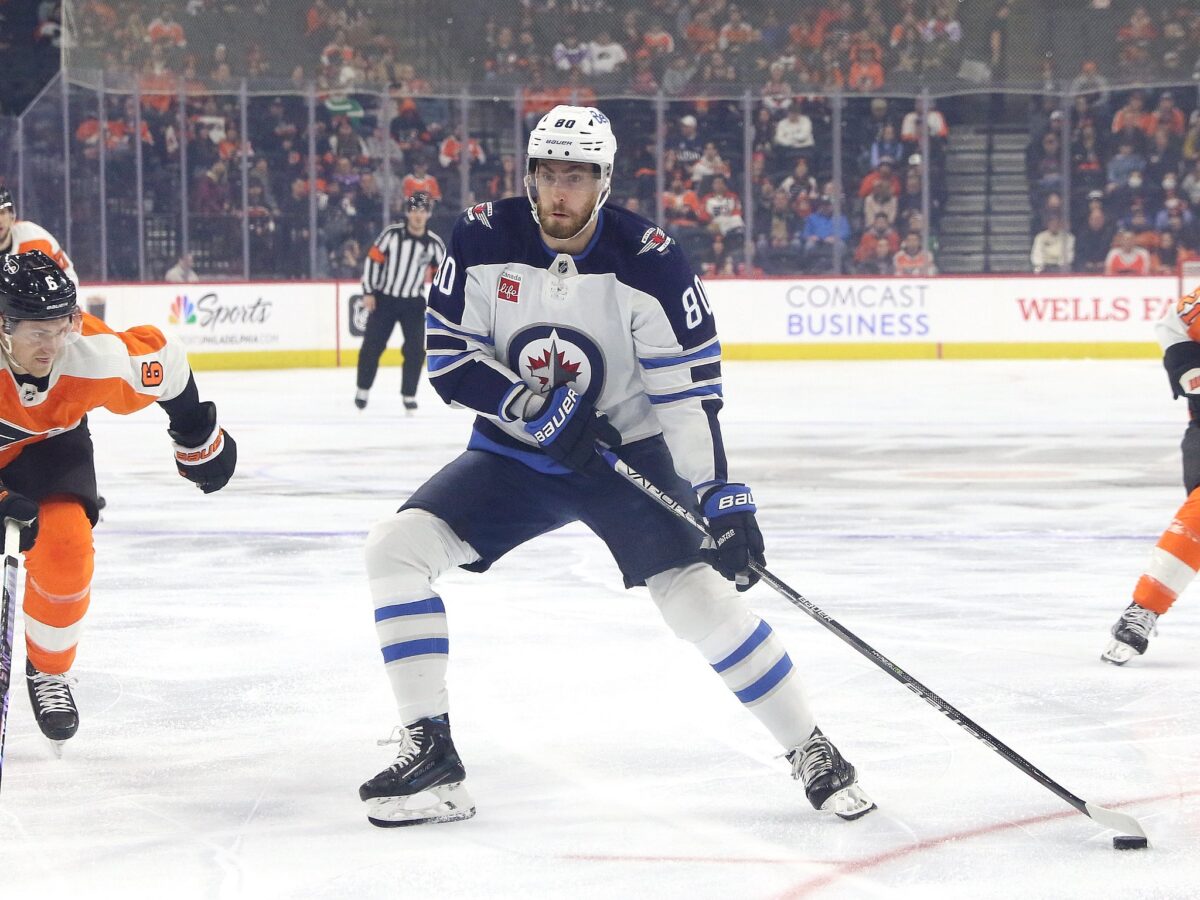 Well, here we are down the road, with Dubois now just one year away from unrestricted free agent status and once again without a contract. During his exit interview in late April, his overall attitude toward Winnipeg remained lukewarm.
While he did say "it would be great to get a long-term deal," he didn't say if he wanted that long-term deal to be with the Jets. He added the "right to choose" to go where he wants as a UFA is important to him. "This year I was just thinking, one game at a time, one day at a time… I just really haven't put much thought into anything," he explained.
Once Dubois does put thought into it and makes those thoughts known to Cheveldayoff, the GM must act quickly. If Dubois expresses interest in staying, Cheveldayoff must do everything in his power to craft a deal to satisfy a player who, at his best, is a nightmare for opponents and displays qualities befitting of the Jets' next captain.
If Dubois doesn't express interest, Cheveldayoff must immediately get on the phone and court all offers for a valuable asset (but not as valuable as he would have been if the 30 other teams did not know Dubois really only wants to play for the Habs.)
2) Re-Sign Vladislav Namestnikov
Vladislav Namestnikov has been a member of seven teams (not including the San Jose Sharks, who he was a member of on paper for one day before joining the Jets) in his 10-year NHL career and has been traded at four separate Trade Deadlines.
At 30 years old, he likely wants some stability, and the Jets should give it to him.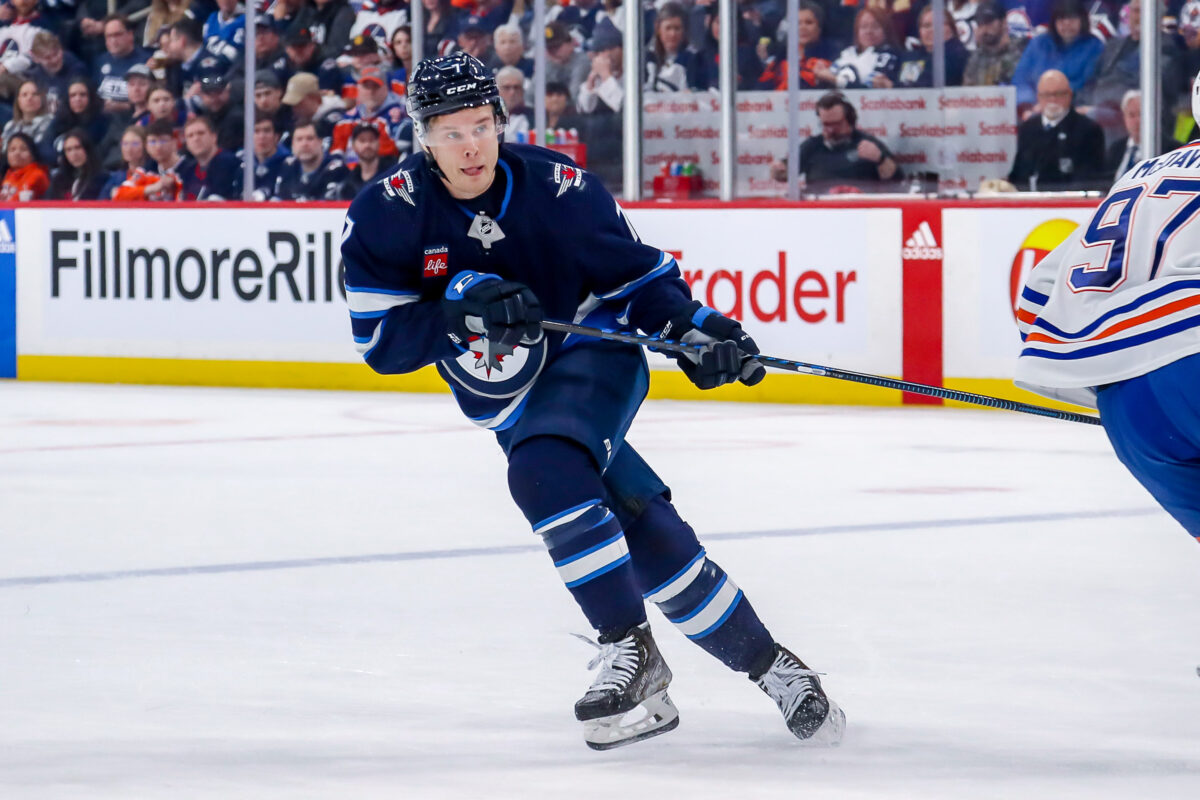 The Jets acquired the journeyman centre at the 2023 Deadline from the Sharks for the modest price of a fourth-round pick, and he performed above expectations and proved his versatility.
The Russian product took a larger role than expected down the stretch and performed well as the team avoided being the first team in NHL history to lead a conference more than halfway through the season but miss the playoffs.
Namestnikov is generally a bottom six player known for his aggressive forechecking and strong skating, but played on the top six — centering the second line between Nikolaj Ehlers and Blake Wheeler — as the Jets won six of their final seven meaningful games to make the playoffs. Overall, he recorded two goals and eight assists for 10 points in 20 regular season games and two assists in five playoff games.
While a permanent top-six role wouldn't be in the cards if he re-signed, he would bring some added offensive punch to the third line — he has recorded as many as 48 points in a season — and give head coach Rick Bowness options as he can play centre and both wings.
Namestnikov waived his no-trade clause to come to Winnipeg. A small-market city like Winnipeg — that doesn't have the glitz or glamour of many other markets — cannot afford to let productive players who want to be there walk.
The one-year contract Namestnikov played on this season carried an average annual value (AAV) of $2.5 million. A two or three-year deal with an AAV around there could work for both sides.
3) Extend Dylan DeMelo Early
Dylan DeMelo still has one year left on the four-year deal he signed in October 2020, but Cheveldayoff should do his best to get ahead and extend him this offseason.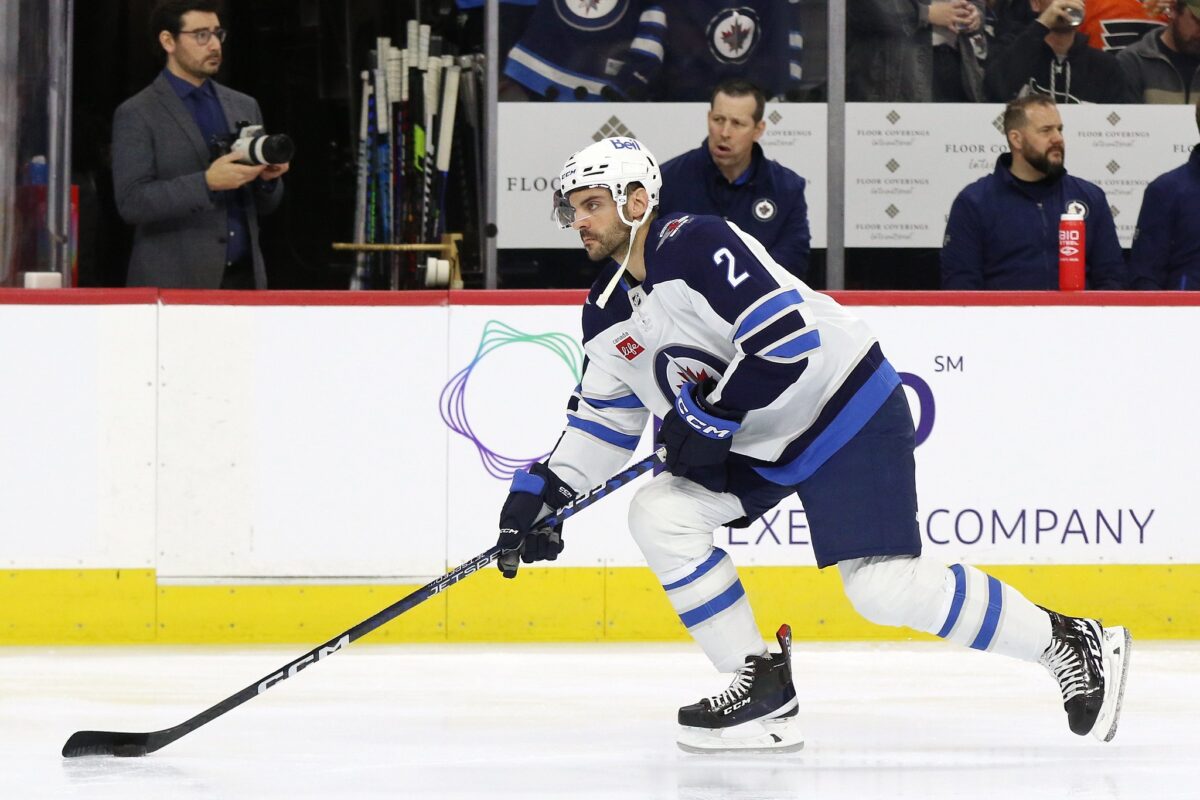 DeMelo, 30, has proven his worth as a true top-four defenseman since being acquired from the Ottawa Senators in 2020. He is highly intelligent, a great puck mover, and an analytics darling.
While not flashy, he is a model of consistency and his steady presence allows his most frequent partner in Josh Morrissey to jump up in the play and flex his offensive ability. Morrissey would not have had his massive breakout season, nor would he have recorded 76 points, without DeMelo to his right.
DeMelo kept a low profile compared to his All-Star partner, but quietly put up the best offensive numbers of his eight-year career this season. While the numbers weren't eye-popping, he scored six times — breaking his previous career high of four, set with the Senators in 2018-19 — and added 21 assists — breaking his previous career high of 20, set as a member of the Sharks in 2017-18.
Related: 8 Jets Who Set New Career Highs in 2022-23
Another three or four-year deal with an AAV similar to the $3 million AAV DeMelo's current contract carriers would keep him with the Jets through the rest of his prime, and ensure Morrissey can keep playing with the best partner he's ever had.
4) Trade Neal Pionk or Nate Schmidt to Clear the Logjam for a Younger Defenseman
Cheveldayoff invested a lot of money in the blue line over the past few seasons — especially in the 2021 offseason. However, there are a few blue liners not providing a great return on investment and creating a defensive logjam preventing cheaper youngsters with upside from pushing for an NHL gig.
Neal Pionk and Nate Schmidt are the main two. Both have two years left on their contracts.
Pionk makes $5.875 million per year and has been a reliable point producer, but his actual defensive play in a top-four role has been oft-questionable and sometimes decidedly deficient. His play without the puck over the past two seasons has certainly not lived up to the high standard he set in his first two seasons in Winnipeg, play which had many thinking the Jets won the 2019 trade that brought Pionk from the New York Rangers in exchange for Jacob Trouba.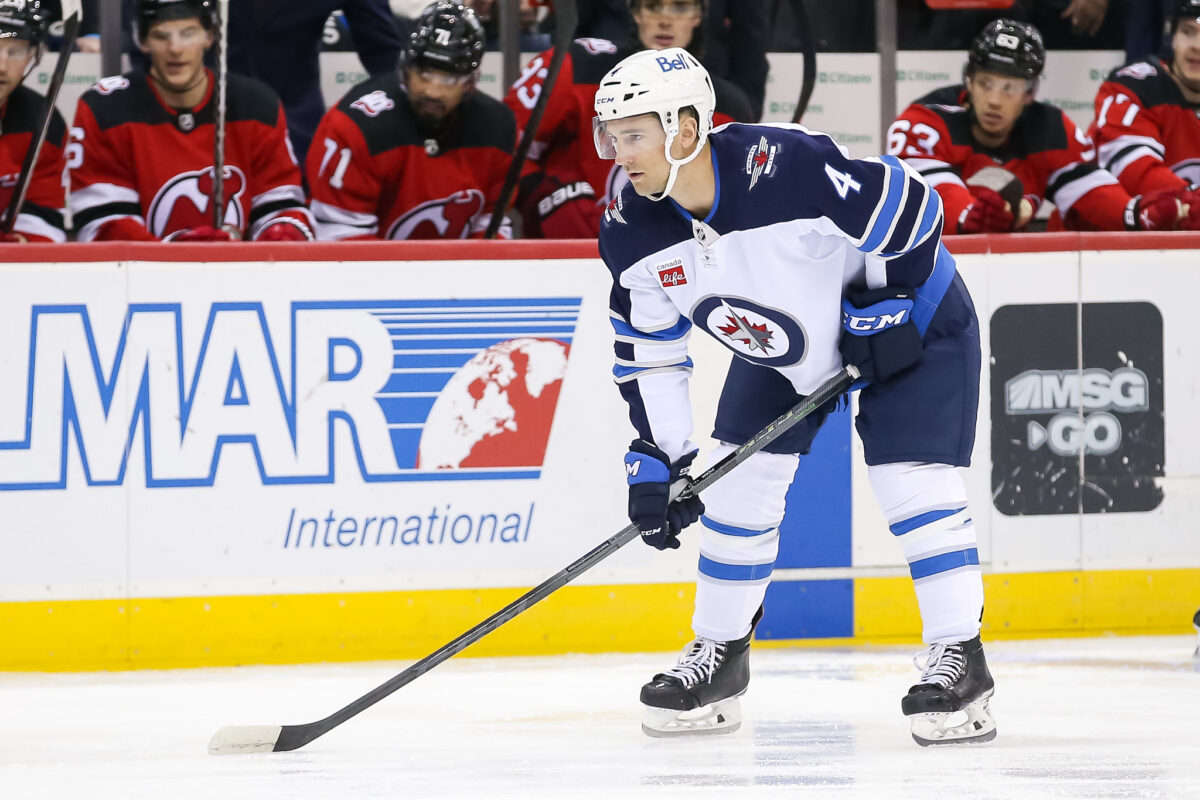 Pionk is a "high-event" player, meaning he generates plenty in the offensive zone but gives up a lot in the defensive zone. Unfortunately, since 2021, the chances he has given up have overshadowed the chances he has generated, and the underlying possession metrics bear that out.
Pionk is just 27 and can still boost a team when paired with the right partner and used in the right situations.
Schmidt, similarly, makes $5.95 million per year on a contract Cheveldayoff inherited from the Vancouver Canucks in the 2021 trade that brought him to Winnipeg. Although his gregarious personality has made him a fan favourite and great for locker-room morale, that figure is too high for what he brings as a defenseman who bounces between the second and third pairings.
Moving either of them would free up a spot for Declan Chisholm or Ville Heinola, who both had splendid seasons for the Manitoba Moose and need NHL playing time to further their development. Chisholm had five goals and 43 points in 59 games, four assists in five playoff games and was named an AHL All-Star; Heinola had four goals and 37 points in 48 games and posted a plus-20 rating. Chisholm was selected in 2018 and Heinola in 2019.
---
Latest News & Highlight
---
We recently saw an example of what happens when prospects don't get a chance — they leave. Leon Gawanke, the defenseman who set a new Moose record for goals by a blueliner this season with 20 and had 45 points, recently signed a four-year deal with Adler Mannheim in his home country of Germany.
Gawanke, a 23-year-old fifth round 2017 pick who played four seasons with the Moose without ever receiving a call up, put the organization on blast for how they handled him, saying (this is translated from German:) "I worked my ass off there for four years, and wasn't rewarded. That's obviously frustrating, especially when I see who gets a chance."
Cheveldayoff cannot allow this to happen with Chisholm or Heinola.
5) Buy Out or Trade Blake Wheeler
The Blake Wheeler era needs to end to move the team forward. A real changing of the guard isn't possible otherwise.
Bowness tried to usher that changing of the guard in before the season started by stripping Wheeler of the captaincy he'd held since 2016. It didn't really work. While Adam Lowry and Morrissey both took steps in their evolution as leaders, many players said in exit interviews they still viewed Wheeler as the captain. This revelation was interesting since Wheeler was never a particularly effective leader or suited, personality-wise, to wear the C.
The veteran, who will be 37 by the time next season begins, still has one year left on his contract. Cheveldayoff needs to move it off the books — whether through buyout or trade — so the new leadership core can finally be free to truly lead the team their way.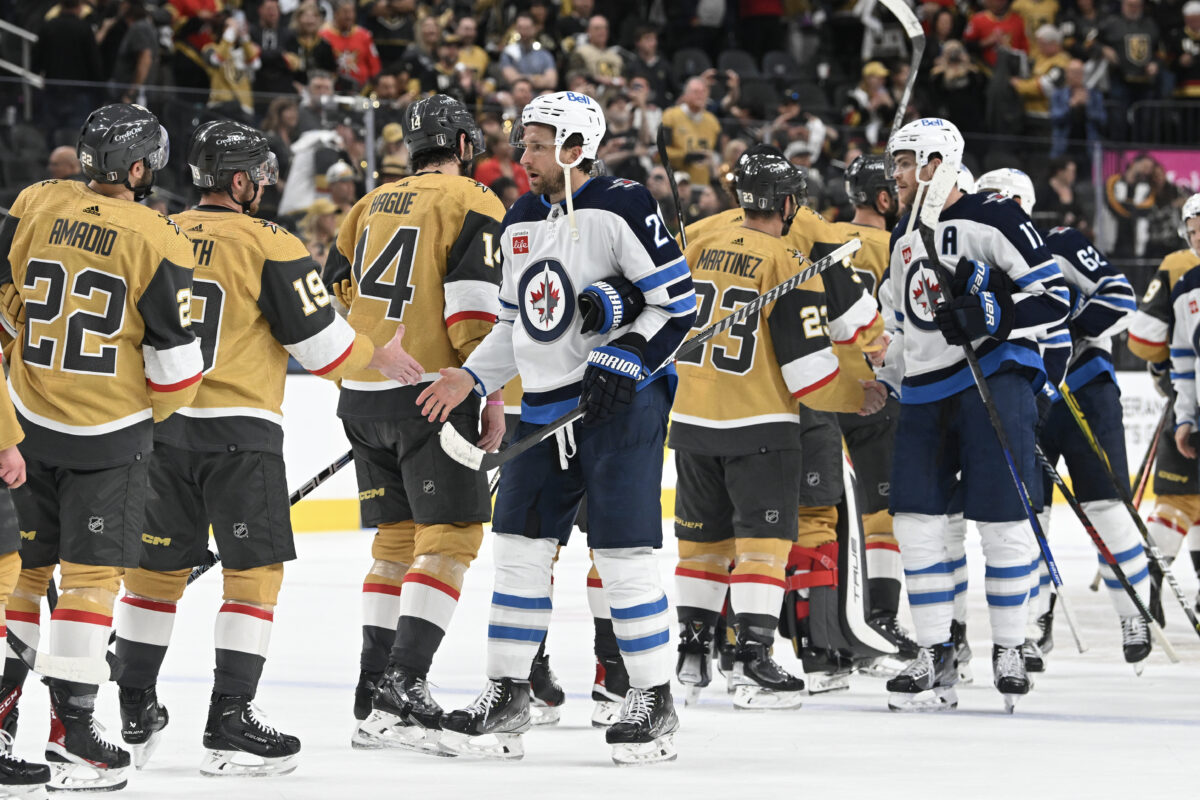 Wheeler, who has been with the Jets since relocation from Atlanta, played at a high level into his mid-30s but has been on the decline for a few seasons now. He recorded 55 points in 72 games this season and proved he could still be a valuable player during a strong first half. Unfortunately, he suffered a groin injury in January and upon returning to the lineup never looked the same.
Wheeler was one of the players who called out Bowness for saying he was "disappointed and disgusted" with the team's lifeless Game 5 performance when facing elimination in the first round against the Golden Knights. Despite the potential rift, he was emotional in his exit interview as he acknowledged his 12-year tenure could be at an end and expressed disappointment in winning just three playoff rounds in that time.
"I've dedicated my career to this place because I believe that we had the pieces to win," he said. "It's disappointing to know that that didn't come to fruition… I gave it everything I had, you know what I mean? I hope that that's good enough… there wasn't a day I took off, so I guess that's the best you can do."
It wouldn't be easy for Cheveldayoff to trade Wheeler's bloated $8.25 million cap hit. He would either have to retain some of the salary, which he's been reportedly unwilling to do in the past, or accept a lesser return.
In a buyout scenario, the Jets would have to pay Wheeler two-thirds of his remaining salary over two years. They would owe him $2.75 million in 2023-24 — giving them $5.5 million in additional cap space for that season — but then owe him $2.75 million in 2024-25.