Throughout the history of the Detroit Red Wings franchise, countless legends and hockey icons have donned the winged wheel. Those stars have gone on to set some impressive franchise records while playing for the Detroit Cougars, Falcons, and Red Wings.
---
---
Which team records are truly unbreakable in today's—and tomorrow's—NHL? Let's take a look at some incredible Detroit Red Wings records that may never be broken:
1. Most Penalty Minutes in a Season: Bob Probert (398)
In Bob Probert's breakout 1987-88 season with the Red Wings, he registered career highs with 29 goals, 33 assists, and 62 points, earning his first and only All-Star Game appearance. More incredibly, Probert set a Red Wings' record with 398 penalty minutes in the process.
You may also like:
Surely, in today's NHL, this record will not be broken. Fighting in the game has been declining for years, the NHL has eliminated 20-minute penalties, and the prototypical "goon" is now extinct. In recent years, it's been rare to see a player crack 200 penalty minutes in a season.
Probert can look down from heaven and know that he will always be a part of the Red Wings' record book.
2. Most Team Wins in a Season: 1995-96 Detroit Red Wings (62)
During the 1995-96 NHL season, the Red Wings demolished their way through the schedule, recording a 62-13-7 record. Those 62 wins set both a franchise and NHL record. Led by Steve Yzerman, Paul Coffey, and the Russian Five, the Red Wings rebounded from a Stanley Cup sweep to New Jersey the year before by beating just about every team they faced.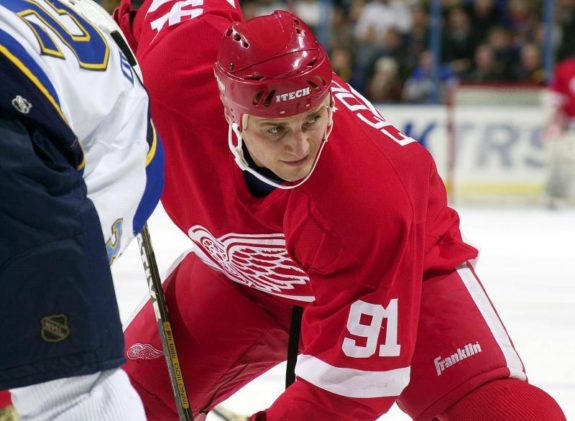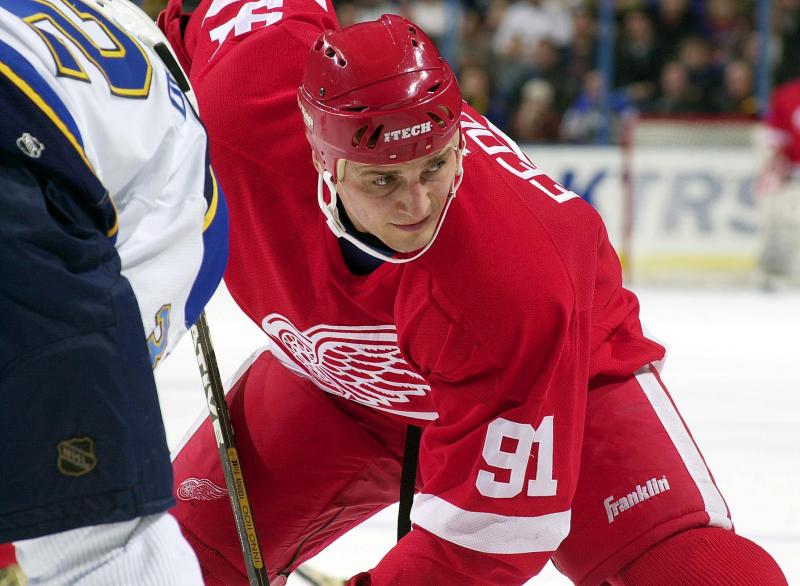 And given the parity of NHL teams today, it seems unlikely that future Red Wings team will be able to top 62 wins.
3. Highest Plus-Minus in a Season: Vladimir Konstantinov (Plus-60)
As part of the Russian Five that dominated the 1995-96 season, defenseman Vladimir Konstantinov accumulated the franchise's highest, recorded plus-minus total in one season.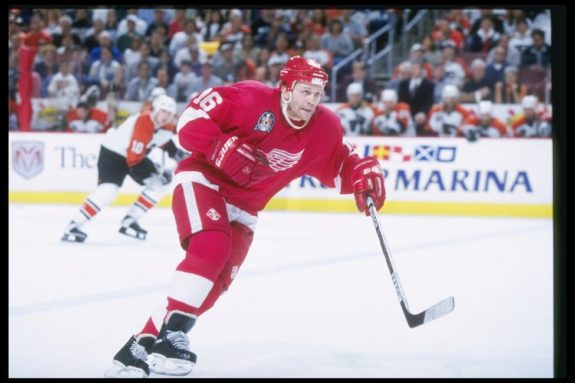 His plus-60 rating is strong indication of how much the Russian Five dominated on the offensive side of the puck, as well as in their own zone. While this record pales in comparison to the NHL record (Plus-124 by Bobby Orr for the 1970-71 season), today's game will likely not produce such a high plus-minus rating.
4. Most Shutouts in a Season: Terry Sawchuk/Glenn Hall (12)
Though this record was accomplished by two goalies, Terry Sawchuk is the real holder of the record for most shutouts in a season, having blanked opponents 12 times in three different seasons (1951-52, 1953-54, 1954-55—each a year when the Red Wings won the Stanley Cup). Glenn Hall matched the feat during the 1955-56 season.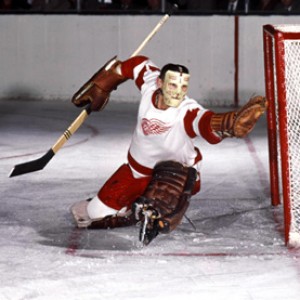 Despite the low scoring and larger pads of today's NHL, goalies have a more difficult time shutting out opponents with the four lines of skilled players that teams roll. No Detroit Red Wings goalie has recorded double-digit shutouts since Hall's superb season.
5. Most Career Assists: Steve Yzerman (1,063)
It's pretty impressive when you break one of Gordie Howe's records. Steve Yzerman did so and now holds the Red Wings franchise record for most assists in a career, with 1,063 helpers. Yzerman broke Howe's record during the 2003-04 season, his 21st with the Red Wings.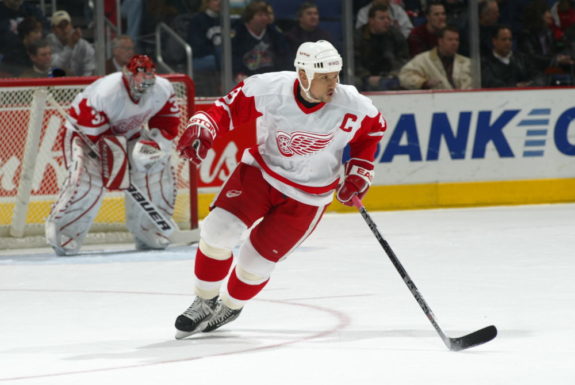 While longevity records may not stand the test of time, Yzerman's record for assists in a career may stand for quite some time.
6. Most Career Shutouts: Terry Sawchuk (85)
Considering Chris Osgood's 39 shutouts are the next highest total, it is safe to say that Terry Sawchuk's record of 85 shutouts while in a Red Wings uniform will stand for a while.
In his 14 seasons with the Red Wings, Sawchuk helped establish the Red Wings as a dominant force in the NHL—especially during the early 1950s. His 85 shutouts with the Red Wings alone would put him in fourth place—just ahead of Hall—for most shutouts in an NHL career. He'd go on to blank opponents 18 more times while playing for other teams. Only Martin Brodeur has more career shutouts than Sawchuk.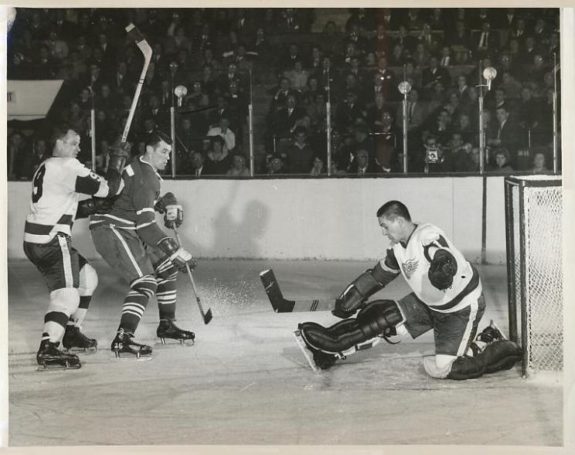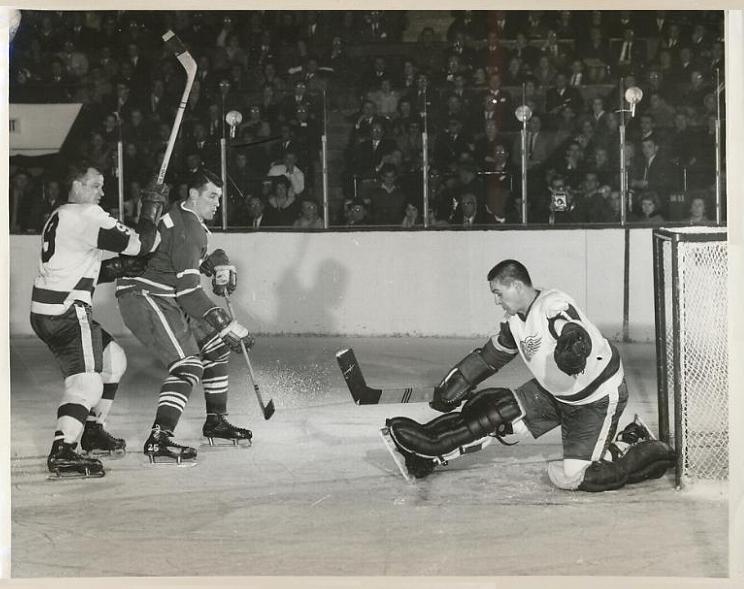 Terry Sawchuk is arguably one of the best NHL goalies of all-time. His record for shutouts in one season (and how he repeated that feat twice more) and career shutouts with the Detroit Red Wings are solid evidence of that.
7. Most Career Goals: Gordie Howe (786)
It's possible that Ovechkin will pass Howe in career goals. But for members of the Red Wings organization, no one will surpass this record for quite a while.
In an incredible 25 seasons with the Red Wings, Howe lit the lamp 786 times—an NHL record for most goals with one franchise. Howe's record has stood since 1971 and will continue to stand for many years to come. Apart from Red Wings' icon Steve Yzerman, no one has come close to challenging Howe's goals record.
8. Most Career Points: Gordie Howe (1,809)
Considering only Jaromir Jagr, Wayne Gretzky, and Mark Messier have surpassed 1,809 points, it is safe to say that Howe's Detroit Red Wings record for points in a career will not be broken for a long, long time. Steve Yzerman came close, scoring 1,755 points in his 22-year Red Wings career. Apart from Yzerman, no one is within 500 points of Howe's total. Pavel Datsyuk and Henrik Zetterberg's combined points are still not enough to best Howe.
Mr. Hockey's time in Detroit was arguably one of the best careers with any one franchise. Red Wings fans are truly blessed to have someone like Howe in their record books for so many categories. And he will be there for a while too, having put up some absolutely unbreakable records.
---
---
---
Latest News & Highlights
---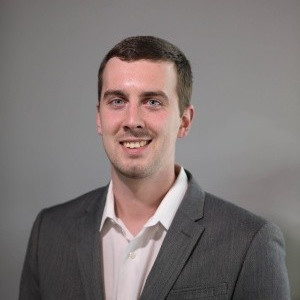 Tony Wolak is based in the Washington D.C. area and covers the Detroit Red Wings for THW. As a former junior and college hockey player, Tony has a unique perspective on Red Wings topics.