Born:
Jan 18, 1943
Hometown:
Toronto, Ontario
National Team:
Canada
Current Status:
Detroit Red Wings
(Sr. VP of Hockey Operations)
Known For:
7x Stanley Cup Champion
Jim Devellano (born January 18, 1943) was originally from the Toronto area but grew up in the Cabbagetown and Scarborough regions. A high-school dropout, Devellano pursued work to support himself, finding small odds-and-ends jobs paying very little. He was later employed by the Canadian government, and he followed all major sports during his countless business trips. Eventually, he was hired by the St. Louis Blues as an amateur scout, opening up his venture into sports-related business affairs.
In 1972, Devellano was hired by the New York Islanders in the same role, scouting Eastern Canada and playing a role in the drafting of Denis Potvin. After two seasons, he was promoted to director of scouting. While overseeing the Islanders drafts, Devellano also served as the general manager for the team's minor-league affiliate Indianapolis Checkers. Though his time in Long Island came to an end in 1982, he managed to win three Stanley Cups with the team, two as a scout and another as an assistant general manager/director of scouting.
The following season, Devellano joined the Detroit Red Wings as the team's general manager, while simultaneously serving the same role with their minor-league affiliate Adirondack Red Wings. Perhaps his biggest contribution to the team's history was the construction of what became to be the Russian Five. After drafting Sergei Federov, Vladimir Konstantinov, and Vyacheslav Kozlov, Devellano drew the three over from Russia and was successful in their move to North America. Later, he added Slava Fetisov and Igor Larianov through trades, giving Detroit a core of five Russian players who led the team to multiple successful years. With Detroit, he won four more Stanley Cups, bringing his total to seven.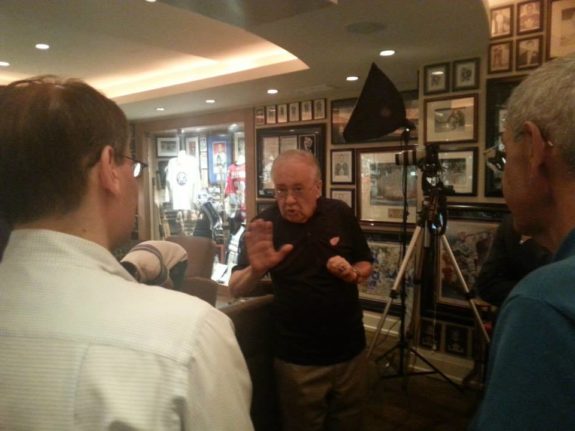 Deeper Dive
Staff History
St. Louis Blues (Amateur Scout) 1967-1972
New York Islanders (Amateur Scout) 1972-1974
New York Islanders (Director of Scouting) 1974-1982
New York Islanders (Assistant General Manager) 1981-1982
Fort Worth Texans, CHL (Assistant General Manager) 1977-1978
Indianapolis Checkers, CHL (General Manager) 1979-1981
Indianapolis Checkers, CHL (VP. of Hockey Operations) 1981-1982
Indianapolis Checkers, CHL (Director of Player Personnel) 1981-1982
Adirondack Red Wings, AHL (General Manager) 1982-1985
Detroit Red Wings (General Manager) 1982-1990, 1994-1997
Detroit Red Wings (VP. of Hockey Operations) 1990-1997
Detroit Red Wings (Sr. VP of Hockey Operations) 1997-current
Saginaw Spirit, OHL (Franchise Owner) 2016-current
Achievements
2x CHL (USA) Champion (1978, 1982)
3x AHL Calder Cup Champion (1986, 1989, 1992)
ECHL Kelly Cup Champion (1994)
7x NHL Stanley Cup Champion (1980, 1981, 1982, 1997, 1998, 2002, 2008)
Hockey Hall of Fame | Builder (2011)
Sources