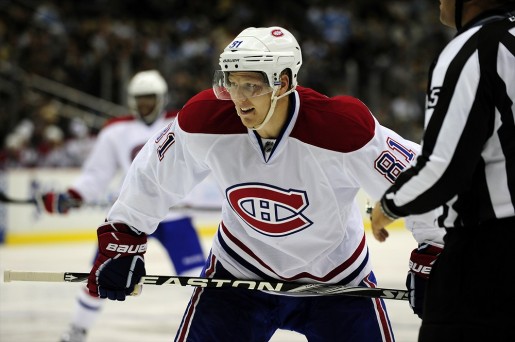 Hey do you know that kid Eller is leading the Habs in scoring?

Really eh!? Wouldn't have bet on that one.

Me neither.

How's Daniel Brière doing?
Lars Eller appears to have embraced what it takes to be a successful hockey player in the National Hockey League. He skates hard; he competes; he takes and gives hits; he wins puck battles; and hopefully along with all that — he keeps his head up.
And the Montreal Canadiens couldn't be happier.
Lars Eller. Who is this guy!? Montreal Canadiens fans knew him first as the guy traded for Jaro. Now he's the man leading their team in scoring, pivoting quite possibly the best third-line in the league with Alex Galchenyuk and Brendan Gallagher. And the league is starting to take notice.
And because of his strong start, Eller was named the NHL's 2nd star of the week, behind Alex Ovechkin.
Pretty good company, I'd say.
Two Games Do Not a Season Make, But…
The young Danish centre, in perhaps former Habs GM Pierre Gauthier's most scrutinized move, was added along with pugilistic forward Ian Schultz in exchange for 2010 playoff hero and all-around good guy Jaroslav Halak. A trade that I've previously declared as being one that Montreal will eventually come out on top of.
Last year, Eller was benched by Therrien in the early part of the season for a lack of competitiveness and effort now known as the infamous pas de temps de niaiser (no time to waste) comment. Number 81 heard the message loud and clear, responding with a strong effort and 30 points in 46 games. He was arguably Montreal's most consistent player down the stretch until he was clocked by Eric Gryba of the Ottawa Senators in game 1 of their opening round playoff series. The Canadiens were rattled and never seemed to recover.
It's only two games into the new season, but Lars Eller is starting to not only look like Tomas Plekanec, but an upgraded one at that. He's bigger and faster. And this year he's stronger too. Plekanec is possibly one of the league's most underrated two-way players, and would probably receive more attention if he wasn't playing in the Patrice Bergeron/Pavel Datsyuk/Jonathan Toews era. But Eller has something Plekanec lacks. Size. And size matters on a team that has been regularly criticized over its perceived "lack" of size the last few years.
Eller now seems poised to strip Plekanec of that unique moniker to become one of the league's most underrated players all by himself.
Year After Year Improvement
Eller is showing noticeable improvement year after year. He came to camp fully recovered from the Gryba hit but also put on some much needed mass. Previously, the lanky Dane was just that. Lanky. Now he's all-grown up. Now he leads the team with three goals and two assists for five points. Not bad. And with the support of his still-hungry, talented and quick linemates Galchenyuk and Gallagher, there's no reason to think it can't continue. Especially if they continue to receive powerplay time from Therrien.
But should we be surprised? After all, Eller is a former 1st round pick in 2007 (13th overall). He's shown great promise but now, it appears that we've moved from promise to performance. But what strikes me the most about this 24 year old is the maturity and poise he possesses. He also seems to be a really proud young man with a lot of fire burning inside of him. The more he's underestimated, the more he wants to prove everyone wrong. And then he goes out and does just that.
It's just my luck that this week of all weeks, my fantasy hockey team is matching up against a team that has Eller. Well at least I have Ryan McDonaugh who scored that freakish goal against Jonathan Quick.  But I'd be happy to have my fantasy team take the hit any day if Eller can continue his strong play where it really counts.
Ari Grief doesn't know Lars Eller personally, but that doesn't mean he lacks strong feelings for the guy. Catch the love on Facebook and twitter at: HabsFanLeafLand
The NHL regular season schedule was released on Friday. Check out our partners at TiqIQ for the best deals on Montreal Canadiens tickets for all 2013-14 games.