If you were shocked to see the Toronto Maple Leafs score two last-minute goals to take a 4-3 overtime victory over the Tampa Bay Lightning in Game 3, then imagine your surprise when I tell you that they did the same thing in Game 4, this time overcoming a 4-1 deficit rather than a 3-2 deficit.
Related: Today in Hockey History: April 25
It's been a strange couple of days to say the least. The Maple Leafs looked sluggish in both Games 3 and 4, and yet, in both cases, they didn't mail it in, kept pushing, and came away with wins that they probably didn't deserve. To sweep both road games against Tampa Bay is something that I don't think any fan on either side expected them to do, but they found a way in both games.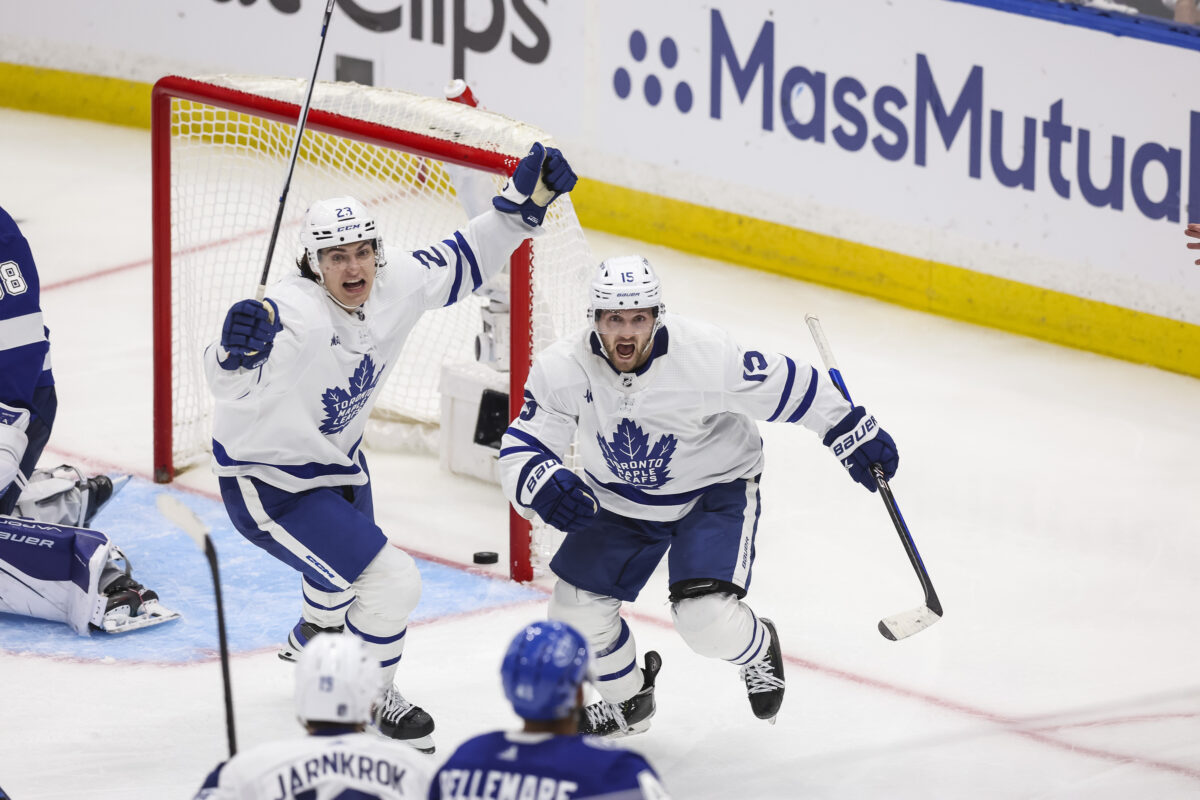 Now up 3-1 in the series and heading back home with a chance to finally do the thing and advance to the second round, the Maple Leafs are quite literally staring down the barrel of a weekend that could make or break the franchise. They're one win away with three chances to do it, so there's no excuse to choke the series away at this point, especially with two cracks to do it at home. That being said, in this piece we're going to focus on the things they did right in Game 4.
Maple Leafs' Kerfoot Finally Gets His Moment 
From a hockey standpoint, it's been a tough year in Alex Kerfoot's shoes. Coming off of a breakout season in 2021-22 that saw him record 51 points for a career-high, he fell off a bit of a cliff offensively in 2022-23 with only ten goals and 32 points in 82 games. Combine that with his $3.5 million cap hit and his ties to the Nazem Kadri trade, and he certainly got less slack for his shortcomings from the fans than others did. 

And guess what? Kerfoot managed to wipe that all away with one simple touch of the puck on Monday night. After being held pointless in the first three games of the series, he parked himself in front of Andrei Vasilevskiy on the power play, positioned his stick just below the crossbar, and tipped home the overtime winner. I don't know if anybody had money on him scoring the winning goal, on the power play, in overtime, to seal a 5-4 comeback victory, but whoever did is a very rich person today. 
While Kerfoot's going to get lots of attention for being the goal scorer, his performance throughout the game shouldn't go unnoticed. His backcheck and forecheck games were strong all night, he was strong on the penalty kill, and even right before he scored the goal, he hustled to the puck and muscled it away from Pierre-Edouard Bellemare, preventing a potential shorthanded chance. By all accounts, he deserves all the credit for the way he stepped up when the team needed it the most. 
Matthews, Marner, Rielly Step Up in the Right Moments 
I'll never forget how dejected Auston Matthews and Mitch Marner looked after Game 7 against the Montreal Canadiens in 2021. Two superstars, one having scored 41 goals in 51 games that season and the other on pace for over 100 points in a full 82-game season, both completely shut down in three opportunities to clinch a second round berth for the first time since 2004. Because of that series, and the fact that not much progress has been made since, those two tend to take a little extra flack when things aren't going well in the playoffs.
Well, so far in this series, nobody can say those two haven't done their jobs. Marner currently leads all skaters in scoring with ten points in four playoff games, and Matthews isn't far behind with seven in four games. You can credit the latter for igniting the comeback, with two goals in the final ten minutes to bring the Maple Leafs within one. The former tallied two assists in the game, one on Matthews' first goal and the other on the tying goal by Morgan Rielly. 
---
Latest News & Highlights
---
Speaking of Rielly, he deserves a ton of credit for these past two games alone. Like Kerfoot, he took lots of flack in 2022-23, also because of his cap hit ($7.5 million) and the fact that his offensive production wasn't enough to justify his defensive shortcomings. Well, his 41 points in 65 games be damned, because only two days after scoring the overtime winner in Game 3, he scored the tying goal in Game 4. He now has six points in four games so far and has been a textbook difference-maker on the back end. 
Now, let it be known that these three players, especially Matthews and Marner, need to keep this up until, at bare minimum, they advance to the second round, before I can say with confidence that they've delivered in this series. Games where the Maple Leafs have had an opportunity to close out the series is when they've struggled the most, but the early production has been encouraging. 
Maple Leafs Expose One of Vasilevskiy's Weaknesses
The ever-lasting concern when you head into a playoff series against the Lightning is the challenge of defeating Andrei Vasilevskiy. The longtime Bolts netminder has two Stanley Cups under his belt, two additional Cup Final appearances, and a lifetime .920 save percentage in the postseason. You would never know it if you watched this series, however. He's given up at least three goals in each game of the series, with his only win coming in Tampa Bay's 7-3 blowout of the Maple Leafs in Game 1.
The Maple Leafs truthfully haven't really seen the textbook version of "playoff Vasilevskiy" between this year and last year. He had a save percentage below .900 in last year's series too. And, if you noticed a trend in the way the Maple Leafs have been scoring goals on him in this series, your suspicion was confirmed by a TV spot from former Lightning assistant coach and current Detroit Red Wings head coach Derek Lalonde. 
Lalonde explained that when he was with the Lightning, they ran a study and found that Vasilevskiy was one of the weaker goalies in the league when it came to tracking the puck on point shots. And it's been true in this series so far. Nine of the Maple Leafs' 19 goals have come on point shots, including four of their five goals in Game 4. It seems as though this is something the Maple Leafs have started to pick up on as the series has progressed, and you can bet it's something they'll try to use to their advantage in Game 5. 
Maple Leafs' Biggest Challenge of the Series Awaits 
I alluded to it early on, but every positive I've brought up so far will be rendered meaningless if the Maple Leafs don't come out of this series victorious. As we know all too well, the Maple Leafs' struggles haven't come in the first few games of the series, but rather the last few. Closing it out has been their main issue every year in the Matthews era, and they'll have to show that they've changed by doing it when it matters, not just in the first few games.
You May Also Like
That said, two straight comeback wins in Tampa Bay is something I don't think any Leafs fan expected them to do, and it can't do anything but help their confidence going into these last few games. They've got three chances to shed all of their demons, avoid yet another summer of discourse, and get the monkey off their back that would ideally lead to a deep playoff run. Whether or not they'll capitalize on one of these chances? Stay tuned.