The 2023 NHL Entry Draft is quickly approaching. The Nashville Predators are hosting the draft, and if they look to keep both of their first-round picks, they have plenty of talent to choose from. The Predators own picks 15 and 24, two fantastic options to draft cornerstone talents for the future. Aside from Connor Bedard and Adam Fantilli, the expected first two picks off the board, the draft becomes wildly unpredictable. Will the Columbus Blue Jackets select William Smith or Leo Carlsson, where does the first defenseman get drafted, and how far does Matvei Michkov fall? These questions will get answered on June 28. The Predators have questions of their own, but with two first-round picks, they can chase high-end talent rather than choosing the safe pick, something they should do.
General manager (GM) Barry Trotz told scouts to take swings at the upcoming draft, wanting players that will bring fans out of their seats. Trotz understands how to find the bottom-six guys, but players with superstar potential only come so often. This is the perfect mentality to have with the Predators. If Michkov is available, the organization will likely draft him without hesitation. Considering the likelihood of him dropping past the Washington Capitals at eight is almost nonexistent, looking at a different undersized Russian prospect with immense skill is a good start.
Mikhail Gulyayev
At pick 24, the Predators may have the chance to draft a dynamic offensive defenseman with blissful skating, creativity beyond his years, and an elite passing ability—Mikhail Gulyayev. Gulyayev's draft ranking will be affected by his size and the Russian factor. He is a 5-foot-10, 170-pound defenseman who has defensive deficiencies. Teams drafting him will not expect him to lock down opponents' top players but rather outscore them and leave them in awe of his skill.
Related: Predators 2023 1st-Round Draft Targets: Sandin Pellikka & Yager
---
Latest News & Highlights
---
The Predators already have a defenseman similar to Gulyayev in Tyson Barrie. Barrie is an all-offense, power-play quarterback who is a strong puck carrier. Gulyayev has a higher upside. His ability to create passing lanes and use space effectively is impressive. His size should not concern the Preds, as he had spurts playing against men in Russia this past season.
"Mikhail Gulyayev is the only defense prospect in this year's draft who I have viewed as a no doubt first round selection for the entire season thus far… Gulyayev has stood out as a remarkable offensive defenseman with some of the best skating and offensive potential in the class."

Logan Horn, The Hockey Writers
Playing in Russia also impacts Gulyayev's draft ranking, as it has with Michkov. Luckily, the Predators are a team who can wait for Gulyayev to come to North America. Gulyayev dominated the Russian junior leagues and played well in the Kontinental Hockey League (KHL) when given the opportunity. In 22 games with Omskie Yastreby of the Molodyozhnaya Hokkeinaya Liga (MHL), a Russian junior league filled with players in his age bracket, he scored two goals and 23 assists for 25 points. Through 17 playoff games with Omskie Yastreby, he scored two goals and eight assists. His skating and offensive IQ helps him dominate his peers. If the Predators' motto for this draft is "go big or go home" then there is no better player to select than Gulyayev at 24, in my opinion.
Matthew Wood
With their first first-round draft selection, pick 15, the Predators could target Matthew Wood, currently playing for the University of Connecticut (Uconn) in the NCAA. He scored 11 goals and 23 assists for 34 points in 35 games at UConn, showing consistency while showcasing his great shot. Wood is a winger that loves to shoot. He is lethal from in close or from range and is a great stick handler, especially in front of the net. He is also learning to use his body to his advantage.

The Predators need trigger-happy players to complement their horde of playmaking-first players. Despite his excellent shot, Wood's most appealing attribute is his 6-foot-4, 193-pound frame. His skating is a weakness, but his other qualities make up for it. Wood's size and offensive skillset make him an attractive choice for the Preds at 15. He could be better defensively, but if Barry Trotz and head coach Andrew Brunette can instill good defensive qualities in him, Wood could become a perennial All-Star for the Predators.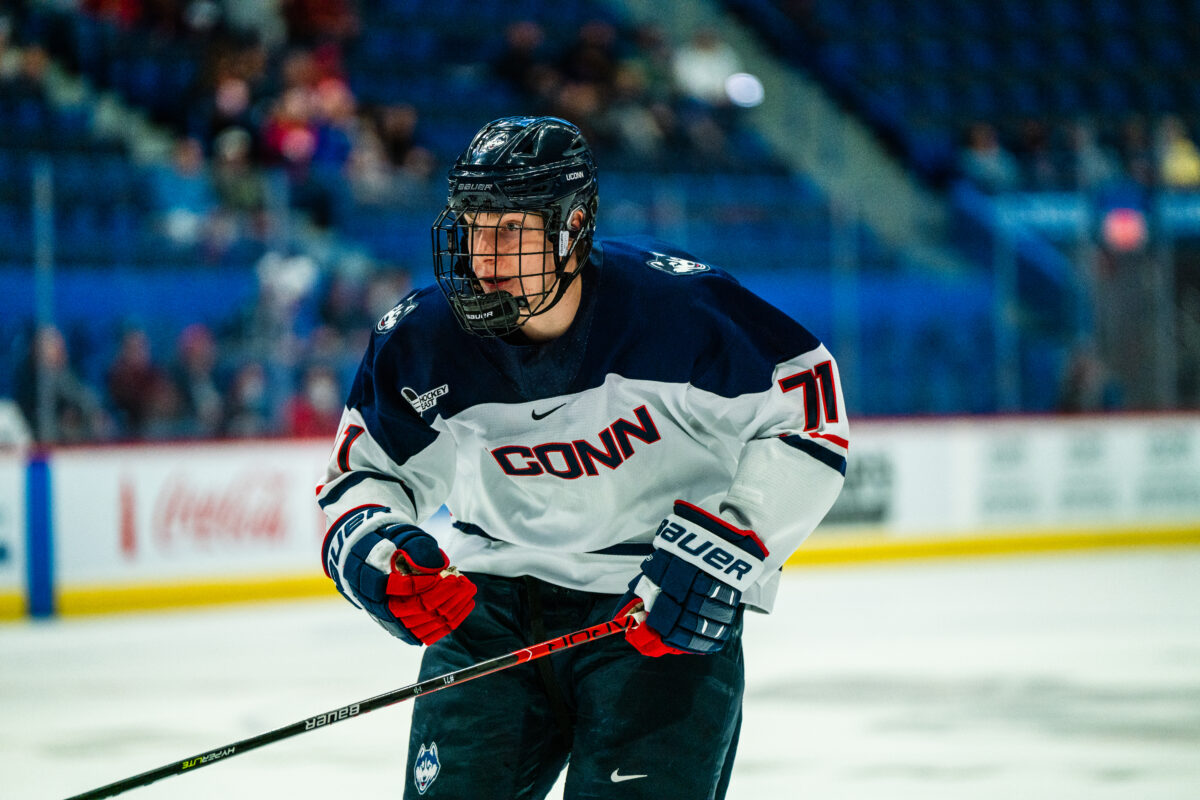 Before making the leap to the NCAA, Wood played for the Victoria Grizzlies of the British Columbia Hockey League (BCHL) during the 2021-22 season. He scored 45 goals and 40 assists for 85 points in 46 games. I spoke with a staff member from the Grizzlies on the marketing team. He praised Wood's work ethic and boasted about his great character. The staff member even believes Wood will crack the top 10 at the 2023 NHL Draft. The high praise from the employee is a fantastic vote of confidence. Character is important in the NHL, and it should be no concern regarding the prospect. If the Predators find Wood available at 15, it will be hard to find a good reason not to select him. The rawness of his game may be intimidating, but with the proper development, Wood could become an elite winger.
With two first-round selections, the Predators can afford to take risks on Wood and Gulyayev. Wood, the safer of the two, already has the frame, puck-handling, and shot to make the NHL. If the Predators can teach him to be mean and use his body to his advantage, they will create a monster. A monster capable of destroying players with big hits equipped with a wicked wrist shot and silky-smooth hands. Gulyayev, the riskier of the two, could eventually replace Roman Josi on the power play while being a solid second-paring defenseman if he lives up to his potential. If Trotz wants to take swings, he should take them on players with game-breaking boom-or-bust potential, and Gulyayev fits that description.
---
---