The Seattle Kraken enter the 2023 NHL Draft with ten picks, including four in the first two rounds. During the 2022 Draft, they added high-end prospects like Shane Wright, Jagger Firkus and Tucker Robertson to their organization, with similar success expected this year. There is plenty of talent available, especially in the first 64 picks, which is why general manager Ron Francis and his team need to ensure that they have done their homework before heading to Nashville.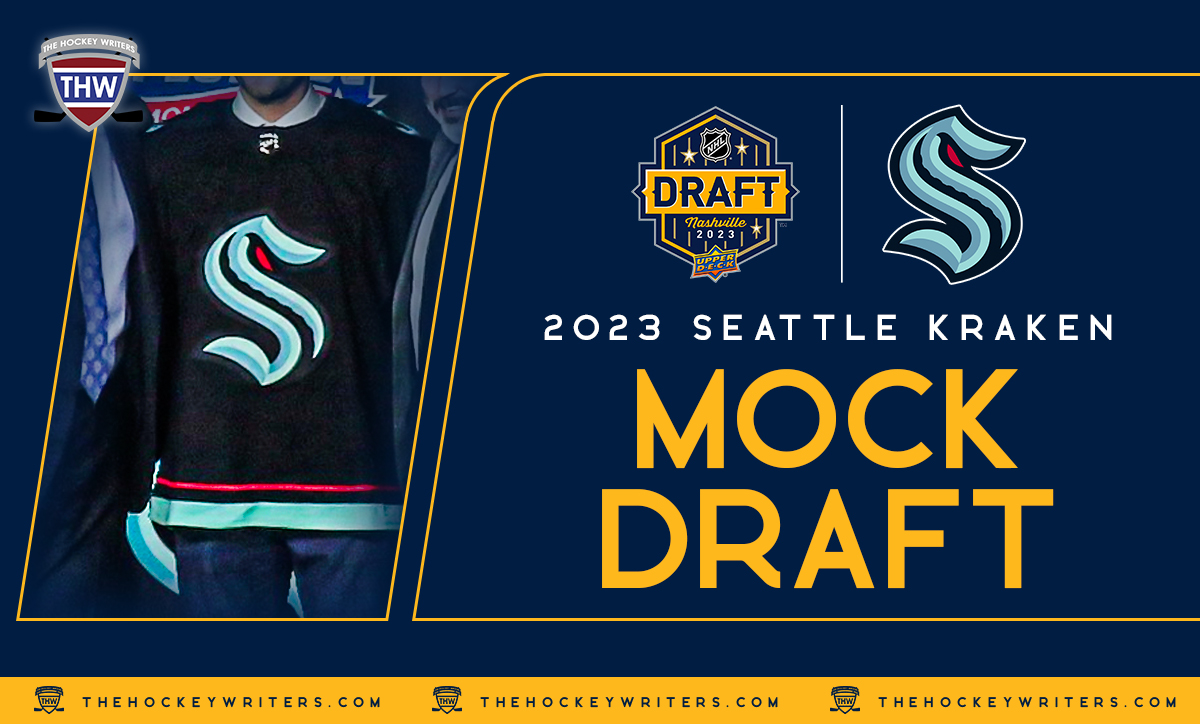 With the help of FC Hockey's mock draft builder, we will look at who the Kraken should select with each of their ten picks. While there may be some trades during the draft, this mock will assume all picks stay the same for every team. Without further ado, here is Seattle's mock draft for the 2023 Draft.
First Round – 20th Overall: Quinten Musty, LW, Sudbury Wolves (OHL)
The Kraken are a team that focuses on size and strong defensive play, which is why Quinten Musty is the best option at 20th overall. The Sudbury Wolves winger is listed at 6-foot-2, 190 pounds, and projects to be a power forward at the NHL level. A strong all-around prospect who has a great shot, he would be a fantastic addition to Seattle's already strong forward group.
Related: Kraken 2023 NHL Draft Target: Quentin Musty
Musty already has a connection to the Kraken in that he plays on the same team as David Goyette. This means that Seattle has spent plenty of time watching the American winger and will be able to get some inside information on what he is like away from the rink. The pick makes sense for a number of reasons which is why the Kraken should select him if available at 20th overall.
Second Round – 50th Overall: Aram Minnetian, RD, U.S. National U18 Team (NTDP)
With the first of their three second-round picks, Seattle selects Aram Minnetian in our mock draft at 50th overall. The right-shot defenceman spent the year with the US National Development Team and has already committed to Boston College for next season. A member of Team USA's gold medal-winning team at the U18s, he is a solid two-way defender that can play in all situations.
What makes Minnetian so highly rated is that he has multiple layers to his game. He can activate in the offensive zone, defend well against the rush and play physically if needed. The Kraken need to add more right-shot defencemen with high upside to their prospect pool, so selecting him in the second round is an easy choice.
Second Round – 52nd Overall: Graycn Sawchyn, C, Seattle Thunderbirds (WHL)
At 52nd overall, Seattle does not need to look far as they select Seattle Thunderbirds Graycn Sawchyn. The center played a key role for the Thunderbirds as they made it all the way to the Memorial Cup Final, as he posted 58 points in 58 regular season games, along with 11 points in 17 postseason games. A playmaker who can pull off some slick dekes, he is a prospect that is sure to get plenty of attention on Day 2 of the draft.
Related: THW's 2023 NHL Draft Guide
---
Latest News & Highlights
---
If Sawchyn is available at 52nd overall, it seems like a home run for the Kraken. Not only do they get a prospect that plays in the same area as the organization, but they also get a player with a lot of upside who has already shown he can stand out on a stacked team that featured multiple first-round picks. If selected, fans in Seattle will be able to cheer him on as he makes his way from prospect to hopefully NHLer over the next few seasons.
Second Round – 57th Overall: Kalan Lind, LW, Red Deer Rebels (WHL)
The Kraken already have Kole Lind in the system, so why not add his brother Kalan to the organization? Listed at 6-foot, 154 pounds, he is a menace to play against as he hits virtually everything that moves. A prospect that is productive at both ends of the ice, he is exciting to watch and one that projects to be a solid NHLer in the future.
Outside of his physicality, Lind also has the ability to change the game with his offensive talents. He finished above a point per game in the regular season with 45 points in 44 games and showed off his playmaking skills all season. A prospect who was one of the highlights of the Top Prospects Game this season, he would be a great addition to the Kraken organization.
Third Round – 84th Overall: Felix Nilsson, C, Rögle BK J20 (J20 Nationell)
The Kraken continue to add to their center depth in the third round as they select Felix Nilsson out of Sweden. The left-shot center split his time between the J20 Nationell and Swedish Hockey League (SHL) and is a player that quietly has impressed as the year has gone on. A great passer who drives the net hard, his game should translate well to the NHL level.
Related: 2023 NHL Draft: Horn's Two Round Mock Draft
Why Nilsson may fall all the way to the third round is that he isn't the most exciting prospect available. He plays a quiet game but gets the job done every night. If he slips this far, there is little doubt that he could be the steal of the draft when looking back a decade from now.
Fourth Round – 116th Overall: Anton Wahlberg, C, Malmö Redhawks J20 (J20 Nationell)
Staying in Sweden, the Kraken pick another center in Anton Wahlberg at 116th overall. Listed at 6-foot-3, he also split time between the J20 Nationell and the SHL, playing 17 games in Sweden's top league. A good skater who can use his size to his advantage, he could become a useful power forward at the NHL level.
As Wahlberg develops, it will be interesting to see whether or not he stays at center or moves over to the wing. He is a player that thrives along the boards, which could translate to him becoming a winger at the NHL level. Regardless of what position he ends up playing, his development will be interesting to watch over the next few seasons.
Fifth Round – 148th Overall: Arvid Bergstrom, LD, Djurgårdens IF J20 (J20 Nationell)
In the fifth round, the Kraken add another defenceman, this time in Arvid Bergstrom. The left-shot defenceman spent the year in the J20 Nationell league and was part of Team Sweden at this year's U18s. A defender who is great in the transition game, his best moments this season came when he was able to showcase his skating as he carried the puck through the neutral zone and into the offensive zone.
Related: 2023 NHL Draft: Top 10 Defencemen
Listed at 5-foot-11, 168 pounds, Bergstrom will be a project piece as he needs to work on his physical play. He currently gives up too much ice in front of him and needs to engage more against the forward he is defending. There are a lot of positives to his game which is why he is worth a fifth-round selection.
Sixth Round – 168th Overall: Zachary Schultz, LD, U.S. National U18 Team (NTDP)
Heading back to the US National Development Team, the Kraken use their first sixth-round pick on defenceman Zachary Schultz. Listed at 6-foot, 196 pounds, he is a prototypical defensive defenceman that can shut down the rush and play a physical game. While he isn't the most offensively-inclined player, he is valuable in the transition game as he can carry and dump the puck into the offensive zone with ease.
Schultz was also able to show off his leadership skills this season as he captained Team USA to a gold medal at the U18s. During that time, he was able to lead by example, providing steady play from the blue line. Committed to the University of Wisconsin for next season, he would be a great depth selection for Seattle as they continue to build out their defensive prospect group.
Sixth Round – 180th Overall: Kalem Parker, RD, Victoria Royals (WHL)
Jumping back to the Western Hockey League (WHL), the Kraken use the 180th pick to select defenceman Kalem Parker of the Victoria Royals. A prospect that has flown under the radar based on the team he plays for, he is excellent in the transition game and showed this season he can play in all situations. Listed at 6-foot, 187 pounds, he set a new career-high with 38 points while not missing a single game this season.
Related: 2023 NHL Entry Draft – Top 10 WHL Prospects
With Parker playing so close to Seattle, it would allow the organization to keep a close eye on him as he continues to develop. While he is a long-term project, his development this season is very encouraging and could lead to him surprising people when he makes the jump to the pro game with just how far his game has come. He also continues to add valuable depth to the organization's prospect pool that needs to continue to stock up on right-shot defencemen.
Seventh Round – 212th Overall: Damian Clara, G, Färjestad BK J20 (J20 Nationall)
With their final pick in the draft, the Kraken select goaltender Damian Clara out of Sweden. Listed at 6-foot-6, 207 pounds, he is the future face of Italian goaltending at the pro level. A star for his country already, helping them capture three bronze medals at different levels this year alone, he is one of the most intriguing goaltending prospects heading into the draft.
Seattle has selected a goalie in each of their first two drafts and is starting to build a strong goaltender prospect pool. Selecting Clara would help them continue to grow this area of the organization and stock the pipeline for years to come. A prospect who is raw but has a lot of potential, the Italian keeper is set to make the jump to the HockeyAllsvenskan next season.
A Strong Group Of Players
Based on this mock draft, the Kraken use their ten picks to get a little of everything. In the end, it leads them to select four defencemen, three centers, two left-wingers and a goaltender as Seattle continues to build up their prospect depth. Make sure to stay tuned to The Hockey Writers for all your pre and post-draft day coverage as the next group of future stars gets drafted into the NHL.
---
---