The Anaheim Ducks are looking to turn the page after the worst season in their franchise's history. Their 23-47-12 record was the worst in the NHL, and losing the first overall pick to the Chicago Blackhawks through the lottery process only adds salt to the wound. Despite losing out on the Connor Bedard sweepstakes, the Ducks are set up to have an excellent draft. In addition to their own selections in the first two rounds, last year's trade deadline has given them two additional second-round picks to restock the prospect cupboards.
Related: Ducks Look to Continue Success with No. 2 Overall Picks in 2023
---
Latest News & Highlights
---
Like in the first mock draft, I will be using Future Consideration's draft tool. Their rankings have updated since the 1.0 mock, which gave me the chance to see different names become available for each of the Ducks' second-round picks. The change in rankings did not have an impact on their suggested second-overall pick. But I decided to go in a different direction from Adam Fantilli and instead selected the biggest question mark of the draft. This selection would be the biggest risk that the franchise has ever taken, but it could pay off with proper patience.
2. Matvei Michkov, RW, HK Sochi (KHL)
While I do believe the Ducks will ultimately decide on Fantilli in this position, Matvei Michkov is the most intriguing alternate and worth exploring. In a vacuum where only talent is considered, Michkov may be second to only future top pick, Connor Bedard. We don't live in such a vacuum, and his contractual obligations in the Kontinental Hockey League, along with a litany of geopolitical issues, make him a risky selection.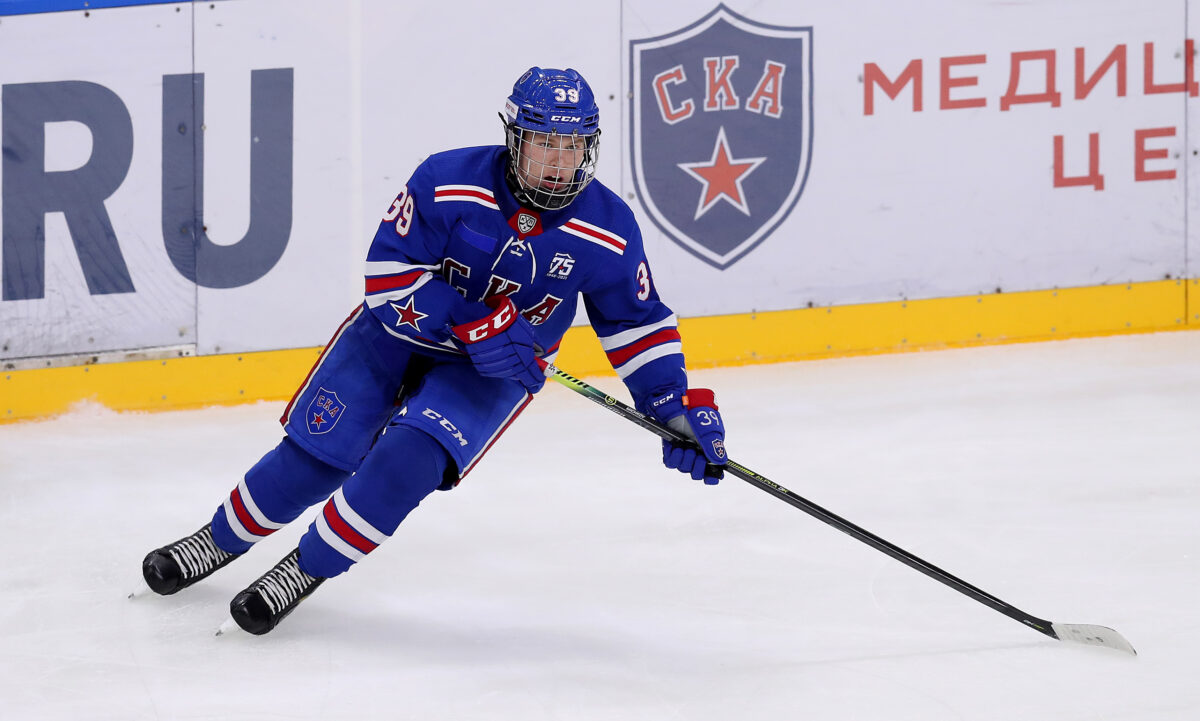 Michkov has been touted as the best Russian prospect since Alex Ovechkin. He's brilliant with the puck and can control play despite being a 5-foot-11 winger. He can improve his playmaking for his teammates, and defensive play is a bit of an afterthought, but those are expected shortcomings from a teenager. The concern is that the KHL is not a developmental league, so working on those skills won't necessarily be a concern if it gets in the way of his team's success. Michkov is under contract until 2026, so Anaheim would be looking at three more seasons before they get anything out of this pick. That's a tough pill to swallow, especially when other top picks Bedard and Fantilli will likely be going into their fourth NHL seasons.
The reality is the Ducks can afford to be patient. Pat Verbeek has only had the general manager job for a little over a year and has only recently made his first head coaching hire. The team should see marginal improvement over these next years as the young stars mature and more prospects gradually join the NHL roster. It won't be the instant improvement that adding Fantilli would have, but we do have to consider what their ceiling would look like over the next three years with Fantilli compared to year four and beyond with either he or Michkov.
If the Ducks believe Michkov is the second-best choice in this draft and that Fantilli doesn't move the needle significantly over the next three years, then I can see them taking the risk. Making this choice would be an admission that Anaheim is still several years away from competing, but it would also mean they can continue to preach patience with their prospects.
33. Calum Ritchie, C, Oshawa Generals (OHL)
This pick is one of the most fascinating spots in this year's draft. With the sheer quantity of high-potential players available, someone with a first-round grade is bound to fall to the Ducks in the second round. Last week, we featured a few names that could be available in this spot, including Ethan Gauthier and Bradly Nadeau. In our first mock draft, we selected Charlie Stramel. This time around, Calum Ritchie fell out of the first round and right into Anaheim's lap.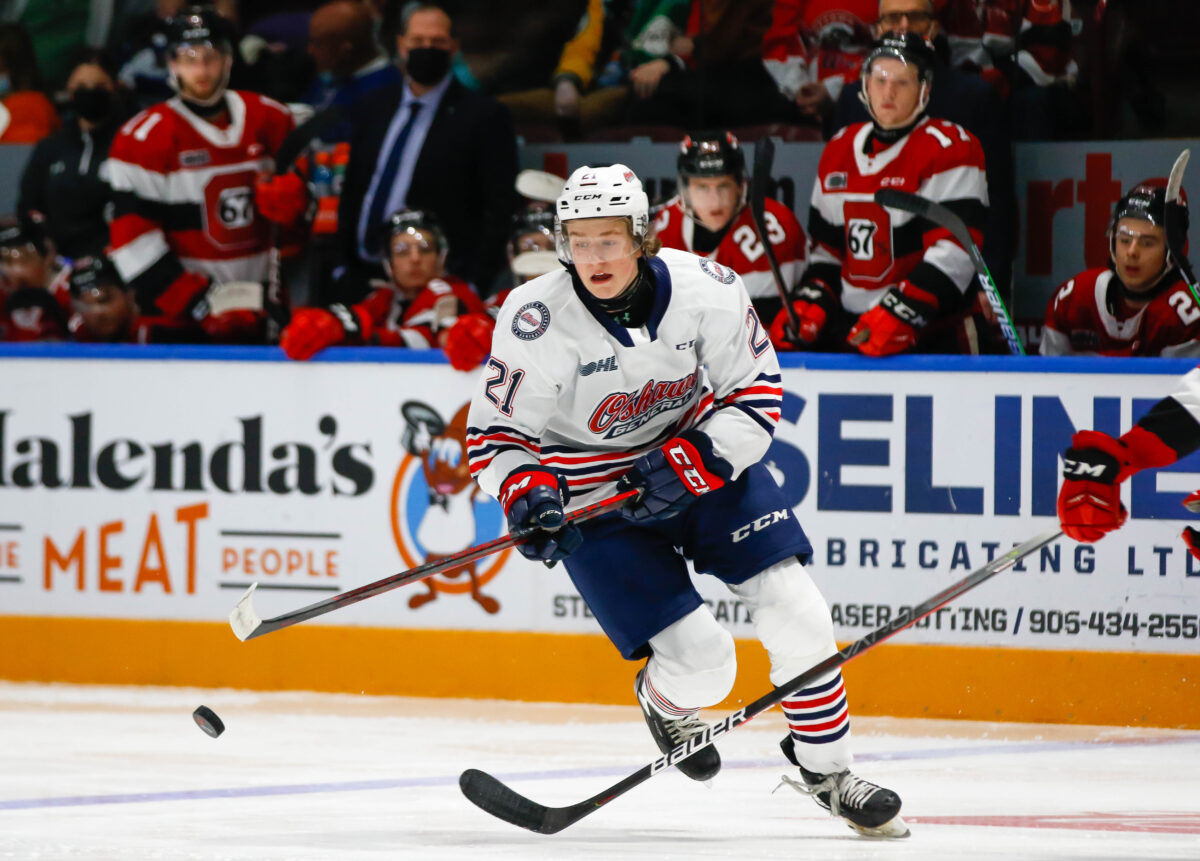 The Ducks will be thrilled with just about anyone they select in this position, but they should consider themselves especially fortunate if they land Ritchie here. THW's Mark Sheig considers him the steal of the 2023 NHL Draft, and that's with the belief he gets selected somewhere late in the first round. Ritchie's availability here would also soften the decision to draft Michkov among a slew of high-potential centers at the top of the board. His full draft profile can be found here.
59. Lukas Dragicevic, D, Tri-City Americans (WHL)
In our 1.0 mock draft, I didn't even look at the blue line as I was looking to build up Anaheim's worst position groups. Realistically, the Ducks will look at all position groups, especially deeper in the draft. With a heavy emphasis on talented forwards, defensive prospects are bound to fall down the boards. Even with the young defensive group of Jamie Drysdale, Olen Zellweger, Pavel Mintyukov, Jackson LaCombe, and Tristan Luneau either ready or nearing ready for the NHL, it's important to keep the cupboards stocked. With the first of their back-to-back picks, I'm going with Lukas Dragicevic from the Tri-City Americans of the Western Hockey League.

Dragicevic is raw but ticks a lot of the boxes for the modern NHL defenseman. He's an excellent passer and moves well with the puck, skills that lend themselves well to quarterbacking a power play unit. At 6-foot-2, he provides a good balance with some of the undersized defensemen already in the Ducks' organization. He's going to need some time to refine his game before making the jump to professional leagues. The Ducks would be a great landing spot for him because they have no incentive to rush his development.
60. Danny Nelson, LW, U.S. National Team Development Program
With the second of their back-to-back picks, I have the Ducks selecting Danny Nelson from the National Team Development Program. He would be another project that takes a few years to come to fruition, but his combination of size and skill set could make him a good option in the middle of the lineup. At 6-foot-3 and just north of 200 pounds, the defenseman-turned-winger has the build of a power forward but needs to improve in his own zone before he can be relied on as a penalty killer.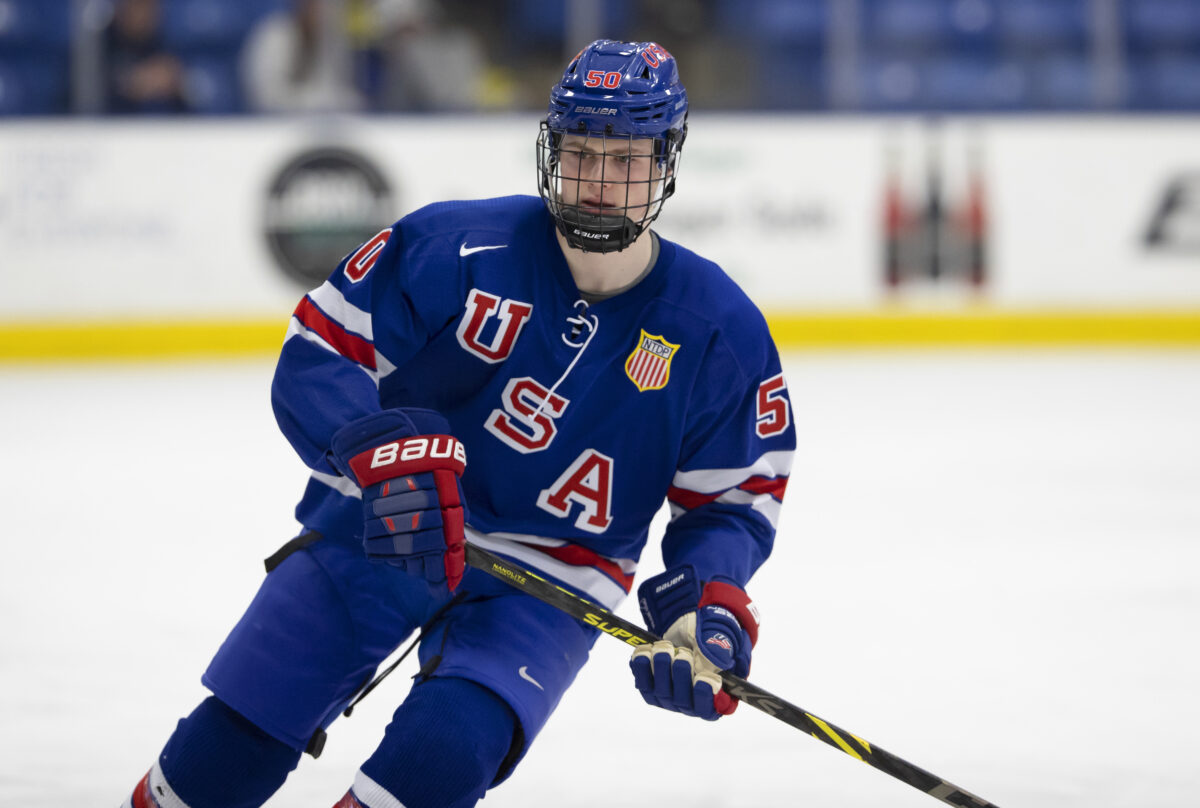 Nelson has committed to playing college hockey at Notre Dame and will get plenty of time to develop if selected by the Ducks. He doesn't turn 18 until August. His defensive growth will be key to his ceiling in the NHL. He's got a good shot and would mesh well with one of Anaheim's playmaking centers, but teams generally like their depth wingers to contribute to the penalty kill. For a better look at Nelson, here is his prospect profile.
Final Thoughts: Drafting Michkov Buys Ducks More Time
By selecting Michkov with the second-overall pick, the Ducks will be pushing their competitive window back a few years. With this in mind, I used their later second-round selections on some long-term development projects that could become full-time NHL players if given the time to grow. The Ducks have a recent track record of allowing their prospects to thoroughly develop, and drafting Michkov would be a continuation of this philosophy.
---
---