The Winnipeg Jets' 2023-24 season is less than a month away, with regular-season puck drop slated for Oct. 14 with the home opener against the Florida Panthers.
It's been an interesting offseason of additions and subtractions for a Jets squad that exceeded expectations in the first half of last season before falling back to earth and losing in the first round. We certainly won't accuse you of living under a rock if you haven't been paying attention to the Jets since they were eliminated — summer is fleeting in Manitoba and thoughts of the cold-weather pastime hockey can be far away when there are lakes to go to, football and baseball to follow, and hot days and warm nights to enjoy with family and friends.

That being said, at The Hockey Writers, hockey is always at the forefronts of our minds, and our Jets team has published a ton of articles breaking down everything General Manager Kevin Cheveldayoff and company has done between May and now, with training camp upon us beginning Sept. 20.
Without further ado, here is our Winnipeg Jets 2023 offseason overview.
Dubois Traded to the Kings
On June 27, the Jets and Los Angeles Kings swung a big trade, with the Jets exchanging disgruntled power forward Pierre-Luc Dubois for Alex Iafallo, Rasmus Kupari, Gabriel Vilardi, and a second-round draft pick in 2024.
The deal ended a year-long saga between Dubois and the Jets, with whom Dubois refused to re-sign even a one-year bridge deal with to take him to unrestricted free agent (UFA) status. Dubois had 143 points as a Jet over three seasons, and recorded a career-high 63 points — 27 goals and 36 assists — last season. A day after being traded, he inked an eight-year extension with the Kings that carries a $8.5 million average annual value (AAV.)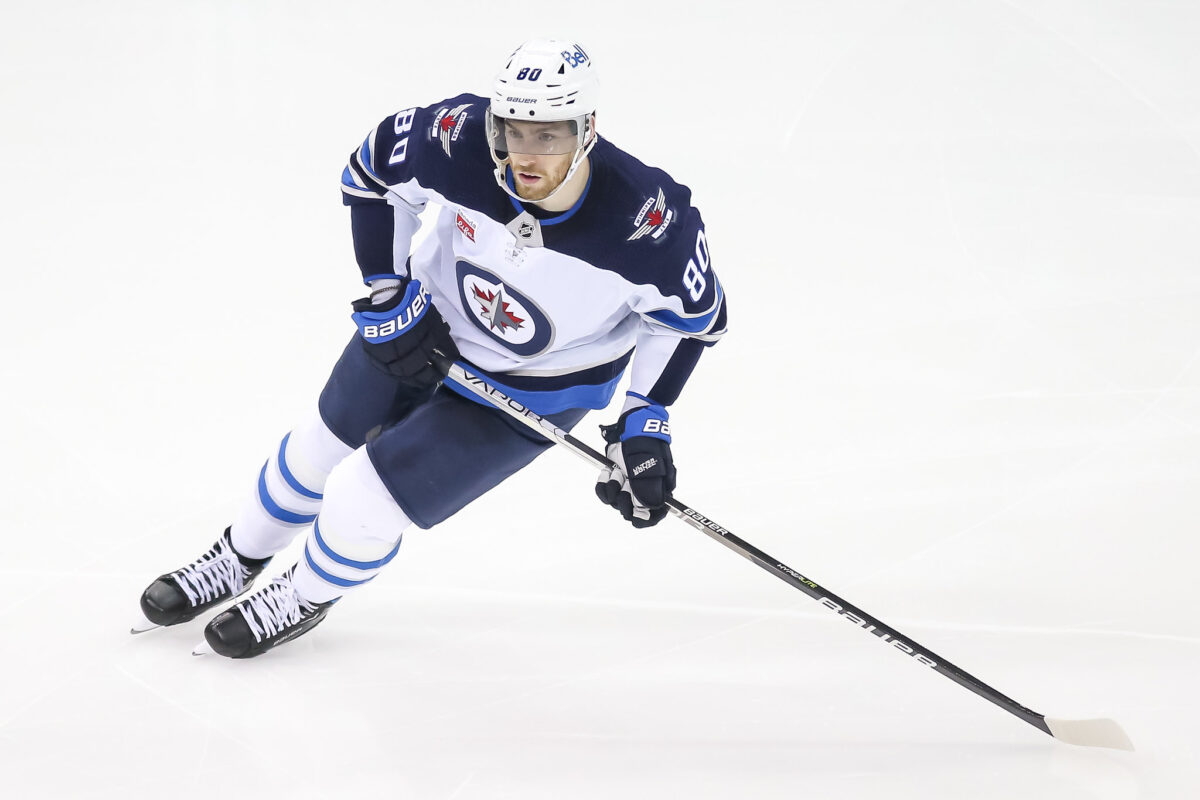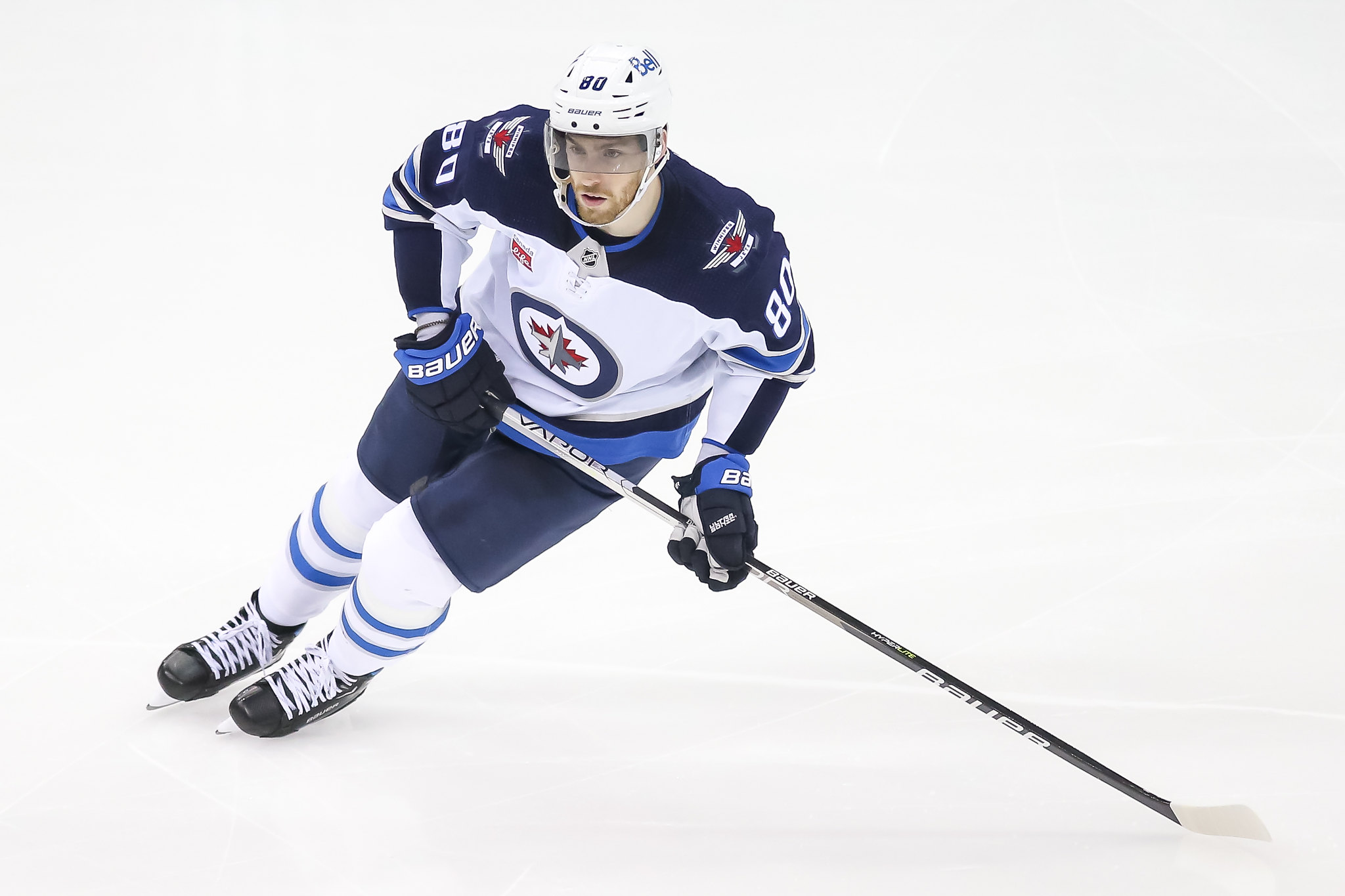 Vilardi, 23, is a budding star and the key piece in return. More on him below in the RFA section.
Iafallo, 29, is an undrafted left-handed left-winger who can also play centre. He made his NHL debut with the Kings in 2017-18 and in 420-career games with the franchise, has 85 goals and 119 assists for 204 points. He played mainly on a line with Vilardi and Phillip Danault this season, recording 14 goals and 22 points for 26 points in 55 games, a plus-14 rating, and an average time on ice of 16:18. He also had three goals and one assist in six playoff games.
Related: Winnipeg Jets: 5 Must-Watch Games in 2023-24
---
Latest News & Highlights
---
Kupari, a 23-year-old Finnish centre who can also play wing, was selected by the Kings 20th overall in 2018 but has not established himself as a dominant player to this point of his career. The 6-foot-2, 200-pounder has had some flashes of brilliance but has struggled with his two-way play, confidence, and consistency.
Last season, he played a career-high 66 NHL games and recorded three goals and 12 assists for 15 points and won 54.6 per cent of his faceoffs. In 130-career NHL games, he has 29 points and has bounced between the AHL and the NHL.
2023 Draft Welcomed Barlow, Four Other Prospects Into Pool
Cheveldayoff and company entered the 2023 NHL Entry Draft in Nashville with five picks, including an 18th-overall selection. With that pick, they drafted sharpshooting workhorse Colby Barlow, a mature player of high skill and high character who served as the captain of the Owen Sound Attack last season as a 17-year-old.
Barlow was impressive for the Attack last season and put many positive attributes on display — mainly, his wicked snap shot — as he racked up 46 goals and 33 assists for 79 points in just 59 games.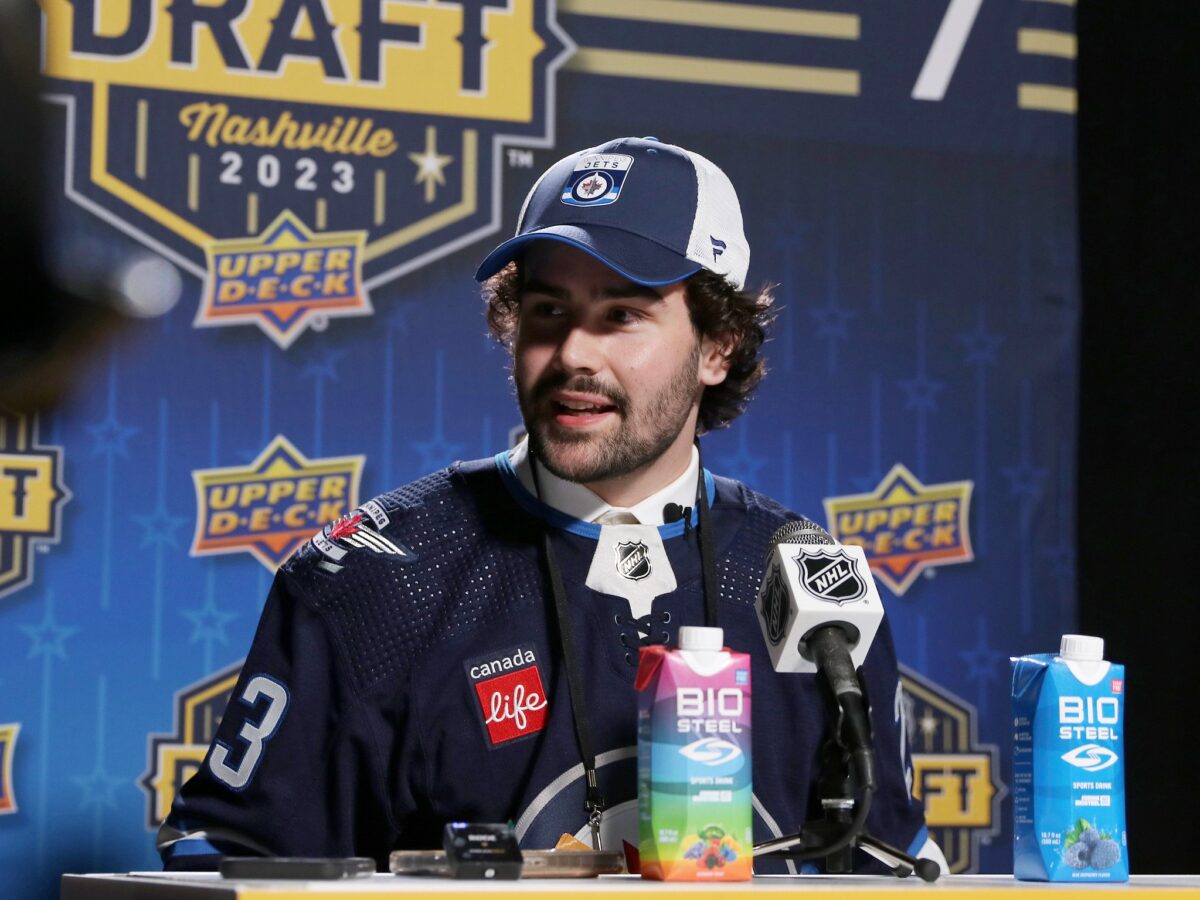 On Day 2 of the draft, the Jets continued one of the busiest weeks in recent memory by selecting four more players with a focus on size up front and Canadian talent.
Related: Jets Focus on Forwards & Crease on Day 2 of 2023 NHL Draft
They added right-winger Zach Nehring (3rd round, 82nd overall) centre Jacob Julien (5th round, 146th overall) goaltender Thomas Milic (5th round, 151st overall) and right-winger Connor Levis (7th round, 210th overall) to a deepening prospect pool.
Wheeler Bought Out
On June 30, the final day of the buyout period, the Jets bought Blake Wheeler out of the final year of his five-year contract that carried an $8.25 million AAV. This ended weeks of speculation either a buyout or a trade was imminent.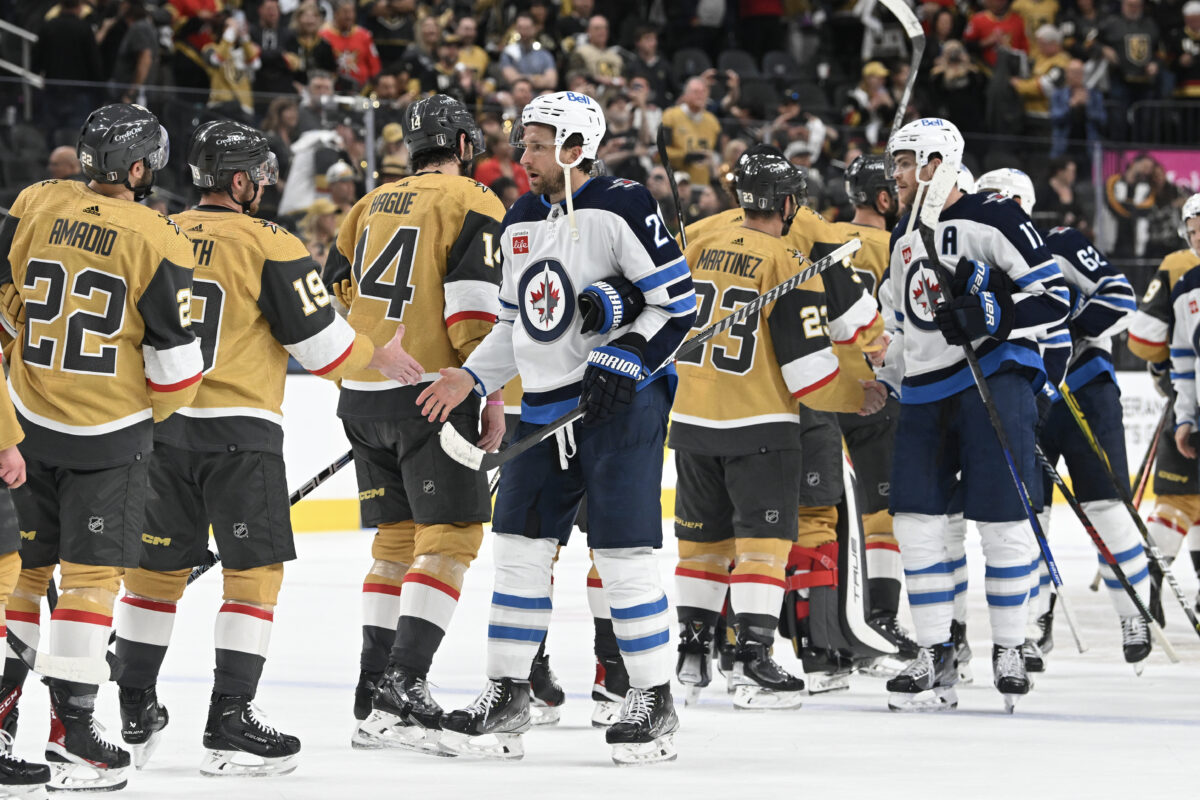 Buying out the 37-year-old former captain severed ties with the final player to play for the Atlanta Thrashers and was necessary to remove his influence from the team so it can move in a different direction. Wheeler was an elite playmaker for a long time — recording 812 points in 897 games for the Thrashers/Jets franchise — but leaves a mixed legacy as not a lot was accomplished during his tenure as leader and his personality and usage were both issues.
Related: Jets' Wheeler Buyout the Right Decision for Franchise
The Jets have to pay Wheeler two-thirds of his remaining salary over two years, so they owe him $2.75 million in 2023-24 but then owe him $2.75 million in 2024-25, when his contract would have been off the books if he'd played the final season.
A day after being bought out, Wheeler signed a one-year deal with the New York Rangers worth $800,000.
Free Agent Frenzy Brought New and Old Faces Back into the Fray
Cheveldayoff was more active than usual on Free Agency's opening day, making five acquisitions.
The biggest signing of the day was to bring goaltender Laurent Brossoit back into the fray on a one-year deal worth $1.75 million. Brossoit played for the Jets from 2018-2021, and was one of the league's better backups in those three seasons, before signing with the Vegas Golden Knights. He won a Stanley Cup with the squad last season.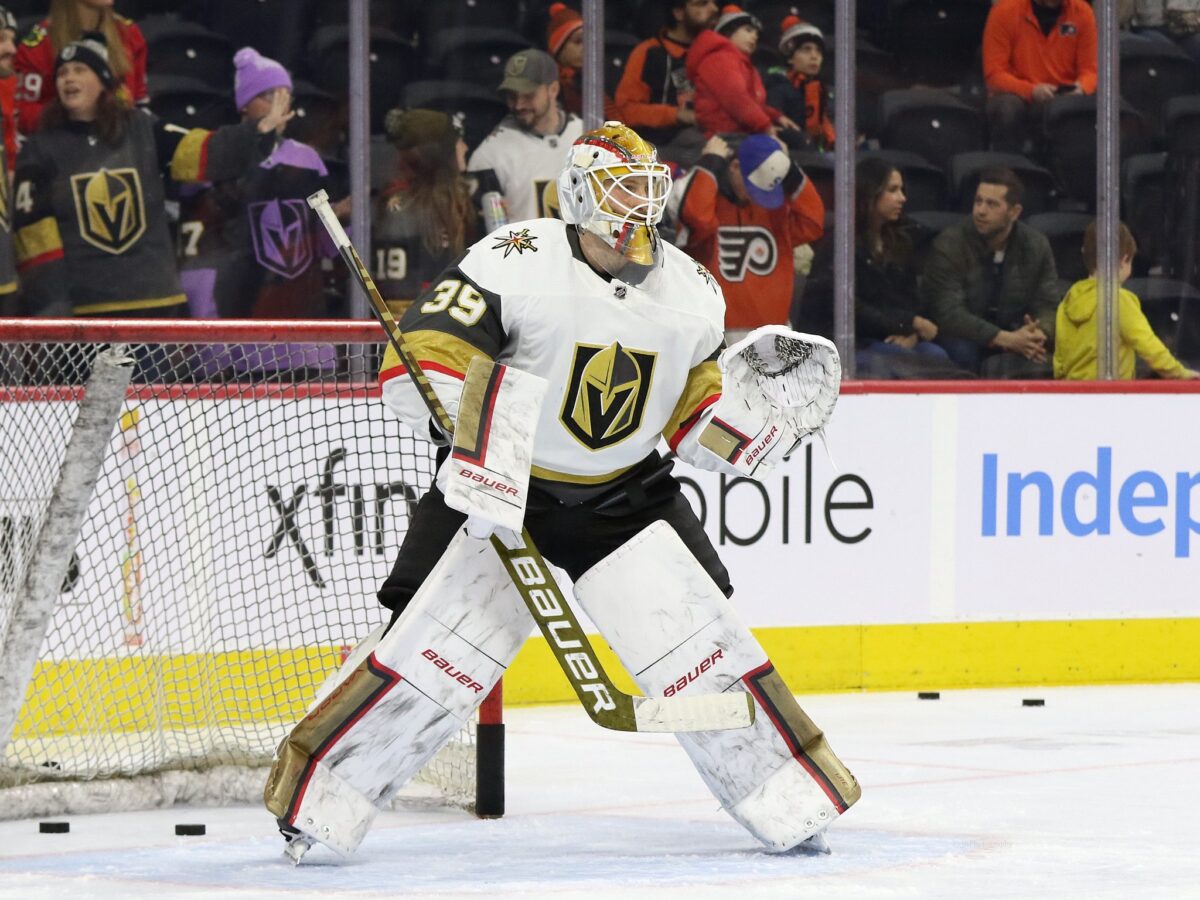 The 30-year-old, by signing a one-year deal, is betting on himself and said establishing himself as a "bona fide starter" is the goal. He has 96-career starts under his belt over nine NHL seasons, but none as an undisputed number one.
Related: 3 Jets Who Will Be Under the Microscope for 2023-24
The Jets also signed goaltender Collin Delia to a one-year deal worth $775,000. The 29 year old made 20 appearances for the Vancouver Canucks last season, and over parts of five NHL seasons between the Canucks and Chicago Blackhawks, has a 19-18-7 record with a 3.51 Goals Against Average and .897 Save Percentage in 52 appearances (45 starts.)
A few hours after inking the two goaltenders, Cheveldayoff re-signed versatile forward Vladislav Namestnikov to a two-year deal with a $2 million AAV.
Namestnikov was originally acquired at the 2023 Trade Deadline from the San Jose Sharks for the modest price of a fourth-round pick, and he performed above expectations while proving his versatility.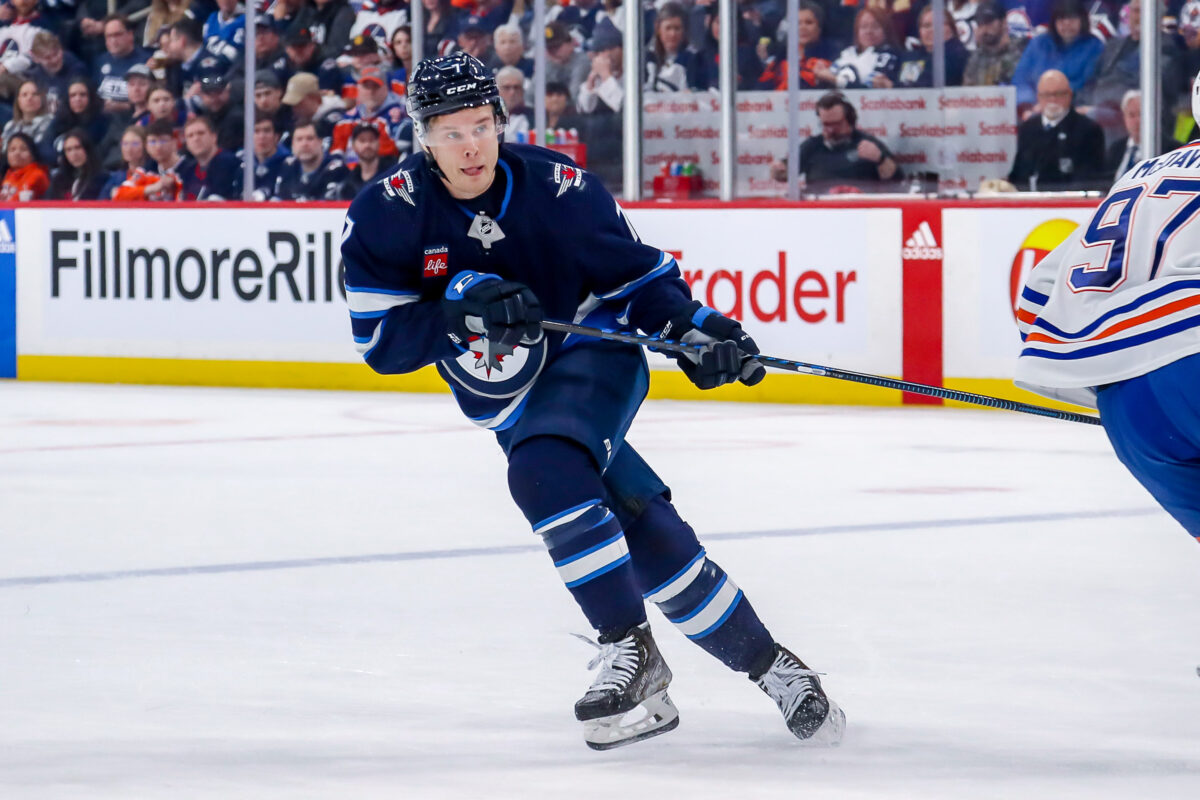 The Russian product took a larger role than expected down the stretch last season, playing on the top six and helping the Jets avoid being the first team in NHL history to lead a conference more than halfway through the season but miss the playoffs. Overall, he recorded two goals and eight assists for 10 points in 20 regular season games and two assists in five playoff games.
Related: Jets Get Versatility & Affordability By Re-Signing Namestnikov
Finally, Cheveldayoff signed left-winger Jeffrey Viel and traded Manitoba Moose defenseman Leon Gawanke to the San Jose Sharks for defenseman Artemi Kniazev. Viel, a 26-year-old enforcer, has played 49-career NHL games for the Sharks over parts of three seasons, recording five points and 139 penalty minutes.
Kniazev, a second-round 2018 pick, made his NHL debut in 2021-22 by playing one game for the Sharks, and had 28 points in 63 games for the San Jose Barracuda last season.
Jets Re-Sign RFAs to Bridges and Short-Term Deals
The Jets took care of plenty of internal business throughout the summer, re-signing five restricted free agents (RFAs).
First, they re-signed Swedish speedster Axel Jonsson-Fjallby on July 3 to a two-year deal with a $775,000 AAV.
The 25-year-old left-winger, claimed off waivers from the Washington Capitals just before last season began, impressed in the first half with his blazing speed and dogged forechecking and at times jumped to the top six.
He was a regular through the end of February, but often found himself in the press box down the stretch. He played just two games in March, one game in April, and one playoff game, and was also briefly sent down to the Moose, where he recorded three goals and one assist in four games.
Overall, Jonsson-Fjallby played 50 NHL games, recording six goals and eight assists for 14 points, an ATOI of 10:27, and a minus-1 rating.
Two days later, they re-signed defenseman Dylan Samberg to a two-year contract with a $1.4 million AAV. Samberg, 24, impressed in his first full NHL season, proving to be a shutdown defenseman and providing the team with $5.9 million in surplus value.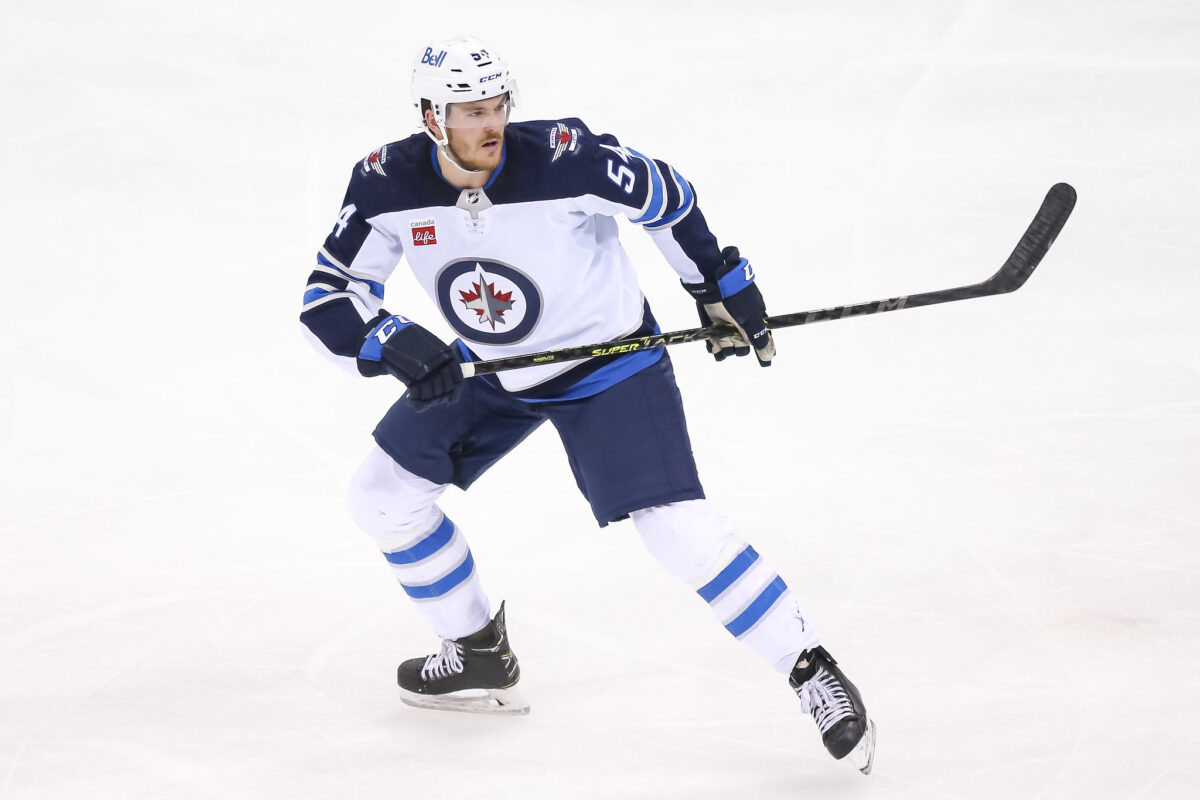 He posted two goals and six assists throughout 63 games, but more importantly, was an analytical darling in a third-pairing role and appears on the cusp of a breakout into a top-four talent.
On July 17, the Jets avoided arbitration with Morgan Barron, re-signing the budding power forward to a two-year bridge deal with a $1.35 million AAV.
Barron went viral in the first round of the playoffs for being cut on the face by Golden Knights goaltender (and now teammate) Laurent Brossoit's skate, getting more than 75 stitches to fix the resulting gash, then returning to the game and playing most of the series with a full cage.
Barron's progression in his first full NHL season was evident along with his toughness as he posted eight goals and 13 assists for 21 points in 70 games to go along with an ATOI of 13:15 and a plus-four rating.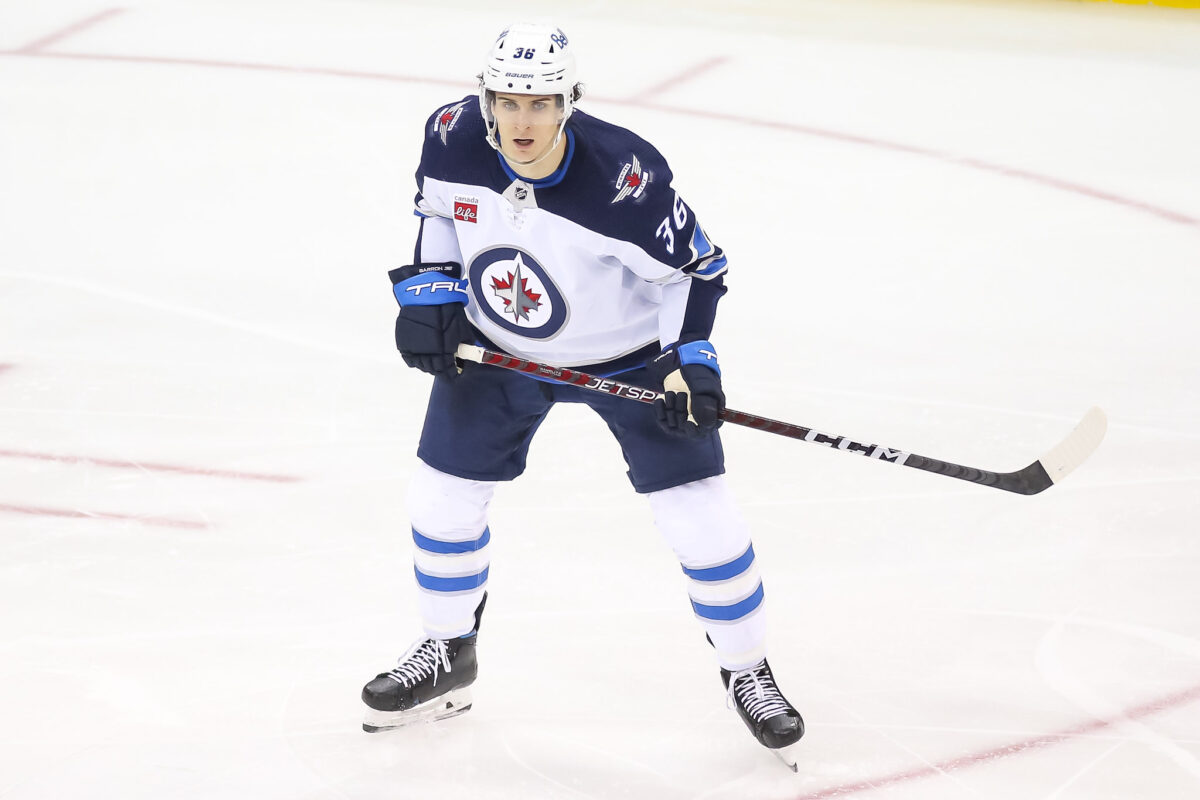 He became a mainstay on the bottom six, and while he suffered through some offensive droughts and an early-season wrist injury that required surgery, he brought a reliable compete level to whatever line he was on. He was never afraid to go into the thick of things or the dirty areas to help the team.
Two days later, the Jets also avoided arbitration with Gabriel Vilardi, inking him to a two-year bridge deal with a $3.43 million AAV on the heels of a breakout season.
Last season, the 6-foot-3, 215-pounder set career highs in goals (23) assists (18) average time on ice (15:36) and plus-minus (plus-10) and also had two goals and two assists in five playoff games. In 154-career games, the 2017 first-round pick has 41 goals and 37 assists for 78 points.
Related: Jets: 5 Things to Be Excited About In 2023-24
Vilardi played a bottom-six role with the Kings, but seems set to get an opportunity this season to claim the second-line centre role as Cheveldayoff said Vilardi is "just scratching the surface" of his potential. Whether he plays up the middle or on the wing like most of last season, being on a line with skilled forwards such as Kyle Connor, Nikolaj Ehlers, or Cole Perfetti should bump up his production. It is too early to predict if he will get top power play time, but any time on the man advantage would also boost his stat line.
Vilardi suffered through some injuries in his formative years and played just 63 games last season. If he can stay healthy and play all 82 this season, he could reach the 30-goal plateau for the first time in his career.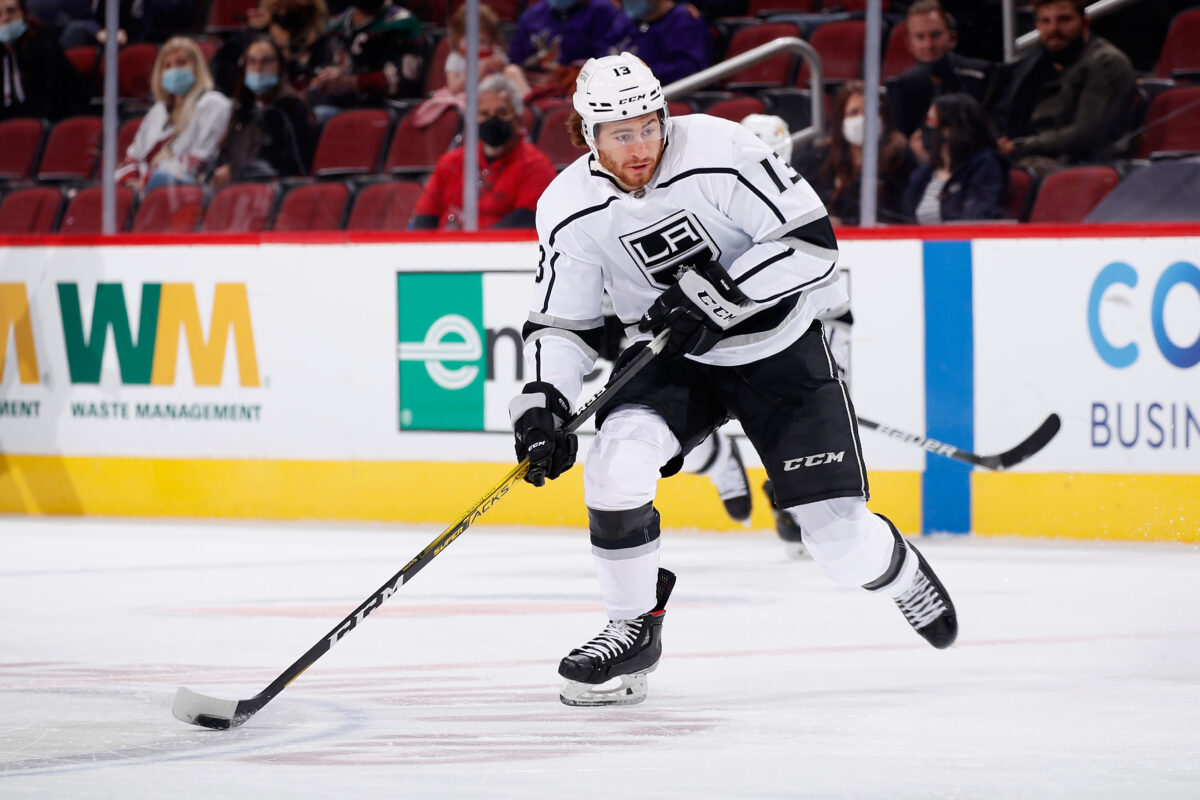 On Aug. 19, the Jets re-signed defenseman Logan Stanley to a one-year deal worth $1 million. Stanley suffered two separate long-term injuries last season and ended up playing just 19 games, recording one goal and two assists for three points. 
On Sept. 12, the Jets re-signed their final RFA, inking Declan Chisholm to a one-year deal worth $775,000.
Chisholm enjoyed a splendid 2022-23 with the Moose and seems poised to push for a full-time NHL job in the fall. The left-shooter, chosen in the fifth round in 2018, was a consistent presence on the Moose top pairing and recorded five goals and 38 assists for 43 points in 59 games and four assists in five Calder Cup Playoff games. He was also named an AHL All-Star for the first time in his career.
He made his NHL debut in 2021-22, playing two games.
Jets UFAs Departed For Elsewhere or Are Still Out of Work
A number of Jets players who became UFAs signed with other teams or remain out of work.
Backup goaltender David Rittich signed a one-year contract with the Kings on July 1. Rittich went 9-8-1 record, 2.67 GAA, and .901 SV% in 18 starts and 21 total appearances for the Jets in 2022-23.
Kevin Stenlund signed a one-year contract with the Florida Panthers on July 1. The 26-year-old Swede started with the Moose but got an opportunity with the Jets in December and never looked back, taking over the fourth-line centre role.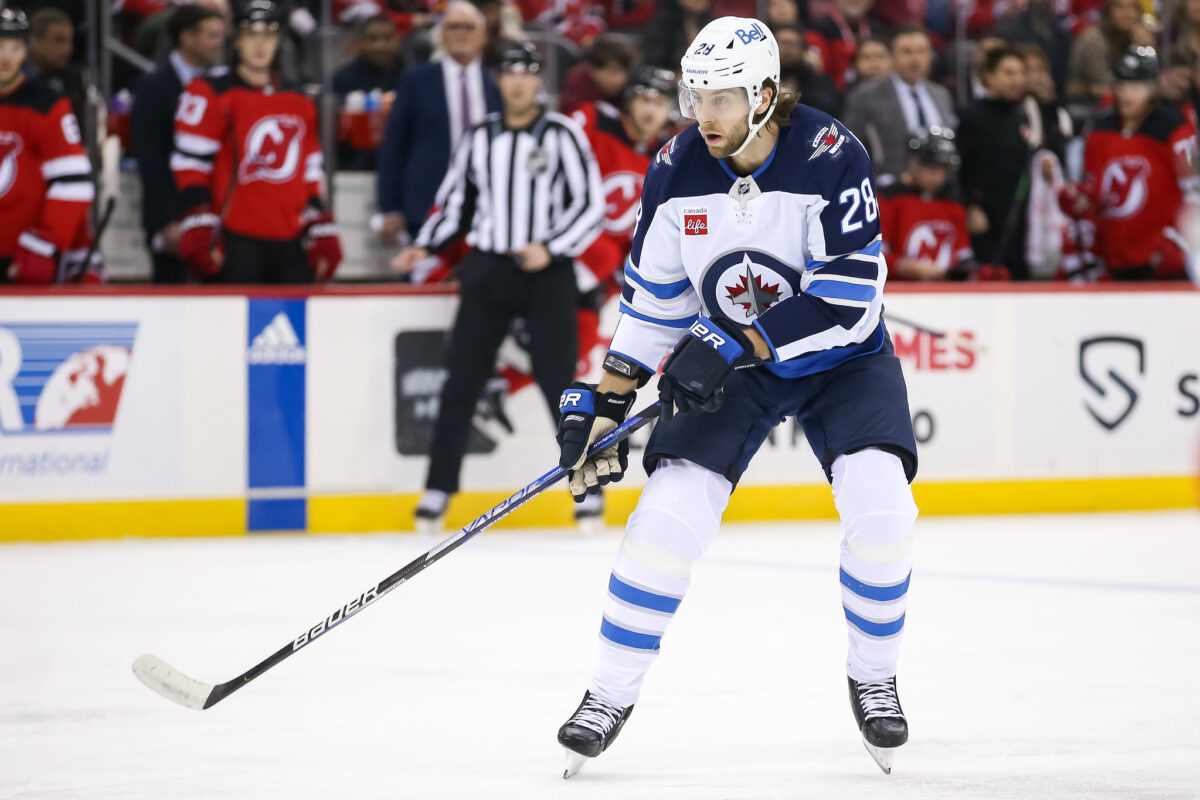 Stenlund suited up for 54 NHL games — a career high — and recorded six goals and three assists for nine points and one goal in five playoff games. He was strong in the dot, winning 53.3 per cent of his faceoffs, and played a key role on the Jets' much-improved penalty kill.
Moose leading-point-getter Alex Limoges signed a one-year deal with the Washington Capitals on July 3. He had 20 goals and 24 assists in 63 games for the Moose.
Moose goaltender Arvid Holm was not tendered a qualifying offer, making him a UFA. He then signed a one-year contract with the Colorado Avalanche on July 5. Holm split time with Oskari Salminen on the Moose and posted an 18-11-4 record, 2.67 Goals Against Average, and .911 SV%. He also backed up Connor Hellebuyck in the playoffs when Rittich was unavailable due to injury.
Veteran forward Sam Gagner signed a professional tryout offer (PTO) with the Edmonton Oilers on Aug. 28. Gagner recorded 14 points in 48 games with the Jets on a one-year deal and celebrated his 1000th-career NHL game, but had his season cut short due to hip surgery. 2023-24 will be his third stint with the Oilers, who drafted him sixth overall in 2007.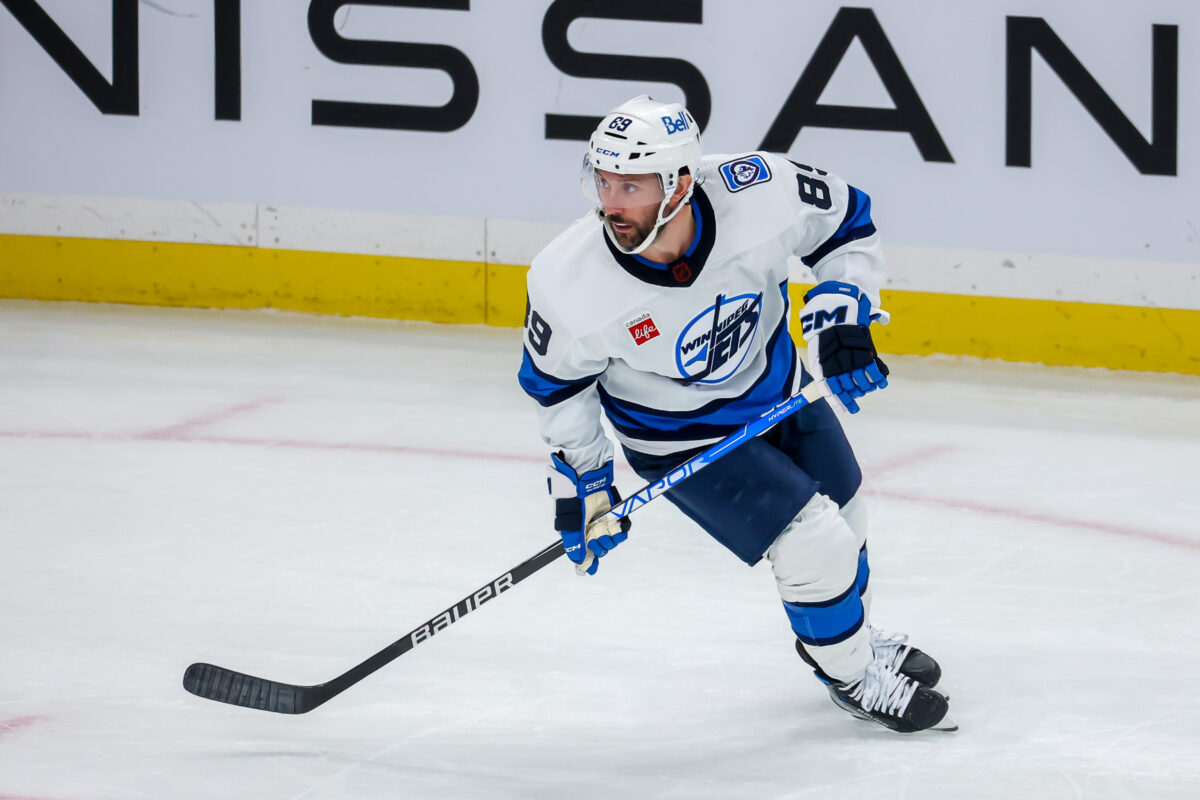 Finnish forward Saku Maenalanen signed a PTO with the Avalanche on Sept. 8. Maenalanen recorded four goals and six assists for 10 points in his first NHL season since returning from three years overseas.
Karson Kuhlman, who the Jets acquired on waivers from the Seattle Kraken when they were riddled with injury in December, has yet to sign with a new team. Kuhlman played 33 games and had two goals and two assists, but saw his role wane once the Jets got healthy again.
Lowry Named Third Captain in Jets 2.0 History
On Sept. 12, the Jets announced hardworking power forward Adam Lowry would be the new captain. He is the third player to wear the C, succeeding Andrew Ladd (2011- spring 2016) and Wheeler (fall 2016 – fall 2022.)
The Jets went without a captain last season after head coach Rick Bowness stripped Wheeler last September. Lowry, who became the Jets' third alternate in the aftermath, has long been considered a leader, a strong voice in the locker room, and a player who does whatever it takes to win.
The 30-year-old Lowry has spent his entire nine-year career with the Jets, playing 621 games and recording 93 goals and 111 assists for 204 points. He is their second-ever draft pick — being chosen 67th overall in the 2011 NHL Entry Draft — and has committed to Winnipeg long-term, with three seasons remaining on a five-year contract he signed in April, 2021 that carries a $3.25 million AAV.
Related: Jets Make Right Choice to Name Lowry Captain
"When I found out, I was pretty excited, almost a little speechless. It's something growing up you kind of can dream about and something that seems almost unattainable," Lowry was quoted as saying in a news release from the Jets. "Getting to be a captain of a Canadian NHL team is pretty special and something I'm really looking forward to."
Lowry will make his regular-season debut as Jets captain on Oct. 14 when the Jets take on the Florida Panthers at Canada Life Centre to begin the 2023-24 season.