The only two undefeated teams remaining at the 2021 IIHF World Junior Championship, Team Canada and Team Finland, will face-off in a battle for first place in Group A on Thursday. Both squads are entering the final game of their preliminary round campaign with nine points (3-0-0-0 record). Canada has outscored their opponents 29-3 thus far, while Finland sits at 15-4. With two incredible rosters going head-to-head, this Group A finale is the perfect thriller to cap off 2020.
Cozens, Byfield and Tomasino Leading the Way for Canada
The defending champions are loaded with star power this year. Canada currently has eight players ranked top-20 in points, led by Dylan Cozens, Quinton Byfield and Philip Tomasino. In just three matches, Cozens and Byfield have each recorded themselves a six-point night and sit No. 2 and No. 3, respectively, in points among players with the same number of games played.
Cozens, a native of Whitehorse, has already matched his points total from last year's tournament. Heading into the game against Finland, the Buffalo Sabres prospect leads Canada with nine points (four goals, five assists), an average of 3.5 points per game. He is best known for his exceptional shooting ability, hockey sense, size, speed and strength. Currently trailing Team USA's Trevor Zegras by a single point, Cozens will look to reclaim possession of the 2021 World Junior Championship points leader title on Thursday.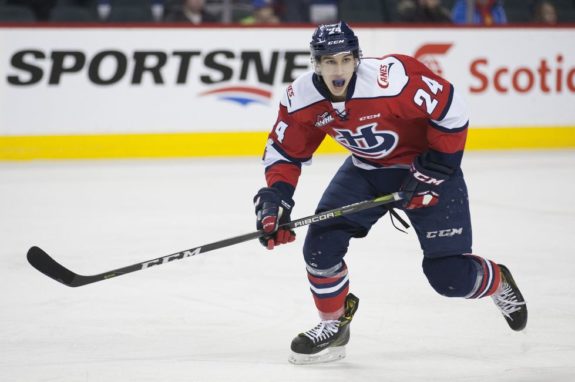 The second-overall selection of the 2020 NHL Entry Draft, Los Angeles Kings prospect Byfield trails Cozens by only two points and is coming off a six-point game against Team Switzerland on Tuesday. With seven points (two goals, five assists) in three games, the Newmarket, Ontario, native currently ranks sixth in tournament points. After a slow start, Byfield seems to have found his game and looks to carry his momentum into Canada's matchup against Finland.
Nashville Predators prospect Tomasino brings up the rear of Canada's top-three points leaders at the tournament, so far. Hailing from Mississauga, Ontario, he's recorded six points (four goals, two assists) in three matches. His tournament has been highlighted by consistent performance, scoring at least one point in each of Canada's matchups. He will look to keep his impressive streak alive versus Finland and help carry Canada to first-place finish in Group A.
Lundell and Niemelä Making Names for Themselves With Finland
Although Finland has only three players ranked top-20 in points, they are a force to be reckoned with. Anton Lundell and Topi Niemelä have highlighted the strong Finnish side through their first three games of the tournament.
Lundell, drafted 12th overall by the Florida Panthers at the 2020 NHL Entry Draft, currently leads Finland with six points (three goals, three assists). The Espoo native is making a name for himself as Finland's star player at the 2021 World Junior Championship. Already a highly touted player heading into the tournament, he continues to prove why he was selected in the first half of this year's draft with strong performances in each of his preliminary matches. Canada will be the toughest test he's faced yet, but he is well-poised for the challenge as one of Finland's top rising stars.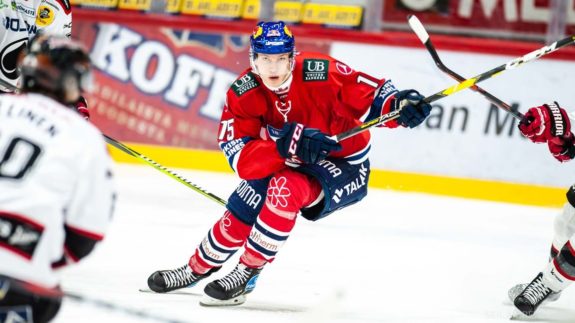 Tied for the Finnish lead in points, Toronto Maple Leafs prospect Topi Niemelä has also impressed with six points (two goals, four assists) in three games. The Oulu-native defenceman is currently averaging two points per game and is tied for the team lead in assists with fellow Maple Leafs prospect Roni Hirvonen. Although he, a third-round pick (64th overall), was selected quite later than fellow points leader Lundell in this year's NHL Entry Draft, he continues to prove that draft rank isn't always indicative of skill set.
The puck drops for this highly anticipated game Thursday at 6 p.m. ET. The winner of the match will clinch first place in Group A and become the sole undefeated team at the 2021 World Junior Championship. A high-stakes, star-studded battle between two strong countries — hockey fans won't want to miss this one.
All the 2021 World Junior Championship Team Information:
Austria — Team Preview — Roster
Canada — Team Preview — Roster
Czech Republic — Team Preview — Roster
Finland — Team Preview — Roster
Germany — Team Preview — Roster
Russia — Team Preview — Roster
Slovakia — Team Preview — Roster
Sweden — Team Preview — Roster
Switzerland — Team Preview — Roster
USA — Team Preview — Roster
Selection Camp Invites by NHL Team
Draft Eligible Players to Watch
One Player to Watch for Each World Junior Team
7 Predictions for the 2021 World Junior Championship
---
---