Slovakia came into this tournament without a lot of expectations placed upon them by the hockey world. Ranked ninth in the IIHF World Ranking, the focus for Slovakia was on their trio of 16-year-old skaters. Now after a first game win against Switzerland and a surprising low-scoring tight game against Canada, expectations are changing for the Slovaks.
A Defeat Can Still Be a "Win"
The Slovaks were in this game against Canada from puck drop until 13 seconds remained in the third period. This is the same Canada team that put up 16 goals on Germany 24 hours earlier. Obviously, there are circumstances that contributed to that goal total, but on paper, Slovakia looked like they too might be easy pickings for the Canadian juggernaut.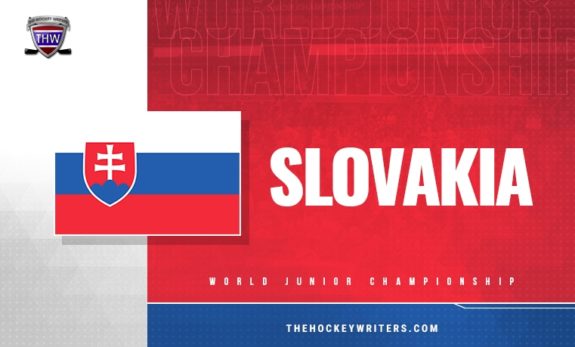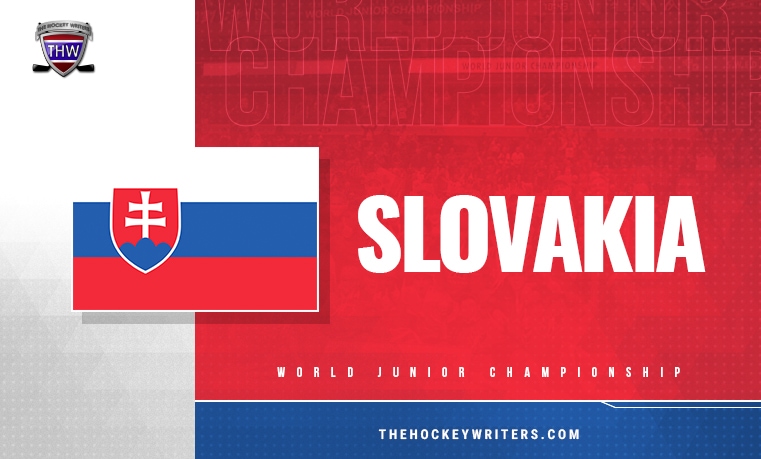 Instead, Slovakia built upon their successes from their victory against Switzerland and dragged the Canadians into a low-scoring slog. In their own end, Slovakia avoided costly defensive breakdowns and clogged up the middle of the ice. They took away shooting lanes and forced the Canadians to settle for less dangerous scoring chances. Ray Ferraro on the TSN telecast summed it up perfectly as the second period wound down.
"Well I can safely say I did not expect this. Just 16 shots for Canada here late in the 2nd period. I thought they would be able to generate a little more, I thought their forecheck and speed would open up the Slovak defense, it just hasn't happened. So while you can expect or hope for a little more from Canada, you've gotta look to Slovakia and tip your cap to them. They've done a pretty terrific job playing the game that they have to play against Canada"

Ray Ferraro (@RayFerraro1040): TSN Telecast with 26 seconds left in the 2nd period
It wasn't just defensively that the Slovaks played well. In their game against Germany, Canada out-shot the Germans by a margin of 44 to 15. Slovakia limited Canada to 23 shots while registering 18 of their own. It took them some time to get the offense going, but once they did, the Slovaks forced Canada's goaltender, Devon Levi to make saves to keep his team in the game. This game, in spite of the result, was loaded with positives that Slovakia can build on for the rest of the tournament.
Chromiak Finds the Scoreboard
Great shooters find a way to score goals. Martin Chromiak is an elite shooter and with his team down two goals in the final minutes, his shot finally found twine.
It's not over YET, Slovakia cuts the lead to 1 late in the 3rd! pic.twitter.com/8Fhh55iz30

— TSN (@TSN_Sports) December 28, 2020
He registered two shots on goal against Switzerland and three shots on goal in this contest against Canada. The right-handed sniper is very comfortable operating from "Ovechkin's Office" in the left side circle. With the net empty and a sixth attacker on, Chromiak was able to get open and walk the puck forward a few feet before letting it fly. That's one that they call a "goal scorer's goal." If he can keep getting clean looks like this one, this won't be his only goal of the tournament.
Turnovers and Levi the Difference in the Game
It was ultimately two turnovers that undid the Slovaks in the third period. The second Canadian goal was created when Dylan Cozens poke-checked a puck away from young Slovak forward Juraj Slafkovsky. Philip Tomasino pounced on the loose puck and was off to the races. In the final minute after Chromiak's goal, a mishandled puck at the point by young defender Simon Nemec sealed the game.
Jack Quinn skated the puck down for the empty-net goal to seal the 3-1 victory for Canada. Those two mistakes are unfortunate blemishes on what was an otherwise nearly flawless game for Slovakia. The guilty parties for the Slovaks were two of their 16-year-old phenoms. It's a learning experience for them and should not tarnish the otherwise stellar game both players played.
RELATED: Team Slovakia Players to Watch at 2021 World Junior Championship
The Canadians had the first seven shots in the game and their first goal came on the seventh shot. After that, Slovak goaltender Samuel Hlavaj shut the door and the Slovak defense found their legs. From 4:08 into the first period to the end of the game, the Slovaks outshot the Canadians by a margin of 18 to 16. Some of these were very high-quality scoring chances and some were the power play.
Slovakia came THIS 🤏 close to tying it up pic.twitter.com/B99PWMEKxI

— TSN (@TSN_Sports) December 28, 2020
Levi made key save after key save keeping his team in the game. If Slovakia is able to duplicate their performance and put the same kind of pressure on the goaltenders of Finland and Germany, they may find themselves with a better result. Levi was sublime and ultimately a deciding factor in the game.
Samuel Knazko Has a Bright Future
I have hammered on Knazko on Twitter and in articles. I find him to be such a frustrating player at times. His skill set and talent package are so transcendent, but his decision making and consistency can be disastrous. When he's at his best and puts it all together he can a masterful defender and one of the best players on the ice. This was game was the best performance that I saw from him this season.
RELATED: Team Slovakia Needs Samuel Knazko to Step Up
Knazko was the leader his team needed him to be. The Slovaks run eight defenders but he led all of them in minutes. His 18:48 of ice time separated him from the next highest defender by 2:26. He still took a minor penalty, but at least this time it was just a minor. His back check on the Tomasino goal was almost enough to get the job done, but not quite.
Where he really shined this game though, was in implementing the defensive game plan. The Slovak defensive scheme contrived to keep Canadian shooters to the outside and clog up the middle with blue jerseys. This defensive scheme is very similar to the one the Columbus Blue Jackets have used effectively in the postseason against the Tampa Bay Lightning in 2019 and the Toronto Maple Leafs in 2020.
Coincidentally, it is the Blue Jackets who drafted Knazko in the third round of the 2020 entry draft. With this game, he proved that he can perform well in a John Tortorella-style defensive scheme.
What's Next?
The next challenge for the Slovaks will be this evening against a reinforced German team. The Germans will be hungry for redemption after an ugly defeat at Canada's hands. With newfound confidence in the wake of their match against Canada though, the Slovaks should expect themselves to win this game.
They have shown that they can play with one of the top teams in this tournament and keep it tight. A win against Germany would almost certainly secure third place in the group for Slovakia and a chance to advance. If they can keep their momentum going, there's no telling how far it could. take them.
All the 2021 World Junior Championship Team Information:
Austria — Team Preview — Roster
Canada — Team Preview — Roster
Czech Republic — Team Preview — Roster
Finland — Team Preview — Roster
Germany — Team Preview — Roster
Russia — Team Preview — Roster
Slovakia — Team Preview — Roster
Sweden — Team Preview — Roster
Switzerland — Team Preview — Roster
USA — Team Preview — Roster
Selection Camp Invites by NHL Team
Draft Eligible Players to Watch
One Player to Watch for Each World Junior Team
7 Predictions for the 2021 World Junior Championship
---
---
Jack Dawkins is a freelance scout, analyst and avid watcher of "way too much hockey." He has joined The Hockey Writers team to cover all things Washington Capitals, New Jersey Devils, Minnesota Wild, Los Angeles Kings, Arizona Coyotes and Florida Panthers. He's an absolute data hound and loves using stats and analytics to calculate and extrapolate data for analysis.