Welcome to the 2023 NHL Draft Superlatives column where I'll be taking a number of yearbook-style superlatives and assigning a winner to each from the 2023 NHL Draft class. Please keep in mind that all of this is subjective and is based on my opinions alone so don't get too up in arms if you don't agree with me on a few (or all) of these, though please feel free to share your thoughts on who you'd have as winners for some of these categories down in the comments.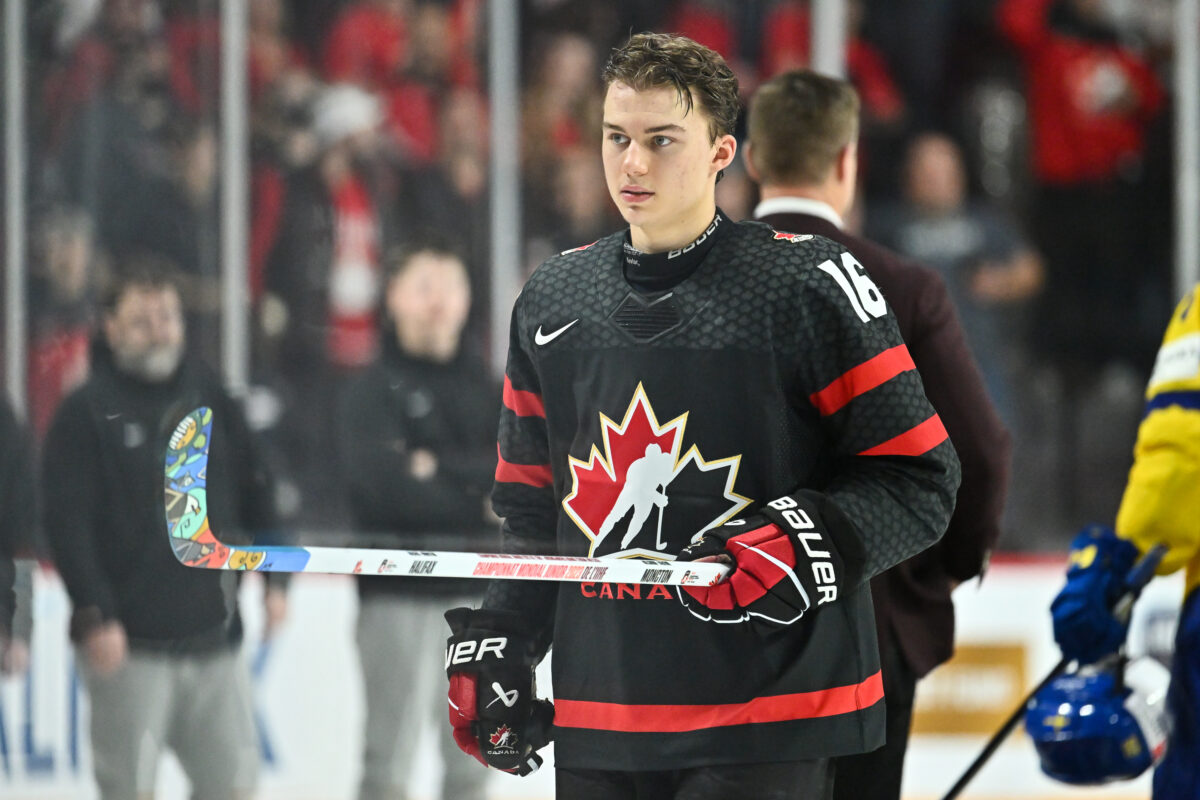 Who has the best shot? Who has the best chance to succeed in the NHL next year? Who will drop on draft day due to size? Those are the sort of questions I'm going to be sharing my answers for here today. The first few will have a list of runners up listed in no particular order as well so you can get a sense for some of the other prospects who excel in that particular area. Remember, this is all in the name of fun and is meant to give you an idea of who is great at what in this year's draft, just with a bit of a different format. With all that out of the way, let's get into it!
Best Skater
Winner: Oliver Moore (Runners up: Connor Bedard, Mikhail Gulyayev, Bradly Nadeau, Tom Willander, Dmitri Simashev)
Oliver Moore is easily the best skater in the 2023 Draft, with the power to accelerate remarkably quickly, and the edgework to dance around d-zone coverage with the puck. He projects as a high-end NHL skater as a result, with the speed and hands to provide his team with tons of controlled zone entries. Moore is going to be one of the better skaters in the NHL from the first moment he steps on the ice and has the potential to be an impactful top-six center.
Best Shot
Winner: Connor Bedard (Runners up: Matvei Michkov, Colby Barlow, Andrew Cristall, Brayden Yager, Bradly Nadeau)
This one's a no-brainer, with Connor Bedard clearly possessing the best shot in the draft. In fact, Bedard will have the best shot on the Chicago Blackhawks as soon as they select him, and has the power and crafty release to become one of the very best shooters in the entire NHL.
Related: 2023 NHL Draft Guide
---
Latest News & Highlights
---
That top group in the entire league would include guys like David Pastrnak, Auston Matthews, Leon Draisaitl, and maybe Elias Pettersson (among a few others), so for Bedard to even have a chance at cracking that group as a teenager is impressive. The way he adjusts the release point of his shot immediately before shooting is remarkable and will make him a nightmare for NHL goalies as soon as next Fall.
Best Hockey IQ
Winner: Matvei Michkov (Runners up: Gabe Perreault, Mikhail Gulyayev, Connor Bedard, Axel Sandin Pellikka)
Matvei Michkov has one of the most impressive hockey minds that I've ever seen, with elite instincts for manipulating goalies, defenders, shooting lanes, and more. Even when he doesn't have the puck, Michkov is often controlling the entire offensive zone due to his gravity (defenders are always thinking about him), and his ability to find space and time regardless of defensive coverage.
Best Hands
Winner: Connor Bedard (Runners up: Matvei Michkov, Leo Carlsson, Adam Fantilli, Zach Benson)
Another no-doubter for Bedard here who terrorized WHL defenders and goalies this year with his absurdly quick and skilled hands. Bedard has incredible control of the puck even through high-skill moves and can string together multiple such moves with seemingly no difficulty. I'll just leave you with this clip you've likely seen a hundred times already of Bedard's hands at the 2023 World Junior Championship.
It fees like Bedard's hands speak for themselves at this point. His ability to manipulate defenders' skates and sticks with his own body positioning opens up so many opportunities for Bedard's hands, as you saw in the video above.
Best Playmaker
Winner: Will Smith (Runners up: Connor Bedard, Zach Benson, Adam Fantilli, Gabe Perreault)
Will Smith wins a close one here as the best playmaker in the class, narrowly beating out guys like Bedard and Zach Benson. I went with Smith because he is so sneaky and elusive with the puck, drawing tons of attention before sliding the puck to a wide-open teammate who is often sitting in front of an empty net. He's incredibly skilled with the puck and is more than willing to make the extra pass if a teammate will have a better scoring chance.
Best Compete Level
Winner: Zach Benson (Runners up: Adam Fantilli, Gavin Brindley, Ryan Leonard, Charlie Stramel, Ethan Gauthier)
This one was surprisingly difficult to decide on, but I ended up with Zach Benson as the most competitive player in the draft class. Benson may not have the size or physicality that is typically associated with highly competitive players, but he gives his all on every single shift and it shows. Despite measuring at 5-foot-10, Benson was one of the very best defensive forwards in the Canadian Hockey League (CHL) this year, which also makes him one of the best defensive forwards in the 2023 Draft. He is an absolute nuisance on the forecheck and gives his all on puck battles, winning a lot more of them than you'd expect from someone of his size.
Best Frame/Athleticism
Winner: Adam Fantilli (Runners up: Daniil But, Charlie Stramel, Dmitri Simashev, Ryan Leonard)
To qualify for this list, I only picked players who have either elite size and/or athleticism, as well as the skating ability to make real use of their physical gifts. In the end, Adam Fantilli was the winner with a great frame for an NHL center (6-foot-2, 187 pounds), great natural athleticism, and high-end skating.
Most of the rest of the players on this list earned their spot because of an intriguing frame, but Ryan Leonard deserves some attention for cracking my list here while only standing at 5-foot-11. Leonard is one of the most athletic draft-year prospects I've ever seen and will likely be a top-10 athlete in the NHL during his prime.
Most Likely To Succeed in the NHL Next Season
Winner: Connor Bedard
Yet another easy choice, with Bedard being one of only two players that I'm sure will play in the NHL next year (Fantilli being the other one). He will have every chance to succeed in the NHL next year in Chicago, likely at the center position, and will play tons of minutes both at even strength and on the power play where he will almost certainly rack up his share of goals. Outside of Fantilli and Bedard, I could see someone like Samuel Honzek or Nate Danielson making their way into an NHL lineup next season if they land in the right spot, but I highly doubt they'll rival Bedard's rookie-year success. 
Most Likely To Compete in the NHL All-Star Hardest Shot Competition
Winner: Daniil But
Daniil But has gone under the radar a bit this year, as many Russian prospects will, but he is worthy of note for his massive frame (6-foot-5), and his shot which is heavy with a capital "H". Now, for But to actually make the All-Star skills competition with the NHL's current rules, he would need a lot of things to go right in his development, but if the NHL decides to follow the example of the NBA and bring in specialists for the skills competitions, then But will likely be a shoe-in to compete for the Hardest Shot at some point in his career.
Most Likely To Get Fans out of Their Seats
Winner: Connor Bedard
There was never a doubt in my mind that this would be yet another win for Bedard. Few players in this draft class have the guts to even try the things that Bedard regularly pulls off, tearing through defenses at full speed and putting on a show whenever he has the puck.
Related: 2023 NHL Mock Draft
Every time he's on the ice, it's worth paying attention to Bedard because he's bound to make an exciting play or two each shift. He's a human-highlight reel and you'll being seeing lots of his plays on social media for the next decade or so.
Biggest Draft Year Riser
Winner: Tom Willander
There were lots of players who could fit in this category, with David Reinbacher and Axel Sandin Pellikka becoming the consensus top-two defenders in the class despite both of them being relatively unknown before the season. However, Tom Willander, was a relative unknown for many fans until May where he excelled on Sweden's second pairing at the U18 World Juniors, likely giving himself a chance at being drafted in the top-20. He's an excellent skater and has a right-handed shot which means he has a ton of value even if his offensive game doesn't develop much further.
Biggest Draft Year Faller
Winner: Cam Allen
As the 2023 Draft cycle began last summer, it wasn't a question of if Cam Allen was the best defender in the class, but of how high he'd be selected in the top-10. Just about everything went wrong for Allen this year, and his draft projections reflect that.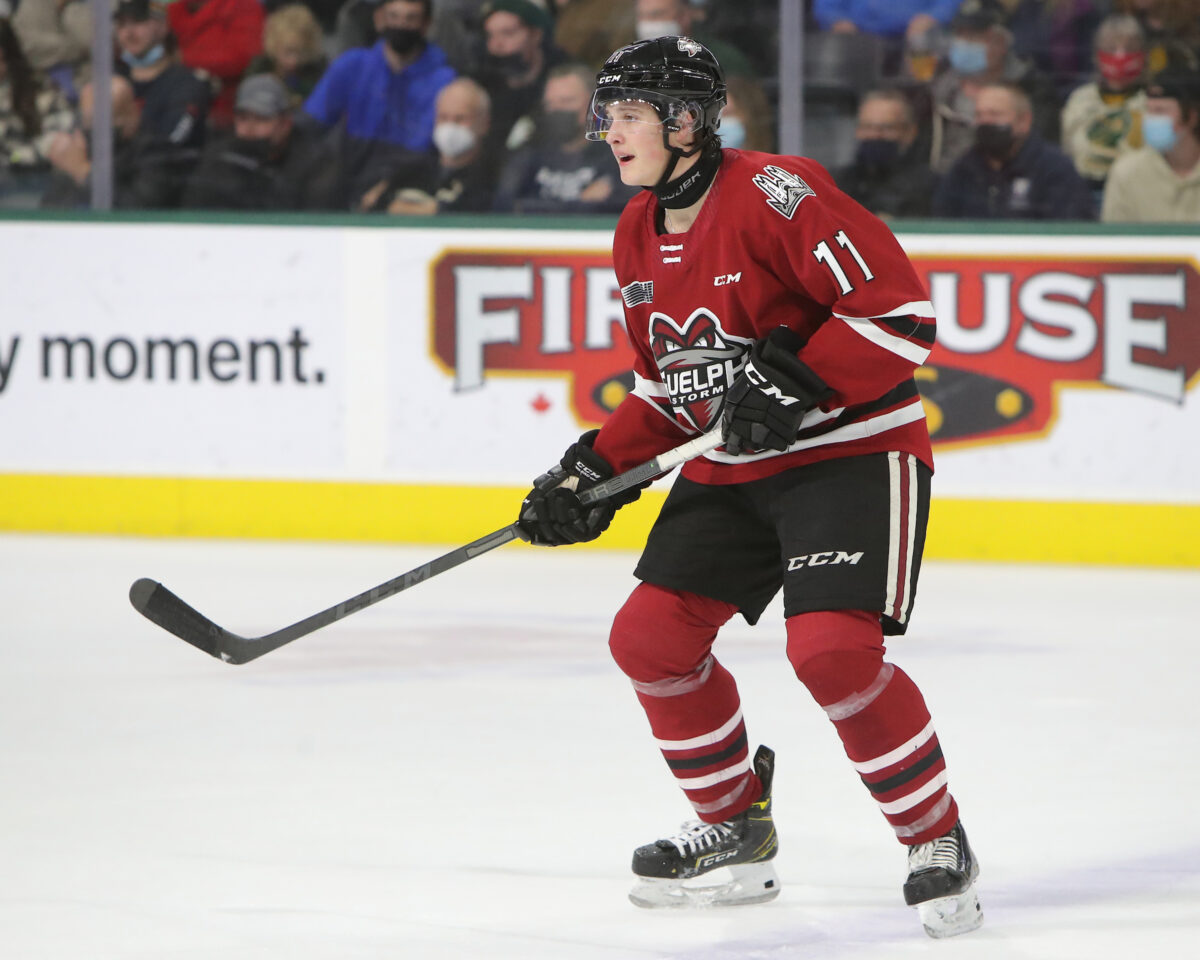 After being a consensus top pick in September, he has fallen to the point that ranking him in the early second round seems like a reach. Allen's disappointing OHL season was followed up by another disappointing showing for Canada at the U18s which likely dispelled any chances of him going in the top-40 picks.
League with the Most Top Prospects
Winner: Western Hockey League (WHL, and it's not particularly close)
The 2023 WHL group is excellent, with a great deal of first round talent this year coming out of Western Canada (and the North Western United States). There's Bedard, Benson, Nate Danielson, Andrew Cristall, Samuel Honzek, Riley Heidt, Brayden Yager and many, many more great prospects who will be selected in the first few rounds of this year's draft. There were questions about how this age group would bounce back after missing a year of development during the pandemic, but they've shown no signs of being slowed down or held back. 
Most Underrated/Underappreciated Prospect
Winner: Gracyn Sawchyn 
Gracyn Sawchyn has gone under the radar this whole season as a result of playing on the stacked WHL champion Seattle Thunderbirds. Sawchyn spent the first half of the season regularly on the second line before the additions of Brad Lambert and Dylan Guenther bumped him to a third line role. However, Sawchyn's production and effectiveness didn't waver in a smaller role. He thrived in any lineup spot given to him, with the speed and hands to be effective in a variety of roles. I think he's got top-six potential, with a very safe projection as a middle six forward.
Best New Trend
Winner: Plenty of Right Handed D in the first two rounds
One of the biggest needs across the NHL in the last decade has been good right-handed defenders, and NHL GMs, as a result, have been prone to overspend for them on the trade market. Thankfully, this year's draft has a great deal of talented right defenders near the top of the draft, with varying playstyles.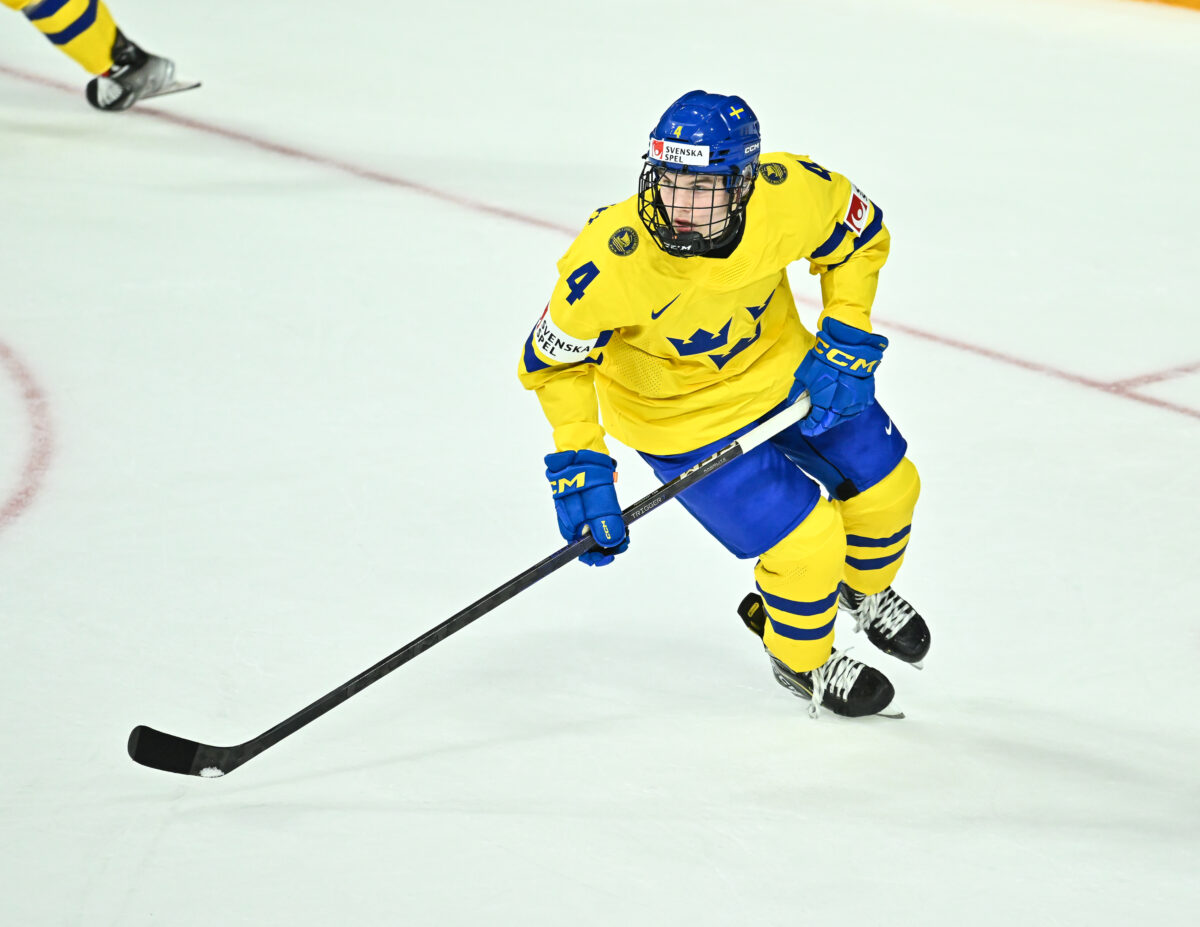 Reinbacher and Willander are more of the polished defensive types with two-way potential while Sandin Pellikka and Lucas Dragicevic are more like your traditional offensive defender. Oliver Bonk, Maxim Strbak, Gavin McCarthy, Hunter Brzustevicz and Beau Akey are also very good right-defense prospects who are likely to be in play during the first two rounds. 
Best "Production Doesn't Tell the Whole Story" Prospect
Winner: Dmitri Simashev
Dmitri Simashev will be an interesting player to watch on day one of the 2023 Draft, because he has the tools to be a smart pick in the top-16 area, but his lack of points and the Russia factor this year will likely see him fall a ways past that spot. Simashev is an extremely smooth skater, and his size/reach (6-foot-4, 201 pounds) allows him to defend quite well with either his stick or body, even against pros. He spent the first portion of his season in the KHL as a 17-year-old, an impressive feat in itself, and the rest in the top Russian junior league (MHL). Simashev played tons of minutes in junior, but not on the powerplay as his team is home to many other great defensive prospects who were given priority in those situations. I believe Simashev has a great deal more offense to his game than his counting stats show, and I think whoever drafts him is getting a future top-four defender.
Most Likely to Outperform Expectations
Winner: Gavin Brindley 
Gavin Brindley is one of my favourite players in this draft and I think he's a clear first-round talent. Should he fall into the second round or later, Brindley would immediately be in "draft steal" territory. He's one of the most competitive players in this year's group, with enough energy to drive a line despite his lack of size (5-foot-9). Brindley has tons of offensive skill which will give him a chance to be a top-six winger, but he works hard enough and is good enough in puck battles to play as a bottom-six winger if the skill doesn't really pop at the NHL level. 
Most Likely to Slide on Draft Day
Winner: Andrew Cristall 
Andrew Cristall's lack of size and his sub-par skating have made this a likely result on draft day. He's been a public scouting draft darling all year, with the smarts and skills to lead a mediocre Kelowna Rockets team all year as a draft eligible player. He also nearly kept pace with Bedard points-wise in the WHL until he missed some time with an injury. Cristall didn't do himself any favors at the U18 WJC where he could have stood out and really solidified himself as a top-16 guy in the draft, but he is an immensely talented prospect and has the potential to be a top-line contributor if he is developed well.
Most Likely to Rise on Draft Day
Winner: Tom Willander
Willander was ranked 11th among International skaters in the NHL Central Scouting Bureau's final rankings, which likely projects as a late first or early second round pick. However, his great showing at the U18s came just after the ranking and will likely elevate him into the top-20 conversation. There's a world where Willander is drafted before Sandin Pellikka (ASP), mainly because of his size and the confidence that teams will have that he will defend well in the NHL, at least compared to ASP.
Most Likely to Slide on Draft Day Due to Size
Winner: Jayden Perron
Brindley and Cristall were also in consideration here, but I think that they will both be taken in the first 40 picks or so, while Jayden Perron could slide even farther. Perron is 5-foot-8 and 157 pounds of pure smarts and playmaking. He doesn't have the size or physicality that team's often look for, but his playmaking is so great that some outlets have him ranked as high as 11th overall (Dobber Prospects).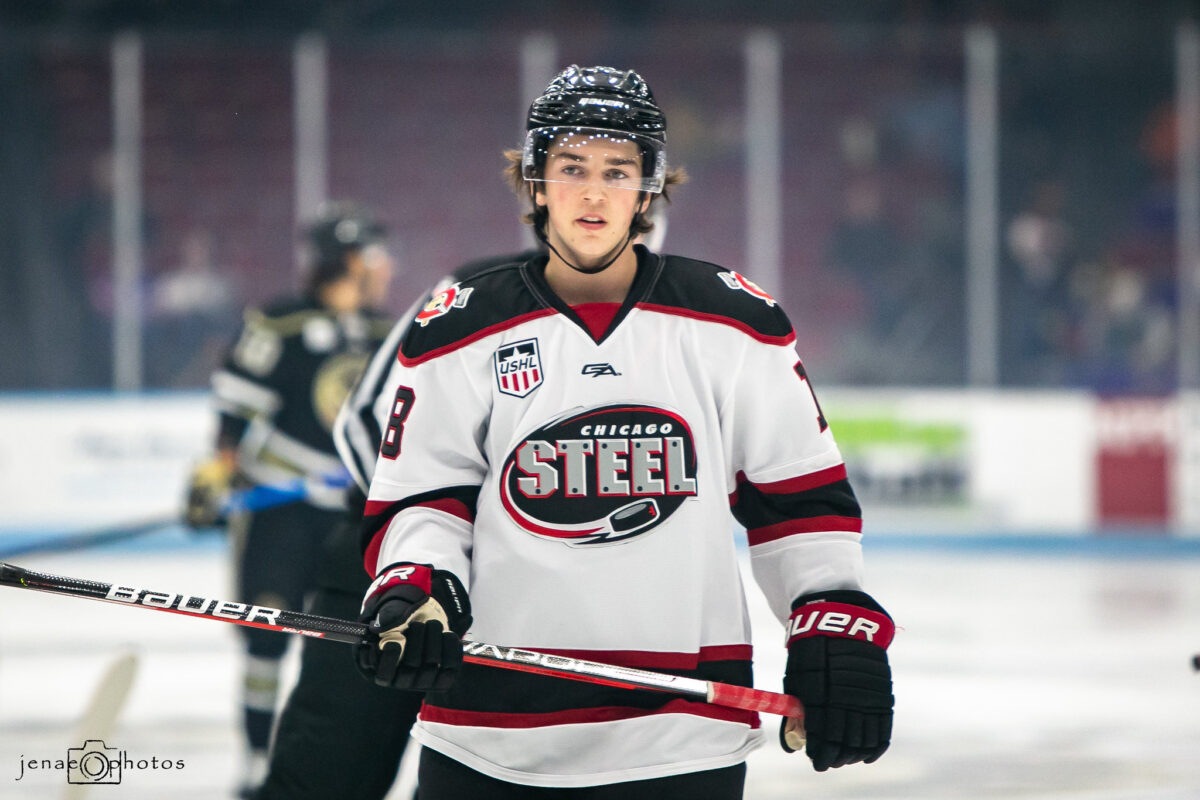 Few players can re-locate off puck like Perron can, as he constantly seems to be in a great spot to make a play. However, there are so few NHL players who look like Perron (skill/size wise) that it's very likely he'll fall considerably. NHL Central Scouting ranked him 43rd among North American skaters which is a late second/early third round slot.
Most Likely to Rise on Draft Day Due to Size
Winner: Charlie Stramel
Charlie Stramel has been a fascinating prospect to watch this year, with all the physical tools in the world (6-foot-3, 216 pounds, good skating) but not enough hockey sense to really take advantage of them. He wins faceoffs, crushes opponents into the glass, and is very active physically, but he doesn't create much offensively. Granted, he looked better with Team USA at the World Juniors than he did in the NCAA on a disappointing University of Wisconsin team so perhaps his offensive woes are more due to team quality rather than a lack of skill on his end. I don't think he will be a top-six forward, but I expect an NHL team to reach on him a little bit within the top-24 picks or so due to his NHL frame and his physical style.