With the Anaheim Ducks celebrating their 30th anniversary this season, now is the perfect time to look back. In the last 30 years, the Ducks have made history — from the Disney days to winning the first Stanley Cup in California and the decade of contention that followed – and there is no shortage of moments that have amazed fans and propelled the franchise to new heights.
This is the second installment of the countdown, and numbers 30-26 can be found here.
25. Ryan Getzlaf vs. Joe Thornton
The San Jose Sharks were the class of the NHL in 2009, winning a league-high 53 games en route to their first Presidents' Trophy. The Ducks, while only two years removed from their Stanley Cup run, needed to go on a heater in the final month to lock up the final playoff spot. An 11-5-2 run was required to set up a heavyweight first-round matchup between the in-state rivals.
Related: Revisiting Ducks' 1st-Round Upset of Sharks in 2009
---
Latest News & Highlights
---
As one could expect with a former champion and a hopeful contender, the series' first five games were a battle for every inch. Three of the games were decided by a single goal, and it would have been a fourth if not for a Ryan Getzlaf goal late in Game 1 to secure a 2-0 victory. With San Jose facing elimination and the series on a razor's edge, Sharks superstar Joe Thornton met with Getzlaf to take the opening faceoff. Once the puck dropped, hockey became secondary as the two centers were locked in a fight.
In 2009, Thornton was already well-established as one of the greatest passers of his generation. He also tended to antagonize some of the younger players on opposing teams. Getzlaf, 23, was an ascending star with a 91-point regular season, but his willingness to get physical led to 121 penalty minutes. The fight itself wasn't memorable, and Thornton was certainly the winner after a few spins and the eventual takedown. Symbolically, the fight meant much more. Getzlaf got the better of Thornton on the ice throughout the series, and Anaheim went on to win Game 6 to clinch the series. A little over a year later, Getzlaf was named the Ducks' captain.
The first round of the 2009 Playoffs became an instant classic, and we'll come back to this series later in the countdown.
24. "That Was for Me"
Every season, the Ducks reserve a spot on their opening night roster for a fan who "embodies characteristics such as great perseverance, character, courage, and inspiration." The program is called the 21st Duck, and it has helped create tremendous memories for deserving individuals. In 2017, the team announced 17-year-old Katie Hawley as the 21st Duck. Katie had defeated cancer multiple times and received a third diagnosis in 2016. She credited watching the Ducks as motivation to beat it for a third time.
Part of the opening night festivities as the 21st Duck includes being brought out onto the ice as if they were any other rostered player. Katie was helped onto the ice by Corey Perry and Rickard Rakell, and she told them they both had to score. Perry had a multi-goal game, but it was Rakell, Katie's favorite player, who provided the dramatics. His late goal broke a 4-4 tie and helped the Ducks beat the Arizona Coyotes. Television cameras were fixed on Katie, who could be seen smiling and shouting, "That was for me!"
While the 2017-18 season never quite matched the high of its opener, the bond between Rakell and Katie was a bright spot. He was named to the All-Star Game for the first time in his career, and Katie got to join him as a junior reporter in Tampa.
23. That's Not Bobby Ryan's Stick
Not every memorable moment is going to be serious. Sometimes something happens that's so absurd that it just becomes a legend. Andrew Shaw turning into Abby Wambach and trying to score with his head during a double-overtime playoff game in 2015 comes to mind. But on Dec. 12, 2010, Bobby Ryan scored one of the strangest goals that will ever be scored and still managed to count, even if it shouldn't have.
In a game against the Minnesota Wild, Ryan was on the ice while Minnesota's Mikko Koivu lost his stick in the corner. Instead of retrieving it, Koivu found the next closest stick, undeterred that it was Ryan's and he was still using it. After getting pickpocketed, Ryan joined a board battle in the corner before circling back and picking up Koivu's lost stick. He parked at the backdoor of the goal, and a rebound found him for the easy score. For good measure, Ryan showed off his "new" stick to Koivu before the rest of the Ducks gathered to celebrate.
Koivu petitioned to get the goal disallowed, and he did have a point. The rules state a player can retrieve a stick from just about anywhere, but they cannot pick up and play with a stick belonging to an opponent. Koivu's case could have been stronger if he hadn't finished his shift holding an equally illegal stick. Adding another layer to the legacy of this goal is that Koivu is left-handed, meaning the right-handed Ryan scored a goal with an off-hand stick.
22. Ducks Shine in Dodger Stadium
Outdoor hockey in Los Angeles seems like a logistic nightmare when 90-degree weather is never further than a seven-day forecast away, but Mother Nature was forgiving on Jan. 25, 2014, when Dodger Stadium hosted the Ducks and hometown Kings. Five months later, these two teams faced each other in the playoffs for the first time – Los Angeles won the series and, eventually, the Stanley Cup. But for that evening in Chavez Ravine, it was all about Anaheim.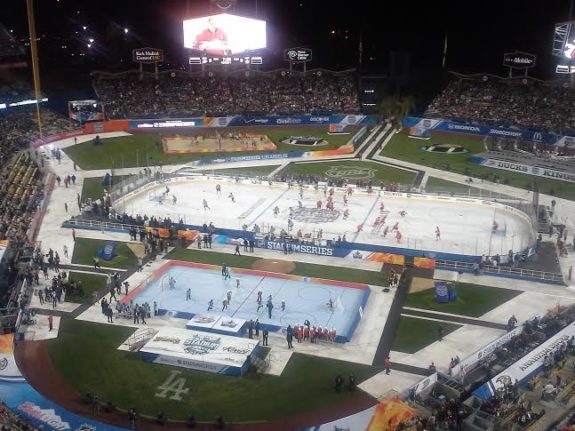 The Ducks scored twice in the first ten minutes and added an empty-netter, while Jonas Hiller stopped all 36 Kings' shots for the 3-0 victory. The crowd of 54,099 marked the largest audience in Ducks' history.
21. Paul Kariya and Teemu Selanne Together Again
While the Ducks were in their fledgling years as an organization and trying to build an identity that exists beyond the shadow of Los Angeles, they had the help of a superstar duo. Paul Kariya and Teemu Selanne are two of the most important figures to exist for any franchise, and their on-ice chemistry helped the Mighty Ducks establish themselves in the late 1990s. In a tough reminder that nothing lasts forever, Selanne was traded to the Sharks in 2001, and Kariya's final game in a Ducks uniform was their Game 7 loss to the Devils in the 2003 Cup Final. An unbiased hockey fan may remember the two reuniting in Colorado in 2005, but Ducks fans prefer to forget that.
While Selanne eventually returned to Anaheim, won a Stanley Cup, and assumed the title of the franchise's favorite son, Kariya left behind a more challenging legacy. He never had a triumphant return, and his reclusive post-NHL life made him a mythic figure. Eventually, signs of communication appeared between Kariya and the Ducks, resulting in him appearing in a playoff promo video in 2017.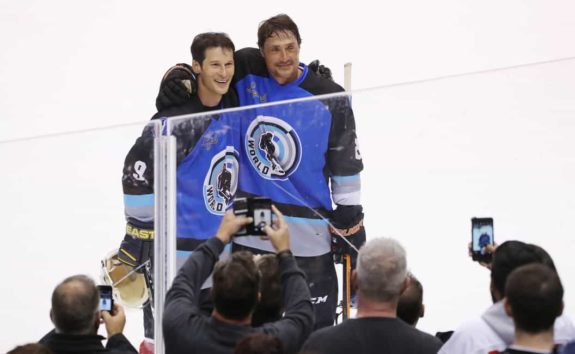 Selanne was a slam-dunk Hall of Famer when he became eligible. Kariya was a tougher sell, as injuries limited him to under 1,000 career games and points, though he maintained an exact point-per-game pace during his career (989 games, 989 points). By Selanne's first year of eligibility, Kariya had been on the ballot for a few years. Whatever conversations involving Selanne behind the closed doors of the Hall of Fame Selection Committee must have included his years with Kariya, because both were inducted into the Hockey Hall of Fame in 2017. After nearly 20 years as an organization, the Ducks finally had representation in the Hall, and it reunited the franchise's first dynamic duo.
In October 2018, the Ducks finally retired Kariya's number 9, forever placing his and Selanne's number 8 together in the Honda Center. We'll push into the top-20 moments in Ducks history next time. As promised, we'll circle back to the 2009 playoff series against San Jose to highlight a goaltending performance for the ages.
---

---