Born:
May 25, 1992
Draft:
2015 Pride #3 Overall
Hometown:
Palos Heights, IL
Position:
Left Wing
Known For:
6x WC Gold Medalist
Shoots:
Left
National Team:
United States
Current Team:
Chicago Blackhawks
(Development Coach)
Kendall Coyne Schofield (born May 25, 1992) is an American professional ice hockey player who is currently a member of the United States women's national ice hockey team. With the national team, she has won six gold medals at the IIHF World Women's Championships and the gold medal at the 2018 Winter Olympics. In 2016, she was the winner of the Patty Kazmaier Memorial Award. In January 2017, Coyne was recognized as the recipient of the NCAA Today's Top 10 Award.
She has also been a color commentator for the San Jose Sharks. In 2020, she was hired by the Chicago Blackhawks as a player development coach for their American Hockey League affiliate, the Rockford IceHogs.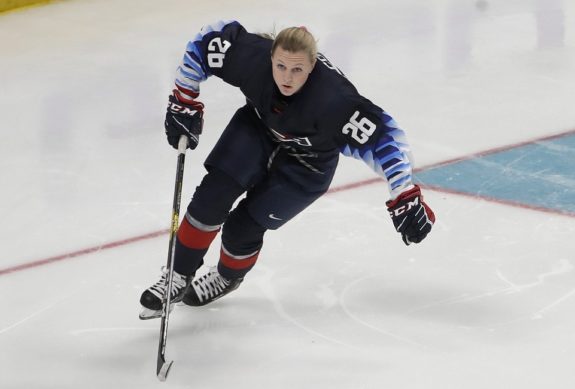 Kendall Coyne Schofield Statistics
Deeper Dive
Coaching History
West Coast Selects U14 (Assistant Coach) 2013-14
Chicago Blackhawks (Development Coach) 2020-present
Achievements
2x World Championship (W) Silver Medal (2012, 2021)
NWHL (W) Isobel Cup Champion (2019)
NWHL (W) Regular Season Champion (2019)
2x World Championship (W) All-Star Team (2017, 2019)
World Championship (W) Best Forward (2019)
6x World Championship (W) Gold Medal (2011, 2013, 2015, 2016, 2017, 2019)
2x World Championship (W) Top 3 Player on Team (2017, 2019)
Olympic (W) Gold Medal (2018)
World Championship (W) Most Goals (2017)
World Championship (W) Most Points (2017)
NCAA (W) Top Collegiate Player (Patty Kazmaier Award) (2016)
2x NCAA Top Female Collegiate Player (Patty Kazmaier Award) Finalist (Top-3) (2015, 2016)
World Championship (W) Best Plus/Minus (2015)
Olympic (W) Silver Medal (2014)
3x U18 WJC (W) Top 3 Player on Team (2008, 2009, 2010)
U18 WJC (W) Silver Medal (2010)
U18 WJC (W) Best Forward (2010)
2x U18 WJC (W) Most Goals (2009, 2010)
U18 WJC (W) Gold Medal (2009)
Sources