With the 2023 NHL Draft quickly approaching, the Anaheim Ducks will look to move on from their worst season in franchise history. While their NHL-worst 23-47-12 record wasn't rewarded in the draft lottery with the first-overall pick, all subsequent rounds are set by inverse point total. This means that they will be drafting at the top of each round, including the 33rd overall pick at the beginning of the second round.

The 2023 draft class is absolutely loaded. Connor Bedard and Adam Fantilli are near-certain stars, but there are NHL-caliber players up and down the board. Outside of the first handful of names, this is a wide-open class with a variety of pros and cons for each prospect. No matter how the order plays out, there will be plenty of players with first-round potential that will remain available on the second day of the draft.
For this exercise, I used FC Hockey's mock draft tool and ran several drafts before settling on these five names. With the assumption that the Ducks will select Fantilli with the second overall pick, my focus was on wingers, Anaheim's most depleted position group.
Oscar Fisker Mølgaard, LW/C, HV71 (SHL)
THW's Logan Horn has the Ducks selecting Oscar Fisker Mølgaard in this spot in his two-round mock draft with the belief that he can become a middle-six piece in the future. There's a lot to like about his game — he's a hard worker, very good at protecting the puck, and has a high hockey IQ for those "right place, right time" moments.
Related: Oscar Fisker Mølgaard – 2023 NHL Draft Prospect Profile
---
Latest News & Highlights
---
Since joining the Swedish Hockey League (SHL), Fisker Mølgaard has seen his draft stock rise considerably in the last year. He will need to continue to develop his offensive game, but Anaheim should have adequate play drivers to support his game by the time he arrives in the NHL. With the breadth of centers in the organization, he would most likely end up on the wing, and his high motor could place him on special teams units, especially the penalty kill.
Bradly Nadeau, C, Penticton Vees (BCHL)
In my first two-round mock draft, I had Anaheim taking a flier on the other half of the Penticton Vees' dynamic duo in Aydar Suniev. Bradly Nadeau is the higher-ranked prospect between the two, and he would be a fascinating choice for the Ducks if he falls out of the first round. He used his speed and tremendous shot to produce video game numbers this year (113 points in 54 games) in the British Columbia Hockey League (BCHL). The BCHL isn't necessarily a pipeline for NHL talent, and Nadeau's 5-foot-10 frame will bring into question his ability to translate his game to the higher levels. He's committed to playing at the University of Maine next year.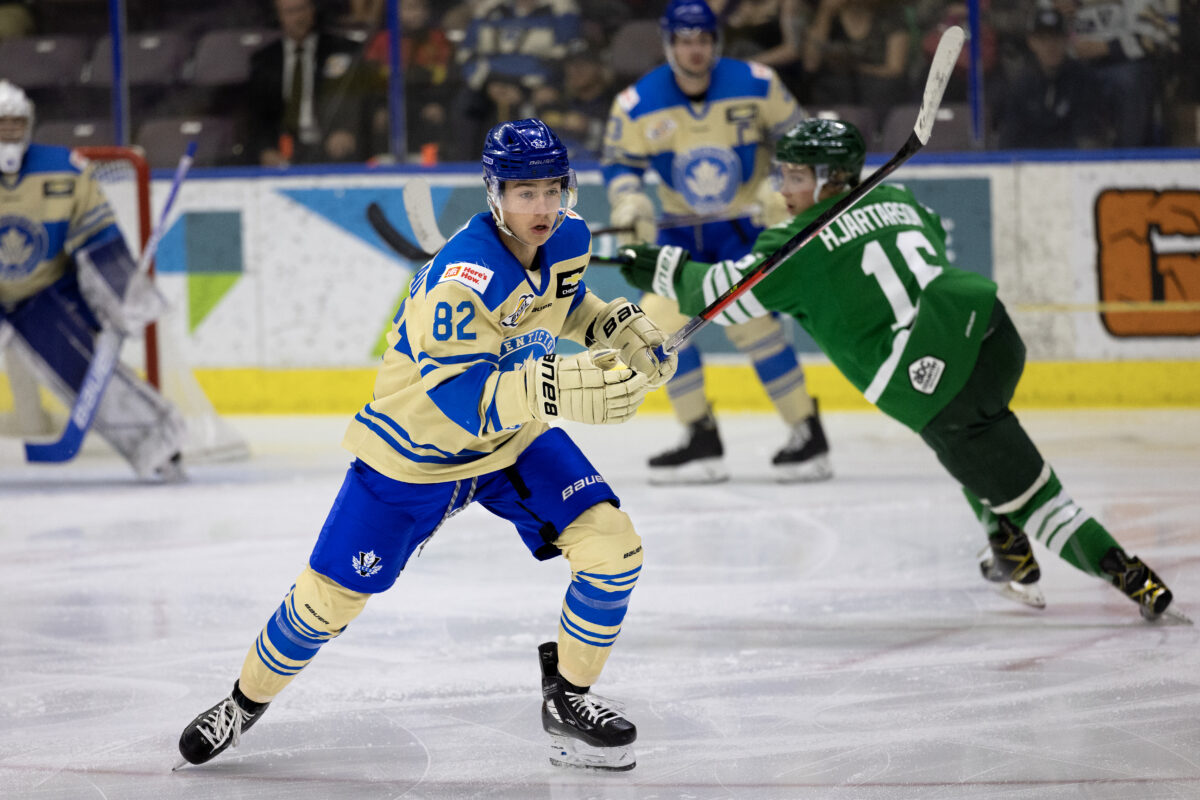 Here's a fun thought for Ducks' fans: an undersized prospect lights up the BCHL for over 100 points and makes the pivot to play college hockey in Maine. I'm obviously describing Nadeau, but 30 years ago I would be describing Paul Kariya. This isn't to say Nadeau is about to win the Hobey Baker Award and flourish as a career point-per-game player, but his path to the NHL isn't unprecedented even if it is unorthodox.
Ethan Gauthier, RW, Sherbrooke Phoenix (QMJHL)
In his first draft as general manager of the Ducks last year, Pat Verbeek used three of his first four picks on players from the Quebec Major Junior Hockey League (QMJHL). One of the problems plaguing the Ducks is they are too easy to play against. Verbeek's selections from the QMJHL — Nathan Gaucher, Noah Warren, and Tristan Luneau took strides to address this issue. They're big and physical, and they'll bring a level of sandpaper to the Ducks that's been missing from the roster for several years. Ethan Gauthier, if selected by Anaheim, would be a continuation of the trend.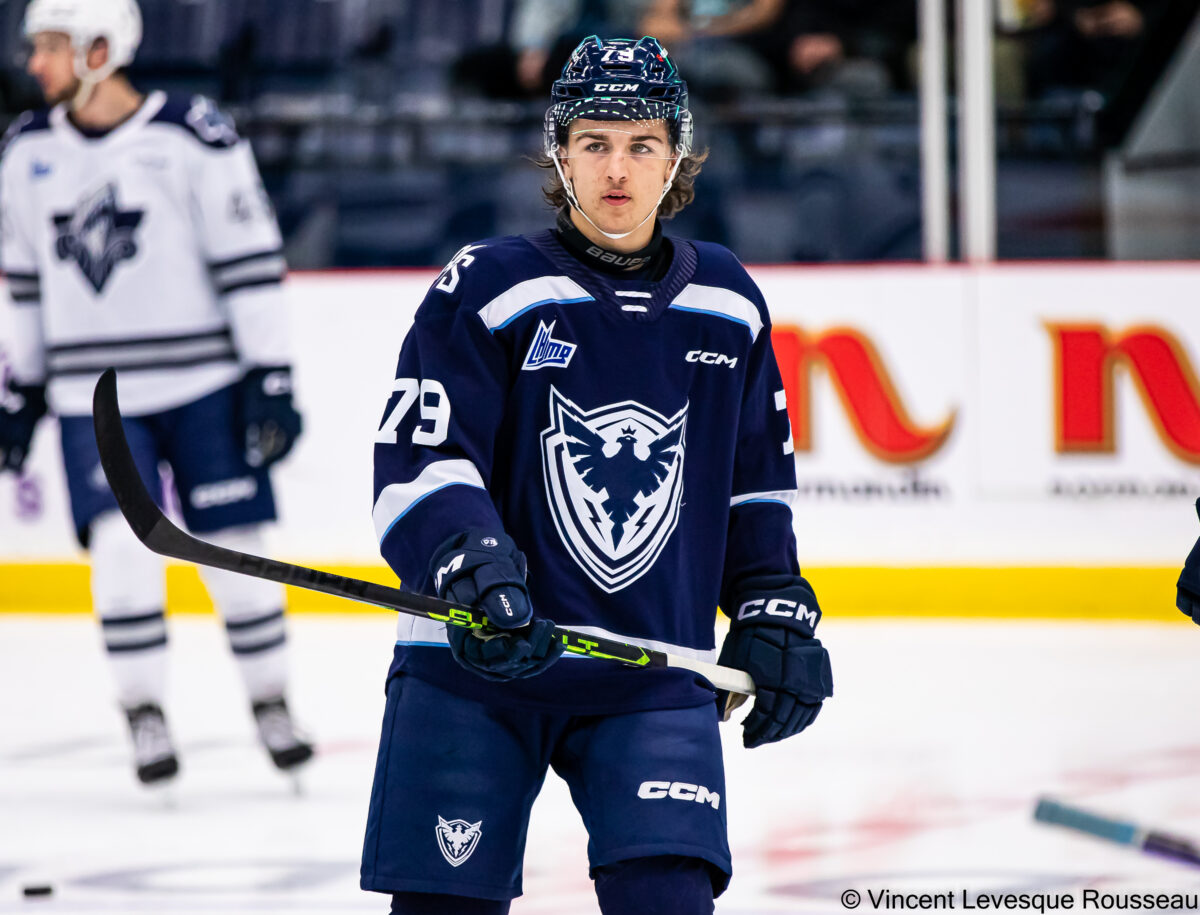 While he may not have the size of last year's selections, he plays a full 200-foot game, including a persistent forecheck and a willingness to battle along the boards. Offensively, he's solid with or without the puck and can help his teammates by finding open spaces or battling in front of the net.
For a full look at Gauthier, check out his draft prospect profile.
Roman Kantserov, RW, Stalnye Lisy Magnitogorsk (MHL)
Roman Kantserov is a polarizing prospect, primarily due to his size. He's shown fantastic playmaking abilities in the Molodezhnaya Hokkeinaya Liga, Russia's junior hockey league. The risk comes in the form of his 5-foot-9 frame. Undersized players have a place in the modern NHL, but hockey's a brutal contact sport. If Kantserov can avoid the big hits, he has the tools to be a great middle-six winger.
Kantserov could end up being selected anywhere from the late teens to the end of the second round. If the Ducks believe in his talent and expect him to be taken before their back-to-back picks near the end of the second round, I can see them selecting him at 33rd overall.
His full draft prospect profile can be found here.
Daniil But, LW, Loko Yaroslavl (MHL)
If Kantserov's size is too big of a risk to take, Verbeek could consider Daniil But. But, like Kantserov, he has draft projections up and down the first two rounds. At 6-foot-5, he's one of the biggest players in this year's draft class. His acceleration needs improvement, and he isn't as physical as you'd anticipate for someone of his size. Both of these seem like they are symptoms of a teenager growing into their body, but there's the inherent risk these never improve and tank his NHL potential.
It's easy to picture But as a Tage Thompson-like player that can continue to develop and eventually use that large frame to create a world-beating shot. Paired with one of Anaheim's playmaking centers, he could have plenty of opportunities to fill the net in the top-six or on the power play.
Final Thoughts
While these are five of the more interesting choices for the Ducks at 33rd overall, this isn't meant to be an exhaustive list. Draft boards change with the wind, and I would expect a handful of these names could be gone before the second round. As far as Anaheim is concerned, this would mean a different first-round talent has fallen to them.
---
---