Regardless of the sport, being traded for an all-time great is never an easy thing for the player going in the other direction. With that said, being the guy who the Edmonton Oilers got in return for Wayne Gretzky is an altogether different beast. This was the hand Jimmy Carson was dealt during the summer of 1988.
Ultimately, the situation proved too much for the 21-year-old to handle but it was not a total loss for the organization. After all, the former Los Angeles Kings standout still managed to play an important role in helping Edmonton secure their fifth Stanley Cup in seven years during the 1990 playoffs…albeit in a roundabout way.
Good Luck Following Gretzky
After putting together an extremely productive but equally stressful season in Oilers silks, the second overall selection in the 1986 NHL Entry Draft demanded a trade out of the Alberta capital. Problem is, said "request" wasn't made until a week and a half into the 1989-90 campaign and was followed by Carson's decision to quit the team after all four games. Far from an ideal situation but there was never anything ideal about this forced marriage.

Let's not forget, it was Peter Pocklington who was looking to sell his star attraction and it had zero to do with his general manager. It's no secret that once Glen Sather got involved and tried to get pieces on top of the $15 million Bruce McNall agreed to pay for No. 99, his target was Luc Robitaille but was told he would have to settle for Carson. Not surprisingly, the move didn't sit well with the player but both sides tried to make it work during the 1988-89 season.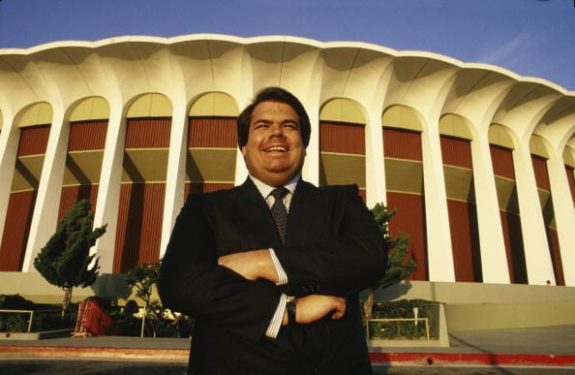 In the end, Carson would get what he wanted by landing in his hometown of Detroit but not before the Red Wings were forced to pay a hefty price. The thought of moving the centrepiece of the "Gretzky Sale" after just one season was not exactly a desirable spot for a general manager to be in and made that much worse knowing it would have to be sold to a fan base that had yet come to grips with what had occurred on August 9, 1988.
Carson Wanted No Part of Edmonton
And yet, Sather was able to secure quite the haul and it changed everything. In acquiring a proven veteran scorer, Petr Klima, and a couple of promising youngsters, Adam Graves and Joe Murphy, it made moving the disgruntled pivot far more palatable to the masses. Not to mention the fact Carson not only walked out on the club but it made it abundantly clear he wanted no part of living in the "City of Champions".
---
Latest News & Highlights
---
In hindsight, the fact all three played crucial roles during Edmonton's unexpected run in 1990 made it all the sweeter and undoubtedly helped soften the blow, at least somewhat, of losing the greatest player to ever put on a pair of skates. When it was all said and done, the Oilers sent Carson, a fifth-round pick and Kevin McClelland to Detroit for Graves, Klima, Murphy, and defenceman Jeff Sharples. Not too shabby and to this day, remains one of Sather's finest deals.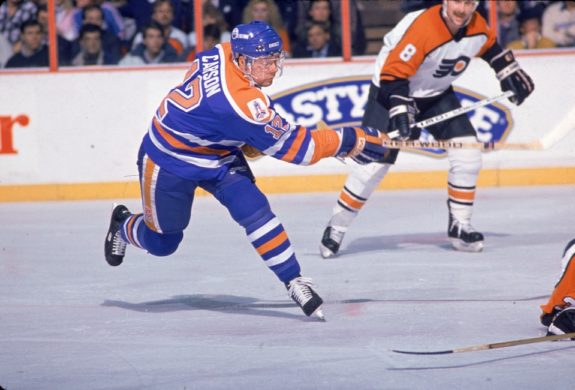 Despite having put together a 49-goal, 100-point campaign during his only season in Edmonton, it was clear the native of Southfield, Michigan wanted no part of playing in a Canadian hockey market. It appeared as though Carson was headed for NHL stardom after impressive rookie and sophomore campaigns with the Kings and that looked to still be the case following his lone season in Blue and Orange. Yes, he wanted out but he still had plenty of value.
Carson and Potential NHL Stardom
It was that potential that allowed Sather to ask and make the type of move he did. Not only did he get rid of a guy who wanted out of the organization but in the process, acquired a pair of highly-touted prospects. For all the championships this franchise won during the back half of the 1980s, it failed miserably at bringing quality prospects, be it via trade or draft, over that same time period. In other words, the return was a perfect fit.
You may also like:
Graves and Murphy were a few years away from hitting their peak but managed to find chemistry with fellow youngster Martin Gelinas and formed the aptly named "Kid Line". Though Gelinas potted 17 goals during his rookie season, the other two didn't start to hit their stride until late in the year. That success continued into the playoffs, as the trio played a key supporting role, scoring 13 goals between them, many of which were of the large variety.
In Klima, the Oilers got a player who had warts in his game but was a dynamic finisher with a flair for the dramatic. His triple-overtime winner in Game One of the 1990 finals would end up being the biggest goal during their march to the Cup and the talented Czech would continue to produce throughout his time with the organization. He scored 40-goals during his first full season in 1990-1991 and surpassed the 20-goal mark in each of his four years in Edmonton.
Oilers Won the Trade
At the other end of the spectrum, Carson would go on to play another six seasons, cracking the 30-goal barrier twice but never lived up to the hype that came with scoring 55 times in his sophomore season. While both Murphy (1st) and Gelinas(7th) were top ten draft picks, neither came close to achieving the status of their pre-draft predictions but both enjoyed long and productive careers…with the knack for scoring goals when their team needed it most.
Bringing us to Graves, who turned out to be the best of the bunch. He would only spend two seasons in Edmonton, before signing as a free agent with the New York Rangers and joining former teammate Mark Messier prior to the start of the 1991-92 campaign. The former second-round pick would go on to play a starring role on Broadway for the next decade, scoring 52 goals in 1993-94 and helping the club put an end to their 54-year championship drought.
When it was all said and done, despite being backed into a corner Glen Sather took his time and did what was necessary to improve his club. Never one to shy away from upgrading his roster (see Keith Acton, Ken Linseman, Mark Napier, Kent Nilsson and Reijo Ruotsalainen as exhibits A, B, C, D and E) this one was obviously different. However, without it, the Edmonton Oilers would not have won their fifth Stanley Cup championship.