| | | | |
| --- | --- | --- | --- |
| Born: | July 21, 1968 | Draft: | 1986 Canadiens, 141st Overall |
| Hometown: | Quill Lake, Saskatchewan | Position: | Defense |
| Known For: | 1993 Stanley Cup Champion | Shoots: | Right |
| National Team: | Canada | Current Status: | Retired |
Lyle Odelein (born July 21, 1968) is a retired Canadian ice hockey player, having played his final year in the NHL with the Pittsburgh Penguins during the 2005-06 season. Drafted 141st overall in the 1986 NHL Entry Draft by the Montreal Canadiens, Odelein returned to the Western Hockey League (WHL) to play in two more seasons before joining the Canadiens' American Hockey League (AHL) affiliate Sherbrooke Canadiens. In the 1989-90 season with Sherbrooke, Odelein fit the role well of a defensive defenseman who could put up points with 31 in 68 games, while serving as an enforcer, amassing 265 penalty minutes. In the 1990-91 season, Odelein became an NHL regular, and head coach Jacques Demers took advantage of his underrated offensive potential, using him on the powerplay and helping him blossom into a two-way defenseman. Odelein was part of the 1993 Canadiens team that won the Stanley Cup, registering 6 points in 20 games and remaining a plus-9.
In the 1995-96 season, Odelein was named an alternate captain in what would become his final season with the Canadiens. While his offensive numbers dropped off compared two a few years prior, he was still piling on the penalty minutes and remaining a threat to opposing players who dare cross into the Canadiens' zone. In the summer of 1996, he was traded to the New Jersey Devils for forward Stephane Richer, and he quickly adjusted to a new system. Odelein's offensive numbers picked back up, registering 31 points in 70 games during the 1998-99 season, his highest total in the last five seasons. The Devils made the playoffs three times in the four seasons Odelein dressed for them, however as the 1999-2000 season looked to be lost, he was traded to the Phoenix Coyotes, a team that was playoff-bound and looking to add some stability to their blue line. They were taken down in the first round in five games that year.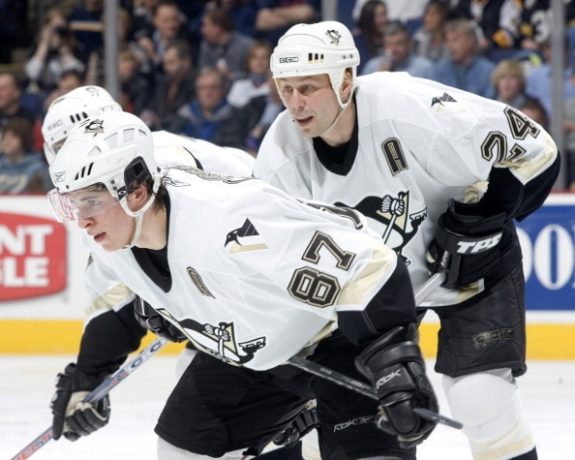 Odelein played in five more seasons, serving as the expansion Columbus Blue Jackets captain during the 2000-01 and 2001-02 seasons, and playing in stints with the Chicago Blackhawks, Dallas Stars, and Florida Panthers. He took the 2004-05 season off as the NHL entered a lockout, and attempted a return with the Penguins the following year, serving primarily as an enforcer to protect the team's star rookie Sidney Crosby. He played just 27 games before a knee injury sidelined him, eventually leading up to his retirement at the conclusion of the year. Odelein remains a resident of Saskatchewan and in 2018 he was diagnosed with Critical Illness Polyneuropathy, requiring liver, kidney and heart valve transplants. Seven months following his surgery, he was walking on his own strength and appearing to make a full recovery.
Lyle Odelein Statistics
Trade Tracker
Date
Traded From
Traded To
Traded For
Aug. 22, 1996
Stephane Richer
Mar. 7, 2000
Deron Quint
Mar. 19, 2002
Second-Round Pick 2003
Jaroslav Spacek
Mar. 10, 2003
Seventh-Round Pick 2004
Sami Helenius
Deeper Dive
Achievements
NHL Stanley Cup Champion (1993)
World Cup Runner Up (1997)
Sources