The IIHF World Junior Hockey Championship is upon us, and there is no shortage of Montreal Canadiens prospects representing their countries in Buffalo this year. With the likes of Victor Mete (Canada), Ryan Poehling (USA), and Joni Ikonen (Finland) all in action, let's take a look at how each player could impact their respective teams.
Victor Mete
Loaned from the Canadiens on Dec. 10, Victor Mete is the only player on Team Canada with significant National Hockey League experience. In 27 games with the big club this season, the 19-year old defenceman recorded four assists, and averaged 12:40 minutes of ice time per game.
Feeling it was necessary for his development, he was sent to join Team Canada as they look to avenge a shootout loss to the United States in last year's gold medal game. Named an assistant captain by head coach Dominique Ducharme, Mete will play an important on the blue line. After being cut from last year's team, Mete is ready for his chance this time around.
"I'm here now and I'm trying to win a gold medal," said Mete. "I think we have a good chance."
The transition back from professional to junior hockey can sometimes be challenging as there is a lot more skating involved in the junior game. Mete, however, possesses the skating ability required to step right in with ease.
"He's done a lot of little things within his game to understand how to play as a smaller player," said Rob Simpson, general manager of the London Knights, Mete's junior team. "Stick positioning, how to use his speed to separate players rather than size, he's put in a lot of work and dedication."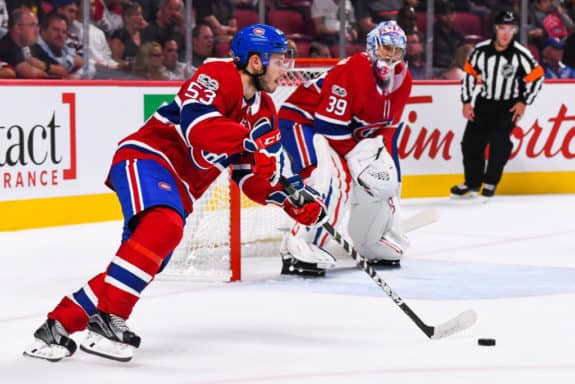 The experienced gained from playing in a city like Montreal will mean that Mete can be counted on in high-pressure situations throughout the tournament. Ducharme had made it clear that he wants fast-paced defencemen that can make quality passes up to the forwards in breakouts.  Mete is exactly that, as he's shown at the professional level, making him a key member of Team Canada at this year's World Junior Championship.
Ryan Poehling
Ryan Poehling was selected 25th overall by the Canadiens in the 2017 Entry Draft. Last season, as a 17-year old, Poehling was the youngest player in college hockey playing for St. Cloud State University, where he scored seven goals and six assists in 37 contests. While his stat line may have looked underwhelming, Poehling was competing against players who were up to three to four years older than him. This season, with a full year of experience under his belt, he has already surpassed his point total from last year, with five goals and 16 points in 14 games.
This year's edition of Team USA is stacked at the centre position. Poehling, who stands at 6-foot-2 and weighs 185 pounds, is joined by several other top NHL prospects including Casey Mittlestadt and Logan Brown down the middle. He is projected as the team's second or third-line centre.
Poehling's value comes in his ability to be a two-way forward. Able to work down low in front of the net and redirected shots while also being defensively responsible, his style of play is something he takes major pride in.
"I'm a two-hundred-foot player. I play defence just as hard as I play offence," said Poehling, following his selection by the Canadiens. "I stay true to the game and when you do that, the game stays true to you. That's big because when the offence isn't clicking that night, you've got defence to rely on, and I think that's a big part of me."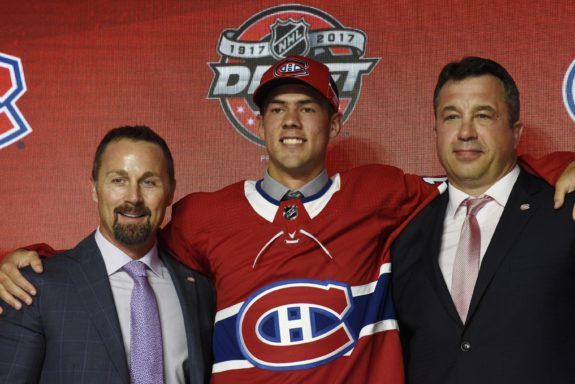 The World Juniors will not be Poehling's first experience on the international stage. Last season, he captained Team USA to a gold medal at the Ivan Hlinka Memorial Tournament, scoring four goals and six points in four games. With previous international experience combined with his style of play, Poehling will play an important role as Team USA tries to defend its title on home soil.
Joni Ikonen
After a disappointing ninth-place finish in last year's tournament, Team Finland is back with a vengeance this time around. Rostering seven first-round picks, along with Montreal Canadiens second-round pick, Joni Ikonen, Finland is one of the favorites this year. For the 18-year old Ikonen, the tournament provides him an excellent opportunity to develop as a centreman playing alongside many up-and-coming NHL players.
In 31 games this season playing with KalPa of the Finnish Elite League (SM-liiga), Ikonen scored three goals and three assists. With the proper development, Ikonen is projected to be a top-six forward at the NHL level, and has a similar playing style to another Finnish-born player currently on the Canadiens.
"[Ikonen] has a lot of similar characteristics to [Artturri] Lehkonen," said assistant general manager Trevor Timmins. "He's really driven. This guy makes plays and can score. He drives to the net, and is a fierce competitor."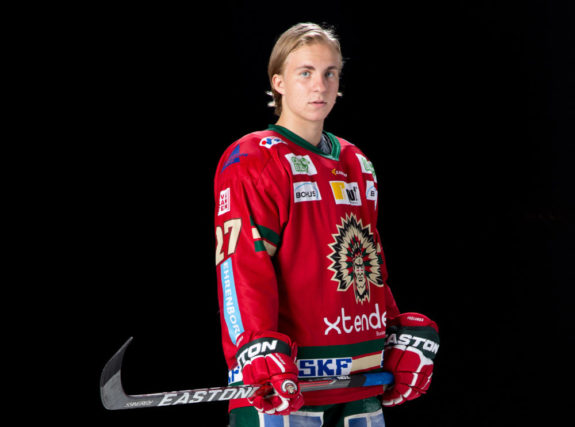 Like Poehling, Ikonen is no stranger to international hockey. Playing on the national team since he was 16-years old, Ikonen scored 11 goals and 23 points in 21 international games, ranging from the under-16 to the under-18 World Championships. Having already played against many players participating for other countries in this year's World Juniors, Ikonen is confident that he and his team will have much success in Buffalo.
"It's always good to play against [other countries,] said Ikonen at this year's World Junior Summer Showcase. "It's good to see them now and see that we can beat any team in the World Juniors."
On a power-house Team Finland, Ikonen will not be asked to be anything more than he already is. With a knack for scoring and the drive to be an all-around centreman, Ikonen should be a player to keep an eye on for any Canadiens fan.
---
All the 2018 World Junior Championship Team Information:
Czech Republic — Team Preview — Roster
USA — Team Preview — Roster
Russia — Team Preview — Roster
Belarus — Team Preview — Roster
Canada — Team Preview — Roster
Denmark — Team Preview — Roster
Finland — Team Preview — Roster
Switzerland — Team Preview — Roster
Slovakia — Team Preview — Roster
Sweden — Team Preview — Roster
I cover the Montreal Canadiens and Laval Rocket for The Hockey Writers. I am currently a student at the University of Concordia studying journalism in the hopes of one day becoming a full-time sports reporter. I have previously covered the Indianapolis Colts of the National Football League for Pro Football Spot.