Team Canada stayed perfect and are now off to the semi-finals of the 2022 World Juniors after a 6-3 victory over Switzerland. While it wasn't the Canadians' best game of the tournament, they played well enough to advance past a pesky Swiss team that kept pushing the pace all the way until the end. In net, Dylan Garand improved to 4-0 after stopping 23 of the 26 shots he faced.
Logan Stankoven Stars For Canada
Switzerland did a fantastic job neutralizing Mason McTavish and Connor Bedard, which meant it was up to Canada's second line, led by Dallas Stars draft pick Logan Stankoven to carry the workload. In 14:31 of ice-time, the Kamloops Blazers star scored twice, including the empty netter, registered an assist and went 7-10 in the faceoff dot, all while being named Canada's Player of the Game. Not bad for the reigning Canadian Hockey League (CHL) Player of the Year.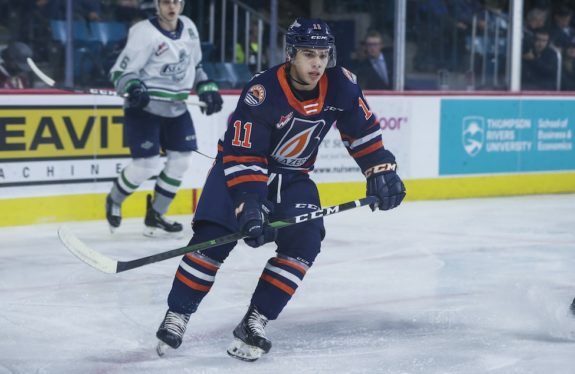 Stankoven has had a good tournament so far but has often been overshadowed by his teammates. He sits tied for second on Team Canada in points with seven through his first five games and will be leaned on heavily in the semi-finals and medal round. A player that is expected to be part of the 2023 World Juniors team in December, he is showing in this tournament why clubs will regret letting him fall to 47th overall in the 2021 NHL Draft.
Canada Chases Patenaude Early
Team Canada seems to have Swiss goaltender Noah Patenaude's number as they were able to get four past him on just nine shots before he was pulled late in the first. This isn't the first time the Canadians have faced him, as they lit him up for 10 goals on 52 shots at the 2021 World Juniors. He played well all tournament, but Canada seems to be his kryptonite when it comes to international play.
Related: Lightning Prospects Thriving at 2022 World Junior Championship
While the first period was sluggish for Canada, it proved to be the difference as the four goals carried them to victory. Throughout the tournament, first periods have been a problem for them as they have allowed a goal in all but one. This should be a point of emphasis as the team needs to find a way to limit the opposition in the first; otherwise, it could bite them in either the semi-finals or medal round.
Greig Injury a Massive Problem
Early in the first period, Canadian forward Ridly Greig took a hit along the boards and immediately skated to the bench in pain. The hit by Switzerland's Vincent Despont wasn't bone-crushing but caught the Ottawa Senators prospect by surprise as he was going for a loose puck. After the hit, he left the game and did not return, which threw Team Canada's lines into a blender.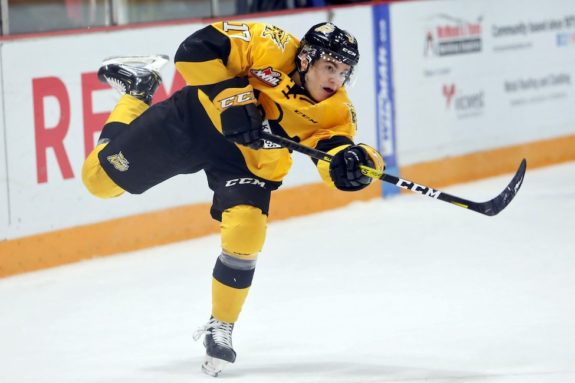 Greig has been one of Canada's most valuable forwards so far in the tournament, and his loss would be monumental. Not only does he center the team's checking line, but he is an integral part of the team's penalty kill. During the game, the Canadians used Elliot Desnoyers in his spot on the third line. Team Canada will hope he can return in time for Friday's semi-finals as his line with William Dufour and Joshua Roy have been vital to their success so far.
Related: Senators Prospects to Watch at the World Junior Championship
If Greig can't play on Friday or Saturday, Team Canada does have some capable replacements to fill his spot. First is center Riley Kidney. The Montreal Canadiens 2021 second-rounder played 4:23 of ice-time versus Latvia in the tournament and is coming off a season with the Acadie-Bathurst Titan that saw him score 30 goals and record 100 points. The other is defenceman Carson Lambos. The Minnesota Wild's first-round pick from 2021 had 47 points in 51 games for the Winnipeg ICE last season and played 8:01 in his one game that also came against Latvia. Both would be strong additions to the lineup and would be looking to impress after losing their spots earlier in the tournament.
Too Many Turnovers
This is a point that goes back to the Finland game, but Canada needs to do a better job with the puck in their defensive zone. Breakout passes are great, but only if they connect. There were too many turnovers by the Canadians, which ended up costing them on the scoresheet.
Olen Zellweger, Take a Bow
While most of the attention has been on McTavish this tournament, it has been a different Anaheim Ducks prospect that deserves some praise. 2021 second-round pick Olen Zellweger has been the backbone of this Canadian defence all tournament long and has been one of the best defenders overall. His seven points have him ranked second overall amongst defencemen, and he is tied for second amongst all players with a plus-10 rating. Whether it is in the offensive or defensive zone, he makes a positive difference every time he steps on the ice.
Related: Ducks Draft Olen Zellweger 34th Overall
Although Zellweger only recorded one point against Switzerland, he was a catalyst whenever he had the puck on his stick. His pass on the goal was one few junior players could pull off, and his diving play at the blue line to keep the puck in the offensive zone showed that this a player determined to do whatever it takes to win. He is projected to be back in the Western Hockey League next season and will most certainly be considered for the 2023 World Junior team in a leadership role.
Canada Faces Familiar Foe in Semi-Finals
Team Canada will face off against Czechia for the second time this tournament with a trip to the gold medal game on the line. The last meeting saw Canada defeat Czechia 5-1 in the preliminary round. As for Czechia, they are coming off a 4-2 upset victory over the United States and will be looking to punch their ticket to the gold medal game for the first time since they won back-to-back championships in 2000 and 2001. The puck drops Friday at 4 PM ET on NHL Network in the United States and TSN in Canada.
Guide to the 2022 World Junior Championship
2022 World Juniors Schedule, Groups, Rosters, Predictions & More
One Player to Watch From Each Team
Breakout Candidates & Sleeper Prospects
Predictions for the 2022 World Junior Championship
Award Contenders and Predictions
2022 World Juniors: 2023 Draft-Eligible Players to Watch
6 Predictions for the 2022 World Junior Championship
---
---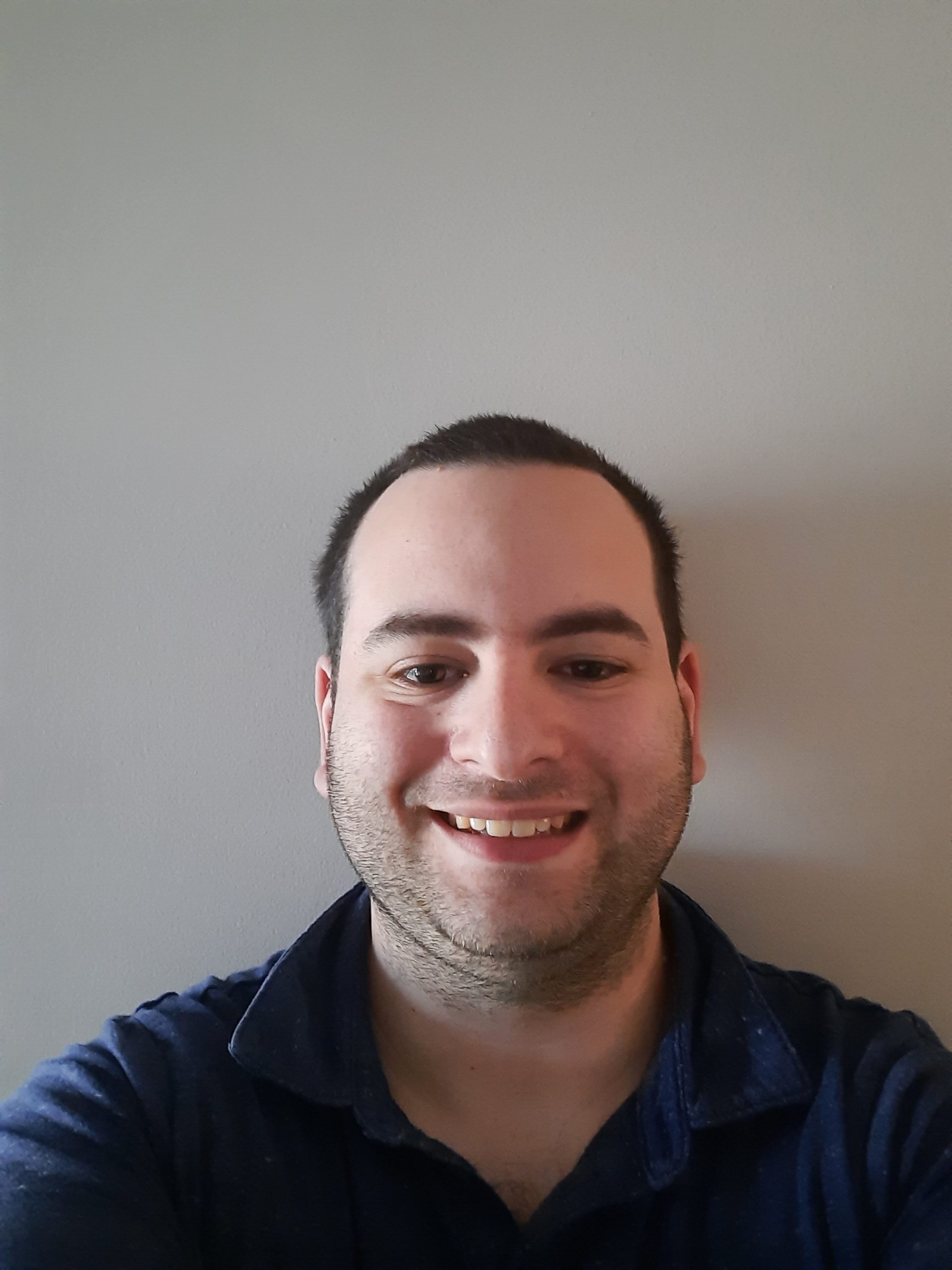 Adam is excited to be joining The Hockey Writers as part of the Seattle Kraken and Vancouver Canucks team. His work can also be found at area51sportsnet.com where he covers the Vancouver Giants of the Western Hockey League.