It's fair to say that this is not how Sweden wanted to start the rescheduled 2022 World Juniors. Although they came away with the win, they struggled to generate momentum or counter Switzerland's simple, hardworking game. The Swedes, armed with some of the best prospects in the world, are expected to contend for the gold medal, but after that showing, they'll need to significantly improve their efforts if they want to reach that goal.
Related: 3 Takeaways From Team USA's 5-1 Win Over Team Germany
Still, there were some moments of vintage Swedish skill on display during the game. Daniel Torgersson's two goals, the first of which came near the end of the second period, were exactly what the team needed to get back into the game after a very slow start. Overall, they looked rusty, which is to be expected for a tournament taking place in the middle of summer. Fortunately, the issues promise to iron themselves out as they progress through the round robin and into the playoffs.
Wallstedt Is the Real Deal
While much of the team floundered in the first period, putting just four shots on Swiss goalie Noah Patenaude, the same could not be said at the other end of the ice. Jesper Wallstedt looked strong, calm, and unbeatable from the very start of the game, turning away all nine of Switzerland's shots in the first period, then another six in the second. He was always in position, staring down the shooter, and able to pull out some incredible saves when needed. It was exactly what the Swedes needed, as they could not stay out of the box, taking four consecutive penalties over the first 40 minutes.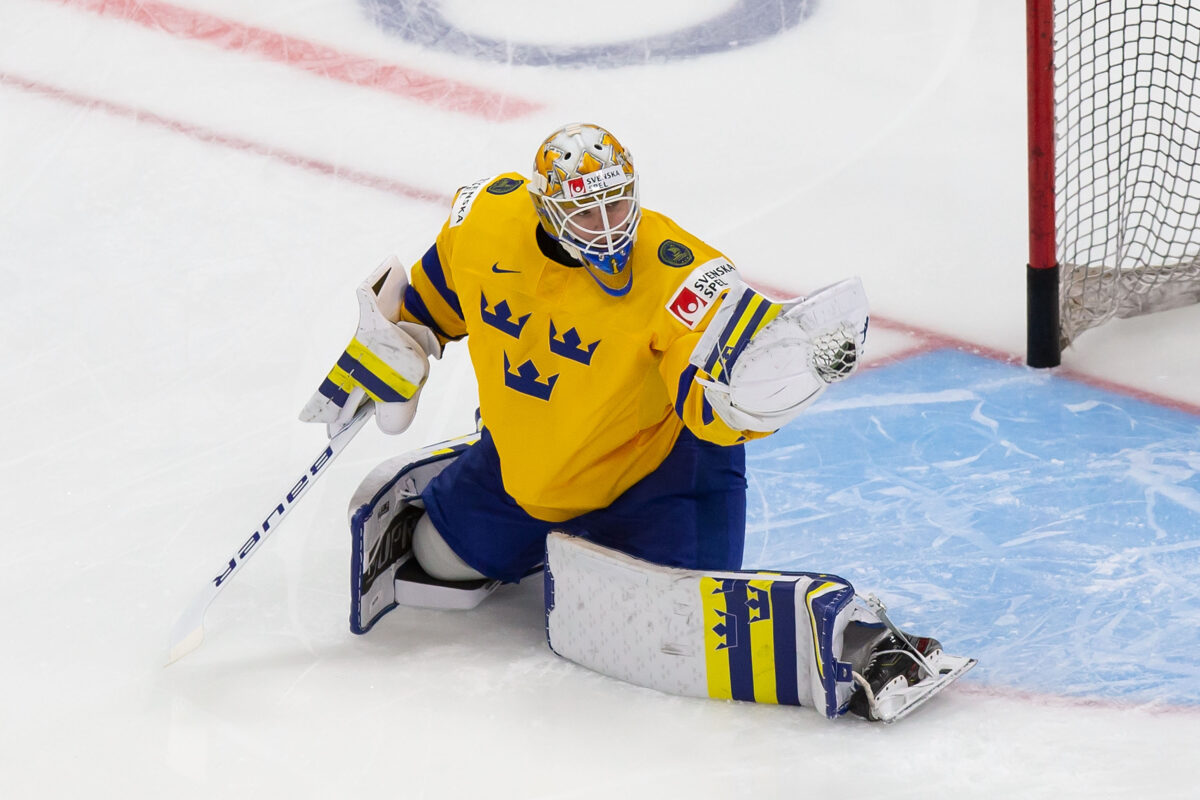 Of course, that's exactly what Wallstedt should be for Sweden. He's been one of the best goalie prospects in the world for the past two seasons, even earning some consideration as the first-overall pick in 2021 before the Minnesota Wild snapped him up at 20th overall. He's one of the most decorated goalies in Swedish history, making his Swedish U20 League debut at 14 years old in 2017, then making his first professional appearance at 17. However, internationally, he's been somewhat inconsistent; sometimes, he records a .936 save percentage and allows less than two goals a game, while others, he has a .890 save percentage, letting in over three goals.
That inconsistency seems to have all but left him as he approaches 20 years old. Yes, he did allow two goals on 23 shots, giving him a less-than-optimal save percentage, but neither were all that concerning. The first seemed to be a strange bounce based on his reaction – he's clearly made that save dozens of times – and the second was all on the team's defence, who gave Dario Allenspach all the time in the world to pick his spot.
The poise and skill that Wallstedt brings to Sweden's crease may turn out to be the secret weapon the team needs to make a run to the gold medal game. He alone sits atop the goaltending pyramid at this year's World Juniors and will be a favourite to be named the tournament's top goalie. Even as the team around him struggled, he kept them alive while also struggling somewhat himself. If this is the worst he gets, then this will be a very hard team to beat.
Sweden's Discipline Needs to Be Better
While Wallstedt's performance kept Sweden alive in a game where they at times looked outmatched against a much weaker opponent, the team's discipline nearly capsized all of their efforts. Three penalties in the first period alone and three in the offensive zone brought all of their momentum grinding to a halt, preventing them from getting anything going until five minutes remained in the second period. Then, after allowing two quick goals to bring the score to 3-2, Theodor Niederbach took his third penalty of the game, an uncharacteristically dangerous shove that resulted in a five-minute major and a game misconduct.
Penalties were far from the only issue, as Sweden continually tried to pull out fancy plays only to turn over the puck to the Swiss, or fumbled the puck and allowed the Swiss to pick it up and create a scoring chance. It was strange to see the Swedes look so off, as though they hadn't played hockey since June. Plays were sloppy, defensive pressure was lax, and it nearly allowed Switzerland to tie the game late in the third.
Part of the issue may be the absence of defencemen Anton Olsson, who is out with an injury, and Leo Lööf, who was handed a game misconduct back in December for a dangerous hit on Slovakia's Simon Nemec, leaving Sweden's defence fairly depleted. Olsson was an especially difficult loss as he came in as the team's shutdown specialist, but Lööf's physicality was also missed, as Switzerland clearly outworked the Swedes in the first 40 minutes.
Magnusson Steps Up
Coming into the 2022 World Juniors, fans were expecting big things from the team's big stars like Wallstedt, Simon Edvinsson, and Fabian Lysell, all of whom were first-round picks. However, it was little-known Oskar Magnusson, a Washington Capitals' seventh-round pick in 2020, who was one of the team's best players. He demonstrated a tireless work ethic and blazing speed as he tried to jump on every loose puck and recover possession for the Swedes. Whenever he was on the ice, he was always where he needed to be, and his efforts were nearly rewarded with a goal off a breakaway, but the puck ricocheted off the post.
Although Magnusson established himself as an up-tempo player with AIK of the Swedish Allsvenskan, he wasn't expected to be much of a difference-maker at the World Juniors. With such a deep lineup, he was slated to start the game on the fourth line, but as the team struggled, he was given a bigger role, ending the game with the seventh-most minutes of any Swedish forward. Long-time international team coach Tomas Montén rewarded his early efforts with a bigger role as the game progressed, and he rose to the occasion, contributing everywhere but the scoresheet. With Niederbach forced to sit out the next game, look for Magnusson to jump up the lineup.
Sweden Needs to Be Better Against Austria
Sweden's next game comes on Friday against Austria, another weaker team that they should beat, even if they don't play their best. However, the Swedes cannot afford to start their next game sluggishly again. Austria will be another team that, despite their lack of offensive power, will work hard every shift and look to capitalize on bad penalties and poor plays. If Sweden cannot figure out their discipline issues and early-game pacing against them, they will have a nightmare of a time against Team USA, who they will face on Sunday. Now is the time to iron out issues and prepare for tougher opponents, which they will inevitably face again in the playoffs.
Guide to the 2022 World Junior Championship
2022 World Juniors Schedule, Groups, Rosters, Predictions & More
One Player to Watch From Each Team
Breakout Candidates & Sleeper Prospects
Predictions for the 2022 World Junior Championship
Award Contenders and Predictions
2022 World Juniors: 2023 Draft-Eligible Players to Watch
6 Predictions for the 2022 World Junior Championship
---
Latest News & Highlights
---