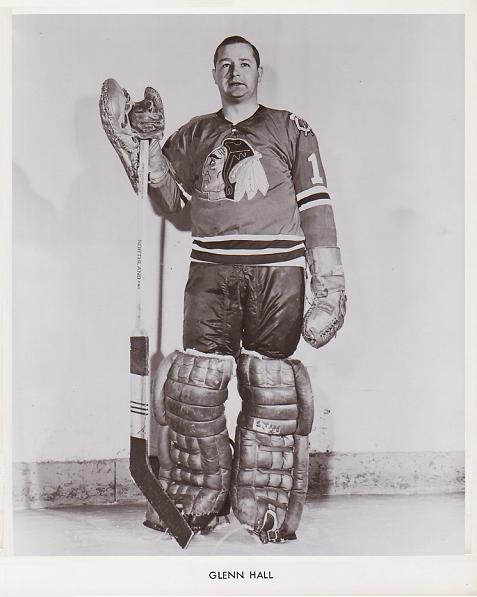 It seems like every season, a new hockey trivia book hits the shelves. Hockey fans love hockey trivia. "Puck-Saving Trivia", "Super, Unbelievable, Twine-Bulging Trivia" – we can't get enough. I prefer to call some of it all "hockey history." To me, great and interesting accomplishments of the past are not merely trivial. Although, some of the stuff you get is marginally significant. Like how many times Glenn Hall vomited in his career. Estimates range from once in a while, to once before every one of his 1,000+ NHL games. Some even say once for every time he stopped the puck. They kept a vomit pail on the bench.  The lore seems to be getting greater with each passing year. Someday, we'll be reading about how opposing forwards had to swim through waves of Glenn Hall puke before they gained the attacking zone. C'mon guys, Glenn Hall was a great enough goalie without the exaggerated fish stories. That's a fact.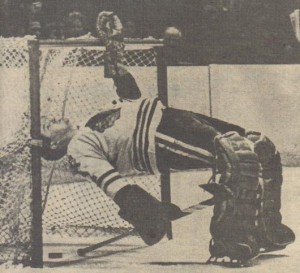 Included here are what I consider to be some of the best factual and most interesting tidbits from the career of "Mr. Goalie," one of the top ten best goalies of all time. One could write a whole trivia book on Glenn Hall alone. I know, some say he was THE best goaltender of all time. You won't get an argument from me. When you say a man was way ahead of his time, you pay him one of the greatest tributes available. Glenn Hall pioneered the butterfly style of goaltending so prevalent amongst today's goalkeepers. Over 50 years ago, the players were finding new ways to score, so Mr. Goalie studied and developed new ways of stopping the puck. He did it effectively and consistently. Along the way, he set a record of endurance that will probably never be broken. His overall numbers aren't as great as Sawchuk or Plante, but Glenn Hall rarely enjoyed the same luxury of having the best team in the league playing in front of him.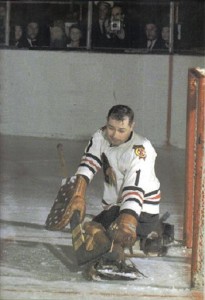 The official number in the record book is 502. Glenn Hall played and completed 502 consecutive regular-season games from the first night of 1955-56 through the first 12 games of the 1962-63 season. In that period, he also started and completed every single one of 49 playoff games played by the Red Wings for two years (1956, '57) and then the Black Hawks. In all, Hall's streak of consecutive NHL games completed is 551. Astonishingly, he accomplished this unbelievable feat without ever wearing a mask.
Did you know that Glenn Hall's name is misspelled on the Stanley Cup? Not only that, Hall got his name engraved on the Holy Grail before he ever played a single game in the NHL. The Red Wings won the Cup on April 15, 1952. Hall's first game appearance in the NHL was during the following season in December, 1952. It seems the Red Wings had deemed it fit to include the name of their practice goalie on the list of players they submitted to the engraving shop.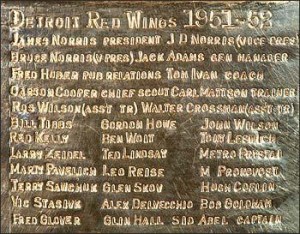 Because he played so many games as the only goalie available in an era when teams  dressed only one goaltender, Glenn Hall holds some spectacular as well as a couple of  rather unsavory NHL records. No other goalie in NHL history has allowed as many as six cup-winning goals, four of them by the Montreal Canadiens. In 1965, Jean Beliveau set a record that still stands when he scored the cup-winner at just 14 seconds into the first period against Glenn Hall and the Black Hawks. In the previous, semi-final series against Detroit, Normie Ullman of the Red Wings set a playoff record against Hall that has never been equaled by scoring two goals in just five seconds.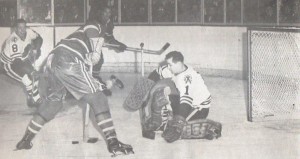 Glenn Hall's career is almost magically intertwined with some of the achievements of the powerful Montreal Canadiens of the late 1950's and 1960's. Dressed in equipment and skates he borrowed from Detroit's trainer, Hall made his NHL debut against the Habs on December 27, 1952. He managed to backstop a 2-2 tie for the Wings in the Montreal Forum. Before he took over for the departed Terry Sawchuk as Detroit's new full time, number 1 goalie in 1955-56, Hall had been called up a couple of times as an injury replacement for Sawchuk. His record in those 8 games was 6-1-1. The Canadiens were the only team he couldn't beat. He won the Calder trophy as rookie-of-the year in 1955-56 and accumulated 12 shutouts, more than any other goalie, but he and the Wings lost the Stanley Cup Final to Montreal in five games. After one more season in Detroit, Hall was traded along with Ted Lindsay to the Chicago Black Hawks where his consecutive game streak continued. Hall and the Hawks were overwhelmed two more times by Maurice Richard and the mighty Canadiens in the semi-finals of 1959 and 1960.
On October 19, 1957, Glenn Hall surrendered the Rocket's 500th career goal. Then, on January 24, 1960, he tied Canadiens' icon Georges Vezina's record of 328 pro-league, consecutive regular-season games played.
On January 17, 1962, Glenn Hall played in his 500th consecutive game, playoffs included. Chicago owners presented him with a miniature vehicle during the game, and then told him to go out and buy the car of his choice. He and his wife selected a station wagon which they drove back home to Edmonton in the offseason. It was a huge honor in those days. The Habs once again ruined the evening, pummeling Hall and the Hawks 7-3.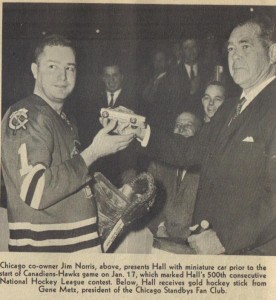 With the additions of Bobby Hull, Stan Mikita and others, the Black Hawks became a ready and fully developed force by 1961. Pitted against the Habs in the semi-final for the 3rd consecutive year, Glenn Hall shutout the Canadiens 3-0 in pivotal Game 5 in Montreal. It was his first ever shutout of the Canadiens in Montreal and it couldn't have come at a better time. Back in Chicago for Game 6, Hall repeated the brilliant 3-0 feat and ended the Canadiens' five-year stranglehold on the Cup. Hall and the Hawks went on to beat the Red Wings in five games to win the 1961 Stanley Cup. It was Glenn Hall's finest moment. He shut out Montreal again in Game 6 of the '62 semis the following season, once more eliminating them from the playoffs.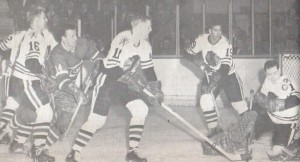 Chicago was expected to win a few more Cups in the 1960's, but it didn't happen. When the league expanded in 1967, Hall was grabbed by the expansion St. Louis Blues. Both in 1968 and 1969, Hall gave up the Cup-winning goal to the Montreal Canadiens. Despite losing the series, he copped the Conn Smythe as MVP in the playoffs in 1968. He helped St. Louis to the Final again in 1970 and was once again in goal when Boston's Bobby Orr scored the most famous "flying through-the-air," Cup-winning goal of all time.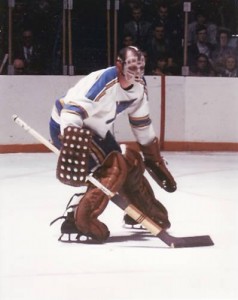 During the bulk of his career Glenn Hall never wore a hockey goalie mask. He a mask for the first time in his career on November 13, 1968, perhaps with the persuasion of new teammate, face-mask innovator, former Hab great and fellow goaltending legend, Jacques Plante. Coincidentally, Hall received his only-ever game misconduct in that game and was tossed after a few minutes of play. Nevertheless, Hall & Plante combined to capture and share yet another Vezina trophy in 1968-69.
Hall retired from hockey with the Blues after the 1971 playoffs. He was inducted into the Hall of Fame in 1975. The Blackhawks retired both Glen Hall's jersey no. 1 and Tony Esposito's no. 35 on the same night in November 1988.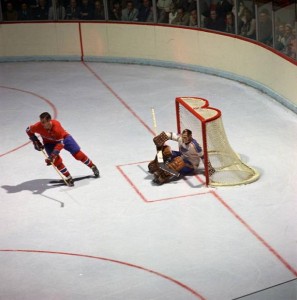 Hockey Pictorial magazine interviewed Hall for their March, 1962 issue and asked him to pick an all-time All-Star team from the players he played against in his first 500 games. He chose:
Goal – Jacques Plante, Montreal
Defense – Doug Harvey, Montreal and Bill Gadsby, New York.
Center – Jean Beliveau, Montreal
Left Wing – Dickie Moore, Montreal
Right Wing – A tie between 1: Gordie Howe, Detroit.
2: Maurice Richard, Montreal
3: Bernie Geoffrion, Montreal.
The Montreal Canadiens had given Mr. Goalie lots of trouble, but he obviously highly respected them.