Welcome to NHL Draft week, 2023 edition. The fortunes of several franchises could be changed forever over a couple hot, summer nights in Nashville.

Meanwhile, you have reached Part 10 and the last part of our month-long draft series. Today, we are going to go deep into the rankings and call out five prospects that could be interesting for teams later in the day Thursday. In case you missed any part of our draft series, you can get caught up below.
You know the big names that are expected to go early. But there are over 400 prospects that are eligible to hear their name called in Nashville. There are plenty of good examples of players that went in the fifth round or later that have carved out good, long NHL careers. Even the last pick in one draft, Patric Hornqvist, scored the Stanley Cup winning goal.
---
Latest News & Highlight
---
We are going to name five players that aren't getting much in the way of attention and outline why they could be worth the gamble on Day 2. As we always like to say, it's best to look for upside even if there's a ton of work a prospect has to put in.
Anton Wahlberg
One of the things to look for when identifying a sleeper is what they did to improve their draft stock. Wahlberg did that with his play in the junior ranks and then in the SHL when the calendar flipped to 2023.
Wahlberg is a two-way center who already has good size for his age at 6-foot-3 and 194 pounds. He's already represented Sweden on multiple occasions including on the most recent U-18's where his team won a silver medal.
Related: Anton Wahlberg – 2023 NHL Draft Prospect Profile
What has stood out about Wahlberg is both an uptick in point production to go along with his defensive play. He likes to play the game in a way that makes life miserable for the opposition.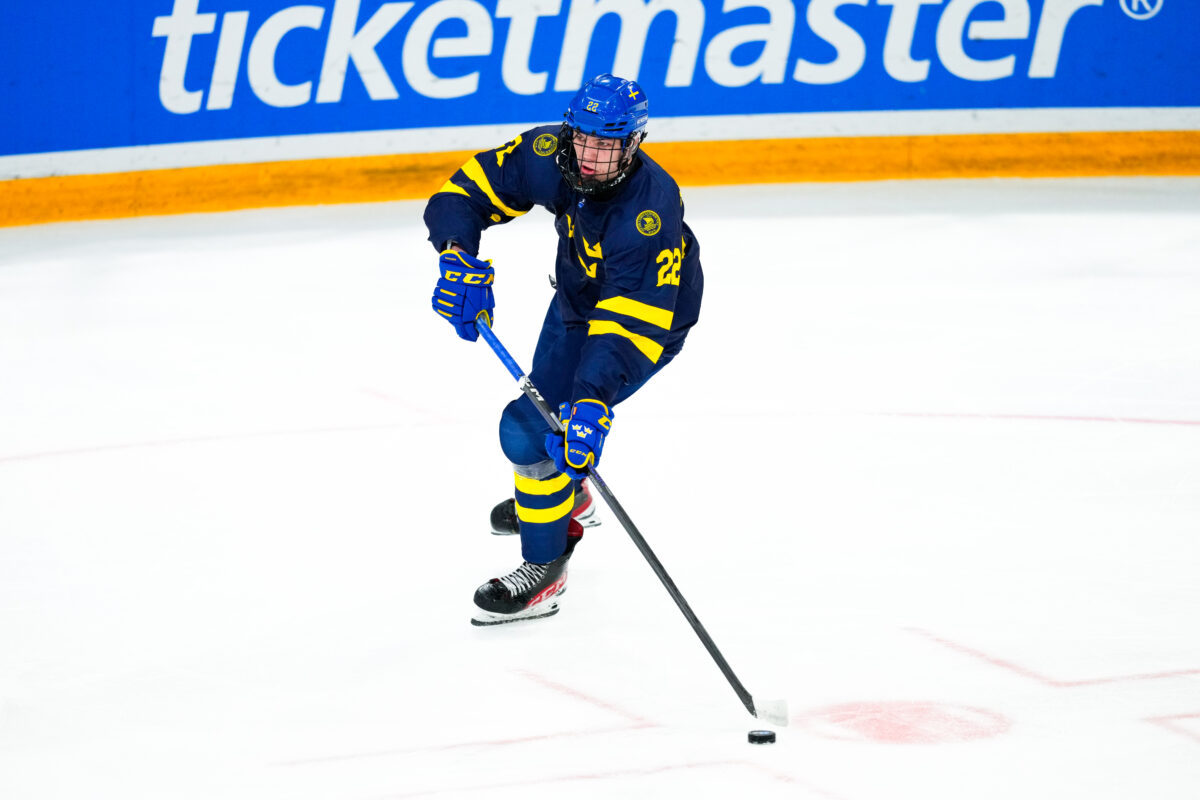 These are the kind of prospects that are worthy gambles in the middle rounds of drafts. Wahlberg's work ethic should get the attention of teams on the draft floor. He could be a sneaky, good pick come Thursday.
Aaron Pionk
Another thing to look for when it comes to sleepers is overage players who put themselves on the map after a good season. Waterloo defenseman Aaron Pionk did just that in his age-20 season.
Aaron, who is the brother of Winnipeg Jets' defenseman Neal, scored 12 goals and 36 points in 60 games in his first USHL season which ranked seventh overall in the league for points by a defenseman. He is set to play the upcoming season at the University of Minnesota-Duluth.
Pionk has been passed over before but does come in ranked 117th by NHL Central Scouting this season and has had multiple clubs talk to him. Given the bloodlines and upside he has as a 6-foot-2 defender, Pionk provides an interesting late-round option for teams looking to round out their organizational depth.
Jordan Tourigny
When you think of the 2021-22 Shawinigan Cataractes team, you think of their offensive stars such as Mavrik Bourque and Xavier Bourgault. Someone had to get them the puck. Jordan Tourigny eventually got the honors of doing so.
Then in his draft season with Bourque and Bourgault gone, Tourigny continued to improve and almost doubled his point production from 21 to 41 points. He is the kind of defenseman that teams covet in an ever-evolving sport.
Tourigny is an offensive-minded defenseman who sees the game like a forward. Teams that believe they can get a more consistent defensive game from him will greatly benefit by investing in him in the middle rounds.
Emil Pieniniemi
Late in drafts, you will tend to see prospects that are raw and need a lot of time to develop. What makes some of these prospects interesting is when they have one or two aspects of their game that could translate to the NHL. Pieniniemi fits this criteria.
Related: 2023 NHL Draft Guide
Watching him at the Hlinka-Gretzky and then again at the U-18's, Pieniniemi can skate and is capable of being a two-way defender. But there were moments where you saw a play and questioned what he was seeing in the moment.
With ample time to develop, Pieniniemi has some potential and could provide some NHL games to a team who looks at him in the last two rounds. He was at the NHL Combine and spoke to a handful of teams.
Terrell Goldsmith
It's easy to see where Goldsmith is on the ice when watching his games because he's usually the biggest player on the ice. At already 6-foot-4 and 220 pounds, he already has NHL size.
But it will be what Goldsmith does with the rest of his game that will dictate how his future goes. The fact that he was in Buffalo for the Combine suggests some teams were interested in talking with him.
Goldsmith had just nine points in 58 games for the Prince Albert Raiders, but he had over 100 penalty minutes in that time. It was easy to see when the moment called for it, he'd answer the bell to help protect his teammates.
Late-round picks are spent towards players who have the size. If Goldsmith is able to refine his game, he could become an NHL contributor who could become a fan favorite in time.
And that is it. Enjoy everything that is about to unfold with the NHL Draft this week. There promises to be no shortage of storylines once things get started.