Opened:
Aug. 12, 1996
Home Team:
Philadelphia Flyers
Owner:
Philadelphia Flyers 
Comcast Spectacor
Capacity:
20,306
Location:
3601 South Broad Street, Philadelphia, PA
Former Names:
CoreStates Center
(1996–1998)
First Union Center
(1998–2003)
Wachovia Center
(2003–2010)
The Wells Fargo Center is a multi-purpose indoor arena located in Philadelphia. It serves as the home of the Philadelphia Flyers of the National Hockey League (NHL), the Philadelphia 76ers of the National Basketball Association (NBA), and the Philadelphia Wings of the National Lacrosse League (NLL). The arena lies at the southwest corner of the South Philadelphia Sports Complex, which includes Lincoln Financial Field, Citizens Bank Park, and Xfinity Live!.
The Wells Fargo Center, called Spectrum II initially, was completed in 1996 to replace the Spectrum as the home arena of the 76ers and Flyers on the former site of John F. Kennedy Stadium for $210 million, largely privately financed (though the city and state helped to pay for the local infrastructure). It is owned by Comcast Spectacor, which also owns the Flyers, and is operated by its arena-management subsidiary, Global Spectrum.
Since its opening, it has been known by several names through naming rights deals and bank mergers, including CoreStates Center from 1996 to 1998, First Union Center from 1998 to 2003, and Wachovia Center from 2003 to 2010. Since 2010, naming rights have been held by financial services company Wells Fargo after they acquired Wachovia. CoreStates Financial Corporation was acquired by First Union, which later also purchased Wachovia National Bank to rename itself Wachovia Corporation; the combined company was acquired by Wells Fargo in 2008.
In addition to hosting home games for its main tenants, the arena has been the site of many other notable athletic events, including games of the 1997 and 2010 Stanley Cup Finals, three games of the 2001 NBA Finals, and various collegiate events for the National Collegiate Athletic Association (NCAA). Wells Fargo Center has hosted two political conventions: the 2000 Republican National Convention and the 2016 Democratic National Convention. The arena is a regular venue for concerts and WWE events. The arena has a concert seating capacity of 21,000 seated and at least 21,500 standing.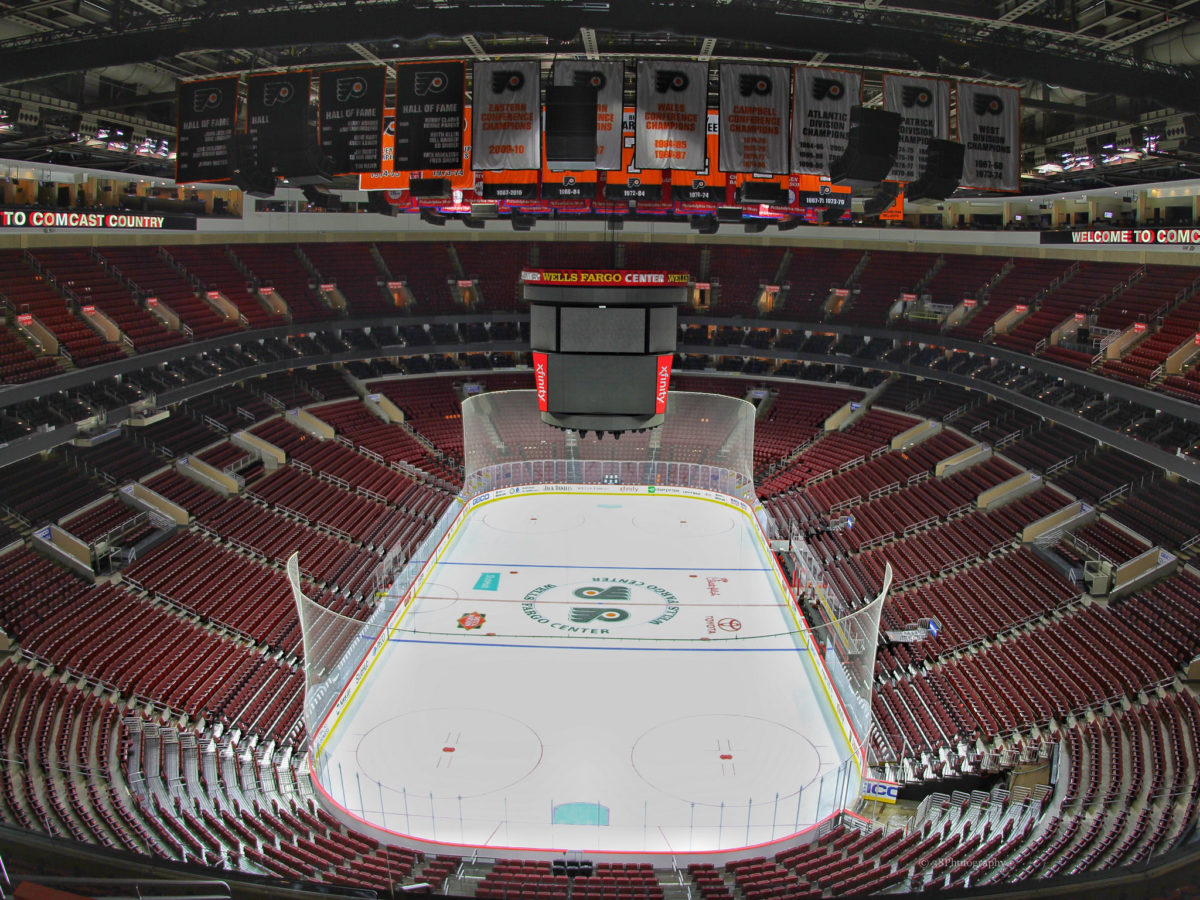 First Games
Oct. 5, 1996 – Flyers vs. Florida Panthers (3-1 loss)
Nov. 1, 1996 – 76ers vs. Milwaukee Bucks (111-103 loss)
Notable Events
Stanley Cup Final – 1997, 2010
NHL Entry Draft – 2014
Calder Cup Final – 2005
World Cup of Hockey – 1996
AHL All-Star Classic – 1999
NBA Final – 2001
NBA All-Star Game 2002
U.S. Figure Skating Championships – 1998
NLL Championship (lacrosse) – 1998
NCAA Women's Basketball Final Four – 2000
NCAA Men's Ice Hockey Championships – 2014
NCAA Men's Basketball Tournament (round one and two) – 2006, 2009
NCAA Men's Basketball Tournament (rounds two and three) – 2013
Wrestlemania XV – 1999
WWE Royal Rumble – 2004, 2015
Republican National Convention – 2000
Democratic National Convention – 2016
Sources